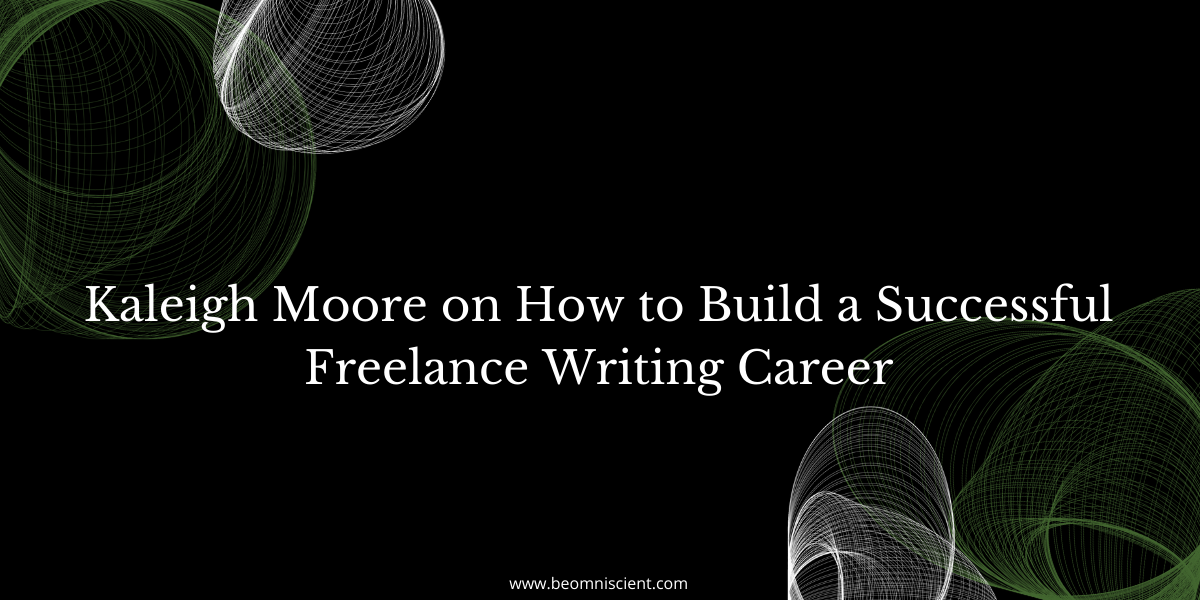 "I'm a freelance writer."
Some people will raise a skeptical eyebrow when they hear that sentence. They might wonder if you're unemployed or in between jobs.
But the truth is that it's absolutely possible to build a thriving career as a freelance writer.
Case in point is Kaleigh Moore: she's a successful freelance writer—and also so much more.
Kaleigh is a killer editor, strategist, and consultant. She's an expert in all trends eCommerce and D2C. She hosts a popular podcast called The Freelance Writing Coach. For several years, she led a freelance workshop alongside Paul Jarvis. She's written for publications like Forbes and Vogue Business.
Kaleigh also served as my coaching mentor back when I was trapped in a mind-numbing 9-5. Today, I'm Omniscient's Head of Content. Need I say more?
In Kaleigh's own words, here are the details behind her journey, and how you can chart a successful freelance career on your own terms.
Find a niche to open doors
Once upon a time, Kaleigh ran a successful eCommerce business of her own. That experience helped her sink deep roots into the niche of eCommerce writing.
After starting out as a generalist writer tackling a number of subjects, she realized the the world of eCommerce provided a natural fit.
Thanks to her husband, the world of D2C soon came onto her radar.
"I've navigated and fallen into that sub-niche within the eCommerce world. And I think that was part of the reason I've really put a flag in this particular area," Kaleigh said.
"A couple of years ago my husband was like, this D2C space, this direct to consumer space is emerging. And you should look into that. And there's this whole community online of people who will talk about this one specific area."
Being enmeshed in that community and becoming part of that world has opened doors to new opportunities.
Not only does it help the client work that Kaleigh still does today, but it's also granted her deeper insights into industry news and trends that she can pitch to more journalistic publications.
In almost every case, defining a niche is the first major step in establishing a successful career as a freelance writer.
Participate in communities
A thriving writing career is built on more than just writing skills. It's also about creating a network.
Kaleigh accomplished this by finding and engaging with online communities.
"I went to Twitter, started seeing what these people were talking about. And then those conversations sometimes moved into Slack groups or one-to-one phone calls. I just evolved from there," Kaleigh said.
She also keeps tabs on the niche publications that are relevant to her industry, to see who's writing about what.
Eventually, when you spend enough time on the periphery of a community, you become a true part of it yourself.
As you move from observer to participant, you start to get recognition and make real contacts within your professional network.
Today, these networks and communities also serve an important social function for Kaleigh.
"Staying engaged with the communities is like my office water cooler. I have been working alone from home for eight years," she said.
"I use those as breaks throughout the day to talk to people, and to feel that connection, and to beat away the isolation that sometimes comes with this type of work."
Find the formula for maximum productivity
Some writers work best in the morning, others at night. It's the rare writer who can slog away doing deep writing work from 9-5.
For Kaleigh, working in short uninterrupted bursts is the key to quality work. She sets aside a morning and afternoon chunk of time for deep work, with no interruptions allowed.
"I typically do two main sprints for my workday," she said. "I break it up with a really short lunch break and a couple of dog walks."
Her standard schedule is to write for 2-3 hours with emails and breaks in between.
"I find that much more than that, the quality really starts to drop off. So I've tried to just really tap into those two parts of the day where I know I can be really productive and try to maximize those as much as I can. So no calls then, no meetings. Just sit down, knock off the to-do list for the day," she said.
Kaleigh recognized early on that stretching herself too thin benefits no one. These days, she has a good feel for when her plate is full. She'll communicate with interested clients accordingly.
"I know what my capacity is at this point after doing it for so long," she said. "Once the plate starts getting full to the point where I'm a little bit nervous, that's when I start saying, okay. My next available start date is three to four weeks out."
The result is a good balance of work, a smooth project cadence, and the ability to deliver her best work, every time.
Raise your hand for new opportunities
It sounds obvious, but if you don't proactively ask for career opportunities, you won't get them.
One satisfying partnership came when Kaleigh teamed up with Paul Jarvis to help him run Creative Class, a course all about the business side of freelancing.
The relationship started because Kaleigh took initiative and offered to help.
She had taken Paul's course herself in 2014, when she first started freelancing. It was that course that convinced her of the power of a niche. Two years later, Paul sent out an email asking how he could improve the next version of the course.
"Right off the bat, I was like, you need X, Y, and Z, and I can help you do them. And he was like, 'okay, why don't you come on board as a partner?' And so just by raising my hand and saying I have an idea and I can help you execute it, that opened that door to that partnership," Kaleigh said.
She and Paul collaborated as co-teachers for several years, including airing six seasons of a podcast and working with over 3,500 students.
The opportunities you seek out and volunteer for don't always have to be writing-related in order to further your career. In this case, Kaleigh got to accomplish the dual goal of getting public visibility and helping many other fellow freelancers in the process.
Set boundaries for a well-rounded life
When you're a talented professional, it's hard to know when to stop. There's always one more big project around the corner.
It took time, but Kaleigh realized she needed a healthier work-life balance.
"I'm one of those people who feels like I could always be doing a little bit more. And that's a really slippery slope, especially when you're very competitive, you're very driven. It's really easy to be always on, always taking things in," she said.
If you find yourself at the point where you can't sleep at night due to a laundry list of projects and a brain on hyperdrive, it might be time to take a step back and reassess.
"I would think about all the things I still needed to do, all the things I still didn't get done. And it was just like this never-ending cycle of bad feelings. And so I had to put some boundaries in place," Kaleigh said.
The steps you take might vary, but in Kaleigh's case, it included taking all social media off her phone, and making time for reading, exercise, and other healthy habits.
When you're consuming and creating content all day long, you can also get mentally fatigued.
When it comes to what she reads and who she follows, Kaleigh consumes content selectively and is an advocate of quality over quantity.
On Twitter, she seeks out and follows others who are consistently sharing valuable insights, and unfollows the rest.
"Just keeping it pruned down and making sure that there's as little noise as possible," she said.
Businesses will always need freelancers
The best news for freelancers is that their services will almost always be in demand, from both companies large and small.
When a new business is scaling, they need freelance writers becuase they can't afford a full-time hire. Once they have a full in-house team, they often still need help for overflow work. It's a win-win for freelancers.
"For a lot of especially small teams who are just getting started, freelance is just like the most natural fit for them. Because they don't have the resources to hire full-time team members, but they need help scaling up what they're already doing," Kaleigh said.
Especially when your niche and subject matter experts fit their needs, it can be an excellent partnership.
Once you prove your chops, you can safely go after the big companies, too. Once a company has its own marketing team, the strategy really starts to snowball and can quickly be too much for the in-house employees to tackle alone.
"In my experience, there are still always freelance writers that are part of the equation. Because even with the in-house team, there's still so much to do," Kaleigh said.
So what are you waiting for? If you have a passion for writing and are willing to put in the time and effort required, you almost certainly have a thriving career ahead of you.
For more of Kaleigh's freelance writing tips, check out her podcast The Freelance Writing Coach.