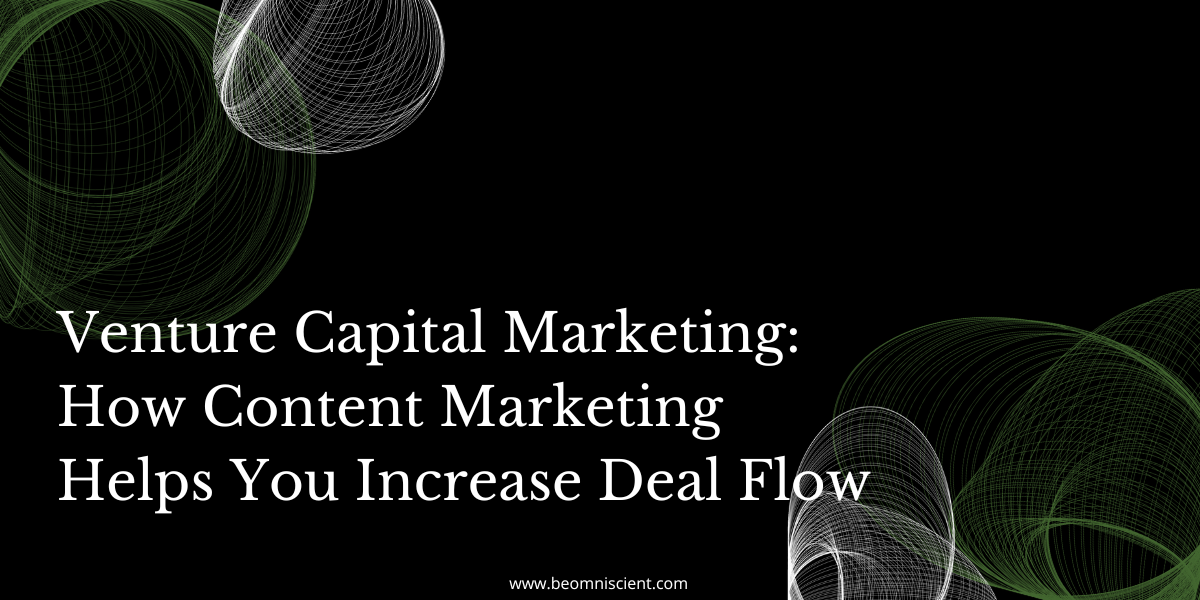 Relying on traditional networking alone to increase deal flow for your VC firm is like playing bocce ball: They both rely on factors beyond your control, making it difficult to guarantee sustainable success.
During a game of bocce ball, you throw your balls and hope that your throws are precise enough for more balls to land as close as possible to ‌the pallino. However, if all your opponent's balls land closer to the pallino, they earn more points and you lose the game.
Similarly, if other VC firms network better than you do, they're going to increase their deal flow ‌and expand the portfolio of companies they manage.
And that's where content marketing comes in. It helps you gain recognition as an influential player in the startup ecosystem by improving your visibility, earning more credibility, and consequently increasing your deal flow.
In this post, we'll talk about how content can increase deal flow for VC firms. We'll also share content strategies and examples of VC firms that are already getting it right.
What is content marketing?
Content Marketing Institute defines content marketing as "a strategic marketing approach focused on creating and distributing valuable, relevant, and consistent content to attract and retain a clearly defined audience—and, ultimately, to drive profitable customer action."
It is a strategic marketing approach because it involves:
Understanding the needs, goals, and pain points of your target audience
Identifying relevant content topics
Publishing content in different formats for easy consumption
Distributing it on relevant channels
Tracking relevant performance metrics and optimizing them to achieve your objectives
Why content marketing matters for VC firms
For a VC firm, content marketing helps you increase awareness and visibility among startups and entrepreneurs by highlighting your firm's investment focus, it's success stories, and any other services that you provide (in addition to funding) to attract a higher number of startups seeking funding.
Here's a hypothetical breakdown of what this looks like from a startup founder's point of view:
NexusTech, a promising startup in the tech industry, has a great product and wants to accelerate its growth. Its founders need funding and strategic guidance from a reputable VC firm. How will NexusTech look for and pitch a VC firm and what role will content marketing play in the process?
Awareness: NexusTech's founders start their search for VC firms through different channels including online research, attending industry events, and networking with fellow entrepreneurs.
Evaluation: After identifying a number of potential partners, NexusTech's founders start reading each firm's content. They subscribe to email newsletters and follow their social media profiles.
Each firm regularly shares valuable insights and updates on industry trends, startup success stories, and thought leadership articles through its content channels. This helps the ‌founders gain valuable insights into each VC firm's investment philosophy, areas of focus, and the type of startups they support.
Their online search leads them to a small but well-established VC firm, Ascend Capital. The founders are impressed by Ascend Capital's reputation for supporting tech startups and its extensive portfolio of successful companies.
The industry reports and thought leadership content the VC firm publishes provide a glimpse into Ascend Capital's thought process and expertise, building trust and credibility with NexusTech's founders.
NexusTech's founders also read about Ascend Capital's successful portfolio companies and the firm's active involvement in nurturing their growth. They become increasingly convinced that this VC firm aligns well with their goals and values.
Decision: Impressed by Ascend Capital's content and investment track record, NexusTech's founders attend a virtual webinar hosted by Ascend Capital on the future of tech investments.
During the webinar, NexusTech's founders participate in a Q&A session, asking insightful questions related to their industry. This interaction establishes a connection between the founders and Ascend Capital, piquing the VC firm's interest in the startup.
Equipped with a deeper understanding of Ascend Capital's focus areas, NexusTech's founders tailor their pitch to highlight how their product aligns with Ascend Capital's investment thesis.
They emphasize the market potential, competitive advantage, and scalability of their solution, demonstrating why NexusTech is an excellent fit for Ascend Capital's portfolio.
Through their engagement with the VC firm's content efforts, NexusTech's founders feel confident and well-prepared.
They deliver a compelling pitch that showcases their product's value proposition, market validation, business model fit, and potential for growth.
How Ascend Capital benefits from content marketing:
An increase in deal flow: Ascend Capital's content marketing efforts help startups like NexusTech discover the firm organically. By consistently publishing relevant and valuable content, Ascend Capital attracts a continuous stream of high-quality deal flow and opportunities to consider for investment.
Earning credibility: The informative and insightful content that Ascend Capital publishes helps it establish itself as a thought leader in the tech startup ecosystem. This credibility helps attract top startups and entrepreneurs seeking funding and mentorship.
Building relationships with startup founders: Content marketing creates an avenue for interaction and engagement with startups. Looking at our hypothetical example above, the webinar that NexusTech's founders attended allowed Ascend Capital to connect directly with them, fostering a relationship that goes beyond a traditional pitch.
Strategic Alignment: Ascend Capital's content marketing efforts ensure that startups like NexusTech understand the firm's investment thesis and focus areas. This leads to a better match between the VC firm and the startups they invest in, increasing the likelihood of successful partnerships.
This scenario captures the four-step content marketing funnel, where content acts as a powerful tool, not only for startups to discover and learn about VC firms like Ascend Capital but also for VC firms to attract the right startups that align with their investment goals and expertise. 
Content marketing strategies to enhance venture capital prospecting (with examples)
While content marketing is far from a new approach to marketing, it's a mainstay for most marketers looking to differentiate and stand out from other firms.
1. Publish thought leadership content
Thought leadership content allows you to provide valuable insights and actionable advice in your content. It demonstrates that your firm is not only interested in capital but also genuinely invested in the success of its portfolio companies.
Here's an example of story-led thought leadership content by FirstRound Review. It demonstrates a deep understanding of the market and emerging trends by the VC firm, which it then uses to come up with innovative ideas through its content: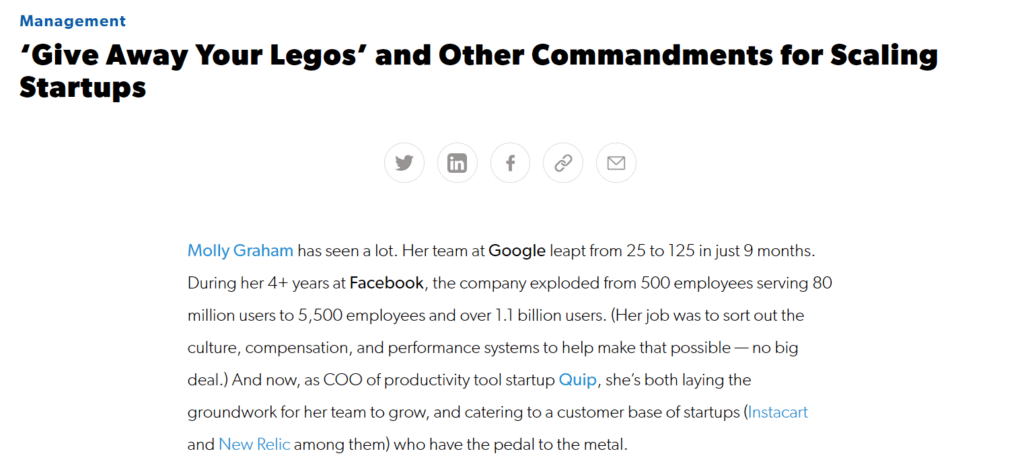 In the piece, Molly Graham offers management advice for founders who are scaling their startups. 
According to First Round Review, it's one of their most popular articles. But what makes this piece stand out among other pieces with management advice?
It is a personal narrative that validates the challenges that other founders face when scaling their startups.
It shares tactical advice packaged as "giving away your Legos"—a spin-off of a related idea that most founders are familiar with. Such advice is memorable and likely to make its way into a conversation among startup founders.
2. Publish case studies and success stories
Case studies and success stories help you provide tangible evidence of your firm's ability to identify promising startups, evaluate opportunities, and make strategic decisions.
Case studies also allow you to demonstrate the value you deliver to portfolio companies beyond financial backing. This includes mentorship, strategic guidance, and access to valuable networks, emphasizing your firm's commitment to the success of its investments.
For example, Y Combinator has a directory of startups they've funded since 2005 with accompanying customer stories: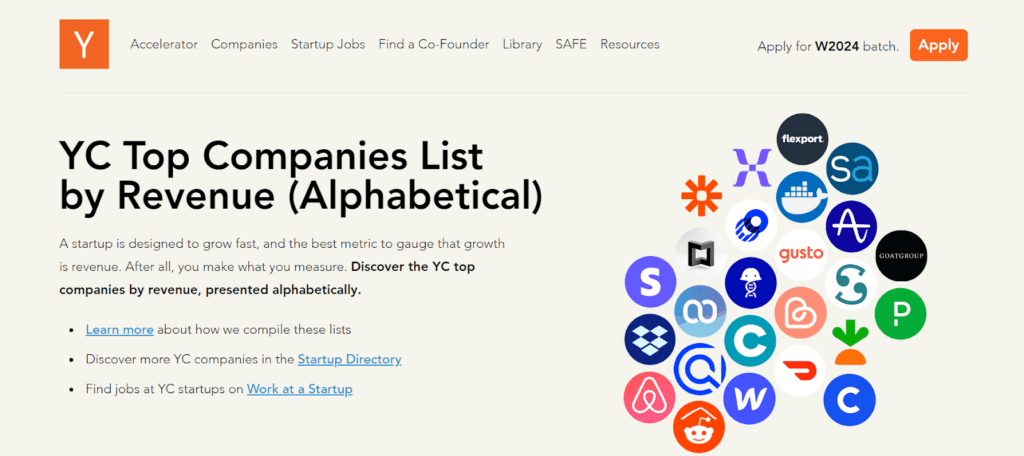 Since these are concrete examples of startups that have succeeded from Y Combinator's funding and strategic support, it builds credibility and trust among founders who are looking for funding.
3. Host webinars and virtual events
Building and maintaining a strong network is vital in the world of venture capital, as it leads to a steady flow of investment opportunities and potential collaborations.
In addition to providing an effective platform for VC firms to share their knowledge and expertise, hosting webinars and virtual events presents an excellent networking opportunity for VC firms.
Through webinars, VC firms connect with potential portfolio companies, co-investors, and strategic partners, expanding their network within the startup ecosystem.
4. Guest blogging and collaborations
Guest blogging and collaborations help your VC firm to expand its reach and influence beyond your own channels. By contributing valuable content to well-established industry websites or partnering with recognized players, you gain access to a larger and more diverse audience, leading to more visibility.
TechCrunch, a well-known publication of events in tech, has a "Venture'' category on their blog which publishes content from VC firms: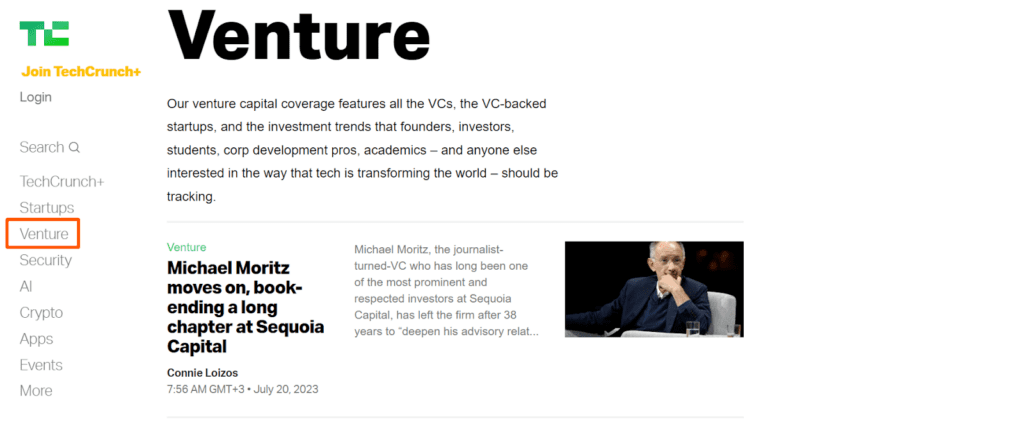 This increased visibility leads to more entrepreneurs seeking funding from your firm and partnerships that lead to co-investment opportunities and joint ventures.
In addition to expanding your reach and influence, guest blogging and collaborations provide you with an opportunity to showcase your industry knowledge and establish thought leadership. Sharing valuable content on relevant topics reinforces your firm's expertise and positions them as a trusted voice of authority.
5. Promote your content on social media
Actively sharing valuable content, insights, and updates on social media platforms helps your VC firm increase its visibility within the entrepreneurial community and build a strong brand presence. 
For example, a16z published an article sharing how companies can improve their growth through better customer service and then shared it with their followers on Twitter: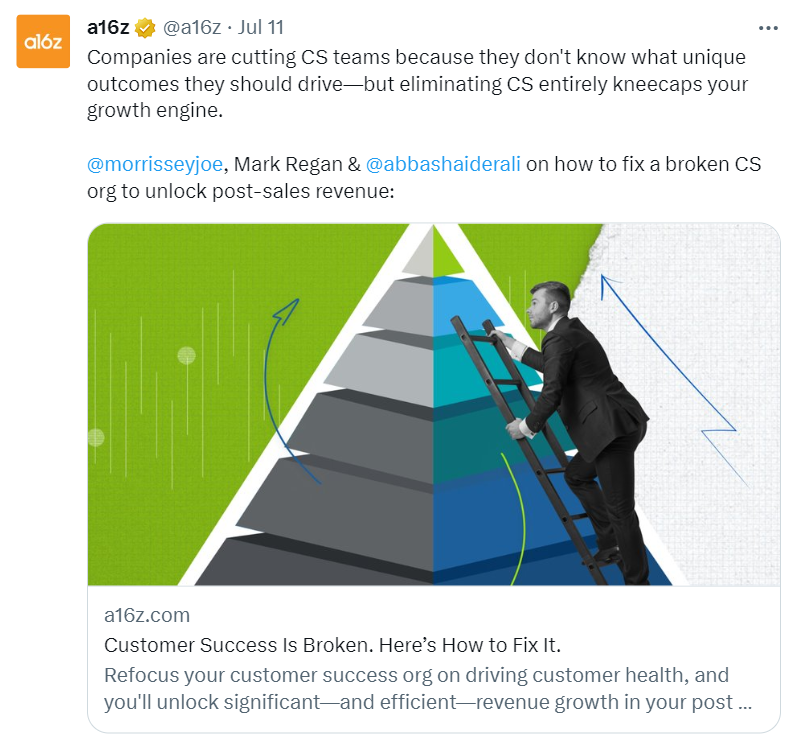 In addition to sharing the content you publish on social media, you can also interact with startup founders, other industry experts, and investors by engaging in conversations, responding to questions they ask, and participating in industry discussions. 
This helps you build meaningful relationships that lead to potential investment opportunities and partnerships.
6. Create an email newsletter
Email newsletters provide VC firms with a direct and personalized communication channel to connect with their audience of entrepreneurs, investors, and other industry stakeholders. 
This direct connection fosters engagement and strengthens relationships by sharing thought-provoking insights, market trends, and expert opinions.
This content showcases the firm's expertise and positions them as a knowledgeable player in the venture capital industry. Here's a snippet of an email newsletter from MKT1 Capital: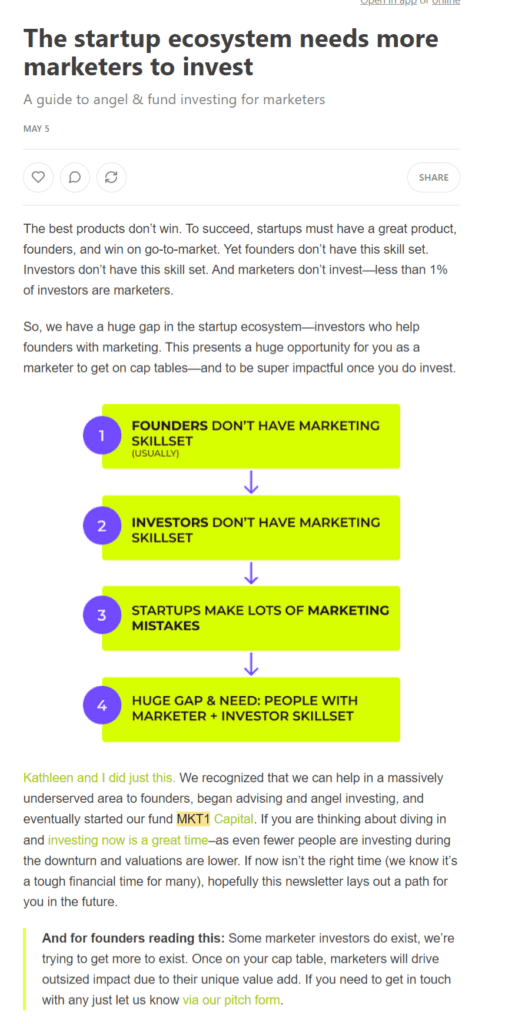 Regularly sending such newsletters to subscribers keeps the VC firm top-of-mind when entrepreneurs are seeking funding.
Besides, an email newsletter fosters a sense of community among the VC firm—founders and other stakeholders who find the content relevant and useful are more likely to engage with the firm and seek its support.
Conclusion
For your VC firm to have a sustainable and viable increase in deal flow, you need to rely on content marketing as it helps you maintain a well-coordinated presence on your website, social media, industry publications, and through email.
Each of the strategies we've talked about works well in each stage of the content marketing funnel. If you need help with scaling your content efforts, Omniscient Digital might be able to help. Fill in this form to book a free strategy call and we'll be in touch.