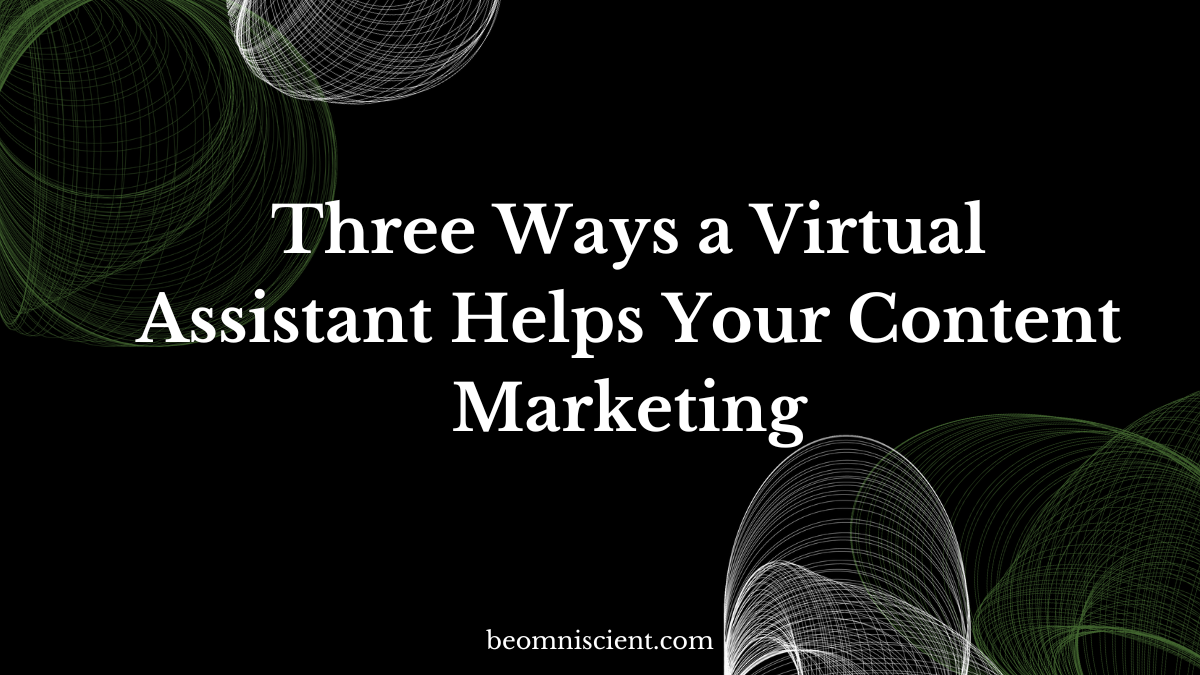 In a world ruled by the internet, content marketing is a potent tool that funnels potential clients and brings in new prospects for your business. Unfortunately, it is also one of the most ignored areas by companies initiating businesses.
Particularly, smaller ventures lack the resources to hire a team dedicated to this work exclusively. Consequently, the sole responsibility falls on the entrepreneur, who is already juggling too many tasks and cannot devote enough time to this.
The result? Content gets inconsistent and dull. It fails to capture new leads, and the business wastes potential.
To stand out from the turbulent competition where millions of businesses align their marketing strategies with the digital era to attract new potential customers, a high-standard online marketing strategy is a must.
The catch here is that time is never enough, and marketing content takes a long time—not to mention the work to cultivate an out-of-the-box, creative headspace. Because of the little details, it can be difficult for many businesses to implement an effective content marketing strategy.
Nonetheless, there is a solution to every problem—this is where virtual assistants come in.
Virtual assistants for content marketing are in charge of executing the company's digital marketing strategy and increasing brand recognition and conversions.
John C. Maxwell said, "If you want to do a few small things right, do them yourself. If you want to do great things and make a big impact, learn to delegate."
Small and large businesses worldwide choose to delegate tedious, recurring tasks to virtual assistants, with content marketing virtual assistance being among the most in demand. This way, businesses get skilled workers at hand while substantially offloading their burden.
Virtual assistant services are a significant ingredient in assisting businesses to get off the ground.
In this post, we'll illustrate the importance of content marketing and discuss the three ways virtual assistants can assist you impeccably with your content marketing.
Why is content marketing important?
Image Source: Freepik
Content marketing means creating and sharing content that provides value to your audience.
As a result, it wins over prospects and new clients. It's an excellent way to build online relationships, promote your brand, and establish yourself as a thought leader in your niche.
The goal of content marketing is similar to that of a fisherman: to "catch" an audience. It's fantastic how quickly something spreads on social media if targeted correctly, and with the right content, you'll gain an increased audience and viewership.
Content marketing also makes it affordable to interact with current and potential customers. Furthermore, sharing information with clients is an innovative way to gain their respect and trust even before you close a deal with them. This greatly helps in developing strong client relationships.
Such investments have the potential for high returns and are a great way to explore fresh business opportunities.
How a virtual assistant enhances your content marketing efforts
Content creation virtual assistants foster discussions about your brand, product, or service. By producing and disseminating the right kind of content at the right time and on the most effective channels, they nurture conversations to turn them into relationships and, ultimately, potential leads.
Let's see how they enhance your content marketing efforts!
1. Strategize and research content
Content marketing necessitates extensive research and planning. The following are key areas where virtual assistants are highly beneficial.
Create content strategy
A virtual assistant (VA) is invaluable when figuring out your overall content strategy. They clarify your brand's voice and tone as an outside observer, ensuring consistency across all platforms. This is why delegating time-consuming tasks such as tracking audience metrics, researching hashtags, and optimizing your content for SEO to a VA is helpful.
Conduct extensive research
Comprehensive content research is essential for any successful content marketing strategy. However, research, like many other aspects of content creation, is a daunting task.
Here, your virtual assistant handles all the content research for you. Be sure to establish the process and guide strategy so your VA can successfully align with your business' vision.
Recognize market conditions
A virtual assistant researches crucial facets of your intended market. For instance, a VA might set alerts for specific keywords and keep track of new developments or actions made by competitors. In addition, they can monitor news websites, discussion boards, opportunities, and potential threats by competitors.
While you cannot always focus on what your competitors are doing, it's critical to be aware of them. Investigating their apparent winning tactics is crucial to stay ahead. Your virtual assistant can handle this while ensuring you don't lose sight of anything happening in the market.
Target Audience
Developing a content marketing strategy that caters to your target audience is crucial. Writing with a specific audience in mind is always a good idea.
You can get assistance from your VA to precisely target that audience. In their work, they've gained insights into audience behavior you may not have had the time to engage with. For example, your VA monitors social media comments or discussions in your niche so they can generate ideas from them. They also observe your audiences and their interests and can reflect that in upcoming content.
2. Create content
Image Source: Freepik
Your virtual assistant can produce content for your business not just in the form of written articles but also in the form of designs, infographics, slideshows, whitepapers, presentations, and many other similar items.
These forms of content regularly educate your potential target market on your products and services. They gain your audience's trust by consistently assuming the role of a thought leader and disseminating knowledge. Additionally, your VA can assist you in developing SEO-optimized and engaging graphics or posts.
The following are some advantages of effective content creation for your company:
Maintaining fresh and updated website content to improve SEO
Showcasing goods and services and promoting brands
Engagement and retention of customers
Nurturing leads
Establishing thought leadership
Here's how a good virtual assistant helps you with content creation:
Conceptualizing new content ideas
Creating keyword-rich articles and industry-relevant content
Creating eye-catching graphics to increase online engagement
Developing compelling CTA posts for your social media
Repurpose Content
Having a second set of eyes review your work is remarkable because that new perspective can spot the trapped content you cannot. Trapped content is anything previously shared that can be repurposed in another context or medium.
Your previous podcasts, webinars, and interviews? Worksheets, emails, and posts on social media? Pretty valuable content.
You never know when outdated content might be helpful for your ongoing projects.
A reliable virtual assistant also helps with the grunt work by compressing your longer content into shorter formats. For example, they might turn a video blog into a written blog, extract content from your podcasts, repurpose content for social media, and even edit your articles.
You can delegate these "boring" tasks to a VA to freshen up old content for a new audience.
3. Schedule and promote your content on social media
Content marketing relies heavily on social media. Virtual assistants in content marketing understand how to use social media to increase brand value. When you associate such a professional with your brand, they succeed in promoting the worth of your company's brand to the consumers' eyes.
When frequently posting and producing quality graphics while also sharing other people's content, a virtual assistant can be an enormous help. They boost online visibility and website traffic. They also engage with your audience on social media platforms and keep an eye on them, saving you a ton of time.
They can even raise your company's profile on social media if they already have a large following and fan base. However, before affiliating the VA with your brand, you must speak with them about your content marketing vision. This enables your assistant to post efficiently and stay aligned with your business objectives.
Some of the advantages of influential social marketing include:
Directing traffic to your website
Increasing SEO Rankings
Increasing customer satisfaction
Boosting brand presence
Here's how efficient virtual assistance helps you with your social media management:
Creating compelling CTA posts
Scheduling content across social media platforms at the most appropriate times
Interacting with your target audience online
Keeping an eye on social media sites
Monitoring engagement metrics
Final Thoughts
Image Source: Freepik
We've covered merely a few of the numerous tasks related to content marketing that your VA can manage.
Our main takeaway: delegate content management and marketing to your virtual assistant. This way, you can direct your productivity toward business-critical objectives.
Now, all that's left to do is divide the management and marketing of content into simple tasks that your capable virtual assistant can complete.
Virtual assistant services from a top-notch agency like Wishup help you navigate and plan content marketing while they handle trivial but equally significant tasks. You'll be surprised by the high-quality content creation and marketing that a virtual assistant provides to assist you in bringing out the true power of good quality content and efficient content marketing.
So hire a virtual assistant today and see how well that enhances your content marketing efforts!
---