How AppSumo grew organic traffic 843% and revenue from organic traffic 340%
A four-part approach that included in-depth research, strategy development, high-quality content production, and building backlinks.

"With Omniscient, we 10x'd our blog traffic and established a content strategy we're excited about that's defensible and sustainable. I'm so grateful for their continued help and support throughout this process."

Ilona Abramova

Head of Content
AppSumo is a software marketplace beloved by the startup and entrepreneur community. Startups often launch their products on AppSumo and find a lot of success in gaining early traction. AppSumo has launched over 1,000 products and paid out over $500M to startups that sell on the AppSumo marketplace.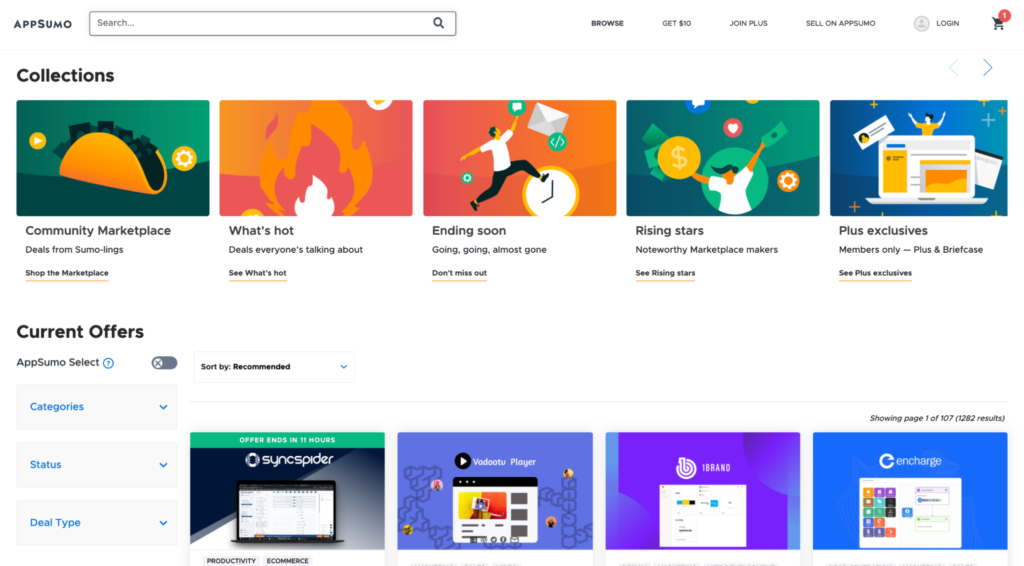 Part of that success is due to AppSumo's longstanding brand, their blog, and their founder, Noah Kagan. Their email marketing campaigns will also be fodder for future HBR case studies.
Why, then, did they approach Omniscient Digital for help with content marketing?
They were already getting some traffic to their blog, but they knew they could do more with content and SEO. Their articles were occasionally informed by SEO, sometimes driven by gut feel, and other times informed by community feedback. There was no cohesive plan in place.
The Goal
The AppSumo team wanted to grow their traffic and, more importantly, capture traffic that would lead to conversions and revenue. They wanted to unlock content marketing as a new performance channel to complement their highly effective paid acquisition and email marketing channels.
The Challenge
There's no right or wrong way to do content strategy, which makes it more difficult to decide on the right path.
"Should we focus on high search volume traffic that won't convert? Or should we focus on highly relevant keywords with less search traffic?"
It's also a challenge to create bandwidth to conduct the research needed to decide on the strategy—not to mention the time spent producing that content.
And production isn't just writing—it's creating content briefs for writers, it's editing, it's creating social media graphics, it's publishing, it's promoting.
AppSumo was running lean, and they wanted to move fast immediately.
That's where the Omniscient Digital team came in.
A Sneak Peek of the Results
In one year, Omniscient helped AppSumo:
Grow their blog organic traffic 843%
Bring in $165,000 worth of monthly organic traffic to complement paid ad campaigns
Rank on page 1 of Google for 53 keywords
See 340% uplift in revenue from organic traffic
Here's how they did it.
The Solution
Omniscient followed a four-step process to diagnose and implement the right strategy to grow AppSumo's organic traffic:
Research
Strategy
Production
Promotion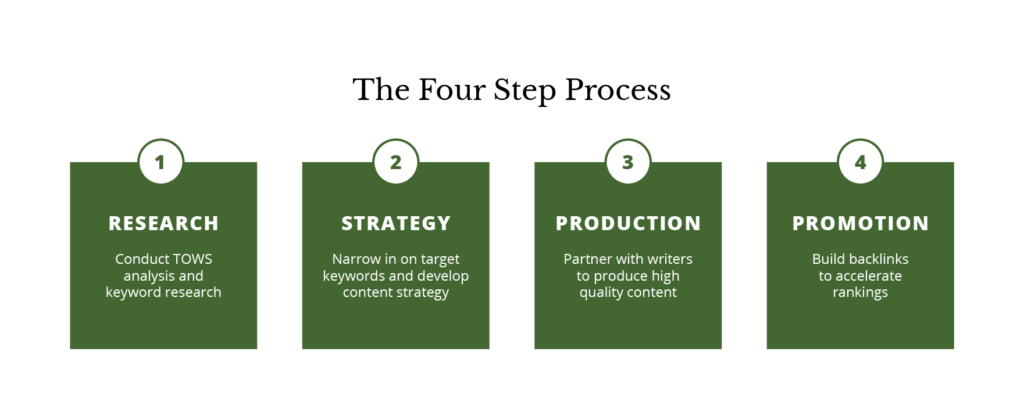 The Omniscient team started by looking at where AppSumo stood in comparison to their competitors and conducted a TOWS analysis: Threats, Opportunities, Weaknesses, and Strengths (also known as a SWOT analysis).
AppSumo had a strong high domain rating (DR) in the 70s. When looking at this through the lens of content economics, this meant content published on AppSumo.com could compete for highly competitive keywords.
As with any client, Omniscient started by figuring out the strategy.
AppSumo's software marketplace sells discounted products that are often considered alternatives to more well-known software, so their keyword research had a strong emphasis on various software categories.
Through their research, the Omniscient team realized that if AppSumo could rank for highly competitive, high purchase intent keywords like "best graphic design software" or "canva alternatives," their website was set up to convert those visitors into customers.
The Omniscient team saw this as an opportunity to apply their principle of product-led content.
While conversions were the goal, the team also made sure to include relevant keywords with high search volume and low purchase intent in their content portfolio to help them capture more traffic.
Omniscient's research resulted in a list of thousands of potential target keywords. They partnered with AppSumo to cull the list down to a quarter's worth of content to produce.
Then Omniscient created content briefs for each target keyword which gave the AppSumo content team all the information and context they needed to produce high-quality, search-optimized content. These briefs included suggested titles, opportunities to capture featured snippets, and related secondary keywords the blog post could rank for through the use of headers and subsections.
Omniscient partnered with AppSumo's writers and iterated on these content briefs to make sure the content was optimized and ready to publish with minimal edits, allowing the AppSumo team to continue running lean.
To supplement AppSumo's already high domain rating, Omniscient also built high-quality, relevant backlinks from websites with a domain rating of 50 or higher.
Results
In one year, AppSumo grew their organic blog traffic by 843%: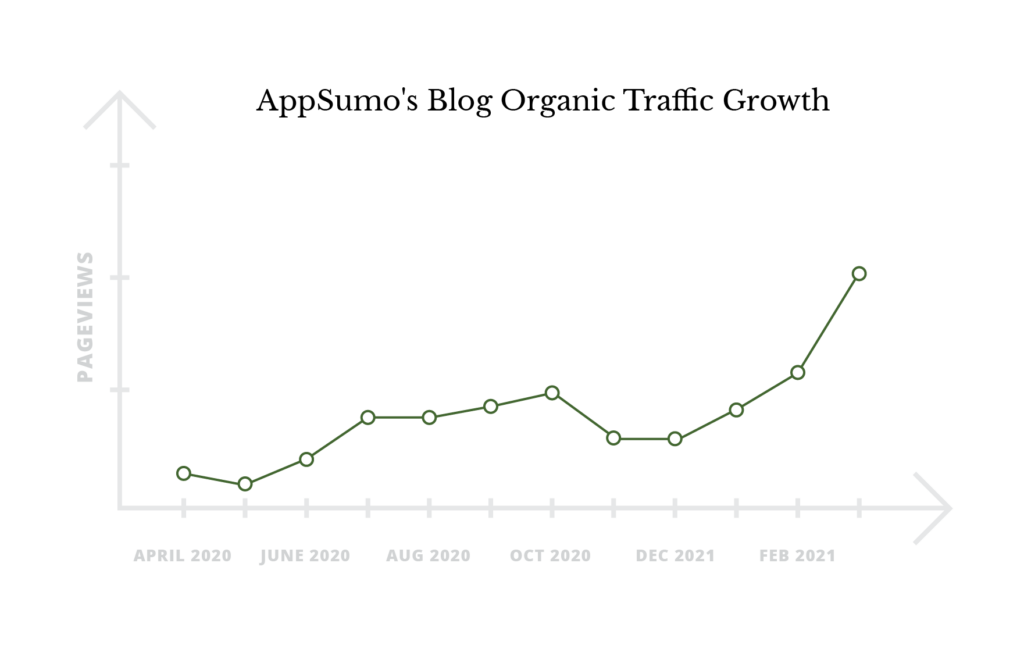 The chart below shows AppSumo's rankings for highly competitive target keywords improving from
Not ranking (white)
To ranking beyond page 3 (grey)
To ranking on page 3 (yellow)
Moving up to page 2 (light green)
And showing up on page 1 (dark green)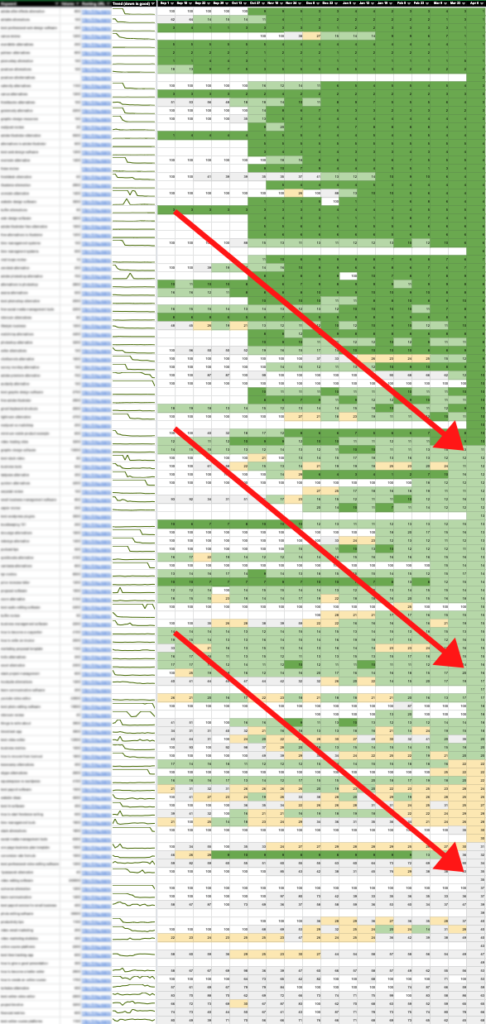 In addition to those target keywords, AppSumo also began ranking for additional tens-of-thousands of related and semantic keywords.
For example, by targeting and ranking for "photoshop alternatives" (which has 18,000 monthly searches AppSumo also ranked for "free photoshop alternative" (17,000 monthly searches) and "free alternatives to photoshop" (4,000 monthly searches).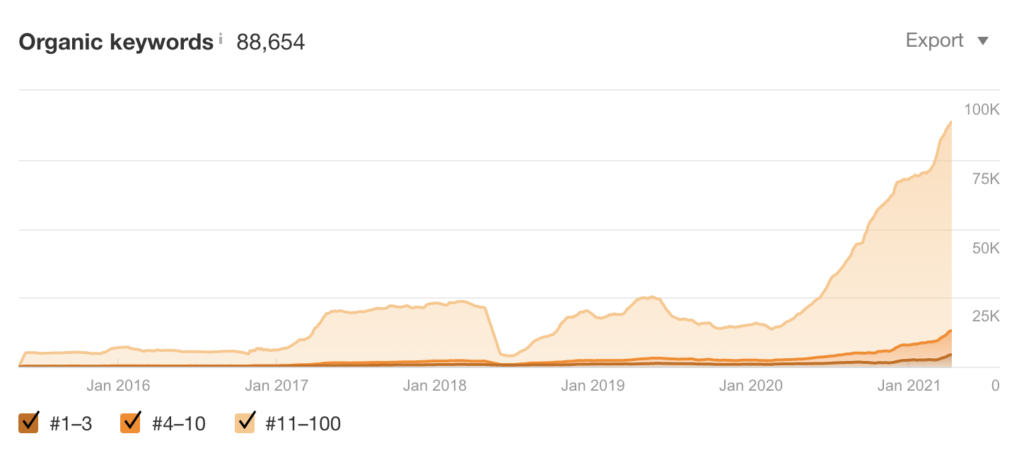 And that wasn't junk traffic. It was valuable traffic that AppSumo would've had to pay over $165,000 in ads to acquire.

Here's how Ahrefs defines traffic value:
Organic traffic value is the equivalent monthly cost of traffic from all keywords that the target website/URL ranks for if paid via PPC instead of ranking organically. 

In essence, the number gives you a sense of how valuable a domain's keyword profile is. Another way to think of it is how much money the target website/URL has saved in terms of ranking for keywords organically, instead of buying paid traffic.
That money isn't saved just once. AppSumo saves that amount of money each month they rank for those keywords and don't have to pay for that traffic.
In addition to traffic growth, the revenue AppSumo received from organic traffic grew 340%.
AppSumo now has a replicable content strategy that targets keywords with high search volume and high purchase intent. They plan to apply that strategy as they expand their marketplace offerings to more software categories for new buyer personas.
Let's work together
We've helped other B2B software businesses grow through content marketing. Wondering if we can do the same for you?
Full-service engagements start at $10,000 per month.