GatherContent Grows Organic Sessions 867% and Leads 62% YOY Leading to Acquisition
"Omniscient Digital built a content strategy that provided structure and a clear roadmap which they executed with excellence. They made it easy for us to scale our content program."

Andrea Thompson

CMO, GatherContent
growth in organic blog sessions
growth in leads from blog content
rankings on page 1 of Google
GatherContent is a content operations platform that helps thousands of organizations around the world create quality content, in less time, and at scale. Their customers include organizations like Intel, Boston University, publicis sapient, and Ogilvy.
GatherContent was acquired by Bynder in March of 2022. Bynder's digital asset management platform enables teams to conquer the chaos of proliferating content, touchpoints, and relationships in order to thrive.
The GatherContent team was focused on user and lead growth and with the content operations space becoming more competitive, they needed to invest in scaling their content program to grow and outpace competitors.
In June 2021, the team had already produced a lot of high quality blog content and content offers for lead generation, and they already had a large customer base.
They were also shifting their focus away from serving agencies as their core ideal customers and towards marketing leaders in a wide spectrum of industries, including finance, higher education, and government.
The Challenge: A small but mighty team with few resources
At the time, Andrea had joined the team as a fractional CMO. The marketing team was small and lightweight, and content was produced through collaborations and guest authors.
Up until that point, their robust albeit ad hoc content didn't have an SEO strategy behind it. It was time for a more intentional approach—the team just needed help.
They had worked with another agency in the past but felt their needs weren't prioritized. So, they had to let them go.
In addition to producing new content to capture more SERP real estate, traffic and leads, Alice and Andrea knew they also had to optimize the existing content. Doing both would create a moat to insulate GatherContent from competitors.
They wanted to be "aggressive with content."
To do that, they looked for a full-service solution to scale up their content program with a comprehensive strategy behind it.
Most of all, they were looking for a partner they could trust.
That's when they engaged with Omniscient Digital.
Partnering with Omniscient Digital, they developed a comprehensive content strategy that spanned the customer journey from awareness, evaluation, down to choosing GatherContent.
Omniscient Digital provided a full-service content production program that included publishing new content, updating existing content, and building valuable links to continue building GatherContent's domain authority.
The engagement began with building a full-funnel content strategy which included competitive analysis, content gap analysis, an audit of existing content for update opportunities, and keyword discovery to uncover new, relevant ranking opportunities. Most importantly, the content strategy aligned with the overall business goals of driving more users and leads rather than just traffic.
After developing the content strategy, Omniscient Digital moved into execution mode, producing new content, updating existing content, and building backlinks for GatherContent.
Results: 867% blog organic session growth and 62% lead growth year-over-year
The content strategy and execution of it proved successful, and GatherContent significantly grew organic sessions to the blog and continued driving leads attributed directly to the blog.
GatherContent began working with Omniscient Digital in August and began content production in September 2021.
In that time, blog organic sessions grew 867%.

Monthly conversions grew 62% year-over-year.

Before beginning work with Omniscient, GatherContent ranked on page 1 for 365 keywords. In total, they appeared in the search results for 6,691 keywords.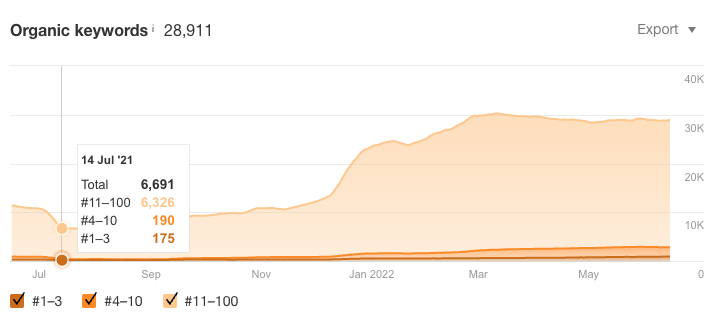 After a year, total keyword coverage grew 332%. They showed up in the search results for nearly 29,000 keywords.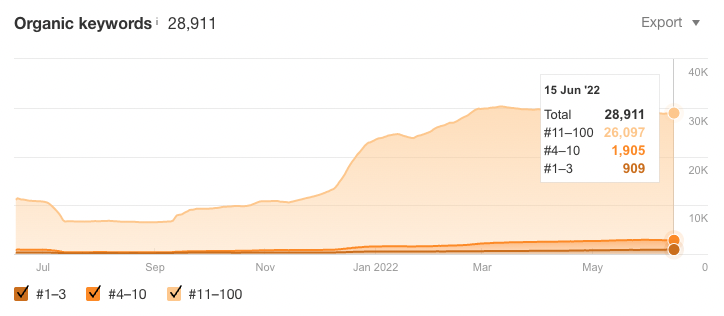 When looking at only keywords that rank on page 1, GatherContent went from 365 page 1 rankings to 2,814, a 671%. increase.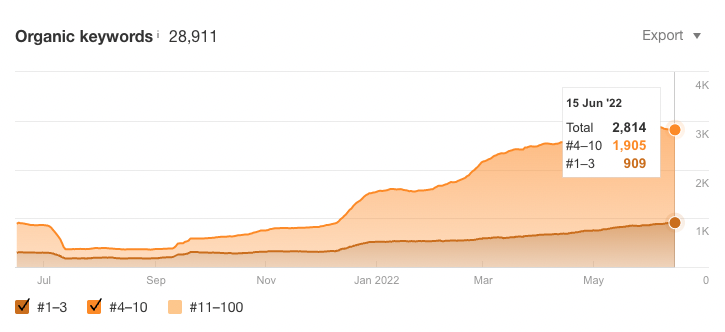 "The entire team at Omniscient really listened to us every step of the way. Their follow up was always on point and it showed they truly understood our needs. It's been clear they understood our business and they really knew what they were doing when it comes to content and SEO."

Andrea Thompson

CMO, GatherContent
Let's work together
We've helped other B2B software businesses grow through content marketing. Wondering if we can do the same for you? 
Full-service engagements start at $8,000.