Shipyard Grows Blog Organic Sessions by 735% and Trial Account Creations by 771%
"With Omniscient, we've been able to increase our traffic, which has increased the conversions that we're getting and [number of] people signing up for the platform. We've seen our domain authority for the website increase by a little bit more than 2x, as well. We're super happy working with the Omniscient team to grow our awareness and presence on the web and really establish ourselves as one of the key players in the data orchestration space."

Blake Burch

Co-founder
increase in page-one keywords
growth in monthly organic pageviews
increase in Trial Account creations
Shipyard is a cloud-based data orchestration platform. It empowers data teams to focus on launching, monitoring, and scaling their business solutions instead of dealing with infrastructure. 
Trusted by hundreds of high-growth data teams across multiple industries, Shipyard aims to remove complexity and fundamentally change how companies build solutions with their data.
The Challenge: Low-quality content and flat traffic
When Shipyard connected with Omniscient Digital in early 2022, the team was small—four-people-total small. They've since grown to 12 FTE, but at the time, co-founder Blake Burch was single-handedly responsible for growing Shipyard's organic presence.
In February of that year, the team hit a point where they were not meeting their goals to scale content operations and generate relevant traffic from that content. They weren't seeing traction in their organic growth. 
Shipyard is also in a super niche technical space: B2B data orchestration, targeting data and analytics engineers with a low tolerance for fluff and BS. 
Blake initially hired external content writers to develop the Shipyard blog, but most posts were duds regarding topical depth, engagement, and search performance. He struggled to find help producing content that could speak to the Shipyard audience.
Moreover, according to Blake, the data industry operates with a "mob mentality" around its tooling choices. "Once enough people recommend something, people will flock to it without even really understanding what it does or why they need it," he told us. "The modern data stack is a bit of a bubble: the people within it are dictating its future, but they currently only represent about 10% of the data teams out there."
From the start of our work with Shipyard, it became clear that there was plenty of opportunity for their own educational content to help data engineers manage, connect, and act on their data.
The Goal: A seamless content engine driving customer growth and brand affinity
Blake wanted to leverage organic content for customer growth, meaning he wanted to turn relevant traffic into product trials and paid conversions.
To achieve this, he wanted to collaborate with a content team that could drive these results through high-quality content that spoke to his technical audience. 
He wanted Shipyard's content engine to position its product to be an established part of the modern data stack developing across the industry. In his words, "We want to solidify ourselves as a 'Zapier for Data' where all of the tools can be connected together for a birds-eye view of your data touchpoints."
The Solution: Our four-phase strategic approach
Blake and the Shipyard team wanted a strategic partner to build topical authority and produce consistently high-quality content that would reach their technical personas. 
They ultimately decided on Omniscient Digital as their content growth partner because of the results we achieved for other technical clients on our roster.
Omniscient Digital initiated four strategic phases to align the content program with overall business goals to address the challenges listed above and provide Shipyard with an effective content strategy. 
Phase 1: Align on Shipyard's long-term goals and quarterly initiatives

Phase 2: Diagnose areas for opportunity by auditing Shipyard's existing blog to understand current inventory and search footprint

Phase 3: Research and develop a full-funnel content strategy that maps back to those goals

Phase 4: Execute the strategy with content and backlink production
The diagnosis phase involved analyzing Shipyard's existing content landscape and search footprint. Omniscient Digital discovered that Shipyard had a domain rating of 23, with most of its legacy content not ranking significantly. This presented an opportunity to enhance Shipyard's authority and visibility within core topics such as data orchestration, the modern data stack, and data operations (DataOps).
Omniscient Digital understood that building backlinks was a necessary ingredient to the success of this content program. Our goal is to target and form partnerships with high-authority domains. We could link Shipyard's content using relevant anchor texts through these partnerships. As a result, this strategy would indirectly increase the domain rating of Shipyard's site and make it more competitive in such a technical space.
The strategy meetings and research conducted by Omniscient Digital allowed us to identify the challenges faced by the data industry and leverage that knowledge to provide valuable educational content on better data management and operations.  This is what strengthened the approach for Shipyard and allowed for Omniscient Digital's internal editorial team to take these ideas and run with them on a weekly production cadence.
Results: Topical authority, brand awareness, traffic and trial sign-ups
Shipyard's content strategy, link-building, and production have succeeded remarkably. The company achieved stellar growth in organic blog pageviews and sessions, successfully turning content into a channel for growth and trial creation.
Since April 2022, Omniscient Digital has produced an average of four search-optimized posts per month and four backlinks from high-authority domains.
These efforts hvae contributed to a 735% growth in monthly organic blog pageviews.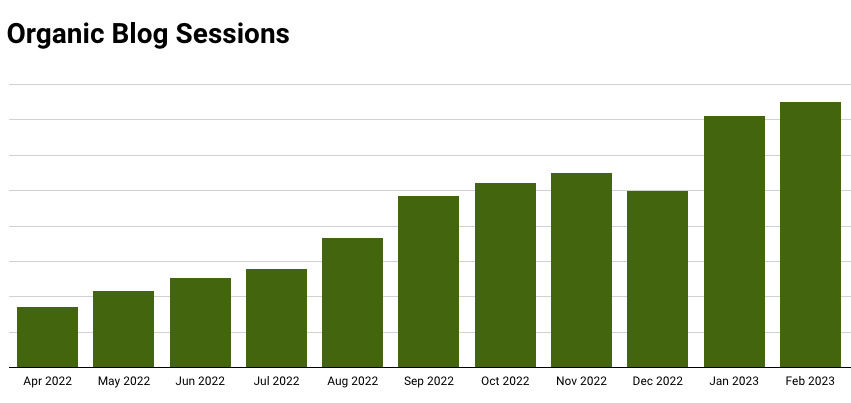 As of February 2022, Shipyard was only ranked in the SERPs for 58 keywords on Google. However, by the end of March 2023, their ranking distribution improved to 289 keywords. 
Out of those, over 130 keywords rank on the first page, accounting for approximately 44% of all keyword rankings.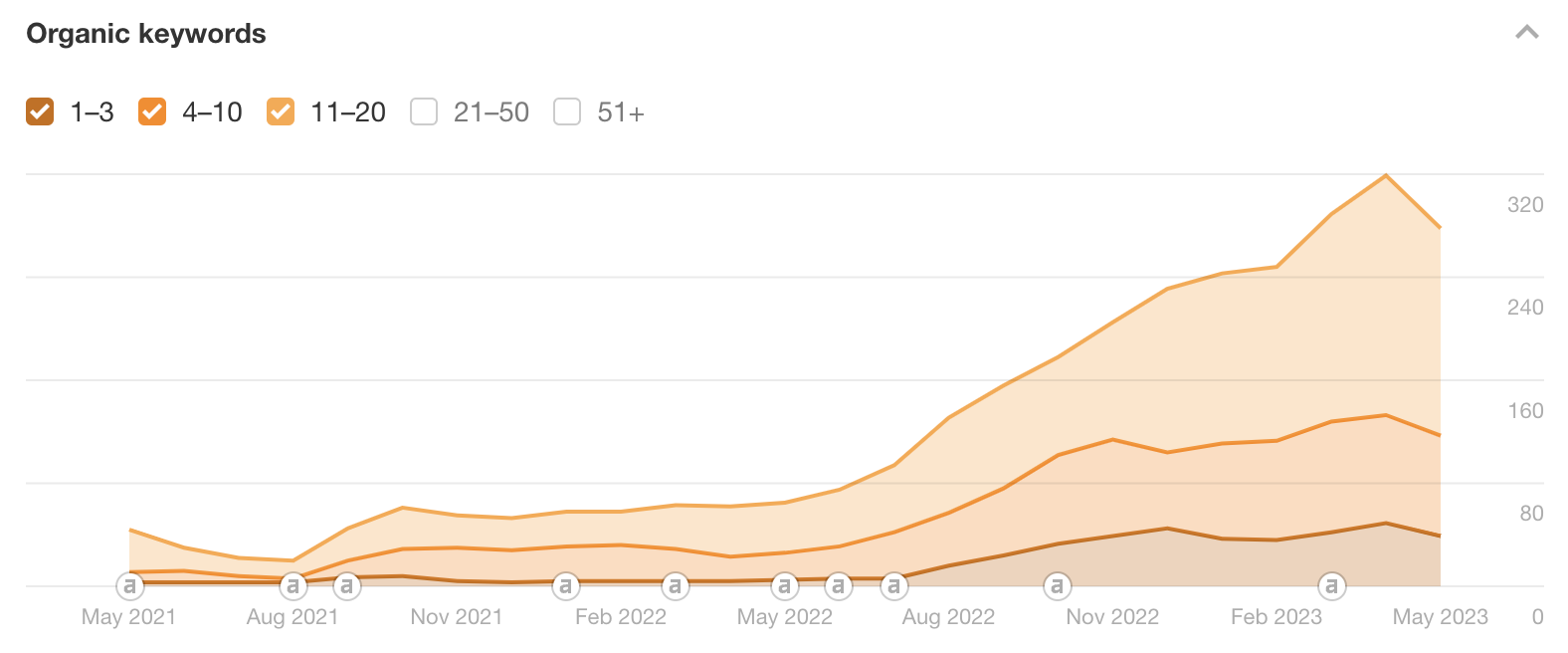 Shipyard's domain rating is increasing and is expected to double. This will improve its authority, thus enabling it to rank for more high-value and competitive search terms in the future.

Due to the increase in both traffic and domain authority, Shipyard observed a surge in their primary conversion event, Trial Account creations, by 771%.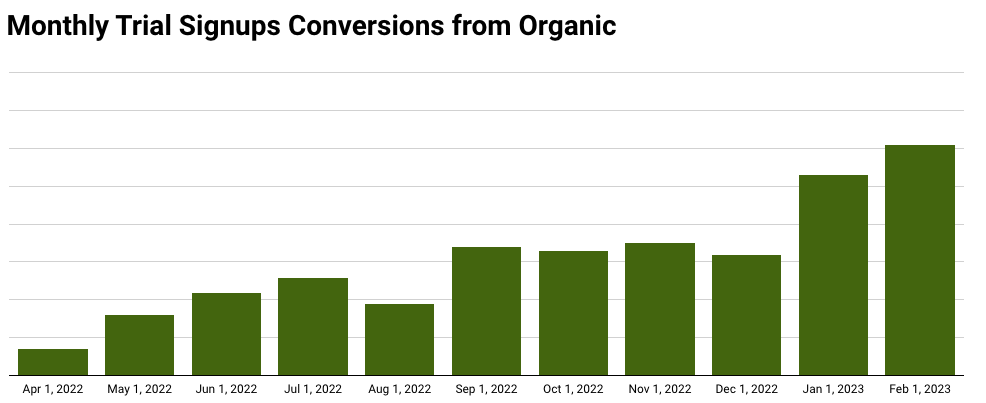 Shipyard has been experiencing an increase in natural website visits, and these visits are resulting in productive business conversions. 
If you're interested in seeing similar results for your business, please contact us and see if we're a good fit!
Let's work together
We've helped B2B software companies turn content and SEO into growth channels. Let's do the same for you.
Full-service engagements start at $10,000 a month.