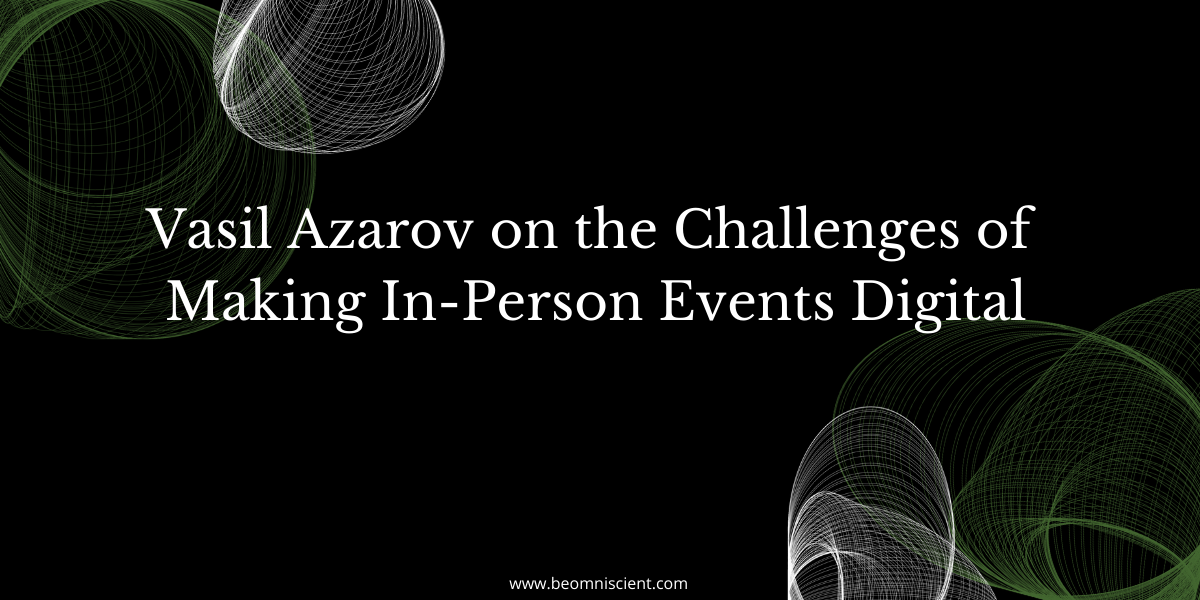 With the pandemic forcing many to shut down in-person conferences and events, companies have turned to a different avenue: virtual meetings.
But tapping into technology requires a unique approach to event-planning.
Vasil Azarov, founder of a community for marketing and growth leaders called Growth Blazers, has used the last two years to find better ways to make the most out of online conferences.
I spoke with Vasil about building a quality event experience, transitioning from in-person to digital, and how to build an online community that lasts.
Take advantage of unexpected opportunities
Since March of 2020, our lives have changed in many ways, and whether we like it or not, some of those changes are going to stick around.
While some companies accommodated the transition to virtual with ease, for Vasil, event-planning wasn't a one-to-one change from physical to digital.
"Everyone was trying to say that, 'Okay, what we're doing, we're just recreating the same experience that you would get in-person in a virtual event,'" Vasil said. "It's just impossible. You cannot do that."
While virtual events come with many changes, there are also some advantages to a fully-remote setup.
One thing Vasil realized was that people were more likely to attend webinars that they could log into from anywhere in the world, rather than traveling across the country for an in-person conference.
"You can utilize virtual and in-person, maybe even a hybrid component, by providing value to your community, to your audience in different environments," Vasil said.
While the pandemic has thrown everyone off their game, it has also forced people to utilize new—and often beneficial—avenues to keep their businesses going.
Focus on your agenda
If you ask Vasil what part of event planning takes the most time, he would say it's planning and designing the agenda.
A good agenda is what will attract people to your conference, whether virtual or in-person.
"In our case it's content, 100%," Vasil said. "And designing this in a way that is convenient for the audience to consume."
You want to make it as easy as possible for your audience to watch and interact with the speakers, seminars, and other attendees.
You also have to take into account that, for virtual seminars, people aren't committed for the whole day.
Your attendees will pop in and out, depending on what content catches their eye, so Vasil capitalized on that by grouping speakers according to similar topic or range of interest for the audience.
"We would encourage attendees to bookmark their calendars for these segments," Vasil said. "Because let's face it, nobody will stay for the virtual conference for the entire day."
If you plan your agenda carefully, you will get—and keep—the interest of your audience.
Get to know your community
Your community is a powerful asset for virtual events, so it's important to know who they are and what they want and need from your conference.
Familiarizing yourself with your conference's potential community can help you cater to their interests, Vasil said.
"This is actually the best way to build the community down the road," Vasil said. "Because if people were able to connect over experience, then they would want to continue that conversation in small groups or something along those lines."
Your goal isn't just to get people to attend your seminars; you want them to interact and form connections with others.
And the more you know about your attendees, the better you'll be able to match them up with people who have comparable interests or difficulties.
"If you have information about their specific challenges, you can get them into small groups and you can send recommendations to watch a specific session," Vasil said. "Almost like a watch party with a group of attendees who face a similar challenge."
With all-virtual events, it can be more difficult to facilitate those interactions, but getting to know the people in your community will help you understand how best to serve them.
Offer interaction to prevent webinar fatigue
Staring at a screen all day isn't the most engaging way to spend your time, but with virtual events, it's often the only option.
Covid gave many companies like Zoom and Skype the opportunity to make their formats more accessible for long-term usage, which is one way to help combat webinar fatigue.
"Maybe it was possible before," Vasil said. "But there are so many technology solutions that now emerged that help us make these webinars more interactive."
Interaction is vital to keep your audience engaged (and awake) during a digital event.
But with dozens of people connected only via a virtual interface, how can you facilitate interactions between them?
Vasil recommends changing things up by allowing the audience to ask questions and converse with each other.
"You can turn your webinar into interactive Q&A with attendees by, for example, limiting attendance to 50 people, and then after the interview is done, you can break everyone down into groups of five so they can discuss key takeaways," Vasil said.
Use the resources you have at hand to help your audience actively participate in the conference.
If your attendees feel involved, they'll be more invested in what you have to offer them.
Encourage conversation within the community
The long-term success of your event is determined by one thing, and that's your community.
"Community is about a sense of belonging and also about utility in a way," Vasil said. "And it's about your community members helping each other. And it doesn't necessarily have to be shown and put on for public display."
Whether your community is connected through a Slack channel, a newsletter, or a social media site, its value isn't based on the number of hits or comments you get.
"What's the most important part is the cadence and the depth of all of these conversations," Vasil said.
Figuring out what platform is best for your specific community can be a challenge, Vasil said, but the most important part of your community is the people in it.
"The most active communities are where the right people are added to that community at the right time with a purpose, and there is also enough critical mass for them to engage," Vasil said.
True community isn't dependent on having the right platform or getting a certain follower count. Rather, it's based in real, interactive conversations between people who genuinely want to help one another.
If you can brave the twists and turns of technology, you can create a quality event experience for your at-home attendees.
The rise of virtual events may have shifted many things about when and how people meet, but the fundamental goal is still the same: to bring people together to learn, share, and grow.
---