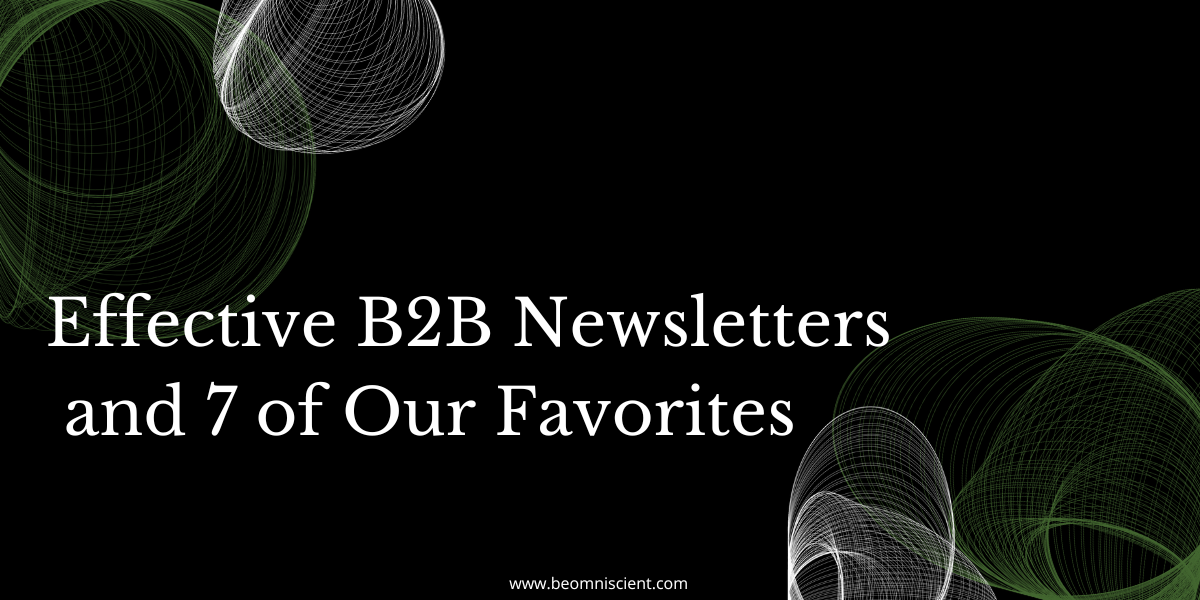 Newsletters have been around for centuries, but B2B newsletters, they're up and coming, and they're taking a page out of consumer newsletters.
B2B newsletters have evolved from overly promotional emails about webinars, white papers, and event announcements to educational industry news and articles.
It might seem that there are a plethora of B2B email newsletters to subscribe to—and there are few great ones—but there's still an opportunity to stand out.
Why it's worth starting a B2B newsletter
Contrary to what some might thing, B2B marketing isn't that different from B2C marketing. As with most marketing stratgies, leverage comes with building an audience–and your email list–through permission marketing.
Ideally, you build and own the direct relationship with your audience instead of borrowing that connection, say through paid ads or sponsorships. That's a borrowed audience relationship rather than one you built yourself.
With the next evolution of B2B demand generation, email newsletters are one element of building a relationship with your audience.
The most successful B2B newsletters with loyal readers aren't the ones backed by B2B company brands but the ones backed by individuals.
You'll see in the curated examples below (based on my favorites and those I've asked), that many email newsletters feature individual brands and their thoughts and ideas.
That's all to say, if you're doing any sort of B2B email marketing, a regular newsletter is necessary instead of random, one-off email campaigns.
Types of B2B Newsletters
So what type of newsletter should you produce? It really comes down to a handful of options for B2B:
Promotional content like product announcements, webinars, upcoming events, etc.
Roundups of industry news and articles
Educational content through articles, podcasts, infographics, or customer success stories
Psuedo personal interests that are really pushing some company brand
Or a hybrid of these things
The right type of email newsletter for you depends on your goals, your target audience's interests, and honestly, personal preference of the person or team that's going to produce the newsletter.
I recommend not getting caught up in figuring out the "perfect" format or type of newsletter. Choose a format then iterate from there. It's not the end of the world if you decide to change it up.
For example, our Field Notes newsletter used to be called the Becoming Omniscient newsletter (very long name), and we've played around with the format multiple times.
How to Create an Effective B2B Newsletter
"Effective" depends on your goals, so this all starts with knowing why you want to start a B2B newsletter.
How does it fit within your broader content strategy? How does it fit within your broader business strategy? What is your business strategy? Is a B2B newsletter actually something that could help your goals?
From there, assuming you know who your target audience is, you can focus on what content they would be interested in.
What are the hot topics of the moment that people want to hear about?
At the moment of writing this, the hot topic is AI generative content. Everyone's writing about it.
Depending on the type of newsletter you want to send, you can either be an aggregator of news, or you need to have an educated opinion on the topic.
Remember that most B2B brands are boring and therefore their company newsletter is also boring. We won't get into the reasons why in this post, but it doesn't havet to be that way.
Newsletter Operations
We use ClickUp and have a list of future newsletters as tasks that are assigned to the person who's assigned writing the newsletter for the week.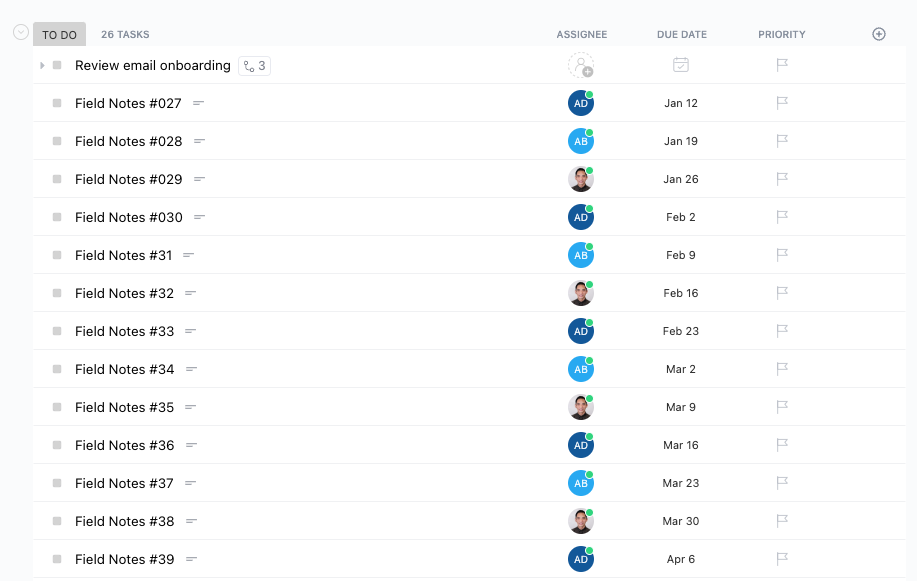 When you open a task, there's a link to make a copy of the newsletter template in Google Docs.

When the newsletter is written and ready to upload to HubSpot, we move the task along in ClickUp which automatically notifies one of our team members to upload it to HubSpot and send it back to us to review before scheduling.
Monitor and Optimize
We recommend you regularly monitor your email metrics to understand areas for improvement. You might find that what used to work isn't working as well anymore.
It might be a subject line formula that doesn't get as high open rates anymore because everyone's copying you.
Or your audience has shifted and not as interested in the topics you write about anymore.
Or you might want to redesign your calls-to-action because your click-through rates and conversion rates have been decreasing.
It's really all an effort to fight the law of shitty clickthroughs.
It's important to review your analytics after each send, but rather than only look at individual email performance, pay attention to trends and performance in context.
For example, rather than freak out about the open rate of one email going down, have open rates suddenly decreased for the last three newsletters? Could it be because of the holidays?
Examples of Amazing B2B newsletters
These are a handful of our favorites. Know some that should be listed here? Let us know.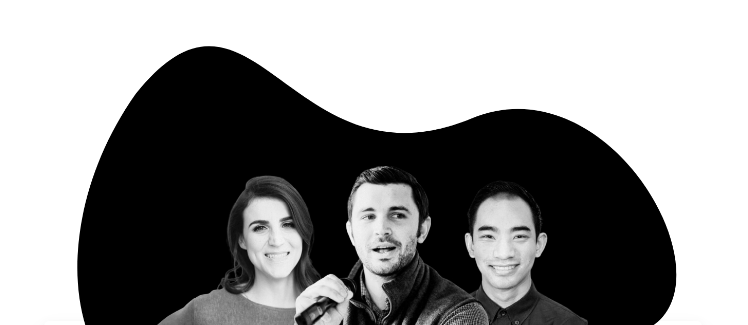 Field Notes by Omniscient DIgital
I'm biased, but our newsletter is awesome. We talk about marketing trends and strategy without the fluff and share relevant content. We often hit on topics that aren't talked about enough by the industry, like why do content marketers get paid significantly less than demand gen marketers? Or why would a content marketing program that increases traffic still ultimately fail? Oops.
Subscribe to the Field Notes newsletter.
Exit Five by Dave Gerhardt
If you're in B2B, you've likely heard the name. Dave spent four years as VP of Marketing at Drift and served as CMO at Privy. Now he's sharing all the knowledge he has gained working at high growth B2B software companies.
Subscribe to the Exit Five newsletter.
Contentment by Tracey Wallace
Tracey's newsletter focuses on content and it's one of the most thoughtful and nuanced newsletters in the inudstry I've read. She goes into the real nitty gritty based on her experience at companies like BigCommerce, MarketerHire, and Klaviyo.
Subscribe to the Contentment newsletter.
Scaling SaaS
At this point, Jason Lemkin is a SaaS legend after his company Echosign was acquired by Adobe where he became VP and went on to launch SaaStr, one of the biggest conferences in tech. His newsletter covers topics about scaling a software company like why annual contracts may not be the best thing, entering competitive marketplace, and how to grow when times are tough.
Subscribe to the Scaling SaaS newsletter.
Mutiny Blog
The B2B newsletter from Mutiny is one of the few newsletters that talks about the things that most folks don't talk about publicly. For instance, what the hell do we do during a recession? They also feature case studies on the growth strategies of high growth software companies.
Subscribe to the Mutiny weekly email.
Ahrefs Blog
One of the best blogs about SEO, the tactical side, the strategy, and data-backed case studies.
Subscribe to the ahrefs newsletter.
Demand Curve
A newsletter backed by plenty of experience from their network of growth experts.
Subscribe to the Demand Curve newsletter.
Alright, your turn. How's your newsletter going to stand out?