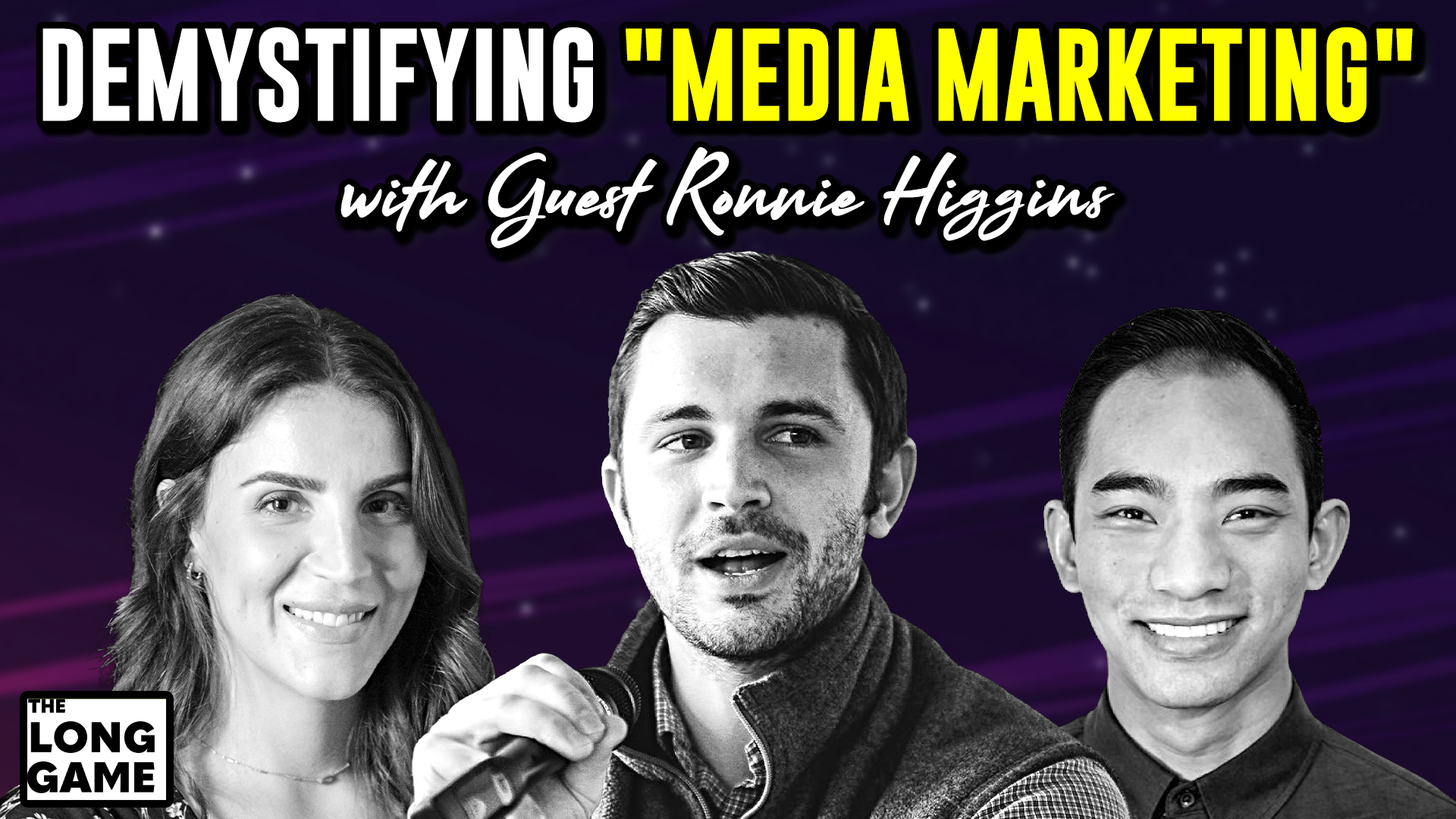 What does it mean for content marketers to "build a media company" or do "media marketing?"
Should you even work on this? Which brands can pull this off? How?
We brought on Ronnie Higgins, formal Director of Content for Hopin and a formal podcast guest, to tell us all of this and demystify the term.
Show topics:
What are the defining characteristics of a media company?
The misunderstanding behind effective media marketing.
How does a company think and act like a media company?
How to compete with other media companies.
Show Links
What is Kitchen Side?
One big benefit of running an agency or working at one is you get to see the "kitchen side" of many different businesses; their revenue, their operations, their automations, and their culture.
You understand how things look from the inside and how that differs from the outside.
You understand how the sausage is made.
As an agency ourselves, we're working both on growing our clients' businesses as well as our own. This podcast is one project, but we also blog, make videos, do sales, and have quite a robust portfolio of automations and hacks to run our business.
We want to take you behind the curtain, to the kitchen side of our business, to witness our brainstorms, discussions, and internal dialogues behind the public works that we ship.
Listen to the podcast:
Key Takeaways:
12:23 What are the defining characteristics of a media company?
It is easy to pride your company as a media company but does it meet certain specifications? Ronnie tells us what he thinks a media company should be about.
"I've been dissecting what other people mean by putting the question out there and meeting many people. And I've noticed a few patterns. One, there's a cohort of people that are saying, become a media company, there's a media company inside or with software, all the different ways the platitude gets shaped, that just means content marketing, like they're taking like we've been in this long enough that back when we started, the term was act like, be like, become a publisher. Now everybody's just taking publishers and saying media companies instead. And it's because, before content marketing, there was the fact that marketing was all self-centered. It was all products, education, brochures, and whatnot.
What I see as thinking like a media company, or not so much building but more thinking like a media company, applying media theory, media strategies that broadcasters and Omni channel media companies employ, like Disney or Marvel where they don't just publish a bunch of stuff, they actually think about how this all work together to sell the other thing to get customers that don't just watch the movies, but the TV shows and the comics, and also go to the store to buy merchandise, and go to the theme parks to ride the rides. They think about the whole package and how all franchises operate in that framework of distribution channel formats. And I think that is more like a media company."
09:30 The misunderstanding behind effective media marketing.
Incorporating SEO-driven content into media marketing is an effective strategy.
"It's the idea that instead of just writing about a topic, what is the frame, and how will it be consumed? What are the like, essence, and premise of this thing? People talk about the premise when I talk about podcasts, but there should be a premise to every type of content. And it's what makes it sticky. And the backlash to SEO should be continuing to think of, like, you could still do SEO content, but this Whiteboard Friday was the same idea. It was a franchise, and think about it, that stuff showed up and search results, right? And so the idea that SEO content or traditional blog content should be separate from this idea is, for lack of a better word, like bullshit, it's just a misunderstanding of the idea. And the idea of like The Hustle, the hustle, like, what's his name, Karen, like, he understands what he's doing with getting The Hustle on board. He understands that there's an audience of repeat audience and that what The Hustle does, is separate from what people are doing with SEO content. There's a layer above if we're talking about the funnel, or distance from the product that most people don't do in content, which is like lifestyle content."
22:40 How does a company think and act like a media company?
Companies focus intently on pushing SEO-driven materials leaving out the most important part of media marketing, creating relatable content.
"If a company has strong product lead growth like they are the only Shop and how they are our only product in town. And it's amazing. If it is just people signing up for it, they already have gravity. So the thing is they think they still need some sort of, like, enable purchase content, they need something to get someone to click by clicking sign up, click contact sales, there's something that needs to like to articulate the value to someone who even if you've been word of mouth referred, you still need to do some self-research.
And acting like a media company doesn't mean you always need to do all of it. But it's the idea of thinking about media strategy, instead of just thinking about SEO content, or how to like, tackle, you know, have a blog, it's like not just checking off boxes, it's like doing what broadcasters did, which goes back to the whole content is king thing because if you reread Bill Gates's 1996 essay, he says, 'content is where I see most of the real money on the internet being made, much in the way, broadcasters do today.' So he was talking about how broadcasters operated, not how publishers operated. And He even talks about the content being anything, even said the software was content to back then. And so it's this idea that taking content is king in the original context. And thinking about what we need to do to use media, which is synonymous with content, I only use media marketing instead of content marketing to create a knowledge gap.
So people pause to think, I know content marketing, but what is media marketing? For all intents and purposes, it's content marketing, social media marketing, event marketing, brand marketing, plus a bunch of other stuff. It's the idea of looking at the media landscape of what your goals are and figuring out how to use media to reach, engage, and attract all of the different things to get them and pull them into your orbit. And the reason I separate it from content marketing, even though content marketing is like a subset of it, is that SEO-driven content is focused on search.
42:20 How to compete with other media companies.
When every company becomes a media company and effectively applies every media marketing there is, what's next? How do you stay relevant?
"Look at what Cable was doing. Look at how they were creating shows to not just like having content that people wanted to watch but thinking about how it's programmed. How do you get people to go from one piece to the next?
How do you keep their attention, to hold their attention? How do you put out the show?
Disney thought about how someone who watches the movies will go to the park, buy merchandise, and so on. And so they are the closest. Everything else that I see happening that's doing it right is outside B to B.
And I don't know if you would consider it B to C, but like a calm headspace doing their stuff on Netflix. So I wonder if they would create their sort of channel. But hell, if you really want to think about it, think about how Disney pulled all of the Marvel stuff off of Netflix so they could have it on Disney Plus, so they have their channel, so they have all of the data.
---