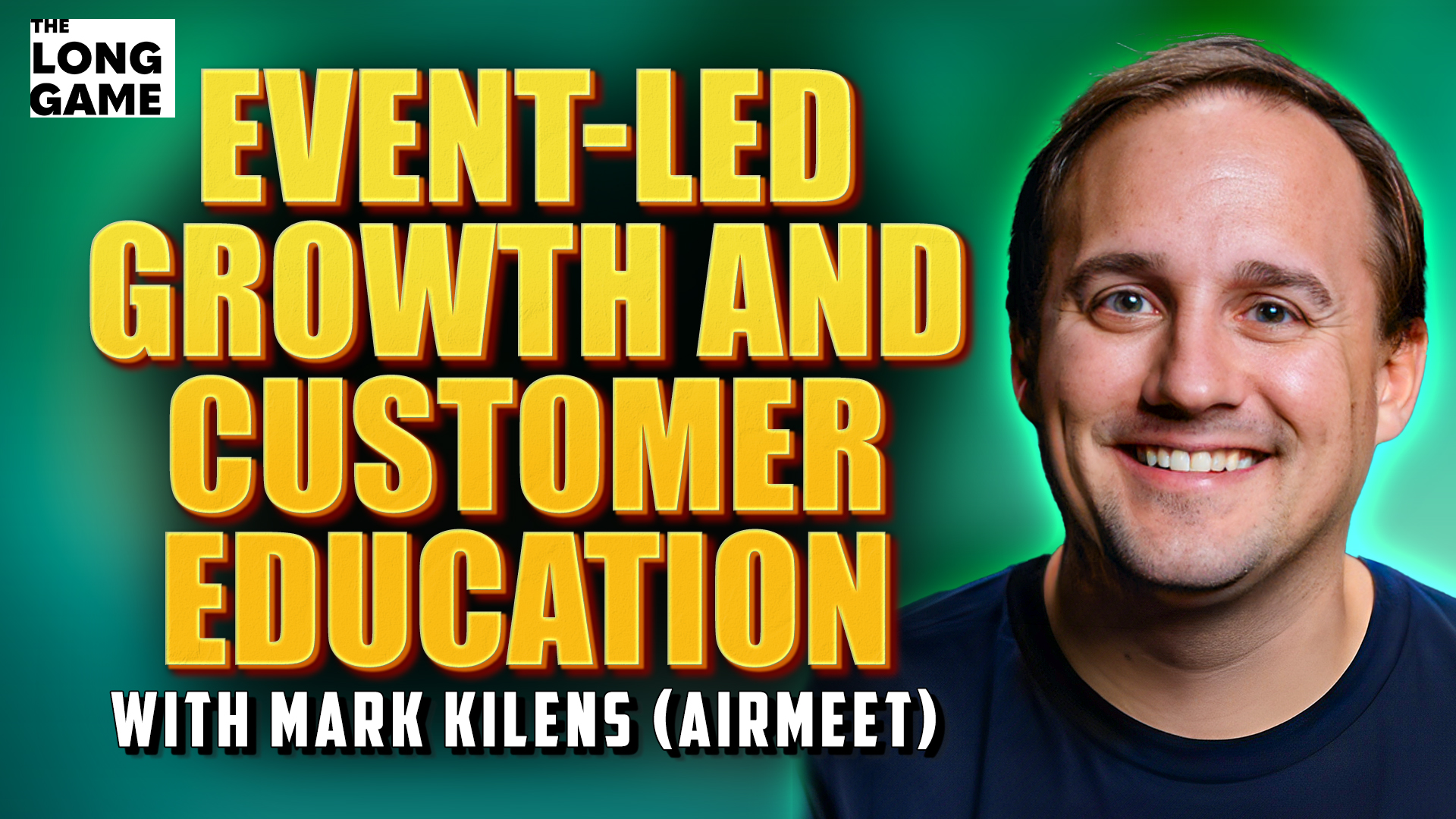 Technological advances are coming so rapidly that the phrase "what got you here won't get you there" rings true for almost every industry and business model.
When the only thing constant is change, it becomes increasingly important for teams to not just keep their house in order, but also continuously scan the horizon for the next great threat, resource, or opportunity. Sustainable success will require a deep understanding of both immediate and long-term customer needs, so that you can recruit the team and resources needed to address them.
In today's episode of The Long Game, you'll hear what Mark Kilens, the Chief Marketing Officer at a virtual event management software called Airmeet, thinks SaaS companies should be doing to be proactive about growth — and how his team is setting themselves up for success.
Show Topics
Making education an integral part of the customer experience
The ever-evolving role of the CMO
Building a team and culture that serves your business goals
Why event-led growth is an effective option for marketers
Show Links
Listen to the podcast:
Watch a video clip:
Key Takeaways:
Instructional Design
3:20: To do customer education well, you need to have a philosophy based on education both pre- and post-sale
"If your philosophy doesn't align with that — especially at the executive level — you'll probably underinvest, and your customer education initiatives will not do well enough to get the returns you're looking for."
4:05: Instructional design can be very useful for traditional content teams who are focused on acquiring users.
"Instructional design helps teams look at the differences in the skills and resources needed to facilitate customer marketing and customer education content, versus the traditional approach to content marketing (e.g., blogging, social media, etc.)."
5:25: Unifying multiple teams around customer education is crucial to successful campaigns and initiatives.
"(At Drift), we unified everything we were using to create demand both pre- and post-sale to create value for our community and our customers. The revenue marketing team would then take our educational assets and use them to capture demand in a variety of ways. From there, product marketing looked at how to bring the product to market in a way that would let us execute our sales process in full – including upselling, cross-selling, etc."
Role of the CMO
7:25 (Follow up at 8:40:): The CMO should be selling just as much as the CRO and head of sales
"The CMO should be looking to help people understand how to do something better, teaching them how to do it better. And if that means using a new or different tool, software, or solution, the CMO needs to sell them on it."
9:40: A great CMO will do three key things: Prioritize, position, and package.
"They need to really prioritize and help the whole C-Suite prioritize the decisions they make on who they're going after — and in turn help the business align around this prioritization and execute it. Then the focus shifts to how to position the business and its products to their defined audience. Finally, they'll consider how they'll package what they're actually selling in a way that matches this positioning."
13:35: CMOs must understand what the business is trying to achieve in the short and long term.
You have to understand how the business is making money today and retaining that money — and also how you're trying to do that in the future.
"At HubSpot, we needed to fix retention and get our existing customers using more of our product. In introducing HubSpot Academy, we increased pre-sale engagement, which led not only to increased acquisition but also a 10% increase in ACV for newly-acquired customers, as well."
Company Culture and Growth
14:40: The right culture is needed to succeed in all of the above
"It's about working with other teams and team members, number one to validate what you're thinking and trying to do in the context of your customer's and your business' needs. If you can do that with limited evidence — which requires a bit of experimentation — do it."
17:45: The best hiring happens when you're active and on the offense, looking for people all the time.
"Some of the best interview processes happen not just within two or three weeks, but three to four months. You have to know as a CMO what you're trying to do in the next six to twelve months — and take that into consideration when bringing new hires aboard at the present moment."
20:45: Look beyond the candidate's skillset, and more into their character.
"Skill is important, but character is often what differentiates those who will be a great long-term fit for the company from those who can simply do the job "on paper". The key characteristics to look for include self-awareness, critical thinking abilities, and curiosity — all of which will be needed to continually grow with the company as things change and the industry evolves."
Event-Led Growth
40:20: Event-Led Growth is the process of using events — virtual, in-person, or hybrid — to grow your brand and business.
"Event-led growth goes beyond simple meetings and broadcasts, focusing more on delivering unique experiences to the customer that continually help them make progress in their journey with the brand."
42:35: The future of event-led growth will have teams integrating all events, both with one another and their overall marketing strategies and business goals.
"Airmeet helps teams connect these experiences, for one to make them more memorable than one-off meetings and events, and secondly to continuously build on each experience their customers have when engaging with these initiatives."
---