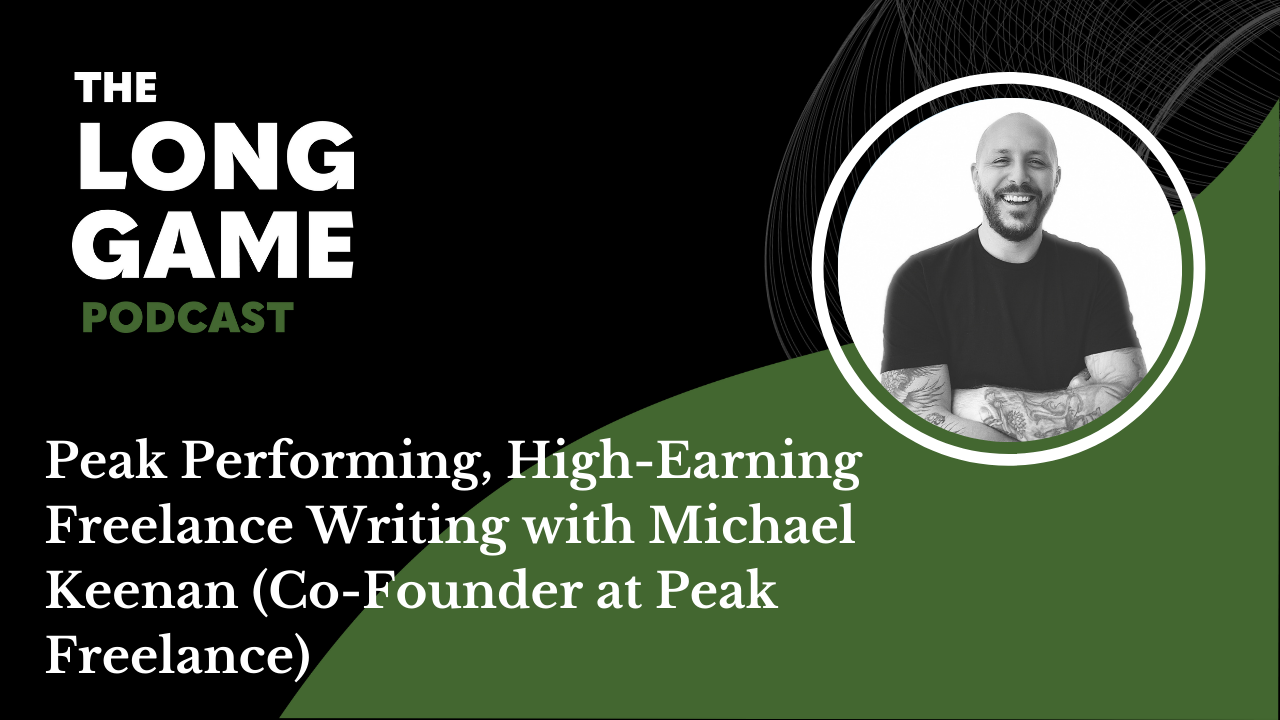 Most freelance writers choose to be freelance because of the autonomy, but that doesn't mean they can work in complete isolation.
Michael Keenan is co-founder of Peak Freelance, and a freelance SaaS writer. He's created a community for experienced freelance writers to get support, resources, and a boost of confidence.
In this episode, he talks about how to grow a professional community while keeping it personal, the ways a freelancer can raise their rates, and the importance of finding performance data.
He also shares some priceless advice from a 'sex tech leader' that will help you charge what you're worth.
Michael is most inspired by learning people's stories, climbing mountains, and traveling with his partner and two Xoloitzcuintles.
Connect with Michael on Twitter and Linkedin.
The Long Game is hosted by Alex Birkett and David Ly Khim who co-founded Omniscient Digital to help companies ranging from early-state to scale-ups with growth strategy, SEO, and content marketing. Allie Decker, Head of Content, joins the conversation as well.
Listen to the podcast
Watch the video
Scan the show notes
18:37 – A community for freelancers to build their business
Peak Freelance focuses on freelancers who are at an intermediate or high level in their career and have insights to share with one another.
"What I love about the intermediate, and I don't like to always use this term, but since we're on it, when finding these advanced versus intermediate or expert is you find that they actually love to share the information with each other. Because a lot of the people who have broken out of that level or whatever you want to call it, they know where they were a couple of years ago. So you see a lot of interaction between those types of groups, and even people who have been freelancing for eight, nine years. There's always something to learn from each other. And the way we position is, you're not just a freelance writer. You're a business owner. So I think no matter what stage you are, beginner, you've been doing it for a year, you've been doing it for 10 years. You're always learning something new about building a business."
21:39 – A place for all things freelance writing
The short-term goal for Peak Freelance is for it to be a place for freelancers to learn and build their business as well as a place to find freelancers to hire.
"The short-term goal is to become the place for all things freelance writing. So we have the group, we're also building out the educational branch with the blog and the beginners' courses and tools and whatnot. But our goal is to be where you can build a freelance business, grow your freelance business, start a freelance business, hire freelance writers. Because our members are also a part of a writers directory, which you can find through Google search."
31:44 – 50/50 split between support and job help
The Peak Freelance community helps its members find new gigs, but it also provides the confidence and support to get them there.
"We have a lot of people who have even landed in-house roles because of Peak Freelance – and a lot of them. So we're finding also a lot of people are doing in-house and then freelance on the side, which is totally cool. But we've gotten messages saying thank you for the confidence. A lot of the messaging is telling people, of course you can do it. That's what we're here for. We're here to support you. We're here to help you. And we've gotten a lot of the confidence, like 'thank you for the confidence. Thank you for these tools X, Y, and Z.' And then the other side of that is we do have things such as sponsored job posts that only go to members and our lists. We have a jobs channel inside of the Slack group where members can refer other members and just post the jobs that they're finding online. So we do, I would say it's 50/50, it's support and an activation for helping people find jobs."
34:43 – Keep it personal without capping membership
Michael said that while they don't have plans to cap the number of members, they do find ways to keep the group feeling intimate. For instance, they cap webinar signups and offer chances to talk to other members one-on-one.
"For example, we do things like strategy calls, monthly strategy calls. We do monthly town halls. And we have stuff in the group that will have a limit cap. So we'll say, 'Hey, only 30 seats are available' if the membership gets to that point. But for right now, we don't have plans to cap. We just have plans to manage the scale, if it does scale, to still be able to provide that same value to the people who like that personalization and that warm feeling that people get inside of the group. So our goal would just be to help with that scale and creating maybe little micro-units inside of the community so people still feel intimate. Because we also, again, we do one-on-one calls, we book one-on-one calls with people every month. So the members themselves chat with each other and get to know each other, which is something that people really love doing."
37:03 – Valuable resources
Michael assumed people would be most drawn to Peak Freelance by the ability to make more money. But it's the support and resources that have been most important to people.
"We thought in the beginning, we're going to help you make more money. Because the assumption is that everyone always wants to make more money. However, what we're seeing, again, through like interactions in the group and chatting with people is sure, they want to make more money. But a lot of the people who are already making money that are still in the group need things like resources, support, again, Allie like you had said, people who understand them. So originally we thought it might've just been like a financial thing. But now we're finding that it's more support and on-demand tools and resources. You can just go to the product section on your membership portal and you can find templates. You can find handbooks and checklists and things that you need to get your work done."
41:12 – Freelance vs. in house
A lot of people quit freelancing to go in-house because they can become more involved in the full content strategy.
"I think most people probably quit freelancing for, they have a change of course, or they go in-house. There's nothing wrong with going in-house. And there are a lot of really amazing in-house roles that are very valuable to anyone in content. And I think one of the things that I've always said about freelance writing in general is that there's something that you do miss when you're a freelance writer just operating your own business. You miss kind of how content works, or from an organizational standpoint, if you're not super involved with the company's editorial program, you miss things like how to run a program and how to track metrics. So there are reasons like if someone wants to not just write articles. They want to get more involved. And maybe they're not comfortable pitching strategy to some clients, they would pick up an in-house job doing strategy, take the lessons that they learned and then come back to it."
44:15 – Writing for the internet is all about the reader
Even writing experts still have to learn how to keep up with changes on how to format things for best readability.
"The Google algorithm is tending to favor articles that follow the science of how people read. So using common words, making everything easy to scan and very well-formatted. Breaking text up with images, using bullet lists, sourcing original research. So I think, versus 10 years ago, the way we wrote for the internet was a lot different. You could spam out an 800-word blog post with whatever keywords you want. You don't have to worry about the structure really. I think if you want to continue to grow – and what I do is the science of reading. I read about content design. I read about user experience. Because user experience really does play into how to write an article, because a reader is interacting with your page. You have to find ways to keep them on the page, and you have to find ways to keep them interested and give them the information that they want quickly and easily."
47:56 – From formatting to freelance success
If your articles are well formatted, people will be more likely to convert on that page. That leads to better results for your clients and the ability to charge higher rates with that proof.
"If you're formatting your articles for ways, you're getting higher up, you're improving their search rankings. You're able to tack a number onto it. How many leads, how many conversions they get. Because if a reader comes on to your page and they have a good experience, I'm not going to say they're totally in love with your brand. I don't know if anyone's in love with a brand. But if they have a really good reading experience, they're more likely to convert on that page. So again, it's not just a supply/demand thing. It helps you and it helps your clients get those results, and then you can show those results to future clients. And it's an endless cycle. That's something that we push inside the group a lot. In our advanced writing course that we have, a lot of it is around structure, structure and format. But a lot of it is around like formatting articles and making them a better reader experience."
53:15 – Freelancers work better with performance data
Many companies can't or won't share performance data, but it can improve deliverables and help writers see their worth, which is greater than just how an article ranks.
"Freelance writers, even though we're solo and some of us are like the cats, but we still want to know where we fit into the bigger picture. I want to know, am I actually making a difference here? And that was something I really struggled with two, three years in. Because I felt like I was improving on my writing. I wasn't getting the $20 articles like I did in the beginning, you know? And I was starting to charge more and I was starting to get more confident, but I was like, am I even making a freaking difference here? And I think it's a flip at the benefit. It benefits the company also, because you have more confident writers. More confident writers are going to write better. They'll feel more comfortable saying like, Hey, Allie, I see on the blog that we're missing some of these keywords, I have a couple of recommended articles. It's like endless flow. They feel more comfortable helping you out and then you get the articles back to them. It just makes the relationship better as a contractor."
1:01:44 – Pick the highest price you can say without laughing
It's hard for freelancers to set their rates, but one tactic is to aim for the highest price you think you could deserve. It's also a good practice to raise your prices with each new client.
"A woman who I love, her name is Cindy Gallop. She is a sex tech leader. I love her. And if I ever meet her in person one day, I'm going to be the happiest person ever. She had said somewhere on the internet, if you can't figure out your price, essentially what she said, 'if you can't figure out your price, just say the highest price you can without laughing.' And I've actually used that tactic with some earlier writers before. And they're like, well, how much should I charge? And I'm like, well, just what's the highest price you can say it without laughing. And you know, maybe that price is like 350, 400. Good, settle there. And then how I have scaled my pricing over time is, and this is another thing that we recommend at Peak Freelance, is every time I get a new client, I raise my prices now without a doubt."
---
Connect with Omniscient Digital on social:
Twitter: @beomniscient
Linkedin: Be Omniscient
Listen to more episodes of The Long Game podcast here: https://beomniscient.com/podcast/