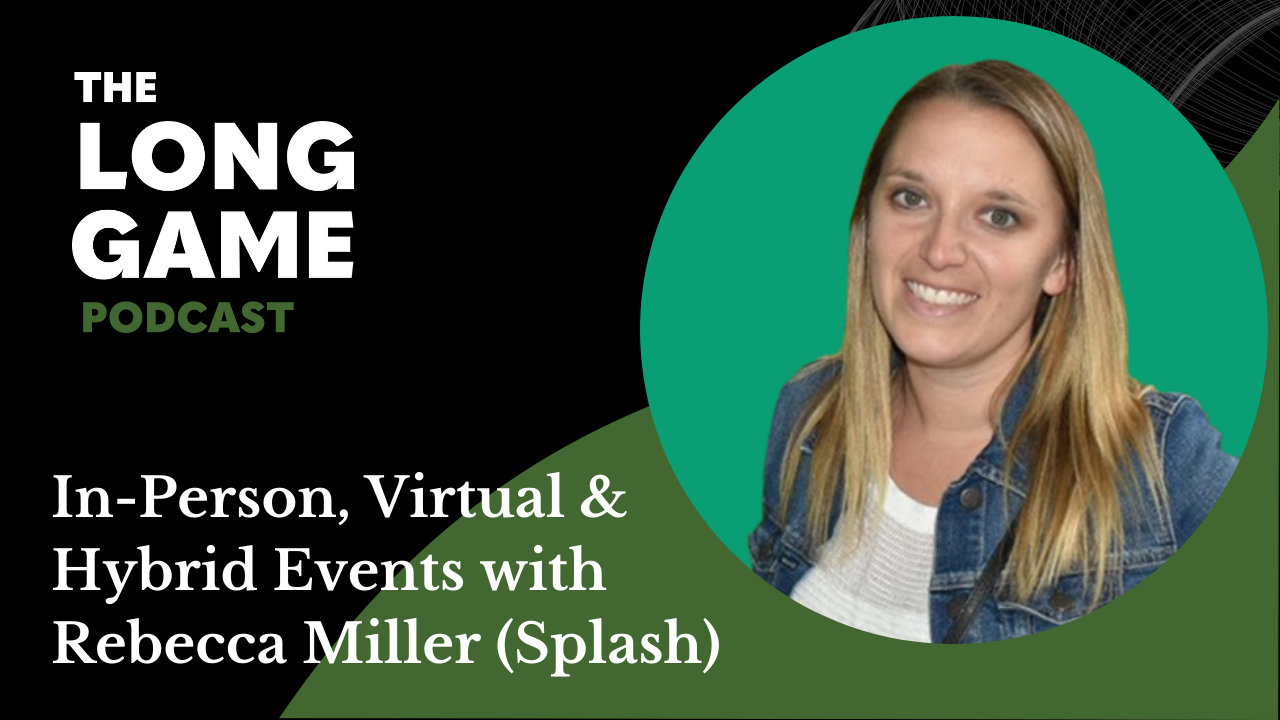 Rates and reviews really help our podcast reach new audiences. Can you leave us a review on whichever podcast platform you're using? If you do, let us know at team@beomniscient.com or tweet at us and we'll enter you to win lifetime access to Content Strategy Frameworks course, valued at $997.
What can a career in PR teach you about event marketing? Rebecca Miller believes that it builds the foundation for how to frame a story, a necessary skill for any content marketer.
Rebecca uses her background in PR to inform how she approaches content creation as the Director of Marketing and Communications at Splash, an event marketing SaaS company.
She talked to us about the importance of treating all content as integrated content, and how to operate as a lean team while adapting to a changing digital landscape.
Show Topics
How public relations helps content marketers frame a story
Structuring content to align all initiatives through integrated marketing
Operating efficiently with lean marketing teams
Adapting to global changes through in-person, virtual, and hybrid events
Building a brand voice
Check out Splash
Follow Rebecca Miller on LinkedIn
Listen to the podcast
Watch highlights from the interview
Key Takeaways
02:00 – PR skills can build the foundation for how to tell a story
Content marketing uses skills from other industries and specialties, and it's important to be able to draw on your experience, no matter what led you to content marketing in the end.
"I think the agencies I was working at were just starting to think about content as a strategy. A lot of what we were doing was just straight media outreach, pitching story angles, writing press releases, things like that. One of the biggest things I think PR preps content for is writing sentence structure, technical writing, creative writing, just being able to tell a story. I think those are the big things that I learned having my initial career be in public relations that really helped set the stage for my career in content and, moving further into my career, demand, social, events and everything else. What I got the most out of being in PR early in my career is just being able to get those fundamentals."
09:01 – Approach all content as integrated content
When you look at your different content channels as a holistic marketing plan, your brand can build a more cohesive message across every touchpoint.
"When we are launching a product, we don't think about it just as the product launch. We think about it from the top of funnel theme — what challenges are our audiences looking at, what are they facing, and then tackling it from the top, getting them in the funnel, and then exploring how can our products help support them and get them through these challenges that they're facing."
11:33 – Balance technical product marketing with creative content
Product marketing and content marketing can coexist in your funnel, even though they may live in different departments.
"If we have a virtual solution launching April first, we will literally sit down as an entire marketing organization and have a kickoff meeting where whoever is owning the project from the highest level has already created a narrative. They've already started thinking about the messaging, the goals we want to achieve. We have an integrated marketing lead on my team. She is fantastic and owns all of that from the highest level. It really helps us have that one person own it because then nothing's slipping through the cracks. Everything has that cohesive message. Nothing's getting lost in translation. I think historically product and product marketing teams that I've worked with tend to be more technical. That's not the case at Splash. I think we have a really healthy balance of technical and creative in all of our marketing functions. I would say the process that we have at Splash is the most structured process for these kinds of things I've ever worked with."
15:51 – Be a team player
When working on a smaller team, it's essential to jump in and help your teammates, whether or not it's in your job description.
"We're such a small team that everyone does strategy. Everyone does execution. So yes, our integrated marketer is in the Google Docs and drafting copy and putting together our projects in Asana and whatnot. But we're also drafting the emails, drafting social copy. Everyone on the team, even our VP, is executing on stuff because we are a leaner team than most…That's a reason why I moved into the next agency that I did because when you are a leaner team, you get chances to do different things that you might not have been able to do if you were part of a bigger, true enterprise marketing team. I think that's the other cool thing about being part of a leaner team is you're not stuck just doing one thing nine to five every single day."
25:32 – Integrate everything, even data
For marketers, measuring content performance with reliable and easy-to-integrate metrics is just as important as the quality of content you produce.
"From a data perspective, everything is connected. I was talking to one customer one time doing a case study, and she was saying something like, 'You know, we used to measure our events based on the feeling, right? Like, did you feel like the event was successful? Did people have fun? Were they happy there? That's not a true metric that people should be measuring their events on.' Another cool thing that Splash does is integrate with other existing technologies that a company might have, things like Salesforce, Marketo, other CRMs and map platforms to make sure that all the data is connected."
28:53 – Make hybrid events an experience for everyone
With industry shifts and global changes, marketers must adapt to make all types of events inclusive and engaging for a mix of digital, hybrid, and in-person audiences.
"When COVID first started, the virtual events were just webinars. But then COVID kept happening and kept happening and wasn't going away. And event marketers were like, this is fine, but what can we do better? You have to make it an experience, not just talking at people. I think that's what helped marketers realize that if you're going to do a hybrid experience, it can't just be live streaming an event to your virtual audience. They need to have an experience too."
36:42 – Get the right people in the room, not the most people
Targeting your ideal audience through smaller events will help increase ROI.
"The smaller events…they are more targeted. You can reach the right people. I mean, I think I mentioned briefly a couple of surveys we did recently. And one of the things that came up was that people moving into 2022 are going to be more excited about, or more focused on, I should say, getting the right people in the room, not the most people in the room. I feel like, again, not groundbreaking, but an interesting thing to think about as people are going to be looking at smaller, more intimate events going into next year to get that in-person experience, but also keep things more targeted, more ROI-driven and just safer in general."
40:39 – Adapt quickly as a team
Clear communication and transparent solution-building can make any team agile enough to respond to a changing digital landscape.
"I think there was an oh shit moment, but also we moved really fast to this virtual solution. Thinking back, it almost felt like one day COVID hit, and then the next day we were like, okay, here's our plan for the virtual solution. That's how fast we moved. At that point, all of our eggs were in this virtual solution basket because this was the only option for people. I think we had that moment, and then we thought, okay, we're going to create this virtual solution. How are we going to message it? How are we going to shift the value prop, and it feels like it was an overnight thing."
52:47 – Build a brand voice to create cohesive content
Documenting a baseline for your brand's voice and tone helps every writer deliver consistent messaging and further establishes your brand in the market.
"I believe that having a brand voice and those guidelines defined is super important. I think for a few reasons, but the biggest is that when you're working on a team of 20 or so marketers, you're not the only person creating marketing materials and comms for the company. I think one of the biggest things with having that defined is everything can be more consistent. People can recognize your brand voice, and they're not seeing or hearing something different with every piece of content or comms that they're reading."
54:12 – Be human, but make it branded
Though many team members may produce content in your brand voice, they can each maintain their own unique characteristics.
"If we're looking at the Splash blog, we have multiple writers for the blog. Everyone writes how they speak, and that's something that I really believe in. You can tell with both design and message that it's a Splash blog post. I think that's the ultimate goal of having a brand voice and guidelines to support it is really making sure that we sound like Splash, or any company sounds like their company, but everyone can have their own voice."
---
Connect with Omniscient Digital on social:
Twitter: @beomniscient
Linkedin: Be Omniscient
Listen to more episodes of The Long Game podcast here: https://beomniscient.com/podcast/