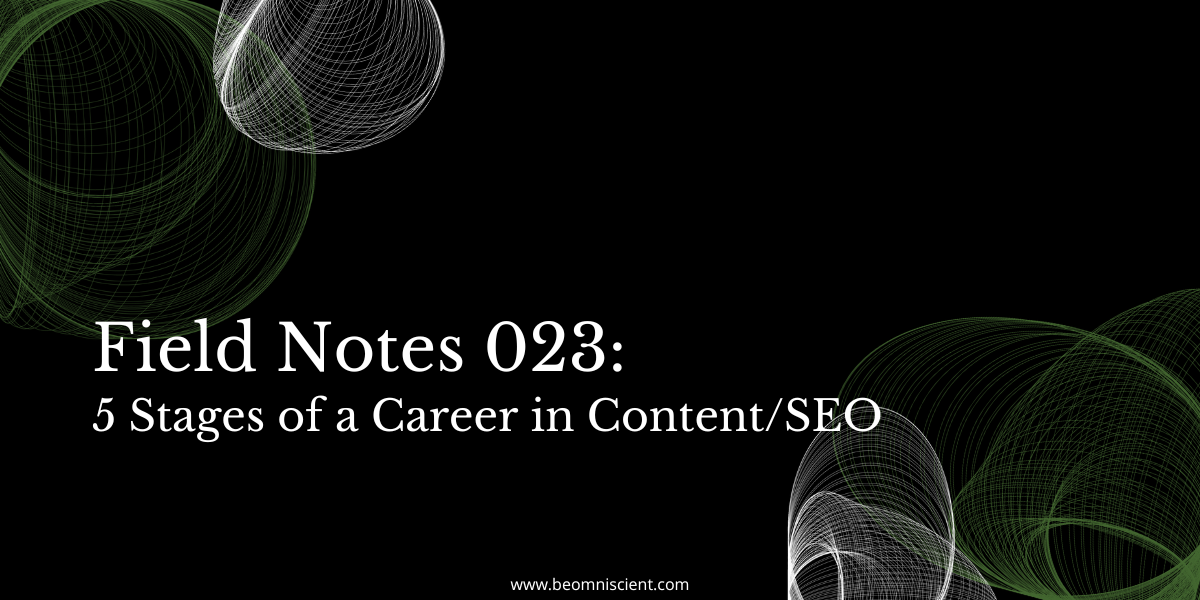 This time of year is always a good moment to reflect. One of the things I revisit often is how my career started in SEO.
My first marketing job was an SEO internship getting paid $10 an hour. I did two things: (1) outreach for backlinks and (2) line edit articles.
It's how I learned that you can create a scholarship and use that as a premise for getting .gov and .edu backlinks (shh…)
It's when I learned a lot of SEO is really all the grunt work that no one wants to do because it isn't sexy but damn it gets results.
I've always had an affinity for writing (my favorite courses in school were literature and journalism) so I shifted my focus to content marketing after that role.
That's when I realized content and SEO were intertwined. Thus I turned into a content marketer and did freelance writing on the side for $500 a pop.
As my career developed, I my scope expanded beyond SEO and content and I developed a framework for what career development often looks like in these roles.
(This assumes that you want to take on additional responsibilities. One could be a badass senior writer and decide that works and not feel the need to move into a strategist role or "up the ladder.")
Stage 1. The writer / SEO.
At this stage, you mostly find entry-level roles where most of the job is being told what to write about, what to research, and/or what SEO tactics to implement.
At least that's what's expected of this person.
However, there are folks who go above and beyond and pitch ideas and suggest new things to try. Sometimes these folks do things without permission then show up to a meeting with results 🔥. This often leads them to becoming…
Stage 2. The senior writer / SEO.
At this stage, you're expected to bring ideas to the table and suggest things to do. For example, you might be starting a new editorial series, or you might be experimenting with a new SEO playbook you learned about.
You're likely prioritizing your own work and communicating what you're working on to your team and manager. You often have to explain the importance of your work because other team members may not fully understand your projects because they're also working on their own projects.
In this role, as you explore new ideas and projects, you naturally expand your scope and work cross-functionally with other teams.
That's when you become…
Stage 3. The content strategist.
At this stage, you're no longer thinking in terms of content to write or SEO playbooks to run. You're often working cross-functionally with other teams like demand gen, social, partnerships, and perhaps even international teams.
You are thinking about how content and SEO fit into the company beyond your team and how you can contribute to other teams.
You realize that by nature of your work being more collaborative, you have to improve your communication and presentation skills. Your work begins to depend on others and others also depend on your work.
Your scope has expanded and you're thinking about impact across multiple teams vs just your own team.
Naturally, you can move into the role of…
Stage 4. The demand strategist.
At this stage, you've demonstrated an ability to work cross-functionally, communicate effectively, and drive results through collaboration with other people.
You continue to work across multiple teams, perhaps now across departments.
You may be working with the product team to understand how content and SEO can generate demand for a new product launch coming up in 3 months.
You may be working with the sales team to understand what content would help them sell more and support sales enablement.
You may be working with your VP to build out presentations about a new business strategy that's being discussed among the C-Suite.
The biggest change of all is you often have a number to hit *gasp*. More responsibility means more accountability. You might have a lead number, a pipeline number, or a product signup number that you're expected to hit. But guess what, you're up for that challenge.
Stage 5. The manager.
Eventually, you may decide to move into a management role to help others navigate their career through the same levels. You may build out a team and your days are mostly spent working with other managers and leaders across the company. 
Each of these stages of career development requires a new set of skills, often that means developing better communication skills.
Hopefully, this framework helps you understand what the next step in your career might look like.
Keep in mind that you don't need to wait for someone's permission to move along these stages. Much of it comes down to personal initiative, telling your manager that you want to take on more responsibility, then do it.
Recommended Reads
1. 7 Principles To Mastering Growth – One of my favorite articles on growing a career in marketing/growth from Brian Balfour.
2. 5 Ways To Boost Your Career Progression In 2022 – A great article from Reforge on things you can do to accelerate your career progression (in addition to doing great work).
3. How to Level Up as a Growth Marketer – This was a great interview with my friend Joe Lee, VP of Growth at Ontra, who shares the unsexy, unintuitive decisions he made in growing his career.