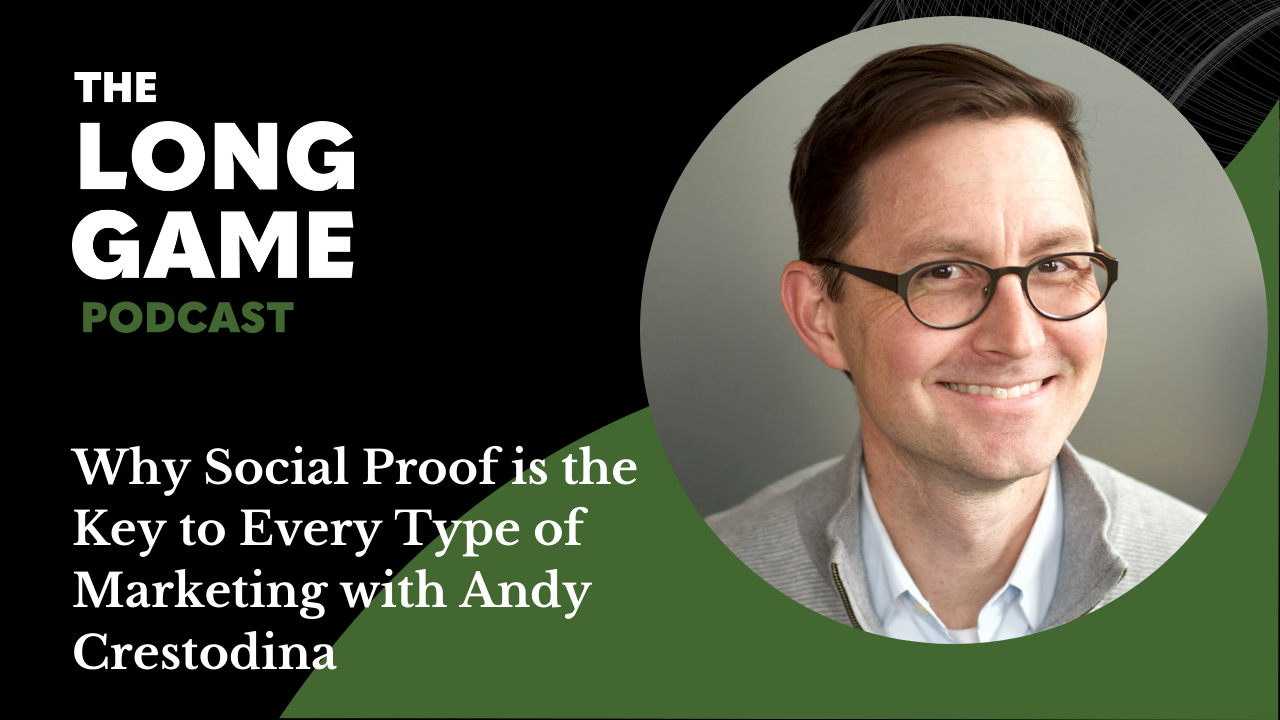 Any marketing claim you make that doesn't have some form of evidence is a weak statement.
Unsupported claims just lead to undifferentiated content, a lack of trust, and low conversions.
But proof on your web pages and in your content does the opposite. It builds credibility and gives people a reason to believe in your brand.
One piece of content that offers social proof, acts as conversion copy, and works in a content strategy: case studies.
In this episode, Andy Crestodina, the co-founder and Chief Marketing Officer of Orbit Media Studios, explains how proof is the key to every type of marketing, whether you're playing the long game of account-based marketing (ABM) or building your email list.
Show Topics
Use case studies to build trust
Data points can support sales messages
Reduce the investment in the ROI
Create sales enablement content
Don't publish content without an expert contributor
Have prominence, promise, proof
Show Links
Listen to the podcast
Watch a video clip
Key Takeaways
08:39 – Use case studies to build trust
Marketing claims that you use on your website have to have evidence or people won't trust that they're true. Case studies are proof.
"Any marketing claim you make that doesn't have some form of evidence is a weak statement. It's not supported. It's like going to court with no evidence. So you end up with a page that, it's undifferentiated. Pages without evidence are largely just undifferentiated marketing content. They're just a bunch of unsupported claims. So social proof is a way to build trust, to give the person reasons to believe, to trigger cognitive bias. To the point being you will have a higher conversion rate if your pages support your marketing claims with evidence. Now there's one format for content that is evidence, and that is the case study. Is it a story? Does it check a lot of boxes of content marketing? Absolutely. Is it a traditional blog post article, helpful informative thing? No, it's not. It's on the overlap in the Venn diagram between copy and content. Copy as in conversion, content as in content strategy, content marketing. So, I think that when we build sites, we don't make pages that lack evidence. We insist the client gives us some kind of testimonial or a data point or some proof. Put those logos, client logos, up high in the homepage. And one of the few types of content that I would link to from a service page would be the case study."
13:14 – Data points can support sales messages
Andy uses original research and data points as the foundation for account-based marketing.
"I have a virtual assistant review a hundred websites in a specific industry. And then I go analyze that data and I find like, I'll give you some specific points. We do this for different industries. I did it once for manufacturing, but I discovered that in the manufacturing industry, 51% of manufacturing companies have homepage headlines that don't even say what they do. They're just vague, right? It's like 'pioneering a better way.' What? So I'm demonstrating expertise, I'm sharing an insight. I'm starting with a data point, but I'm going to have just a better webinar and a more interested audience if I don't just say yeah, make sure your homepage headline is descriptive. Instead I say 51%, more than half of you guys out there, aren't even saying what you do at the top of your homepage. What the heck, man, why? This is a problem we got to fix. There is a better way. So it strengthens the message by making it more credible, more believable. Why would you listen to me? Why would you listen to anybody? Well, you listen to data and anyone can use it. You don't have to be a famous person or a well-known name or a thought leader to do a study and come up with an insight and share it with others."
17:50 – Play the long game of account-based marketing
ABM requires building relationships over time and its metrics are much different than other types of marketing.
"ABM is awesome and weird because numbers don't matter. It's all about quality. If you gave a webinar to one person who hired you, that would be success. It's so different from top-of-funnel marketing. It's so different from page views and brand awareness. It's more just like straight sales. I recommend a two-step process. So you can't send someone a message to invite them to something unless you're connected with them anyway. I guess you could use InMail or ads, which might work. But ideally it's like, okay, in six months, I'm going to be doing ABM for this category. I'm going to do some searches today. I'm going to connect with some people today. I'm going to start liking some comments and following. You're sharing stuff today because those 20 people that you started interacting with sooner are going to know you and know of you and be aware of you when you send that message saying, Hey, just quick letting you know, we got this thing coming up, feel free to jump in. So a lot a lot of marketers and outreach managers are just trying to go too fast. This is a very long game."
23:59 – Reduce the investment in the ROI
People only do things if the perceived return exceeds the perceived investment. When inviting people to attend a webinar or engage with your content, think about the ROI.
"Hey, it's just an hour. Hey, it's during lunch. Hey, sign up and watch it later. Hey, just share it with someone on your team. These are all ways to reduce the I in their ROI calculation in their brain. These reduce the perceived investment, the perceived commitment, so that every headline either makes the value sound greater or the investment sound smaller. For example, 10 tips. That number makes the investment sound smaller. Sounds scannable, sounds quick to consume. 10 tips for maximizing your click-through rates makes the value sound higher. The return sounds greater. So it's absolutely critical that you always remember that nobody clicks or taps on anything until they've done a split-second ROI calculation in their brain. And the job of the headline author, or in this case, the outreach message is to keep that context and sort of manipulate the calculation they're doing in their brain by making the R bigger, the I small."
37:26 – Create sales enablement content
Content can be used as part of your sales process, not just in awareness marketing.
"I also just like writing things sometimes that answers sales questions straight up. I've got an article called B2B service page, the anatomy of the perfect B2B service page. And it's got a diagram in it that shows these are the 13 things that should be on every B2B service page. And when I'm in sales meetings, I'm sharing a screen. I pull that up. I show my diagram next to their web page side by side. It's an article, but it sells our services. They see that, they compare it to their page, they learn 10 things that nobody else told them, and they go shred the other proposals and they hire us. I don't know if that happens. And then the checks start flying, no, it's not that easy. But we're more expensive than most of our competitors, but we generate more leads and we have a high sales closing rate and we do it partly through just demonstrating tons of expertise and trust during the calls and content can support that."
51:04 – Don't publish content without an expert contributor
Andy used to be critical of influencer marketing, but now he's seen the power of collaborating with source matter experts.
"I'm writing an article about click-through rates are lower and search engine results pages have more features in them. And it's harder to get, you might rank number one, but ranking number one is farther down the page. Hey, Will Critchlow has been watching this industry for years. Will, would you mind sharing a few thoughts? His insights were fascinating. He went beyond search. He's talking about like, what's the best way to check Google? Is it with regulation? No, I'm hoping a competitor will emerge. I keep thinking about what Will said. Where did that come from? An email he sent to me for a contributor quote. Super interesting. Or someone else that I was just talking to, this woman Katherine was saying that, yeah, click-through rates are lower from Google generally, but not as much for B2B phrases. Like really? You know what, I think you're probably right about that. So I'm thinking about it. So this is a side benefit, but totally selfish. I learn by creating content and reaching out to these experts. So that's a good day. So you're going to learn by creating content. You're going to get a higher quality content period. You're going to get better social reach, because these people are very likely to share and you're gonna grow your network."
58:08 – Have prominence, promise, and proof
To convert blog readers into email subscribers, you need to have the three Ps in your CTAs.
"The key to converting visitors into subscribers is to create email signup forms that have the three P's, we call it: prominence, promise, and proof. So prominence is that it stands out, it's high on the visual hierarchy. So it's a contrasting color. It's big, there's white space around it, or it's in the footer on every page or it's a pop-up window, or it's a sticky footer. If there's something about this CTA to subscribe, that is visually obvious, that's the first P, it's prominent. Promise is it should be very specific about what they're going to get. Email signup, submit is a crappy CTA. It's not a CTA. It doesn't tell them anything. Or sign up for updates, get notified, be the first to know, get notified, news and tips, it doesn't say anything. So go to back to your content strategy and ask yourself what you're sharing and then make that the CTA. Very top of our blog says practical advice for content analytics and web design. So that's the promise. Make a strong promise. If you're not making a promise, don't expect anybody to subscribe. I think it's around 15 subscribers a day give their email address on our website. I am humbled by that number. The third P is proof. Show that you're legit. Give them some reason to believe. It's where we started this conversation about social proof. So for example, the number of subscribers. Join the 20,000 people who get bi-weekly web marketing tips or get web marketing tips."
1:03:43 – Social isn't a good source of traffic
Social media's value isn't in click-through rates, which are low and getting lower. It's in networking.
"I think that click-through rates from search and social are both lower than people think and they're declining. So to me, what social media's biggest benefit is not dumping links. Even though I have CoSchedule set up to share articles that I've written over the years and I guess, yes, I'm doing social sharing automation, but what I love about social is networking. It's about the interactions that lead to conversations like this one, it's about the research that finds people who are going to be much more relevant, much more targeted for your audience, as we describe in the ABM thing. So at least for this perspective, from one B2B lead gen marketer, I very much prioritize the interpersonal relationship building networking aspect of social media over social media is a dumping ground for links."
1:07:24 – Syndicate your content
Don't be afraid to resend and reshare your content. Think of it as syndication, not duplication. You're just allowing it to reach new people.
"It's called syndication. There's no duplicate content penalty. Do it fearlessly. It's going to reach a new audience. Even if someone saw it three years ago, they won't remember. It's going to feel fresh and new. But here's another counterintuitive thing that people get kind of angry when I recommend: it works best if you don't put a date on your blog. I think blog posts should not have dates on them. I know that Pep does this. He has date written, date updated, which is nice. But unless you're publishing original research, in which case you can put the date in the title, you can put it in the body text, you can put it all over the place. But I prefer, and we build lots of blogs, to have a blog template that doesn't automatically date stamp that thing in the template."
1:10:58 – Put in more effort for more results
When you put in the time and energy to make high-quality content, it will give you exponential results.
"Generally speaking, the things that get me 100X results are the things that take me 10X efforts. And I think of that as efficiency. I am frequently looking for the 10X efforts that will get 100X results. I don't try to cut corners on writing things. I don't outsource content development. I work very hard on images. Half the time I spend on my articles I'm prepping visuals. I'm putting in a big effort on a lot of these things. Um, not because I have a bunch of time, but because I'm busy, I just know that the most efficient way to do marketing is to create something that's in that top 1% of quality or it exceeds the visitor's expectations for quality. Those are the ones that will give you 100X results. I think it's much more work in the long run to publish a lot of medium quality stuff."
---
Join us for Office Hours on May 18th. Karl Hughes started Draft.dev to help companies create authentic technical content that resonates with software developers.
Karl will show you exactly how to replicate his process on:
Finding and recruiting subject matter experts and technical writers
Developing engineers within your organization to become writers
Motivating and managing creators
Paying contributors and the tax/legal implications