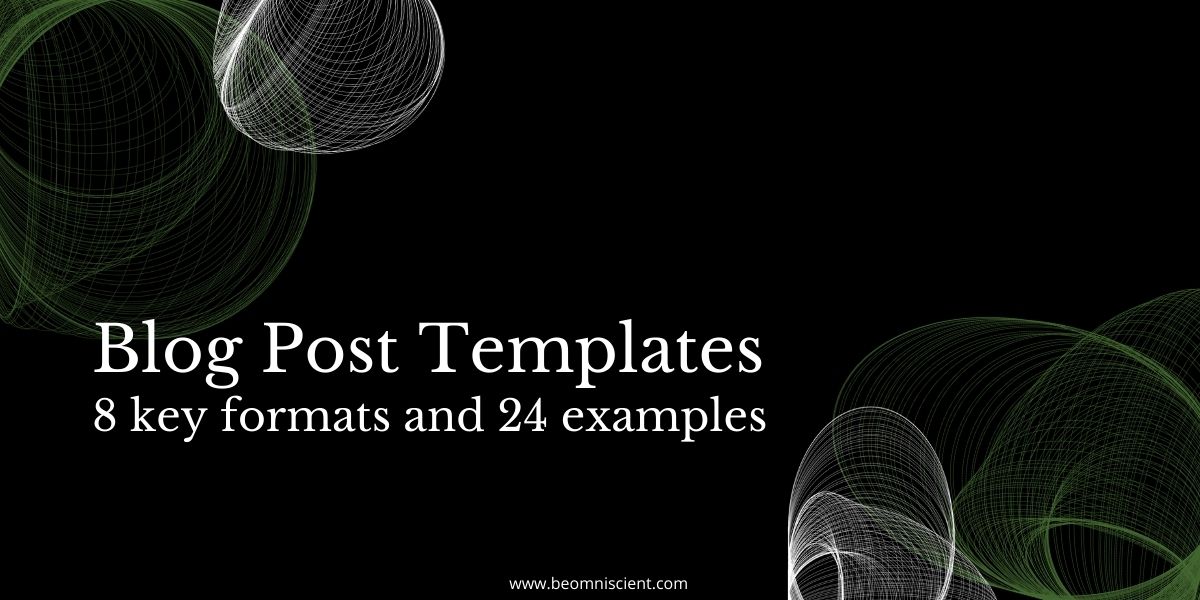 The way you structure your blog posts is important. Humans are creatures of habit and readers expect things to unravel in a natural order. If you start at the end and finish at the beginning it's going to get confusing, especially if you want readers to take a particular action at the end of your post.
Most commonly, you'll see information broken down into the what, why, and how.
It makes sense: you don't want to read about how to do something if you don't even know why it's important in the first place, right?
When you're thinking of blog topic ideas, having a list of formats for reference can be helpful.
The following blog post templates will help you structure your posts to take the guesswork out of creating great content and ensure you're getting the results you want.
Before We Get Started: What's Your Goal?
There are three key things you should consider before you map out a new blog post:
The Google search intent behind the keyword you're targeting
What you want readers to take away from the post
What action you want readers to take
Running keyword research and figuring out what searchers are looking for will help you decide what you should be blogging about and the kind of blog content you should be creating. Get it wrong, and readers will simply go elsewhere.
When you know what you want readers to take away from the post, you're able to structure your post in a way that makes it happen. Some questions to ask before you begin:
Do you want them to know more about your product?
Are you trying to teach them how to implement a specific marketing technique?
Do you want them to understand the importance of a specific trend?
Every blog post should end with a call to action depending on the next step you want readers to take. You might want them to download your latest ebook, share your post on social media, or sign up for a free demo.
Let's get started!
8 High-Converting Blog Post Formats [+ Templates]
Blog posts come in many different shapes and sizes. You've probably seen the majority of them in the wild, from the popular how-to posts, to listicles, and product comparison posts. Each one tends to follow a specific formula which helps speed up the content creation process.
We've laid out the typical flow for popular posts here along with free blog post templates and examples.
1. How-To Post Template
One of the most common types of blog posts you'll see are how-to blog posts that provide a tutorial for a specific activity or technique.
When you should write a how-to post
The main purpose of a how-to post is to educate your reader. They show your expertise and help your audience solve a specific problem, which elevates your authority and positions you as a leader in your industry.
How to implement a how-to post
How-to posts tend to follow a similar blog outline. They start by introducing the reader to what they're going to learn and why it's important, and then break down the "how" into a step-by-step guide. Towards the end, a conclusion wraps up the post and reminds readers of the main takeaways.
Results:
Educate readers and show off your expertise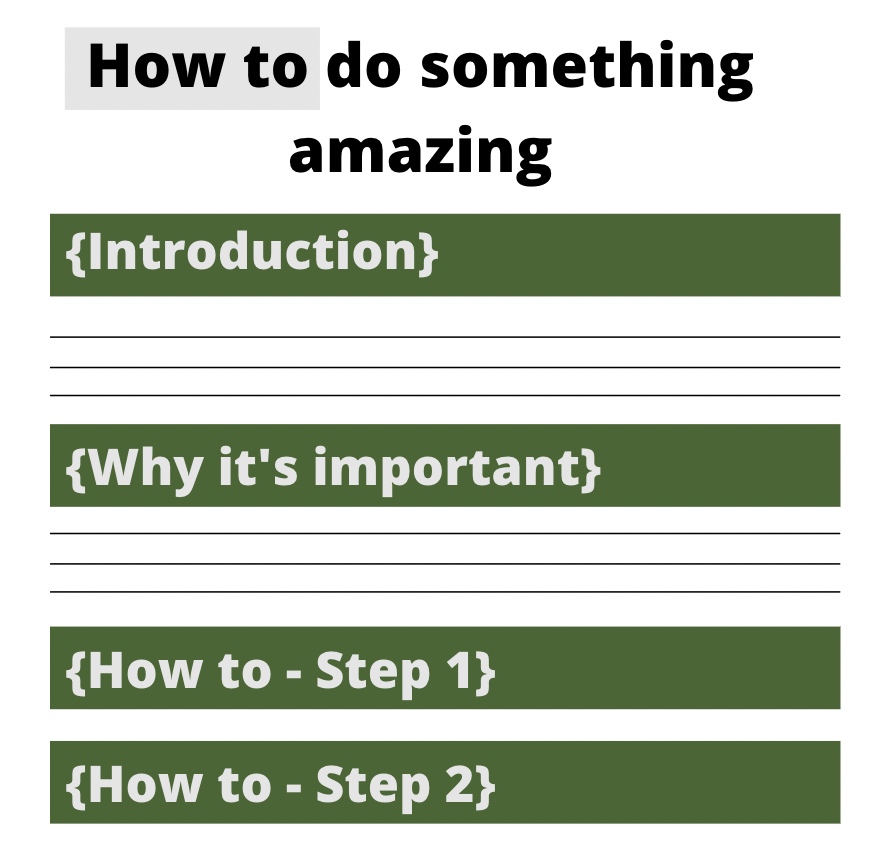 2. List Post Template
List posts (or "listicles") are great search engine fodder and often list out a set of tools, techniques, or ideas that either inspire readers or teach them something new. A recent study from SEMRush found that content with lists gets 70% more traffic than posts without lists.
When you should write a list post
List posts are great for positioning your product among other similar products, sharing a large number of ideas in a short space, and providing quick, scannable information that's easy to digest.
How to implement a list post
List posts always start with a numbered post title. Run your keyword through Google to see the number range of other similar posts and try to aim for a similar number of points in your list. Then provide a couple of sentences to introduce the list before jumping straight into a subheading for each point. Again, a conclusion wraps up the post and reiterates the key points.
Results:
Generate high search rankings and educate readers
3. Case Study Post Template
Sharing what your customers or industry influencers have achieved helps readers see what's possible for them. Case study posts tend to go into detail about a specific problem a brand or individual had before diving into how they solved it.
When you should write a case study post
Case study posts are great if you want to show off customer success stories or present your product as a solution to a very common problem.
How to implement a case study post
Case study posts are slightly different to other types of blog posts because they are so focused on a particular brand and its story. The structure usually follows a problem, solution, results format that form a beginning, middle, and end.
Results:
Show off your expertise and position your product as the ideal solution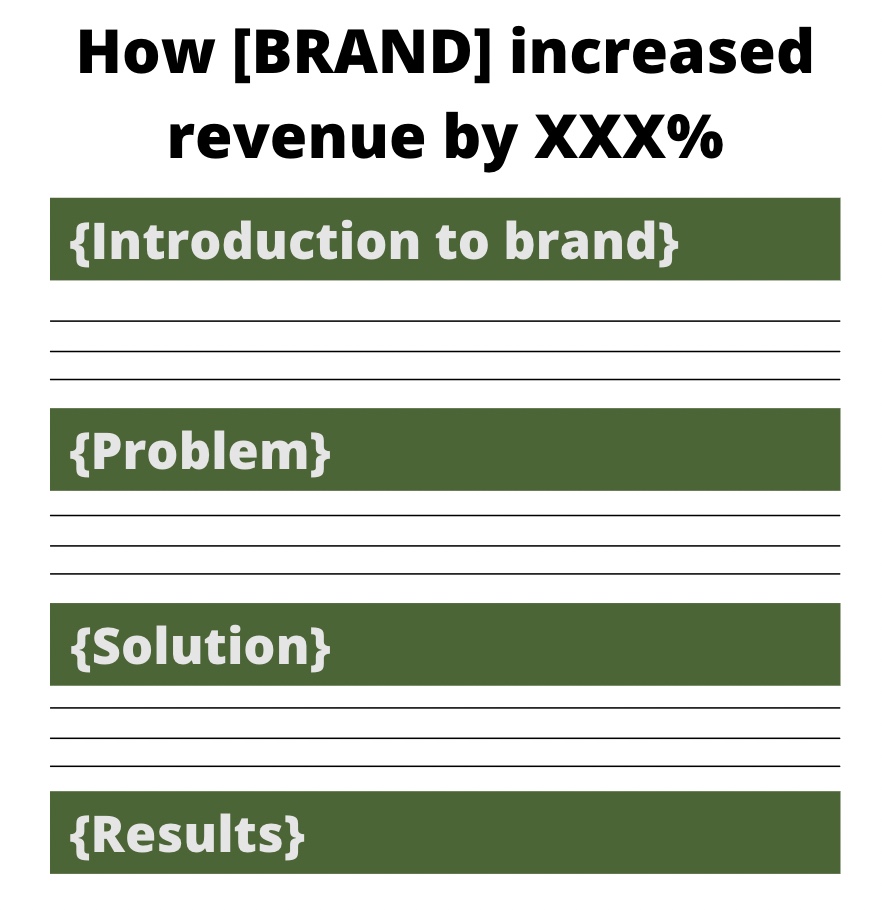 4. Ultimate Guide Post Template
Ultimate guides (or beginner's guides) don't have to provide every single piece of information on a topic, but they tend to go into much more detail than the average blog post and cover as many points as possible.
When you should write an ultimate guide post
An ultimate guide can help you rank well for a competitive keyword, but they also help position you as an expert on a particular topic. If you're an email marketing provider, an ultimate guide to email marketing will help attract qualified prospects who are just starting their journey into email marketing.
How to implement an ultimate guide post
Ultimate guide posts tend to follow the basic what, why, and how structure. They start with an introduction to the topic and what it is before leading into why it's important. From there, they often include a how-to guide and relevant examples with screenshots and step-by-step instructions.
Results: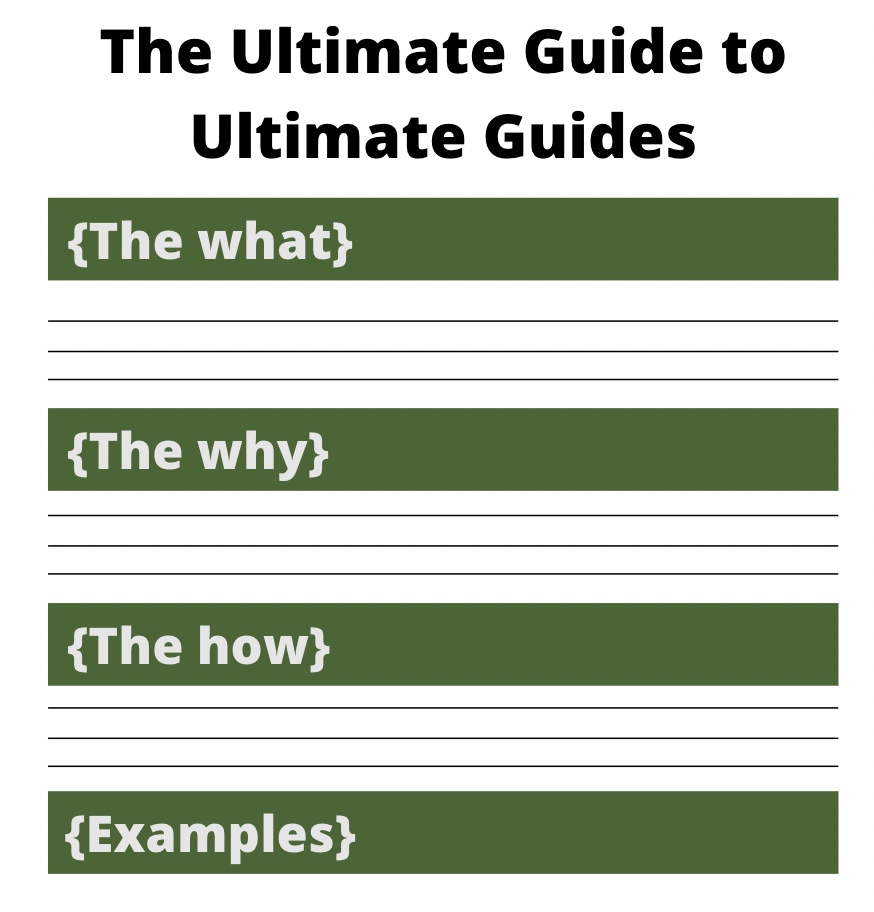 5. Comparison Post Template
The SaaS industry is full of comparison posts and pieces of content where brands go head to head and battle it out with their features and benefits.
When you should write a comparison post
Comparison posts help validate your product against your competitors and are particularly useful if you have a competitor that's monopolizing your industry. Bottom of the funnel prospects will be looking for the best solution, and comparison posts help them decide which option is best.
How to implement a comparison post
The structure will ultimately depend on your target audience and their needs but, as a common rule, comparison posts start with an introduction to the two products that are going head-to-head before leading into what makes each one different or better.
For example, the email marketing provider mentioned above might have a section for segmentation capabilities and another for automation features.
Results:
Validate your product against competitors and target bottom of the funnel prospects
6. Expert Roundup Post Template
Expert roundup posts bring together quotes or advice from a selection of industry experts. They provide multiple different perspectives and often generate lots of visibility on social media if the experts share the post with their followers.
When you should write an expert roundup post
Expert roundup posts are great for building relationships with industry influencers and they provide less work for you since you're just putting together other people's content. They also provide a multi-perspective insight into your chosen topic, which positions you as a leader in that area.
How to implement an expert roundup post
After you've got the quotes you need from industry experts, you simply need to weave them together into a coherent narrative. Start with an introduction to the topic and lead into the advice. You might group similar advice under relevant subheaders or just list out each expert's opinion in a list.
Results:
7. Infographic Post Template
Infographic posts provide a visual feast while also imparting valuable information. Aside from creating an eye-catching design, they are one of the easiest types of blog posts to create because there is very little copy involved.
When you should write an infographic post
Infographic posts are great for sharing information quickly in a unique way. The visual nature of them means they perform well on social channels and help increase brand awareness. Typically, content with an infographic generates 178% more inbound links.
How to implement an infographic post
Infographic posts almost always follow the same structure. They start with an introduction explaining the research or topic before sharing the infographic itself. Afterward, you can add extra context to the infographic or just go straight for a conclusion.
Results: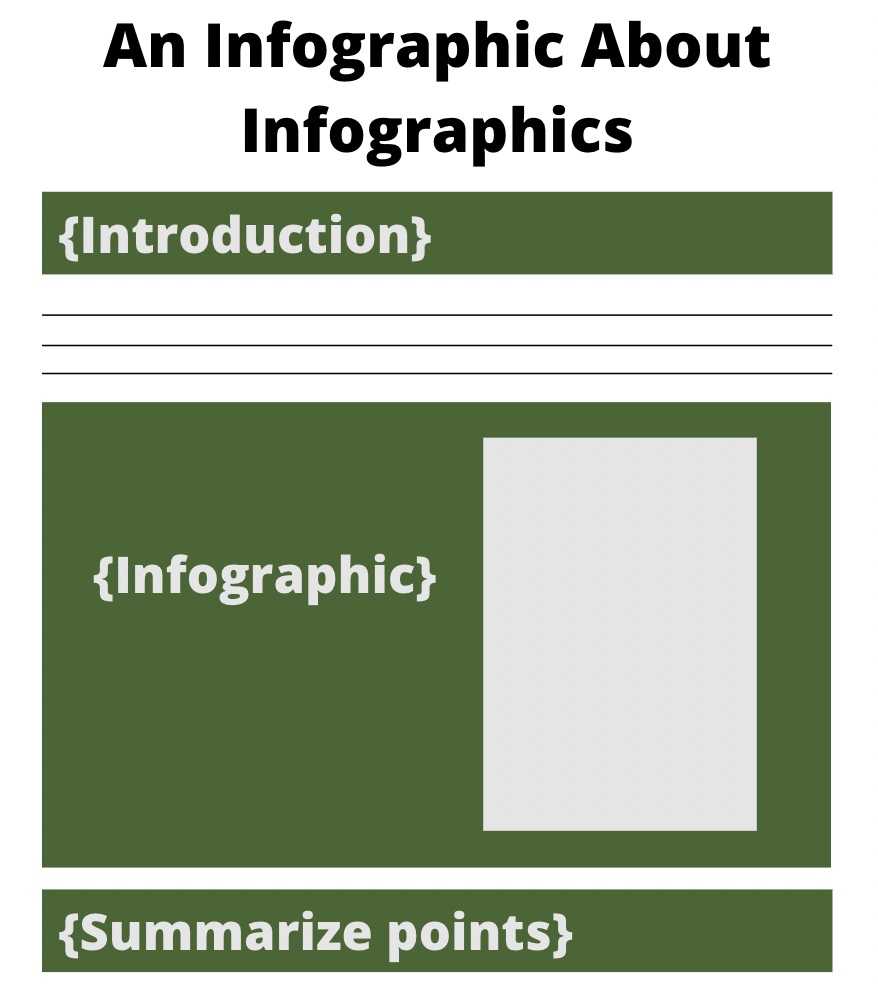 8. Report or Survey Post Template
Running your own research gives you a deep, first-hand insight into your industry and audience. Sharing your findings can put your brand in the spotlight and generate lots of links from other sites that use your research in their own posts.
When you should write a report or survey post
First of all, you'll need to have carried out some kind of research. This could be a small-scale experiment or a larger, industry-wide survey. Report posts can put your brand on the map and increase visibility in your sector.
How to implement a report or survey post
Once you've gathered your research and have insights to share, start with an introduction that explains what the study was about, why you decided to do it, and how you executed it. From there, dig into the results either in a list format or in a narrative style.
Results:
Generate backlinks and position yourself as an industry expert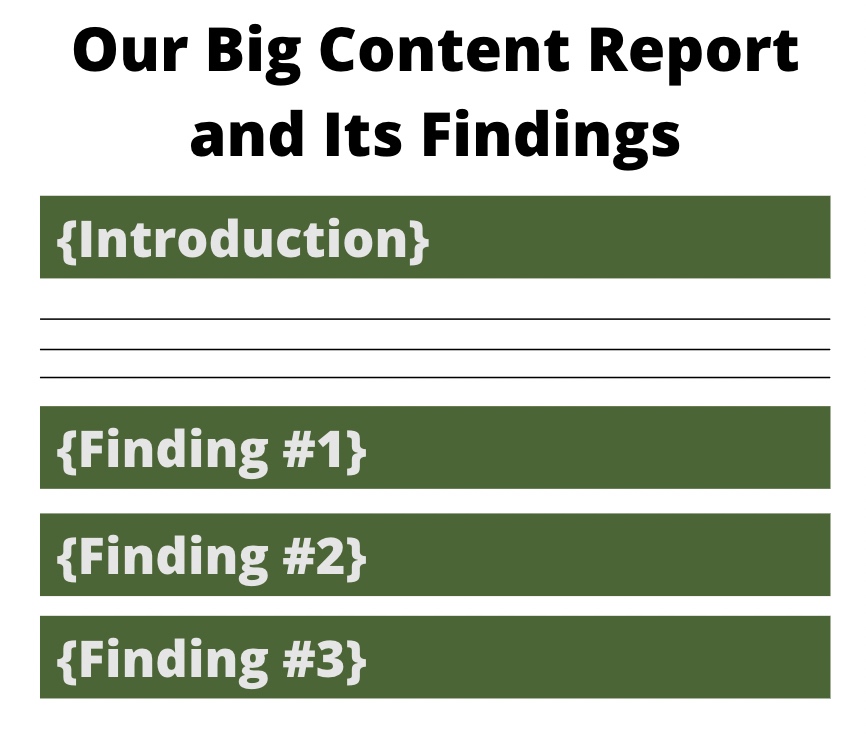 24 Blog Post Template Examples
How-To Blog Post Examples
1. Atlassian – How to Get Past Shiny Object Syndrome
2. Edume – How to Attract and Retain Younger Talent in Transport and Logistics
3. Omniscient Digital – How to Generate Content Ideas That Drive Business
List Post Examples
4. QuickBooks – 10 Types of Tools That Will Drive the Future of Remote Work
5. Omniscient Digital – 10 Content Marketing Examples to Inspire Your Content Strategy
6. Privy – 11 Email Subject Lines Tips and Best Example Subject Line Examples
Case Study Post Examples
7. Shopify – How Offering Bundles Double Lume Cube's Average Order Value
8. Mailchimp – How BetterSpaces Landed New Customers Amid a Year of Upheaval
9. Typeform – How Marketing Agency Hint Scales Personal Conversations With Beautiful Chatbots
Ultimate Guide Post Examples
10. Toggl – The Ultimate Guide to Time Management Strategies
11. HubSpot – The Ultimate Guide to Customer Segmentation
12. AppSumo – The Ultimate Guide to Chatbots
Comparison Post Examples
13. Zapier – Slack vs Discord: Which One Should You Use?
14. Drip – ActiveCampaign vs Drip: Which Tool Should You Use in 2021?
15. Paperform – Typeform vs SurveyMonkey vs Paperform: A Full Comparison
Expert Roundup Post Examples
16. Lattice – HR Leaders Share Tips for First-Time Managers
17. ClickZ – 2021 Digital Marketing Trends You Need to Know From 13 Marketing Experts
18. PRFire – How to Distribute Content: 7 Impressive Ways the Experts Are Doing It
Infographic Post Examples
19. Contactually – Subject Lines That Will Get Your Emails Opened [Infographic]
20. Repsly – How to Maximize Time Management in the Field [Infographic]
21. Quiq – How Chatbots for Customer Experience Deliver Results
Report or Survey Post Examples
22. Hotjar – How 400+ Beta Readers Helped Us Write Our Best Content
23. Backlinko – The B2B Content Marketing Report
24. Campaign Monitor – Ultimate Email Marketing Benchmarks for 2021
Formatting Your Blog Posts Based on Your Goals
Different blog posts do different things for your brand. Some get you visibility on social channels, others leverage your expertise and even more educate your readers and present your product as the perfect solution.
Think about the way you want your readers to feel when they're reading a post and what specific action you want them to take at the end. You also need to take into account your domain authority and the amount of effort needed when you're trying to decide what kind of content to produce.
The type of blog post you create and, more importantly, the way you structure it will depend on what you want it to achieve. Use the templates above to get started and take inspiration from the many, many examples available out there.
The next step is actually writing the content. Get details of the best bloggers on the web straight to your inbox with our writer's database and download our SEO content brief template to get started.
If you'd like help with writing engaging content and creating a results-driven content strategy, reach out to us to set up a free strategy call.