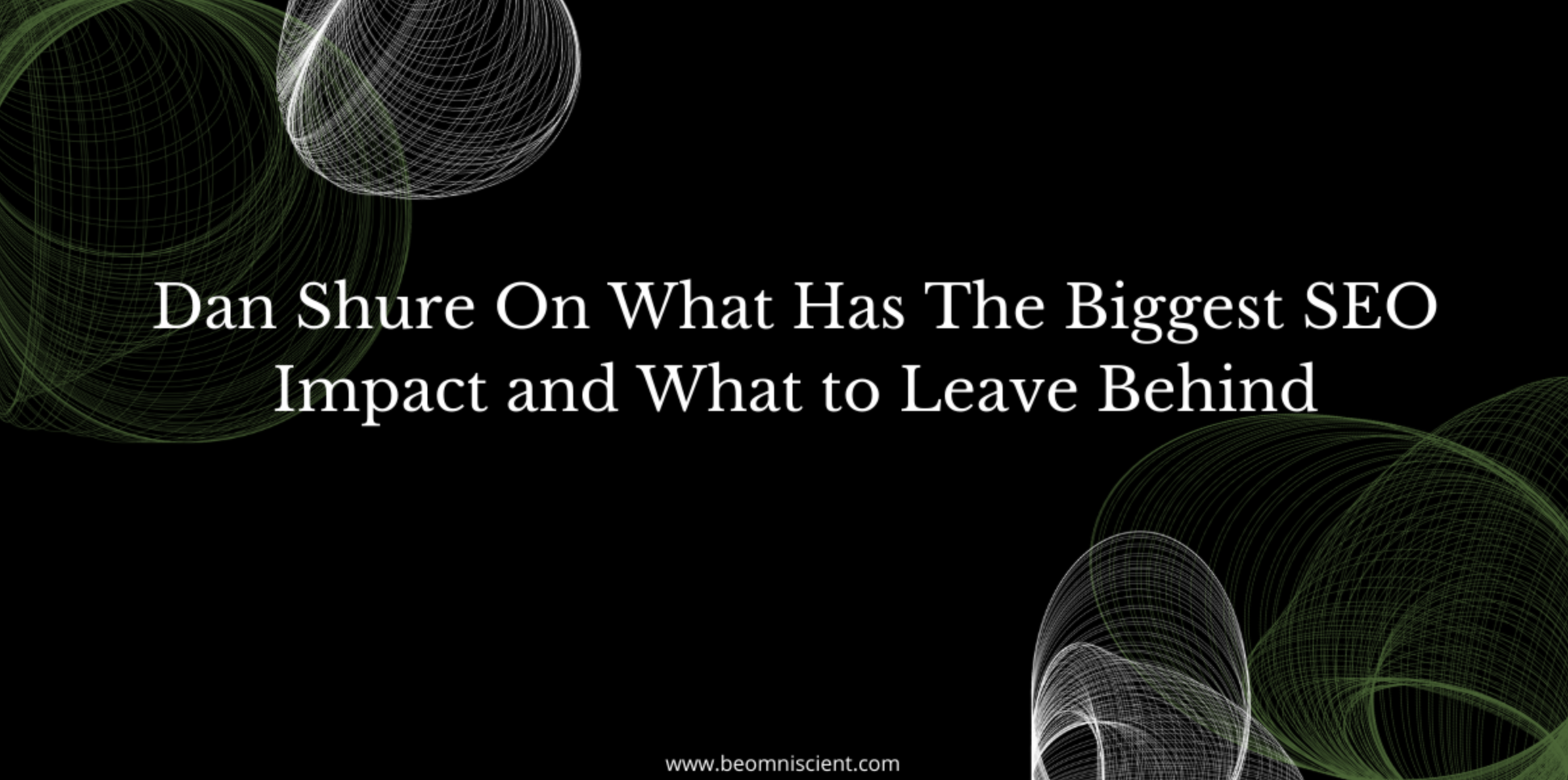 SEO optimization is often presented as a huge checklist of things that need to be done before you can even consider hitting publish. Miss a step and your content will be dead on arrival.
The truth is that some of those things can make a big impact on how content ranks, but most of it is just noise.
Dan Shure, founder of Evolving SEO host of podcast Experts on the Wire, said good SEO comes down to paying equal attention to both the big picture of content—the structure and purpose—and the small details that make a difference.
Getting too bogged down by one or the other will lead to content that flops.
Dan talked to us about how he handles that balance and tunes out the rest.
Follow the 80/20 rule
It's important to keep yourself from spending endless time and effort on a piece of content in the quest for perfection because perfection isn't necessary for content to perform well.
Dan has a rule that he follows to help him know when it's time to hit publish.
"Probably my biggest operating mental model is the 80/20 principle," Dan said. "It's changed the entire way I approach everything."
The 80/20 principle is the idea that 20% of your input or efforts is going to be responsible for 80% of your output or results. That 20% is what you should focus on.
"In the SEO world, I have some concrete things, lines that I get to, and I know we're ready to ship," he said.
Dan uses a tool called ContentAced that analyzes content against a keyword and shows you if there are any topical gaps or things you've missed.
If he runs a piece of content through and it gets a D, then he knows they're not done yet. But if he runs it and it gets a B or A and he can see that they've gotten 80% of the topics they need, it's ready to publish.
"What I'm thinking about is it's going to be another five hours, hypothetically, for some content person to have to add in the last remaining 20% of topics," he said. "That five hours is not important enough to spend the time now."
"What I'd rather do is publish in Google, see if it's good enough."
Many times those articles at 80% rank just as well as those at 100%. You can only find out by hitting publish.
Nail first sentences
On a more detailed level, Dan has certain things he's adamant about getting right before shipping a piece.
The first thing he does is have his clients run their content through the Hemingway app and then rewrite any sentences that are hard to read.
But the thing he zeros in on the most is the first sentence of a piece of content.
"I always encourage the client to make the first sentence about that exact topic, because that anchors the topic for Google and for users," Dan said.
By that he means clearly stating what the article is about, as opposed to taking a long journey to get there. For example, if an article is about the most valuable pennies you can collect, it shouldn't start with why coin collecting is fun and worthwhile.
It should get right to the point.
"I'm very, very adamant about having a really good first sentence," he said. "I want that to be perfect, but I'm not gonna make every sentence be perfect in the entire piece of content."
He focuses on nailing the sentences that matter, which also include "what is" and definition sentences. Those should be structured correctly so that they can be picked up as featured snippets.
Hit the mark of transactional to informational content
One thing that Dan takes into consideration that others may overlook is getting the ratio of transactional to informational content right.
Typically a blog post shouldn't be transactional in tone, because they're informational pieces. But if most of the ranking content for a keyword is more transactional, then that should be reflected in your own content.
"What I usually do is just estimate the percentage of transactional to informational of what I'm seeing in Google," Dan said. "And then I just want my client's website to mirror that same percentage."
If a keyword analysis shows a lot of product widgets, category pages, and ads, and about 80% of Google's search results page is transactional, he makes his client's piece of content 80% transactional too.
"So product widgets, for sale language, buy language, product benefits, all that kind of stuff," he said.
If it's mostly informational, then you'd stick to classic informational structures.
Label content types
An additional step Dan takes is labeling content by type before getting started on writing it.
"For every blog post, I have certain categories of content," Dan said. "One might be what I call an information list. So that could be benefits of marketing or marketing strategies or types of marketing."
An information list, also called a listicle, is Dan's go-to type of content because it does really well on Google. Most content on a Google search results page is in list format these days.
Other types are versus content, like "marketing versus advertising," and topic guides.
"The reason I label the content type is because that's my first step at getting the client towards having the right structure on the page," he said.
"So if it was marketing strategies and they did the complete guide to marketing, that's a mismatch in content type. The user doesn't want a guide to marketing. They want just a straightforward list of strategies."
Getting the content format right is important for SEO.
Fit the structure to the keyword
For many teams, topic clusters and pillar pages are mainstays of SEO. But they don't work for everything. They're one of the things Dan believes don't have an impact that's equal to their effort.
"It doesn't work in most situations. It could get you a decent amount of the way there, but it's sorta like the one size fits all plan if you can't or don't want to come up with a more custom strategy or plan," Dan said.
Instead, he likes to say let the keywords dictate your structure. The information architecture will reveal itself if you do your keyword research.
"I feel like a lot of times when I'm doing SEO and keyword research, I'll often say my job's not to be creative," he said. "My job is to uncover just the natural existence of keywords and searches that are out there and find that sort of natural synergy that they should fit into."
Don't force your content into the idea of topic clusters and pillar pages if it doesn't fit your keywords.
​​Prioritize SEO over promotion
Another thing Dan saves time on is promotion. He doesn't do any big outreach campaigns for his clients.
"In my day-to-day with clients, we don't think about content promotion at all for the most part," Dan said. "Or my job as an SEO practitioner, my philosophy is to, as they say, build really good content, let it get crawled, indexed, found on Google."
People will link to that content on their own. Dan prefers that type of passive link acquisition in place of outreach.
That doesn't mean a company shouldn't be promoting itself, of course.
"If a company is doing real stuff, they're going to be doing hopefully PR, marketing, advertising that should promote them anyways," he said. "And sometimes what I'll often try to do is help them layer best practices of SEO into what they're already doing."
He'll occasionally encourage clients to share content on a channel that's important to them like LinkedIn or Pinterest, but it's never at a large scale.
If content needs to find a larger audience, he's a big fan of paid promotion through social media to get the job done.
At its core, Dan's SEO philosophy is about focusing on the tactics that have proven to work and create valuable, high-ranking content. The rest won't have the same return on investment for your time.