LinkedIn is a powerful social media platform with a lot of potential for businesses that sell to other businesses (B2B).
With over 610 million users, LinkedIn is the world's largest professional network. It's a great place to connect with other professionals in your industry, share your company's story, and generate leads.
It's often looked at as the "boring" social media platform, and there's some truth to that.
But you should reframe how you think about it. It's not simply a place to put your resume and connect with colleagues. It's a full blown content creation platform, and you should treat it as such.
Speaking personally, at Omniscient we've found it to be the highest leverage social media tool for reaching our target audience.
Whether you're just getting started with your LinkedIn strategy or looking for some advanced tips, this article will have you covered.
Let's walk through my favorite 6 B2B marketing on LinkedIn methods:
1. Optimize Your Company Page
One of the most important things you can do on LinkedIn is to optimize your company page.
Your company page is like your business's profile on the platform. It's a great way to showcase what your company does, tell your brand story, and attract visitors to your website.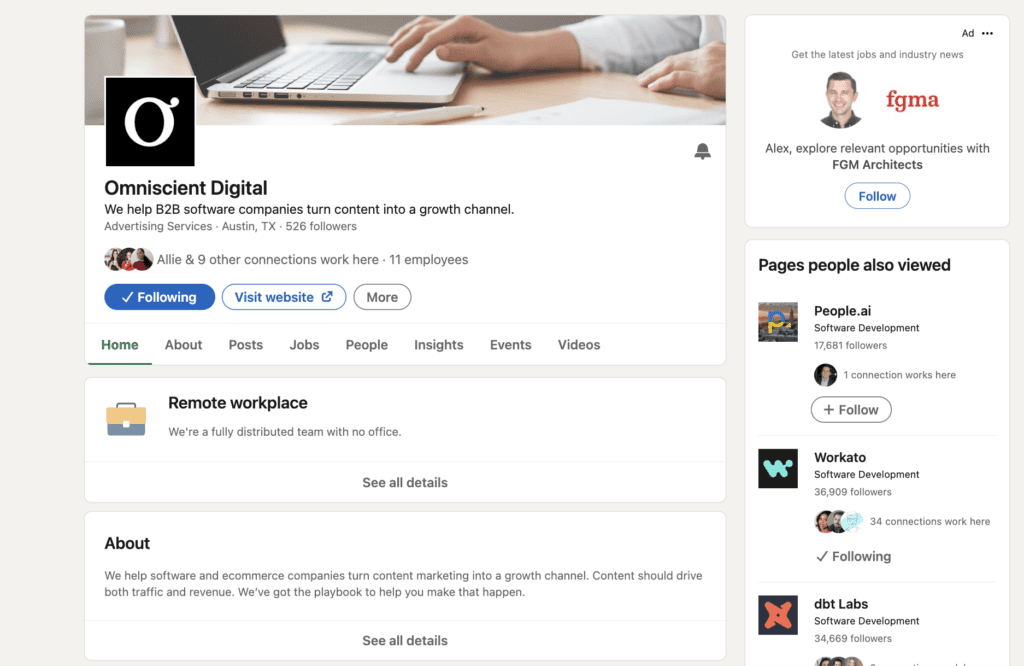 Make sure to include relevant keywords in your company page so that it shows up when people search for those terms.
You should also keep your content fresh by regularly publishing new updates.
And finally, don't forget to add a call-to-action (CTA) on your company page so that visitors know what you want them to do next (e.g., visit your website, sign up for your newsletter, etc.).
This is low hanging fruit and should take less than an hour or so.
The next tip is going to be much time consuming, but it has unlimited upside.
2. Publish Engaging Content
Another great way to use LinkedIn for B2B marketing is to publish engaging content.
This could be in the form of articles, blog posts, infographics, videos, or anything else that would be interesting and valuable to your target audience.
The LinkedIn algorithm is constantly changing, thus, your LinkedIn strategy should iterate as well.
Right now, for instance, it's popular and effective to post image carousels: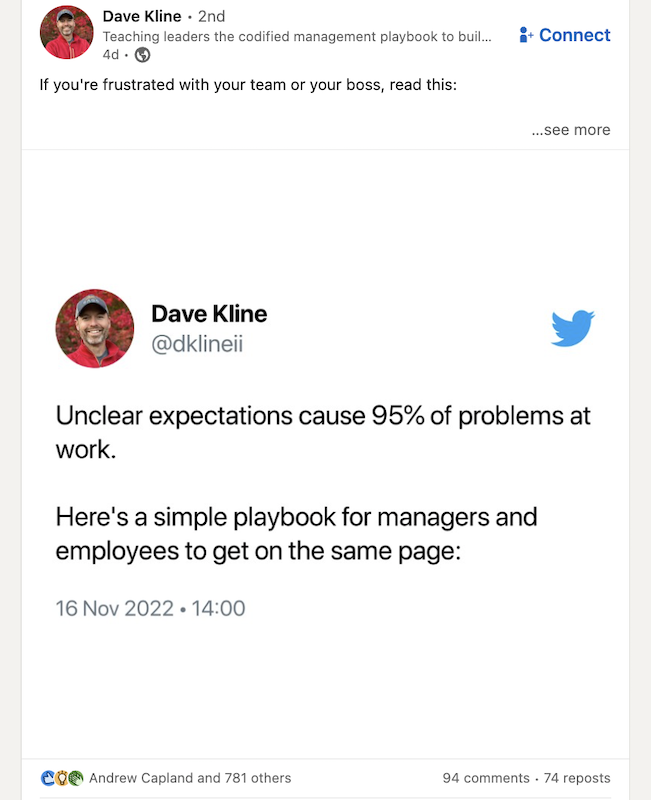 When you publish content on LinkedIn, make sure to include a catchy headline and a compelling image or video.
People like the "one sentence per line format." I don't make up the rules. But this stuff works well on the platform: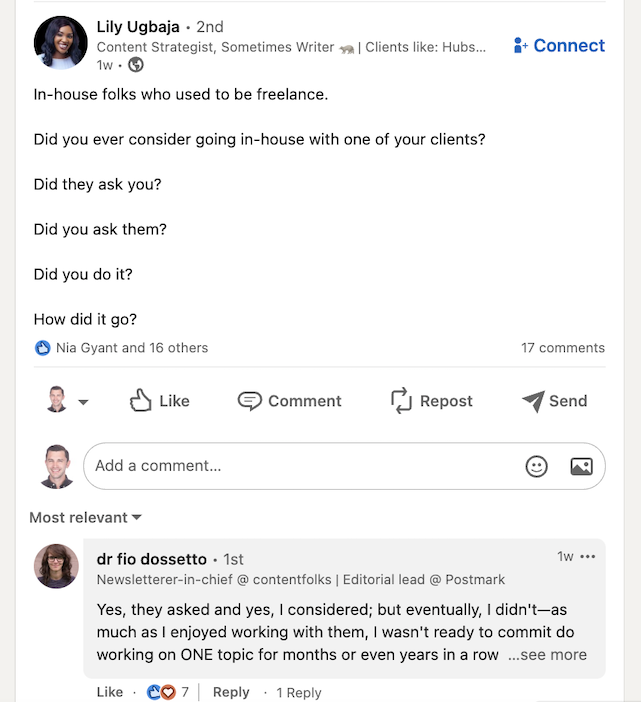 You should also share each piece of content multiple times and post it in relevant LinkedIn groups.
And don't forget to add CTAs to your content so that readers know what they should do next (e.g., download your free e-book, sign up for your webinar, etc.).
B2B marketing on LinkedIn is best approached with multiple content creators. The difference, though, is that on LinkedIn, company pages can be leveraged quite effectively.
For example, we always share our podcasts, job openings, and other content from our Omniscient Digital LinkedIn profile: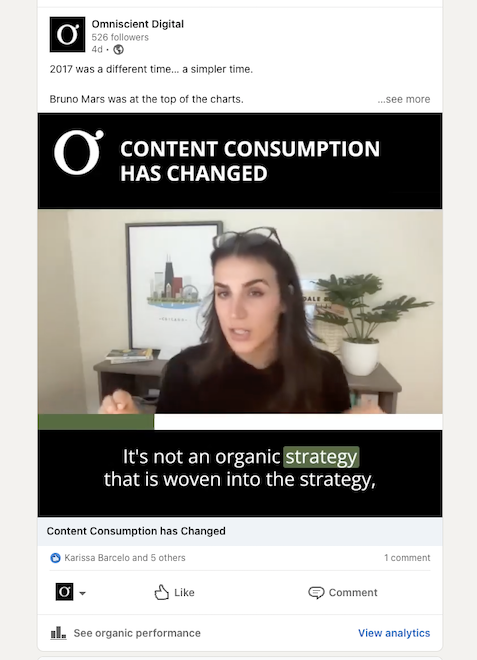 In the next tip, I'll show you an advanced LinkedIn strategy that leverages multiple creators to create a "surround sound" effect with your messaging.
3. Decentralized Content Marketing
Decentralized content marketing is a new approach to content marketing that's gaining popularity.
With decentralized content marketing, there's no central hub or authority figure. Traditionally, content marketing strategy hinges on the blog and is heavily centralized.
With the decentralized content marketing approach, the content is distributed across a network of decentralized nodes (i.e. employees or partners you work with). In some ways, this makes it more difficult for marketers to control the distribution and consumption of their content.
However, there are several advantages to decentralized content marketing.
First, it makes it easier for content to spread virally. Second, it creates a more democratic ecosystem where anyone can contribute content. And third, it helps to innovate on messaging, effectively increasing your learning rate and improving resonance with your target audience and decision makers over time.
This approach is really perfect for B2B marketing, as decision makers typically need to see your content several times before the message "clicks." And if they see several employees sharing content across social media regularly, this is a super effective way to drive brand awareness and get in front of potential customers.
Overall, decentralized content marketing is a great way to reach a wider audience and build trust and engagement with your followers.
If you spend any time on LinkedIn, you'll notice this approach more and more.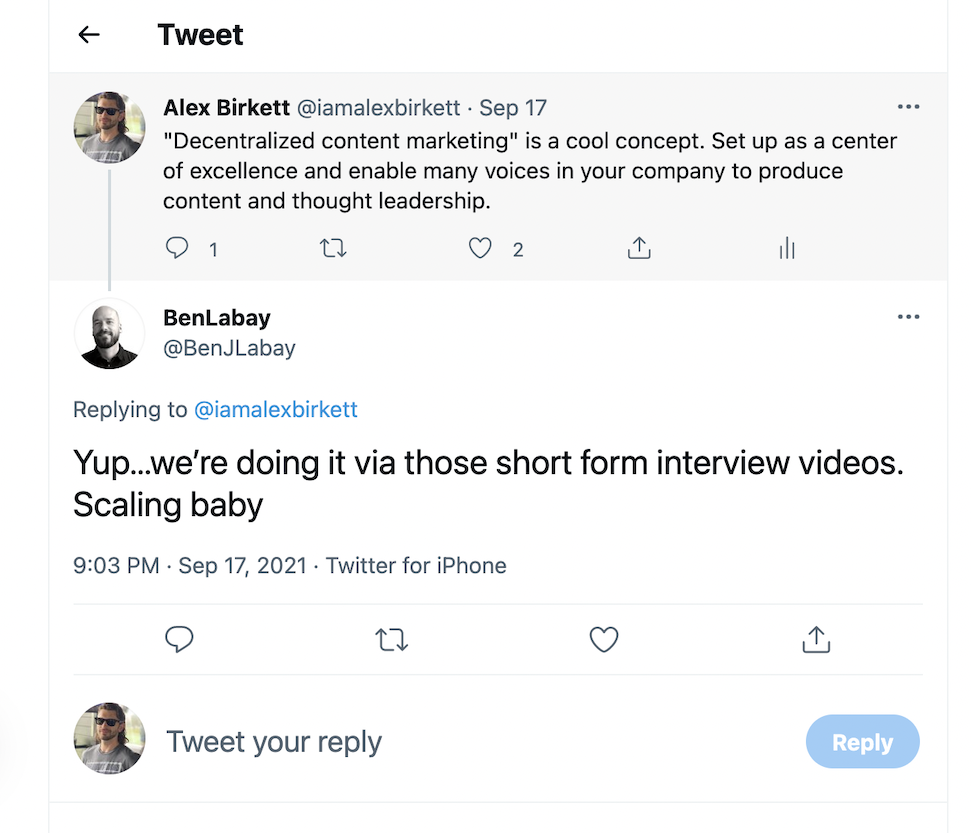 4. Engage with others' content
One of the easiest ways to leverage LinkedIn for B2B marketers, especially if you don't have a large following already, is to comment and engage with other creators' posts.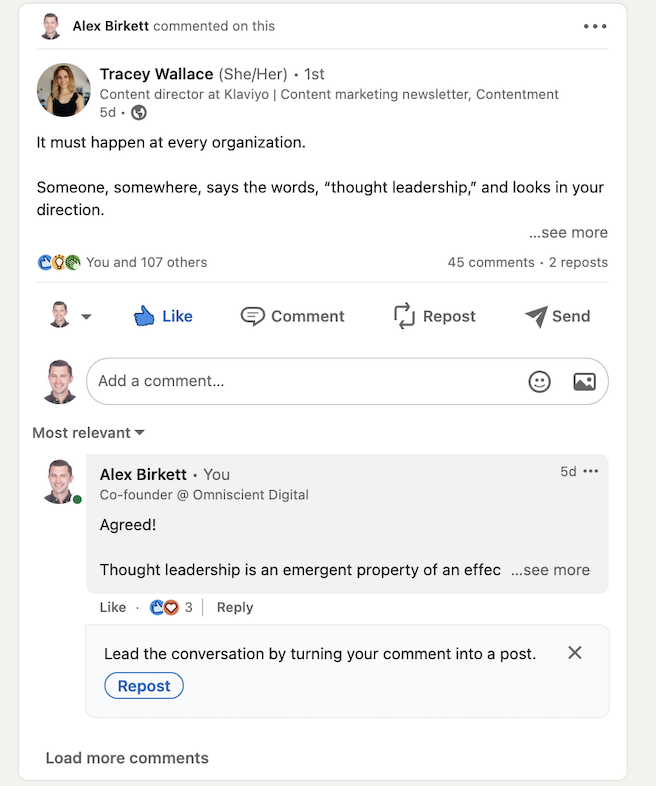 When you find content that resonates with you, comment on it and start a conversation. You can also share the content if you think it would be valuable to your own followers.
Engaging in conversations not only helps build relationships with other creators, but it also helps get your profile in front of a larger audience. This way, when you post your own content, it's more likely to be seen and shared.
Another great way to engage with content is to join LinkedIn groups related to your industry.
When you're in these groups, take the opportunity to read other people's thoughts and opinions on topics related to your business. You can also contribute by sharing your own knowledge and insights regularly.
By taking the time to engage with other people's content, you'll quickly build a network of influencers and thought leaders in your industry who can help promote your business.
Overall, engaging on LinkedIn is one of the most effective ways to leverage B2B marketing on the platform.
5. Stream Video Content & Events
If you're running webinars, you can simultaneously stream the content to LinkedIn (among other channels, like YouTube, Facebook Live, etc.).
This is a great way to reach more people and increase engagement with your brand.
You can also use LinkedIn Live to stream events such as product launches, conferences, or any other event you're hosting. This will help you get more exposure for your event and make it easier for people to join in the conversation.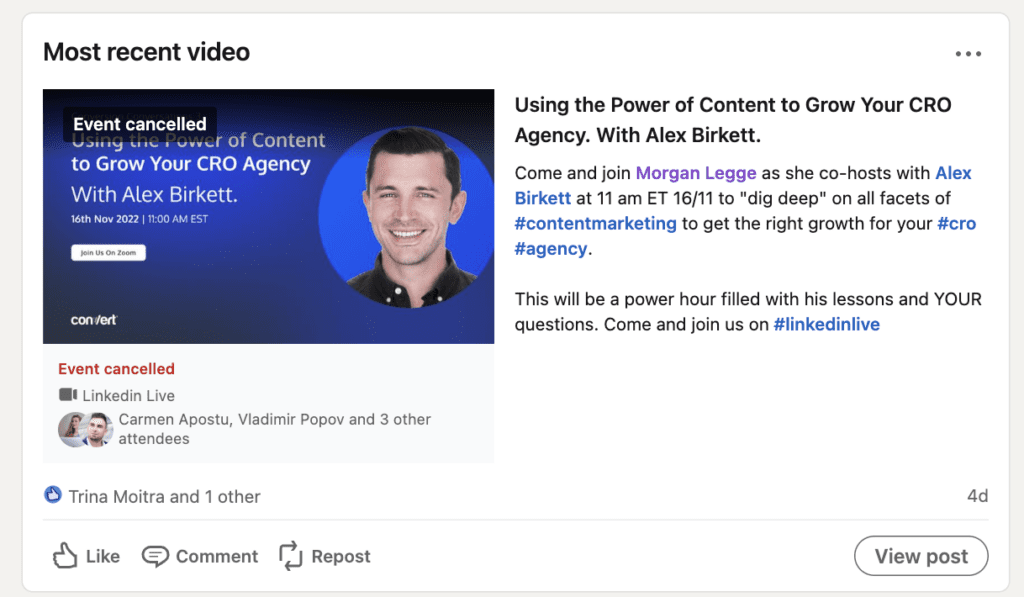 We also started live streaming our Office Hours events here (and on YouTube) and it has helped increase our overall reach beyond our own website. We've got valuable content we're sharing; B2B LinkedIn audiences love this stuff.
6. Run LinkedIn Ads
LinkedIn offers several different types of ads that can be effective for B2B marketing.
For example, Sponsored InMail ads allow you to send personalized messages directly to members of your target audience.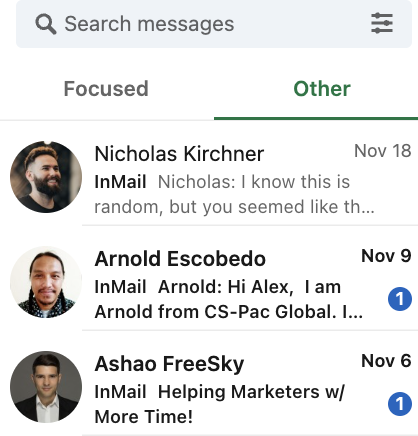 Text ads are another option and they appear in the sidebar of LinkedIn pages.
And finally, there are also Sponsored Content ads that look like regular updates in the newsfeed but they're actually paid advertisements.
Apex Growth crushes it at these promoted posts: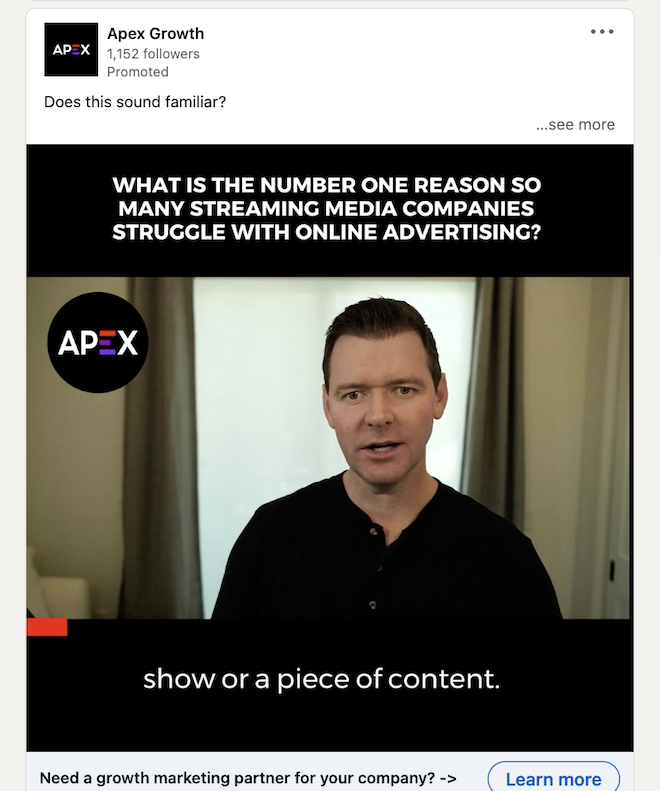 No matter which type of ad you choose to run on LinkedIn, make sure that it's targeted at the right audience and that it includes a strong CTA.
Small caveat: in my personal experience, it's been quite difficult to make LinkedIn ads work economically. They've got one of the highest CPCs of any platform, social media or otherwise.
So you've gotta make sure your marketing funnel is smooth as hell, your offer is great, and your purchase rate / customer lifetime value is high enough to warrant the cost.
Conclusion
Everyone has their own LinkedIn marketing strategy. These 6 methods should give you a great starting point, but at the end of the day, you'll have to figure out your unique approach.
Your LinkedIn marketing strategy should also flow from your specific goals, whether that's lead generation, sales, additional distribution for campaigns, brand awareness, or something else. All marketing efforts should support your concrete goals.
LinkedIn is a great platform for B2B marketing, as it allows you to reach a wider audience and build trust and engagement with your followers.
There are several things you can do to use LinkedIn effectively for B2B marketing, including sharing content, streaming video content and events, and running LinkedIn ads. By following these tips, you can generate leads for your business using LinkedIn.