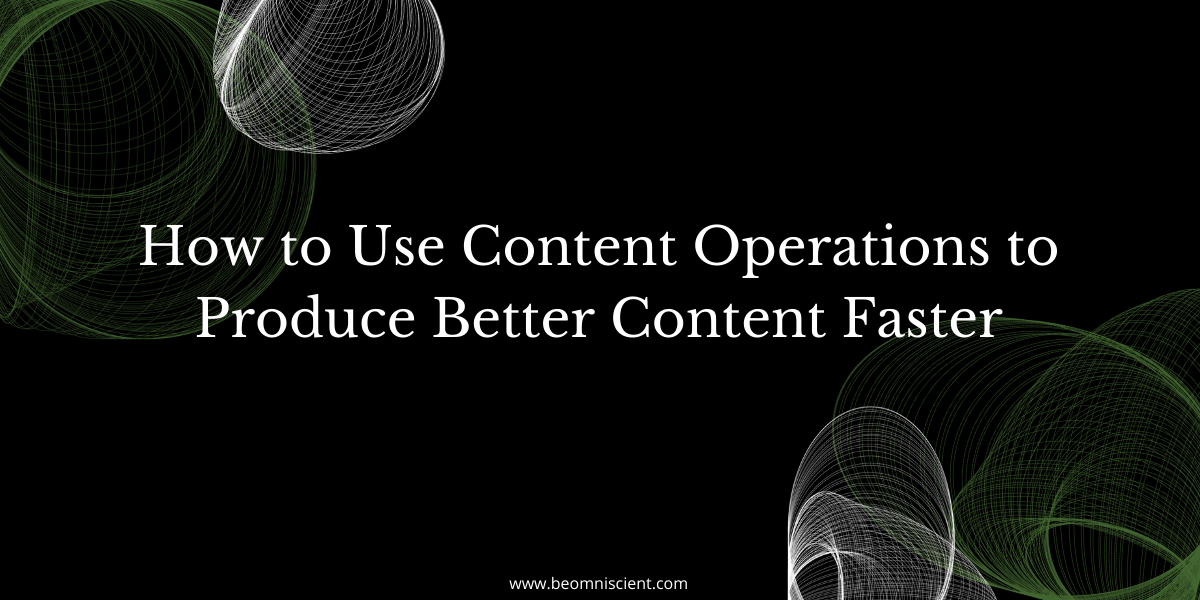 A good idea is only as good as its execution.
Does this sound familiar? You have a great content idea, but along the way, task assignments get fumbled and steps get missed.
You end up scrambling to throw it together. Instead of shining, it flops.
How can you make sure your execution is just as brilliant as your idea?
According to Alina Benny, Nextiva's Senior Content SEO Lead, you build a solid content operations engine to carry it from brainstorm to publication.
The definition of content operations
There are often misconceptions about what content operations is.
People often boil it down to keyword research, style guides, and content calendars. The reality is more complex.
Content operations is more than just a set of tools or spreadsheets. It's the entire life cycle of a piece of content.
"Content operations is everything that you do to plan, produce, distribute, and optimize content," Alina said.
It includes things like team roles, gatekeepers, content tech, content briefs, SEO checklists, design and development intake, link partnerships and distribution, and content performance and optimization.
"This is by no means an exhaustive list of all the different roles of components inside of content operations," Alina said. "But I like to believe that these are some of the key components that we've found to be helpful."
4 reasons content operations matters
Having a system in place to identify, describe, assign, and track each content-related task can seem daunting. But when done well, it will allow you to match your great ideas with equally great execution.
Here's why that matters.
1. Ensure better content quality
When you have a system in place and checklists to follow, things won't slip through the cracks and affect the quality of your content.
"When you have things where it needs to be with clear accountability, things are just going to be a better quality," Alina said. "Just like how you don't need to scramble last minute to get things done."
For example, you might have a blog post ready to go, but the featured image hasn't been prepped in time by the design team.
Content operations maps out every step, so that scenario never happens.
2. Create faster production cycles
When you know exactly what needs to get done and when, production cycles operate more smoothly.
First off, there's clear visibility into everything that needs to happen.
Speed can also be improved by using feedback loops.
Most teams rely on design and development and subject matter experts to produce content.
An operations engine allows for feedback, so those teams can see exactly what worked and what didn't for next time.
"The best way to help them do better work in the future is to go back and show them how something that they worked on performed," Alina said.
3. Focus on ROI-driven content
A good content operations system requires every piece of content to have a purpose. That purpose should tie back directly to your company's goals.
As a piece of content moves along the pipeline, each stakeholder can support its purpose.
"If you're building it for backlinks, then get that clear. Mention that on the brief. Talk about that's where extra ammunition needs to go into promotion and partnerships," Alina said.
"If you're building it for the product-led purpose, then get your product team excited about it, to get them to contribute a ton."
Every piece of content should have a reason for existence.
4. Get a competitive advantage
"It's a competitive advantage," Alina said of a well-oiled system "This is one of my favorite reasons why that I tend to double down on content operations."
Not every team has a system in place. Of those that do, not all are good at it. Having a solid one will give you an edge.
A strong system is underpinned by documented processes. Writing everything down will help you fine-tune your existing workflow and allows you to grow your team more easily.
"We find it that it's so much easier to plug in somebody when they're just getting onboarded or if they've newly joined the team when you have a repeatable process that you have documented," Alina said.
Hire a content editor
Ready to jumpstart your own content ops program?
When creating your own content operations team, don't focus only on writers. You first need someone to oversee the process.
"What we need to hire for first is called a lot of things, but it's the content editor role," Alina said.
"If you look at what needs to be done in order to publish one blog post, and you're looking at the writing tasks versus non-writing tasks, we're talking about five tasks versus 20 tasks."
A writer will create a well-crafted piece of content. That's important, but that's not all you need.
"They're not going to be able to do more than a few things on this list," she said. "That's not going to help you publish something that's successful, something that's user-friendly and so trendy, and you can tie it back down to a business score."
A content editor can put together all of the other pieces required to make that happen.
Use project management software for the entire pipeline
Alina said one of the most common questions she gets is about how Nextiva organizes its content operations.
The answer: they use Asana to track every step of their blog creation process and who's accountable. They even keep their ideas there.
"This is where it goes, and it's not where it goes to die. It thrives there," Alina said.
Each idea gets an entry that includes commentary, keyword research, competitive resources, and other key details.
From the 'idea board,' it can be moved along the pipeline, with each step having its own board and an owner to oversee it.
If it's a new piece of content, it will go from 'idea' to 'outline' to 'assigned' to 'writer.' Then editing, design, on deck, and publish.
If it's an existing piece of content, it goes into the refresh queue, and then moves along the appropriate boards.
A similar setup is possible within your own project management software. But first, you need to figure out a few details.
Alina said: "If you are looking at this, and if you're wondering how you can replicate something like this for your system, then these are the four questions that you need to ask yourself: what does your existing flow look like? What are the different steps in that flow you can count as milestones? How do you improve that? And who's accountable at each step?"
Use content briefs
You'll note that everything up until this point has involved the preparation process.
When you finally reach the writing stage, you need a good brief.
Providing your writers with all of the information they need to create your content ensures you'll get back exactly what you need.
"In-house writers or external, they're very integrated into our content operation system," Alina said. "They have limited but relevant view into what they're working on and why it matters."
Alina's template includes things like:
Blog title
Topic keyword
Research documents
Introduction setup tips
Questions to help focus the content
Places to put the CTA
Internal and external links
Placeholders for original images
It's not an outline. It's just instructions to help the writer do the best possible job.
Enable improvements with a high-level view
One of the most powerful things about a content operations engine is it lets you see the whole pipeline at once.
Nextiva used that high-level view to their advantage.
They noticed that they had a bunch of educational videos that had never been connected to each other.
After they connected the videos, within three months they saw a 300% increase in clicks, higher YouTube engagement, and rich SERP snippets. It all came back to connecting the dots.
The first step in being able to make those types of changes is being able to see where they need to be made.
"You can only identify gaps like this when you have full visibility into your content pipeline and you know where to make tweaks," Alina said.
A streamlined content operations process can take you from chaos and guesswork to efficient content production that impresses both readers and stakeholders alike.