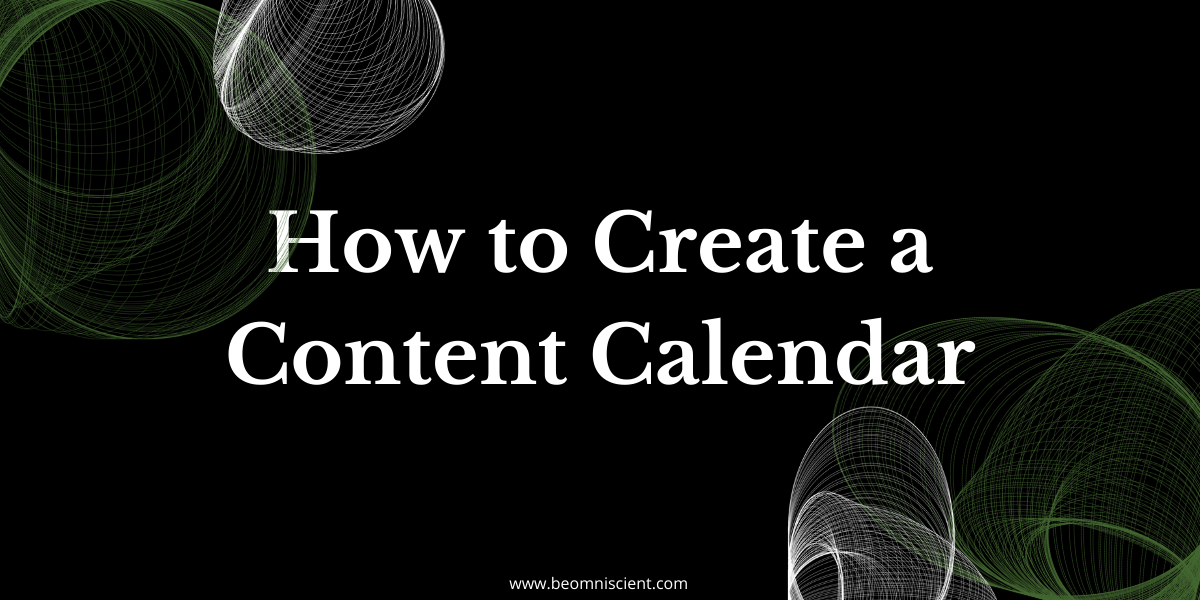 You're probably at a point where you are ready to start publishing content regularly and need to streamline your workflow.
To do so, you will need a systematic process to keep you and your team on track and ensure efficiency.
Producing content consistently requires a good mix of ingenuity and organization.
It's difficult to unlock creativity in a world of chaos. Dedicate some time upfront to building a content calendar, all in the name of long-term growth.
To help explain the importance of a content calendar and how to implement one effectively I asked my team, Alex Birkett, co-founder of Omniscient Digital, and our Head of Content, Allie Decker.
What is a Content Calendar?
A content calendar (or an editorial calendar, the terms are interchangeable) is the mapping of your content marketing strategy, or content plan, onto a visible timeframe with publication and deliverable dates. As Alex puts it:
"The content calendar is like the handshake between strategy and execution. It's the project management component of a content marketing program."
You do the research and build your roadmap, and then before you start publishing content, you put it together in a calendar for visibility and to align different team members.
"For a product manager, it's their feature roadmap. Or for conversion rate optimization, which is the world I come from, you would do a bunch of research, qualitative surveys, quantitative data analysis and come up with a list of hypotheses and prioritize them. At that point, you'd have a roadmap by which you would operate when you are running experiments. It's a communications tool more than a strategic tool. You need something to communicate once you've done the work."

Alex Birkett, Co-founder of Omniscient Digital
Another big reason to have a content calendar is accountability for publishing your work. Allie adds, "It helps you establish that timeline to help you meet your goals."
Content calendars will vary from company to company, but they can incorporate everything from marketing campaigns and video releases to course schedules; in some businesses, it may just be used as a blog or social media content calendar.
A calendar tool does more than keep you aligned internally. It also helps public facing properties seem more cohesive. For example, having a product launch on the homepage and then a social media post to correlate with that launch looks good from a customer's perspective.
Why Do I Need a Content Calendar?
According to the Content Marketing Institute, 62% of successful marketers have a documented content marketing strategy. And B2B content marketers who do have it documented get better results from their content marketing tactics, social media platforms, and paid methods of content distribution and rate them more effective when compared with peers who don't have a documented strategy.
Whether you are working solo or in a team, it's good to have something to look at to see when you should be publishing. It's a tool that can help you reinforce your strategy at a bird's-eye view — something you may miss when you are posting day to day.
If you are working as part of a larger marketing team, it can help you work more cohesively rather than in silos. It can also help to align everyone around a unified concept, voice, and direction.
Allie says, "If you are including a variety of content [on your calendar], it's a single source of truth. In my experience, people work in silos, and they are meeting their own goals, but a content calendar avoids overlap, cannibalization in content, and competing noise depending on how you are promoting your content. It pulls everything together."
Cross-collaboration is another key benefit of having a view of what everyone is working on. You can discuss crossover opportunities and avoid duplicated efforts.
"It's one thing if you have one writer, or a group of freelancers who you are assigning articles to, but if you have a content team, or multiple blog properties then it's incredibly important to see what other people are working on. You may have a services blog and a marketing blog and there may be a topic that fits both of those, and to communicate that is important," says Alex.
Alex and Allie recently interviewed Tommy Walker, a content strategy consultant and founder of WalkerBots Content Studios, (formerly at Shopify and Intuit). Through strategic foreshadowing and backlinking in storytelling, he's figured out how to interconnect an entire narrative beyond just a single article and get readers yearning for more.
You can model what he did and have a content calendar mapped out across time. He builds a whole roadmap based on a singular topic, and each peace builds upon the knowledge of the previous weeks. [Check out The Long Game podcast/video for the full interview for more]
To recap, a content calendar can do the following:
Keep you and your team accountable for publishing
Align everyone around a unified concept, voice, and direction
Avoid overlap, cannibalization, and competing noise in content
Help you see opportunities for cross collaboration and avoid duplicated efforts
Does a content calendar have to be rigid or can it be flexible?
"Everybody has a plan until they get punched in the mouth…" — Mike Tyson
The idea is to have a good balance between some rigidity to honor what you have planned, while also allowing enough room to be flexible for changing ideas and directions.
When COVID-19 hit in 2020, most organizations had to pivot their marketing strategies and editorial approach in order to adjust to what people cared about at the time. You will also want to allow agility and room for spontaneous campaigns or on-demand assets.
"If you have everything planned in a content calendar, you can coordinate the other pieces such as social media promotions, product launches, and get everything aligned," says Alex. "But the world doesn't work that way. You'll often have ideas that come up in the moment and you need to get those published quickly. If you are working with external writers, or guest writers, maybe you want to slot them in quickly. Things come up and you still want to maintain a publication frequency or cadence."
You can decide ahead of time that certain components will be rigid.
For example, if you are building out a larger campaign, topics in that campaign can remain rigid, but pieces within it can move around. It really depends on your goals because you will want to tie them back to your strategy.
Most times, clients prefer to stick to a schedule.
Allie says, "If I were drafting a content calendar by hand, I would create it with pencil not pen."
What do I need before I create a content calendar?
"If you don't have goals before you start, it's really easy to paint things in a positive light in hindsight." – Alex
First, you should do some research for your content marketing strategy, and get familiar with your end marketing goals. "Goals not only affect what kind of research and planning you do but they can also affect how your execution plays out, especially if you are sharing your calendar with other teams. It can affect the timing of everything down to how frequently things are spaced out, especially if it's a group effort with the campaigns and the content offers. Your goal(s) should be established well before your content is scheduled," says Allie.
The content research component, which we offer our clients here at Omniscient Digital, includes thoroughly understanding your competitors, industry, and SEO landscape in order to find opportunities to grow traffic through your content. You'll want to have that mapped out before you start building a content calendar. The calendar itself is the tool you'll use to communicate your strategy to the rest of the team and put your strategy into action.
If you don't have marketing goals in mind, you run the risk of cherry picking goals after execution.
Alex says, "I find brand awareness is something people use as an excuse if it doesn't drive results. Having goals up front, whether you hit them or not, helps you analyze why you did or didn't. It gives you intellectual honesty to review what you've done."
Now, you are ready to build your content calendar.
First, you'll want to choose which tool to use. Some people begin with a simple Google Sheet or Excel spreadsheet to outline everything and transfer it over later, but we'd suggest building one out in one of the platforms below.
To begin, label the columns in your calendar, but don't fill it out just yet. Here are some potential categories you may use. Modify it to suit your department's needs.
Campaign theme (if you have one)
Title of the piece: SEO-driven preferably
Channel: Where will this be posted? Twitter, Linkedin, Instagram
Type of content: Blog, video, infographic, eBook, etc
Date to post: When does this content need to be posted?
CTA: What will your call to action be?
Assignee: Who will own this content and make sure it gets posted?
Buyer's journey/stage: Awareness, consideration, decision
KPIs: Key performance indicators to measure success.
Approved: The team's lead or campaign manager can sign off on it here
Published date: Date it actually posted
Live URL
Save time and download our free content calendar template. You can start with this spreadsheet and move it into a project management tool of your choice.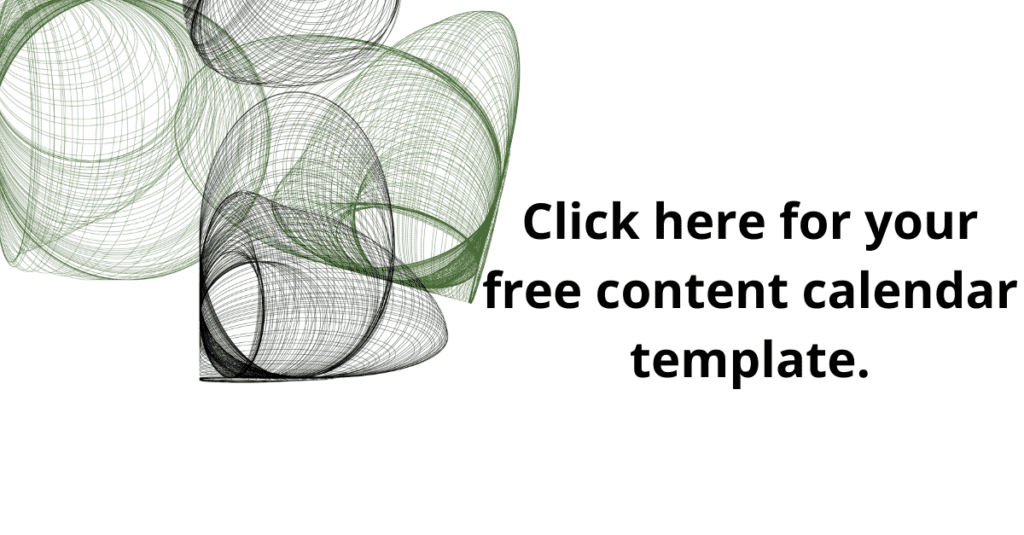 At Omniscient Digital, we use a more simplified version of this for our needs. We are a small team and still growing, so we don't have to involve multiple departments at this stage. We also don't have big overarching campaigns just yet. In addition, our particular process is just for internal purposes and isn't public facing.
Since our focus is mainly on our blog, our YouTube channel, and our podcast, we have it laid out using Asana according to the following categories:
Keyword Research
To Write
To Record
To Edit
To Publish / Schedule
Published
You can choose different views in Asana, such as list, board, timeline, or calendar. We find the Kanban board view is best and allows us to drag-and-drop pieces of content from one section to another. It looks like this:
Under the first column "Keyword Research" I've laid out a list of SEO terms after doing some digging in Ahrefs. They're listed there to help spur content ideas. Having this list in Asana isn't completely necessary, but I like having the ability to see it on the platform.
Under the "To Write" section, we have blogs we are currently working on right now. We also use tags to label each blog according to the kind of content it is. The core types of blog content we focus on include:
How to's or SEO-driven content
Thought leadership
Podcasts (since we like to share our recorded content in written form too)
Case studies
You can color-code these tags if you'd like. For example, this blog you are currently reading, "How to Create a Content Calendar" is tagged as a "How To or SEO-driven" blog.
Under the "To Record" column we have the episodes of the podcast outlined. We like to record the podcasts on video so that we can repurpose them for YouTube; this way we are maximizing our content for our viewers/listeners to be able to ingest it how they want. Meanwhile, we are making the best use of our own time.
Next is the "To Edit" section. This is where content lives once it's ready to be reviewed and/or edited. If it's a video, we may need to add a title card or edit the video to meet any specific needs. If it's a blog, it may need a few final revisions from the team.
After final edits are made, the content is ready to be moved over "To Publish / Schedule" This is where you can assign a date for when to post it, as well as any necessary details. In addition to the blog, will this content be posted to a social media platform like Linkedin or Twitter as well? Those details can be added here.
Lastly, after the piece of content has been published, it can be moved to the final column and treated as an archive.
Now that you have your calendar outlined, it's time to fill it in.
Schedule a group brainstorm.
If filling this out on your own seems like a daunting task, you can schedule a meeting with key members of your team to fill out the content calendar together. Discuss ideas, publishing cadence, and roles.
As I mentioned earlier, start backwards. What are your content marketing goals? Is it to attract and convert leads? Build authority? This is a good chance to foresee any roadblocks or obstacles in the future.
Revisit your buyer personas. Get clear on who you are speaking to, what their pain points are, and how you can get them to act through your content.
Determine the quantity and cadence. How many posts per day, week, month?
Be sure to sync your calendar with upcoming product launches, courses, webinars, ebooks, etc. What will you want to push out on your channels? What resources will you give away?
You'll want to build your calendar out far enough in advance to have a glance at bigger campaigns, events, launches down the line, but not too far out that you set unrealistic expectations. Ideally, a calendar built out a few months ahead is ideal. Make sure to consider holidays, events, employees out of office, etc.
Fill in the blanks and share.
Go ahead and share your content calendar with key members and anyone in other departments who may benefit from having access to it. By getting everyone on the same page you can avoid unpleasant surprises or duplicate efforts.
Share with the creative team, designers, digital marketing department, etc. Does PR need to be looped in to align the calendar with upcoming pitches or releases?
Remember that creatives benefit from having strategic processes in place. As Alex says, "There is no freedom without some order. You have to have some order in order to have the chaos in a contained way. Creatives are going to flourish under those conditions."
If you prioritize everything, you are prioritizing nothing.
Are you familiar with Parkinson's Law? It's a good reason to have a system in place. The old adage says, "Work expands so as to fill the time available for its completion." Meaning if you ask someone to work on something within a year, they will start it towards the end of the year. It's just human behavior.
Effective planning allows room for greater creativity, and it's actually a huge time-saver in The Long Game.
Happy Planning!
* * *
If you need more direction on content creation, prioritization and production as you work with clients, we highly suggest Allie's tutorial on building out a Content Roadmap Report, or CRR. It serves to bridge the gap between your work and client feedback, and it can help you pull together content ideation, keyword research, associated suggestions, and more. You can check out the course on Teachable.
In case you missed it, you can grab your free content calendar here.