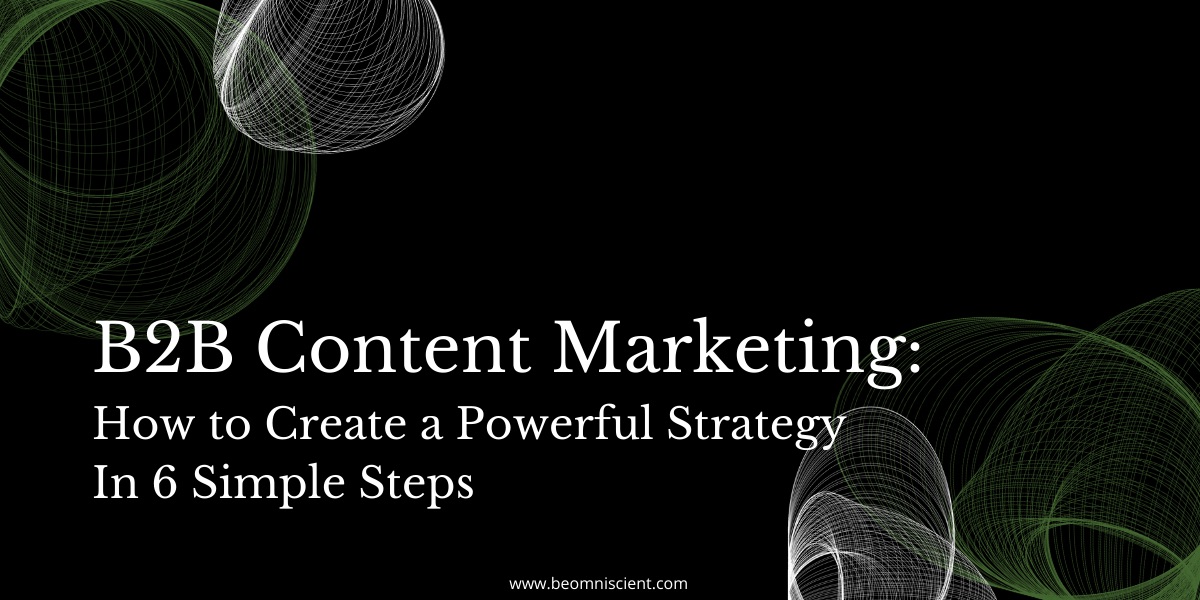 B2B content marketing might not be the same all-singing, all-dancing beast as B2C content marketing, but it's still incredibly important.
For many B2B brands, content is the backbone of their customer acquisition strategy and the heart of their community. A robust strategy can be a huge growth driver and a powerful lead generation tactic.
But here's the thing: you have to have a strategy in place.
It's all too easy to skip the planning stages and dive headfirst into creating content. If you don't have a focus and a consistent approach to content marketing, you're unlikely to get the results you want.
What is B2B Content Marketing?
B2B content marketing is the process of using content to feed buyer needs at every stage of the sales cycle. It answers prospect's questions, positions your brand as an industry leader, and gently nudges leads from the top of the funnel to the bottom.
Why Content Marketing Matters for B2B Brands
Compared to B2C content marketing, B2B can feel a little dry and dull. After all, it's a completely different story trying to sell a piece of tech equipment worth a thousand dollars than trying to sell an on-trend unicorn onesie.
But this is precisely why content marketing is so important in B2B.
Buyers have less of an emotional pull to the products they're researching, which means they need to be drip-fed solid information that alleviates fears, tackles objections and reduces friction in the buying process.
Without content marketing, leads might not know that they need your product or what it can do for them. Content lets you map this out for them and make sure they're getting the information they need at the exact time they need it.
What Are the Differences Between B2C and B2B Content Marketing?
Aside from the fact there's usually less emotion involved in B2B purchases, content marketing in the B2B arena comes with its share of challenges and differences compared to B2C:
Sales cycles in the B2B world tend to be longer, which means brands have to retain the attention of prospects for much longer
The goal for B2B brands is to become an expert or industry authority rather than to entertain consumers and build brand awareness
There are usually more people to please in the B2B pipeline since purchases have multiple gatekeepers and are a company-wide process
B2C content marketing is pretty straightforward. Content is geared directly to the end buyer who is the ultimate decision-maker. Brands simply need to keep their attention long enough to convert.
Conversely, B2B is slightly more complex. Impulse buys aren't really a thing, especially when your product incurs a four, five, or even six-figure investment. On top of this, the decision-maker tends to lean on other team members to research their options before a final decision is made.
How to Create a B2B Content Marketing
Flying by the seat of your pants is never a good strategy. In fact, it's the complete opposite of having a strategy. Luckily, if you carry out all the necessary steps and are consistent in your efforts, creating a successful B2B content marketing strategy doesn't have to be too complicated.
Essentially, your strategy covers:
Who you're targeting
What questions your content will answer
Your goals
The content formats you'll use
What channels you'll promote content on
When you'll create and publish content
Who is included in the process
How you'll measure your success
1. Customer Research
Finding out what your customers want is the very first step in any content strategy. To do this, create a set of customer personas that highlight:
Buyer goals
Their challenges
Job roles involved in decision-making
Key pain points
Buyer fears
B2B personas are different from B2C personas because they predominantly focus on the work element of your buyers' personalities. For example, when thinking about their goals, consider whether they aim to impress their boss, speed up their workflow, or manage staff better.
How to Learn More About Your Customers
The biggest mistake B2B brands can make is assuming they know who their buyers are and what they want. Instead of taking a shot in the dark, consider using:
Google Analytics: check your audience demographics to see who is actually visiting your site
Surveys or Interviews: speak to real prospects about their wants and needs
Customer Support: ask sales reps and your customer support team to identify any common traits among your customers
Use Google Analytics to get the basics on your customers.
2. Map the Buyer Journey
Just like in the B2C world, B2B buyers go through a buying journey. Also, while the journey is pretty linear for B2C consumers, but it can be more of a meandering path for B2B buyers. Mainly because there are often multiple people involved in the process, multiple options to weigh up, and a budget to adhere to.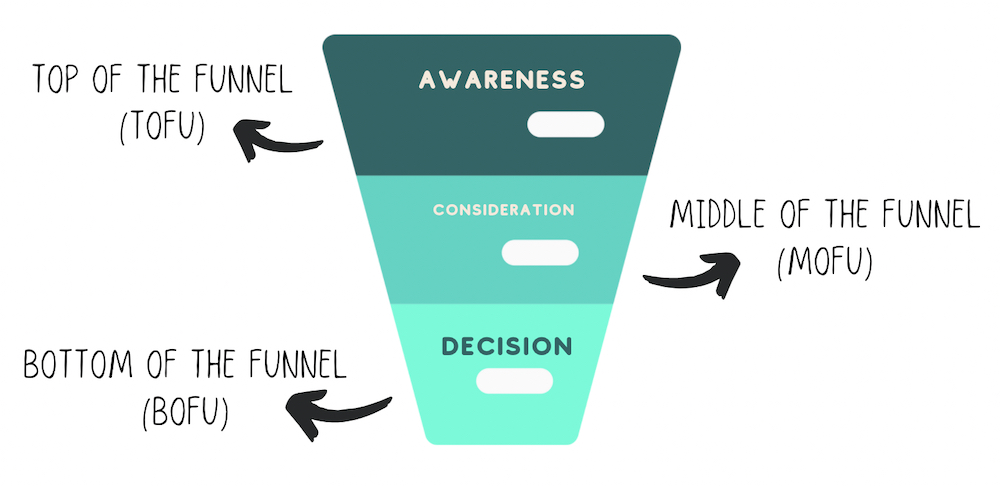 Think about what your customers need at each stage:
Awareness: what are their biggest pain points and what problems do they need solving? How can you answer these questions to alleviate that pain?
Consideration: what other solutions are you up against? How can you position your product as the best solution?
Decision: what do buyers need to take the plunge and invest? How can you make sure you give them all the information they need to do this?
3. Topic Ideation
Now you know who your customers are and what they need at each stage of the buying process, it's time to come up with content ideas.
As well as using the information garnered from your customer research, you can tap into tools and carry out extensive first-hand research to dig into what buyers might need from you.
Here are some key ways you can do that:
BuzzSumo: see what content is getting the most shares and get topic inspiration
AnswerThePublic: identify the most common questions people are asking about your product or industry
Keyword Research: discover what search terms people are using to find products like yous
Competitor Research: use a tool like Ahrefs to see what content is performing well on your competitors' sites
Social Listening: check out what conversations are happening on social media around your industry
AnswerThePublic suggests tons of topic ideas based on real-life consumer questions.
4. Content Creation
Creating content is the fun part, as this is where all the research comes together.
There are two practical things to consider at this stage: the format of your content and where the content will fit in the sales cycle.
The most successful types of content for B2B brands are:
Blog posts: research shows that prioritizing business blogging can lead to 13x more positive ROI. Blog posts can be guides, how-tos, tutorials, and educational pieces that leads can find through search engines and on social media.
Example: Intercom creates timely, informative blog posts.
Whitepapers and ebooks: show off your expertise and industry knowledge with longer, downloadable content like whitepapers and ebooks
Example: HotJar has a range of ebooks and downloadable guides for prospects to browse through.
Research posts: carrying out first-hand research and writing it up can generate high-quality backlinks and boost your industry authority.
Example: HubSpot is renowned for its first-hand reports.
Videos: more consumers than ever are seeking out visual forms of content like video. You can use an online video editor to create tutorials, interviews, and product demos 
Example: Oberlo has dedicated a corner of their website to video content.
Podcasts: as one of the fastest-growing content types, podcasts let you build relationships with potential buyers and establish your position in the market.
Example: Buffer has two podcasts that target two different segments of its audience.
Case studies: show potential customers what your product can do with case studies and customer stories.
Example: Wistia has an entire section of their site dedicated to customer success stories.
Templates and checklists: give readers practical content in the form of templates and checklists they can customize for their own use
Example: Orbit Media Studios publishes a selection of checklists.
Newsletters: email generates $38 for every $1 spent (a whopping 3800% ROI) and it's a great way to stay connected with leads while they decide to buy
Example: Asana's weekly newsletters share tips, blog posts, and a customer spotlight.
It's important to determine which content formats will best suit the needs of your prospects. For example, busy managers might not have the time to sift through a 200-page ebook, but they might relish a series of short three-minute videos.
Think about how these different types of content fit into the content marketing funnel as well:
Awareness: blog posts, podcasts, and videos are great ways to attract potential leads and educate them on their pain points
Consideration: whitepapers, ebooks, and research posts can help you stand out against your competition
Decision: case studies and newsletters are great for taking leads to the final stage of the buying cycle
Once you've decided what content formats you'll create and what topics you'll dig into, it's time to lay it all out in a content calendar. This will give you a bird's eye view of what content you're creating, your posting schedule, where each piece fits into the marketing funnel, and what help you need to create each piece.
When creating your content calendar, it helps to include information like:
The title of the piece
What format it will take
Who will create it
What pain point it tackles
When it needs to be created
Which customer persona it targets
At this point, you'll also need to consider what help you'll need when creating content. Do you have enough people internally to create the kind of output you want, or will you have to bring in external freelancers and contractors?
Content teams are usually some variation of this:
Head of Content
Content Designer
Lead Content Writer
Make sure you have the required resources to make your B2B content strategy a success.
5. Scheduling and Distributing Content
Once you start publishing content, it's all about distribution – a.k.a. getting your content in front of the right people.
Identify which platforms are your most popular and plan out when you'll share each piece of content. This will vary for the different stages of the sales cycle. For example, you might share your blog posts on Twitter and LinkedIn, but your ebooks via newsletter.
6. Measuring Success
Attributing sales to content can be tricky.
How do you tell if a buyer finally decided to invest because of your latest case study or because of your sales reps?
It doesn't make it easy when a lot of content marketing activities revolve around raising brand awareness and becoming a thought leader.
That being said, here are some metrics you might want to track:
Organic website traffic
Blog views
Number of email subscribers
Keyword rankings
Conversions
Audience engagement
Brands Doing B2B Content Marketing Right
1. LeadPages
An entire library segmented into different content types means LeadPages has a variety of content available for people at different stages of the sales cycle.
2. Canva
Canva is renowned for its incredibly extensive collection of templates that businesses can use. On top of that, it has a number of tutorials, courses, and blog posts to help tackle the various pain points its buyers might have.
3. Single Grain
Single Grain knows that its audience is all about marketing. To target prospects at different stages of the sales cycle, they have a range of content options including marketing training, two different podcasts, a blog, and a bootcamp.
Get Your B2B Content Marketing Efforts Off the Ground
Content marketing is a powerful tool in the B2B world – and it can still be just as exciting as its B2C alternatives. Not only does it help you generate traffic and leads, but it establishes your brand as an authority and gently guides prospects through the sales cycle.
Start by learning who your customers are and what they want. Use this information to create different types of content to help tackle their biggest pain points and answer their most pressing questions. Most importantly, make sure your strategy is consistent and that you continue to measure your results.
Want to know how we do it? Learn the content strategy framework we use with our clients to drive incredible growth in our content strategy course.