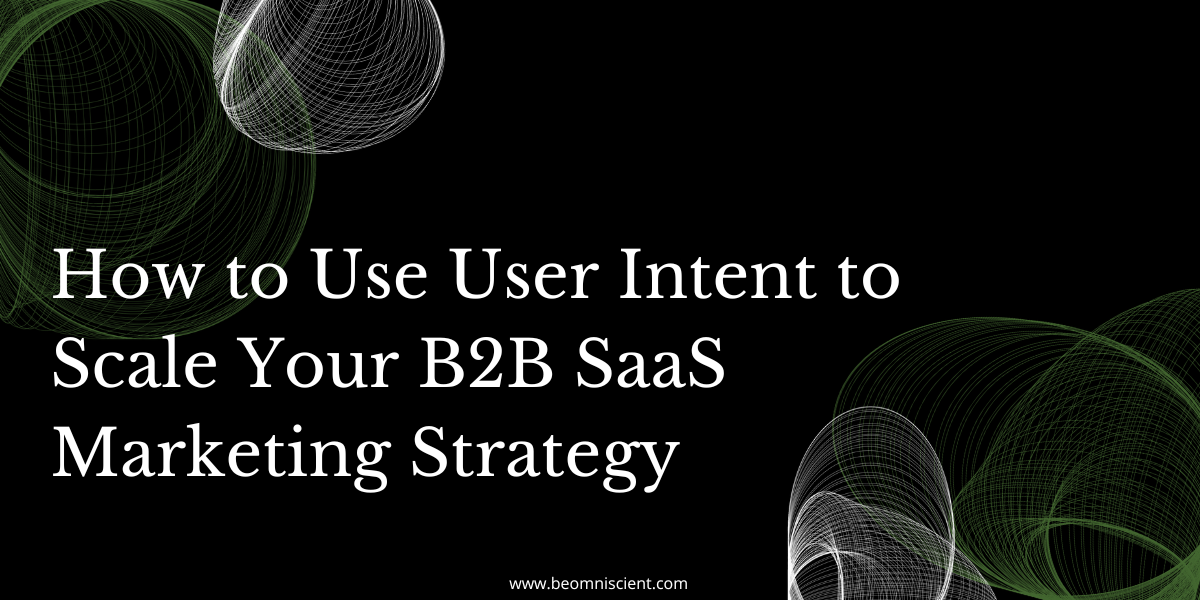 Every marketer wants to boast about their skyrocketing revenues, increasing customer lifetime values, and solid brand image.
Only some actually take action to improve their system.
Without using user intent data, your company is more likely to get lost in the ocean of B2B SaaS marketing. Buyers' intention tells you a lot about what they want to see from you, so it gets easier to personalize the customer experience and build loyalty.
In this article, you will find the fundamentals about intent data, how it is collected, and the ways to leverage this data to better market your products and services. Without further ado, let's begin!
What is user intent?
User intent, also known as search intent, identifies and categorizes what potential users intend to find online for the purpose of boosting conversion rates and search engine optimization. In other words, user intent tells us what the searcher is specifically looking for and trying to achieve with the search query.
The search term a user types in the engine has a purpose: If I search for "cafés near me", I want to see cafés that I actually can reach easily. If I type "SaaS marketing", I might want to know the definition, practices, or maybe statistics. If you cannot provide the relevant content the user is looking for, then it will be much harder to rank for the related keywords.
Why should you care about user intent?
As the biggest player in the game, Google's search engine results pages (SERPs) drive the most traffic and search volume on a global scale. According to Statista, Google's global search market share in 2022 is 83%, which is to say that most people use Google to search for anything they can think of.
It means that without mastering user intent, your high-quality content will struggle to rank in related search terms and it will not reach the target audience you want to interact with or get into the hands of potential customers.
After all, it is all about the user experience. If they can't find your content or product because you did not calculate the user intent and missed the chance to maximize your traffic potential, those same users will go somewhere else to get their information or buy their products.
Therefore, it is important to invest your time and energy to truly understand user behavior. You must be able to anticipate the keywords a user would use to find your website and tweak your content strategy around them. Collecting user intent data can work wonders for customer retention and creating solid marketing efforts in the B2B SaaS world.
How to collect user intent data?
You can collect intent data from first-hand or second-hand sources. First-hand sources are your specific website, mobile applications, newsletter, customer insights and conversations, and other marketing channels you use. This internal data can also be collected from tools like Google Analytics, Hotjar, and social media.
On the other hand, second-hand sources come from a third party, such as HubSpot, Ahrefs, Salesforce, and other social listening tools. You can also combine these two sources and e-meet the customer at every sales funnel stage.
Four Types of User Intent Data
There are four types of user intent data that can help you monitor online user behavior:
Navigational
Navigational data is straight to the point: The user is specifically looking for a website. Navigational queries are easy to optimize as it mainly consists of matching your domain name with your business name. This type of data is very useful for local and brick-and-mortar businesses.
Informational
Informational user intent refers to when users search the internet for the purpose of learning. The query might be specific or vague; however, the main purpose is the same. The user wants to learn more about your industry or business.
Keep in mind that users don't think of buying from you yet. They are only looking for reliable sources and valuable insights about your product. These informational search queries are a great way to channel your content marketing to build brand authority.
Thorough FAQs and About Us pages are great for targeting users' informational queries. Integrating high volume, low competitive keywords within your articles, reworking your original content, and publishing on a regular basis will reduce bounce rates and get the clicks from users and improve your search engine rankings.
Transactional
Transactional intent data is a marketer's best friend because it captures data from users who are ready to make a purchase. Keywords like "buy," "shop," and "order" convert well. Having pages about your product and optimizing your call-to-actions (CTAs) has a high value to convince users to buy your product.
If you don't want to miss out on those precious sales, your conversion rate optimization (CRO) must go hand in hand with your keywords and SEO strategy. Monitoring your click-through rate (CTR) and pulling data from complete and incomplete purchases paves the way for higher profits.
Commercial
Commercial user intent is less subtle than transactional intent data in that purchase-driven CTAs and conversion elements are widely preferred. Keyword researching, optimizing content, and tailoring your ads are all a part of collecting commercial intent data.
Focus on bridging the gap between the user and your product by directing them to the relevant page or content that will help them take action and purchase your solution, instead of your competitors'. To achieve this, adopting a consumer-centric perspective will help.
Ask the questions yourself before the user asks them, and position your content accordingly.
5 Ways to Use User Intent to Scale Your B2B SaaS Marketing Strategy
Now that we've covered what user intent is, the types of search intent, and how you can collect it, it is time to dive into real-life and actionable tips that will transform your B2B SaaS marketing campaign and overall digital marketing strategies:
1. Segment Your Intent Data
"When you speak to everyone, you speak to no one," says Meredith Hill. And it's true. Your product or content marketing plan cannot appeal to everyone at the same time. A user might be interested in informational content on your niche, while another might already be aware of your products and services.
Segmenting intent data helps to connect with users on their level. A user in their awareness stage of the customer journey needs more details, such as features you provide, pricing plans, customer support, and so on. They usually use "what is", "how to", or "best" keywords.
On the other hand, a user in the purchase stage of their buyer journey is already familiar with their pain points and knows what you can offer—they just need a little push to be convinced. They usually search for terms such as "cheap", "buy", and "reviews" to make a decision.
Curating and optimizing pieces of content based on segmented intent data ensures that the users will stick around with your product for a long time. In an effective B2B SaaS marketing strategy, segmentation helps differentiate between high-quality and cold-qualified leads so that you can adjust your budget accordingly.
2. Focus on Personalized Content
It goes without saying that content has been the king in the B2B SaaS world for a few years. According to Semrush's "The State of Content Marketing 2022 Global Report", the average monthly search for "what is content marketing" has around 15K volume. This suggests that more and more individuals and companies are ready to understand and integrate content marketing into their general marketing and SEO strategies.
When creating content, however, writing blog posts or posting long-form or short-form videos is not enough. Prospective customer profiles want to feel appreciated; therefore, establishing personal connections with potential buyers is a must.
If they cannot connect with your content, they will find another source to acknowledge their uniqueness and offer personalized solutions. This is where Omniscient Digital comes in.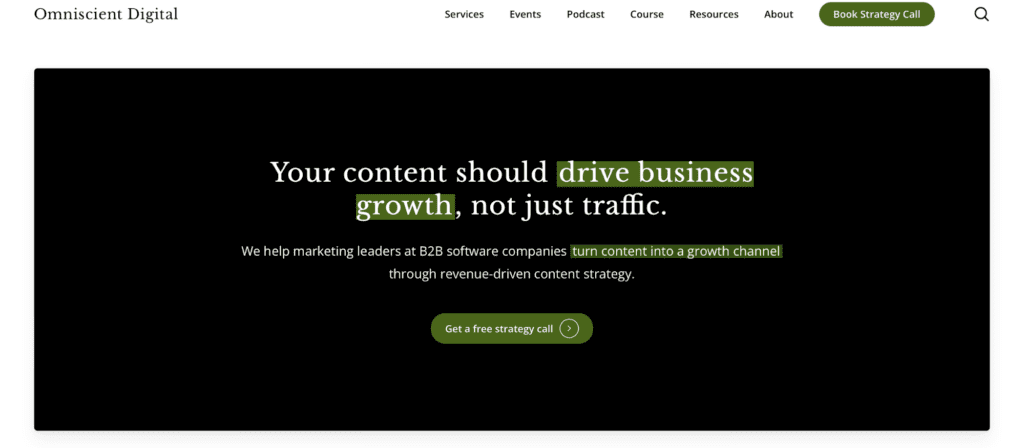 Source: Omniscient Digital
B2B marketers often struggle with sounding too salesy and pushy. Omniscient Digital helps B2B software companies nail down their SEO strategies, repurpose and distribute content that will drive growth for the company. Its Barbell Content Strategy establishes a data-driven framework, so you can focus on connecting with target customers easily. They, in turn, see the value you provide faster and convert better.
3. Boost Product Adoption
Another method to take your marketing to the next level actually happens before marketing stages gain momentum. If you don't have a product or service to market, there's no need for a SaaS marketing strategy. Additionally, if people are not using your product, marketing will be a waste of time and money.
To put it shortly, you need high product adoption rates to survive the highly competitive climate of B2B SaaS. Product adoption consists of raising awareness about your product, understanding its value on their own, and becoming recurring users of it. Putting your product in front of the right audience will increase the number of potential customers taking a chance at your services. 
Additionally, as ideal customers interact more frequently with your product or app, they will find new features to try and become long-term, loyal customers. Then, there's one question left:
How can you increase the product adoption rate?
Of course, you need a product that actually resonates with your ideal customer profile. You must solve their existing problems and make their lives better. Paid advertising on billboards or social media can work fine as well.
However, if you need a long-term solution, onboarding is the key to success. It's simple. If users don't know how to use your product, they can't use it and will eventually switch to one of your competitors. Similarly, if your onboarding is just a long, boring video tutorial, they will probably get frustrated.
What you need are interactive onboarding experiences where users can experience the product in real-time and see what they can achieve with it. If you don't want to deal with the hustle and bustle of coding, a no-code onboarding tool is great for you. When choosing, focus on whether they offer project walkthroughs, in-app messages, NPS surveys, checklists, or tooltips.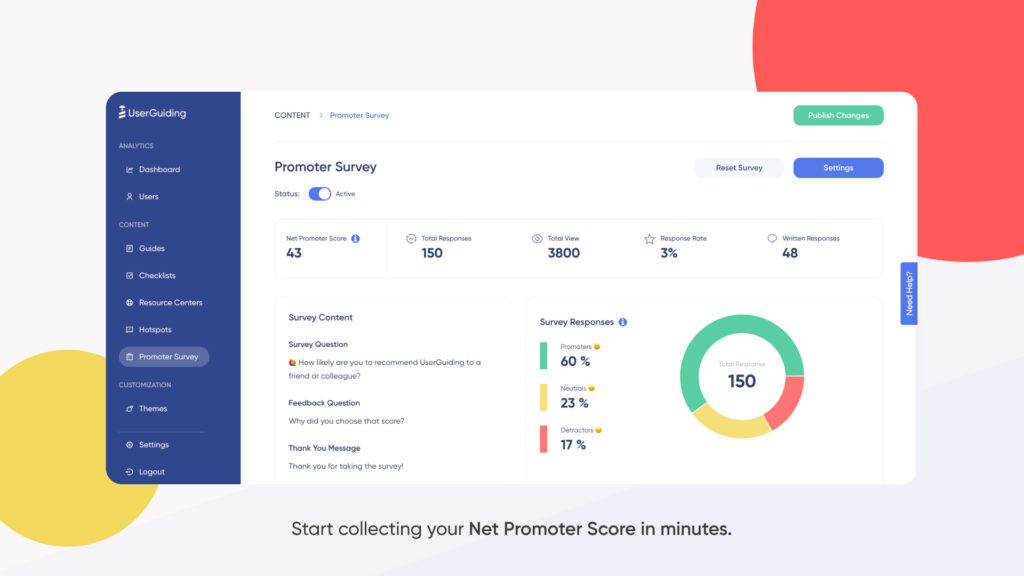 With these elements, you can make the complex simple for every user and support your marketing strategy with an amazing onboarding sequence. They are also useful for introducing new features!
4. Optimize Your Website
Ranking well on the SERPs is hard; staying at the top is even harder. Why? Because user intent can change in the blink of an eye. This means the trending results around a keyword will be affected as well. If your content cannot compete with the new golden result, you will see a drop in SEO ranking and traffic.
Luckily, this issue is easy to fix with intent-driven optimization. Your website is where users will interact with your product or app for the first time, so this is where the optimization first happens:
Analyze the competitor that took your spot,
Do extensive keyword research,
Build quality backlinks,
Check your on-page SEO.
If done correctly, you will recover your traffic and ranking. It will also be easier to see better results with your SaaS marketing strategy.
5. Improve Your Paid Ads
User intent comes in handy when setting up ads across social media or other channels. It helps generate call-to-actions that speak to target customers, personalizing value propositions and addressing their problems directly.
Intent-based ads help create highly-targeted landing pages and content that boost engagement and conversions. Think about what your customer base would like to see in the ad: Do they wish to see more about your policies? Pricing? Or features?
Intent-based ads provide precise context for users to click and see more. You can combine audience data sources to understand user behavior and tailor your paid ads to provide a seamless experience.
For B2B and SaaS businesses, on the other hand, pay-per-click (PPC) advertisement is the go-to solution. Why? Because it is cost-effective and offers great exposure to your company. However, if you don't want to overwhelm yourself with yet another task (setting up ads can be easy but analyzing and optimizing them is not), it is better to hire a PPC agency.
PPC agencies help run your ads for you and make suggestions based on your budget and audience. Make sure to hire an agency that specializes in your niche and has the B2B and SaaS expertise.
Final Words
Long story short, maximizing the areas you use user intent and adapting to the industry changes can increase the effectiveness of your SaaS marketing strategy and help you deliver a frictionless experience. Analyzing what keywords users type in to search for your product or the type of interactions you see on your content makes taking necessary actions much easier.
Moreover, it enables you to anticipate the next steps in the customer's journey, instead of engaging in a guessing game over their needs and desires. It will also improve the quality of your content and leads.
About the author: Aysenur is a Creative Content Writer at UserGuiding. She enjoys writing on SaaS, product, and growth for the UserGuiding Blog. Outside of work, you can find her reading a gothic novel or doing crossword puzzles in her room because words are everything to her.