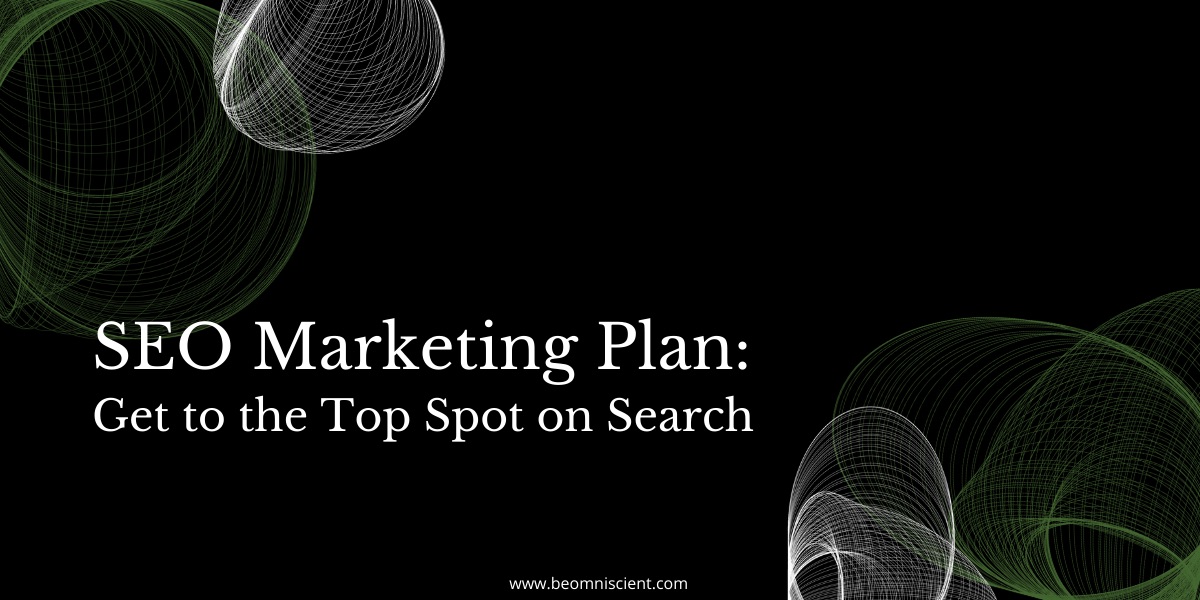 Where do you go when you need information?
Chances are, like the rest of us, you hotfoot it to Google. In fact, 51% of all web traffic comes from Google search, making it the main source of visitors and leads for businesses in every single industry.
But here's the catch: 75% of online users never make it past the first page of search engine results. A vast majority of searchers will only click on the top three results. If your page falls any further down the results than this, you're likely missing out on a huge chunk of traffic.
Focus your efforts on pushing your site up the rankings, and you'll quickly start to reap the benefits: more visitors, more visibility, and more sales. Not to mention you'll save money (inbound leads from search engine optimization cost 61% less than outbound leads).
While an SEO strategy can help you get your content ranking, an entire SEO marketing plan brings increased visibility to your business on your website, social media, and any other platforms you use.
If you're wondering what exactly an SEO marketing plan is, it's simply a documented system of every asset, tactic, and data point you have about your content marketing, its reach, and its ranking.
What Are The Basics of SEO Marketing?
SEO marketing follows a basic pattern:
Researching relevant keywords with a high search volume
Making sure your web pages are accessible and user-friendly
Building links from high-quality sites
Measuring and tracking the success
These fall into three main categories: technical SEO, on-page SEO, and off-page SEO.
Technical SEO refers to the nuts and bolts of your website, like whether it's mobile-friendly, the page load speed, how good your site architecture is, and whether it can easily be crawled by Google's bots.
On-page SEO refers to optimizing what's on your site. This involves writing and optimizing meta descriptions, your URLs and other metadata, content, title tags, header tags, images, alt text, and internal linking structures.
Off-page SEO is all about inbound link building. It involves generating backlinks from high-quality sites, optimizing your social media efforts, running influencer marketing, gaining brand mentions, and writing guest posts.
What is Organic Vs Non-Organic SEO Marketing Strategy?
Organic SEO refers to the non-paid methods implemented to boost your site's search rankings. It involves creating keyword-optimized content, building links from reputable sites, and on-page optimization.
Non-organic SEO is the paid activities you can use to enhance your site's rankings in the short term. It predominantly refers to paid ads, PPC advertising, and paid affiliate marketing.
The Dream Team: How SEO and Content Strategy Work Together
Content is the backbone of SEO. Without it, Google has no way to determine what your site is about or how it's relevant to searchers' needs. The more crawlable pages you have, the more SERP real estate you gain.
On the flip side, SEO tactics make sure your content is hitting the right keywords and getting your content seen by the right people.
Think about it as an eternal cycle:
Keywords fuel content ideas (keyword mapping helps you create rankable pages using relevant, highly searched keywords)
Search intent fuels the purpose of your content
Popular posts fuel keyword research (your most read posts show the interests of your target audience)
How to Market With SEO: Your Guide to Getting Started
Marketing with SEO goes deeper than simply creating keyword-optimized content. The goal is to build an entirely cohesive system between all your chosen platforms to enhance your search rankings and increase site visibility.
Before you get started, think about:
Your business goals
How much content you want or need to create
Your budget (for both organic and paid SEO methods)
Who you have available to execute the plan
What channels you're going to use
1. Audit Your SEO Efforts
Before you dive headfirst into creating a marketing SEO template, it's a good idea to map where you already are. Knowing where you're succeeding and where you're falling short will help drive the steps you need to take next.
An SEO audit usually consists of three distinct stages:
Site audit: check your Domain Authority (DA), have a look at your page speed and determine whether you're already using structured data. Also, take a moment to look at the architecture of your site and whether it makes sense
Content audit: take inventory of all the marketing materials you have and content assets available to you. Identify you're best-performing pieces, your current rankings, and any content gaps
Competitor audit: identify your biggest competitors and check out what they're ranking for, what their backlink strategy looks like, and whether they have a coherent social media and on-site publishing schedule
2. Choose the Right Keywords
Once you've got a good idea about where you stand in the SERPs, it's time to expand your marketing plan to include relevant keywords.
In our comprehensive guide to keyword research, we highlight the two main goals of keyword research:
To find the gap in your market
To discover relevant target keywords
Understanding the terms your customers are using to find products or services like yours is crucial if you want to show up in search results. Even more important, you need to understand the search intent behind your chosen keywords, which will determine the kind of content you create and its purpose.
Generally speaking, keyword research has four main stages:
Competitor keyword research to understand which search terms your competitors are ranking for
The keyword research itself, using a keyword research tool to identify both your main keywords and long-tail keywords
Identifying keyword groups and creating a keyword map to determine what pages you need to target each keyword
Topic ideation using consumer questions, forums, and Google's PAA feature to determine popular search queries and search intent
Google's PAA shows real-life questions searchers are asking.
3. Optimize Content for Keywords
As you start to collect a list of keywords and topic ideas, you can start dropping them into an editorial calendar. Consistently posting high-quality content will enhance your search rankings over time as Google starts to see that you're an authority in your industry.
But writing and publishing the content isn't enough if you really want to stand out.
In fact, optimization might be the most important thing you can do. After you've created each piece of content, optimize it by:
Incorporating relevant keywords and long tail keywords
Inserting your keywords into the metadata and page titles
Optimizing images and alt titles
Adding keywords to header titles
Internally linking to relevant pieces of content
4. Combine SEO With Other Marketing Channels
A cohesive SEO marketing plan doesn't just focus on your own site. It takes into account every platform your brand is visible on – the more places you're ranking for relevant keywords, the more you can bolster your efforts.
While incorporating keywords in your social media posts might not help you rank any higher on Google, it can help you create a consistent strategy across the board. This helps increase brand visibility, trust, and authority in the long term.
Make sure your social profiles include your main keywords, create PPC campaigns alongside your organic efforts, and reach out to high-authority sites and offer guest posts.
4. Leverage Inbound Links
Link building is a key part of any SEO marketing plan – the number of referring domains is one of the most important ranking factors in Google's algorithm. Links from high DA, high authority sites show Google that your page can be trusted and is useful for searchers.
While generating backlinks is one of the most crucial steps, it's also one of the hardest. You can't force anyone to link to you, but you can create a strategy that invites backlinks from the top sites in your industry.
Consider doing the following activities:
Guest posting on high authority sites in your niche
Publishing original research full of useful stats and figures
Creating infographics that highlight a key trend in your industry
Partnering with high authority sites
Reaching out to journalists who might quote you in their stories
Writing round-up posts that quote industry experts
5. Measure Your Success
The final part of the SEO marketing puzzle is to track and measure your success. Obviously, the biggest measure of success is how well your site is ranking for your chosen keywords, but there are other ways you can determine whether your SEO efforts are paying off:
Organic traffic and time spent on page
Click through rate from the SERPs
Website Domain Authority
Number of backlinks and referring domains
Page load speed
Bounce rate
There are less tangible metrics you can track too, like brand mentions, brand visibility, and your increasing authority in your industry.
How Much Does it Cost to Create an SEO Marketing Plan?
There are two ways you can create an SEO marketing plan: hire an experienced agency or DIY it.
It totally depends on your resources, goals, and budget. If you're thinking about hiring an SEO agency to take control of your marketing, you're looking at a few cost options:
Monthly retainers that include regular reporting, keyword research, on-site optimization, and link building efforts
Fixed-price services to audit your SEO and get your marketing off the ground
Project-based pricing that usually has specific end goals or a set time-frame
By-the-hour consulting to gain important information from an expert about your SEO
Do It Yourself: SEO Marketing Plan Template
If you're planning to go solo and work on your SEO marketing yourself, start with a template that you can come back to and tweak further down the line.
Your SEO marketing template should include:
Your SEO audit, including content and competitor audit
Keyword research
Content optimization checklist
Other channels you want to combine your SEO with
Backlink strategy
Make your template accessible to team members that need it to create a cohesive, company-wide SEO plan.
How to Improve Your SEO Marketing
If you're already knee deep in SEO marketing but aren't seeing the results you want, it's time to switch things up. Luckily, there are multiple tweaks you can make to your strategy to enhance your efforts.
Take a re-inventory of all your marketing materials: what's working and what's not! Create a list of high performing content and note down what makes it stand out from your lesser-performing pieces
Outline which goals and metrics matter the most to your brand: take a look at your business goals and consider what steps you need to take to reach them
Identify near and long term SEO opportunities: think about what's possible in one month, six months, and one year
Identify off-site opportunities: invest in influencer marketing, tighten up your social media strategy, and devise a plan to get your content published on high authority sites
Ready, Set, Go: Take Your SEO Marketing Strategy to the Next Level
SEO marketing is arguably one of the best things you can do for your business. It increases your search engine rankings and ensures you have a water-tight plan for moving forward. Even better, it gives you something to track so you can measure your success.
Get started on your SEO marketing plan by investing in an SEO audit of your site with us.