Keyword research is at the core of every content marketing strategy. It fuels everything from your cluster topics and pillar pieces to your content calendar and literally everything in between.
Conducting keyword research gives you unique insight into the specific search terms your customers and clients are using. It also helps you plot your positioning in the competitive landscape and work your way up the SERPs.
The problem is, keyword research can feel like a complicated math equation with several elusive spinning parts. With so many different tools and tactics doing the rounds, it's hard to know where to start.
We believe there are two main goals of keyword research:
Finding the gap in your market to beat competitors
Discovering relevant, customer-related keywords to jump up search engine results
When you break it down like this, the process becomes a whole lot easier to manage.
Sure, you can take a stab in the dark about what you think your customers are searching for. Or, you can tap your Google analytics or site metrics. Regardless, assumptions do not make a good baseline for a strategy.
Plus, your analytics will only provide part of the story. They won't tell you what specific keywords you could be targeting or what terms your competitors are incorporating to rank high in search results.
Wondering how to do keyword research? We've got you.
Why Is Keyword Research Important?
You think you know what your audience wants, right?
We've all been there. We know our customers best so, of course, we can take a guess at the target keywords they're using.
One of my favorite examples of this is the craze about five years ago that saw everyone shorten the word business to "biz". It was a trend we'd probably all rather forget, but it led to a lot of brands using the term "biz" in their name and their copy. In reality, no one was typing "biz" into Google as a shortening for business.
As you can see, there was a peak for the term "biz" in Google Trends in 2017.
Assuming that customers are using trending terms might make sense, but it's not necessarily the right way to do it.
In fact, keyword research has many benefits because:
It provides solid evidence of the key terms your audience is using
It gives a deep insight into the terms your competitors are ranking for
It helps you map out KPIs because you can clearly see how many hits each search terms is getting
It lets you explore keyword gaps that you can cash in on
It reveals a ton of relevant keywords you can use for content marketing inspiration
It helps you understand the phrases your customers are using at different stages of the sales cycle
It lets you identify high-value ranking opportunities
It brings in organic traffic so you don't have to splash out on PPC campaigns or Google ads
If you haven't got it yet, keyword research is so important. We can't press this enough. But for it to be effective and not a waste of time, you have to do it right—and that means tying your keyword research activities to the two main goals we listed above.
How to Do Keyword Research: Our Step-by-Step Keyword Research Process
Step One: Competitor Keyword Research
The first step is to figure out where you sit amongst your competitors.
Who's doing well and ranking for what terms? Who's at the top of Google for your most coveted industry-relevant phrase?
This is all vital information if you want to usurp your competitors and take the top spot (and, therefore, get the lion's share of search traffic).
We'll use the example of a project management tool and conduct keyword research as we would if they were a new client.
Research Competitors
Start by identifying a list of direct competitors and indirect competitors.
These could be top project management tools like Asana, Trello, and Monday, as well as other companies that have a project management element even if it's not their main focus. We're talking brands like Toggl or Harvest that have a time management element but aren't full-blown apps for projects. Even tangentially-related companies may have valuable content for us to examine and emulate.
Once you've compiled a list of competitors, run each through a keyword tool like Ahrefs to see the keywords for which they're ranking highest.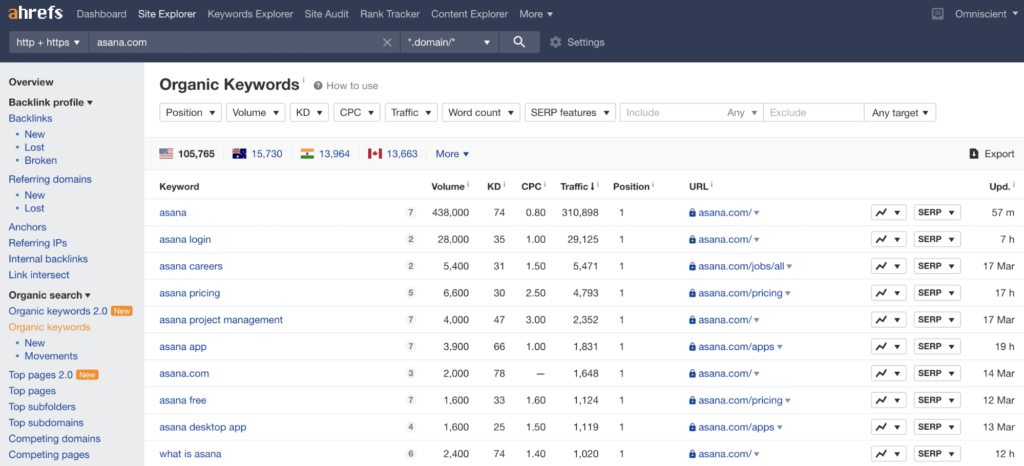 Research Industry-Relevant Publications
Running relevant publications through Ahrefs can also be valuable here.
Do the same thing: Compile a list of relevant sites that your customer personas might read and run them through a keyword tool.
This will reveal keywords that crop up a lot and give you an idea of the topics for which these publications are commonly ranking. In the project management world, this might include publications by the Project Management Institute, PM Today, and even aligned publications that aren't directly related to project management, like Life Hacker.
Keyword Gap Analysis
As you plug your top competitors, indirect competitors, and relevant publications into a keyword tool, you'll start to see the gaps.
Identify the best keywords that competitors and publications are ranking for that you're not. You'll quickly see opportunities to increase your ranking with new, targeted content.
Step Two: Keyword Research
The second step in our keyword research process involves gathering a pool of relevant keywords. Do this by typing the words you identified step one into Google to identify variations of each term. Use a free tool like Keywords Everywhere to discover more relevant keywords.
For example, you might type in "project management steps" or "project management skills" into Google and see what shows up in the sidebar.
From there, you can take one of the listed keywords in the sidebar and plug that back into Google to see what other keywords crop up.
The more keywords you push through Google, the longer your list of keywords will become. (Some of the terms may overlap, but it's best to identify all variations of the top terms so you can capture a wider net of traffic.) Keep going until you've exhausted pretty much all of the keywords that are relevant to your business and your customers or clients.
Step Three: Combine and Conquer
Now, you have your competitor research in hand plus a large list of potential keywords under your belt. Next, it's time to combine both bits of research and run the large pool of keywords you have through a tool like Ahrefs.
As you work your way through the list, you'll start to notice keyword groups that have high organic search volumes—an opportunity for you to rank. Cluster these together and eliminate irrelevant keywords.
Sometimes, you'll notice that a competitor is ranking for a specific term. It's important to understand you don't have to copy them. We encourage competitor research to identify what your audience is already searching for and to provide you with some inspiration for similar terms and content opportunities.
You can also unlock ideas through your Google Adwords account. There, you'll be able to see keywords that have a high purchase intent or a transactional goal. This is good information to have for content that's further down the funnel and that's geared towards generating sales.
Step Four: Continuing Keyword Research
Once you've got a list of highly relevant keywords that either plug a gap in your market or that have a high search intent, you can start breaking them down into topic ideas.
While the main body of keyword research stops here, you can continue to find relevant phrases that your customers or clients are using by:
Researching questions on forums like Quora and Reddit
Checking out Google's "People Also Asked" section
Seeing what suggestions pop up in Google's autofill to determine popular search queries
Using a tool like AnswerThePublic that addresses the most common questions searchers ask about a topic
Interviewing customers to get phrases straight from the horse's mouth
These activities will help you build on your keyword research and improve your optimization efforts to make sure you're creating content that answers the right questions (and is likely to show up high in the SERPs).
They'll also help you gather a collection of long-tail keywords and sub-topics to capture high-intent searchers.
Keyword Research Tools
Keyword research is impossible without a trusty keyword research tool on hand to help. These show you the search volumes of key phrases and explore what terms your competitors are ranking for.
Free and Paid Keyword Research Tools
Ahrefs: Perhaps the most comprehensive keyword tool on the market, Ahrefs gives you more detailed information than most other tools. As well as the search volume, you can also get a breakdown of the first-page competition and how many searchers actually click on a result
Moz Keyword Explorer: As well as gaining a list of closely related keywords, Moz is also really good at providing lateral suggestions that are outside-the-box. It's a great way to discover new keywords
SEMRush: In addition to showing you how many people search for a keyword, SEMRush also provides information on whether a keyword is growing in popularity or tapering off as well as keyword difficulty
KeywordTool.io: Aside from scraping keyword ideas from Google Suggest, KeywordTool provides a lot more keyword suggestions than most other tools as well as monthly search volume
Ubersuggest: Get three free searches a day with Ubersuggest, which gives topic ideas alongside the most searched for keywords relating to a specific phrase
Keywords Everywhere: Unlike the other tools here, Keywords Everywhere is a browser extension that shares high-volume keywords for any term typed into Google
Google Keyword Planner: Google's in-built keyword planner is a free tool that shows you the volume of searches for specific terms, related searches, and recommends related keywords
Getting Started With Keyword Research
Keyword research for SEO is an integral part of creating content and increasing your brand's visibility. The goal is to discover where the keyword gaps are in your market and research relevant terms that your potential customers are actually using.
You'll start to paint a bigger picture of what your target audience is looking for and you can use that to fuel your SEO strategy.
Our content strategy course for marketers has an entire module dedicated to the keyword research process we've laid out here. You'll learn how to get your head around Ahrefs and Keywords Everywhere and use them to your advantage, and we'll touch on a couple of other tools too to give you a comprehensive arsenal of keyword inspiration.