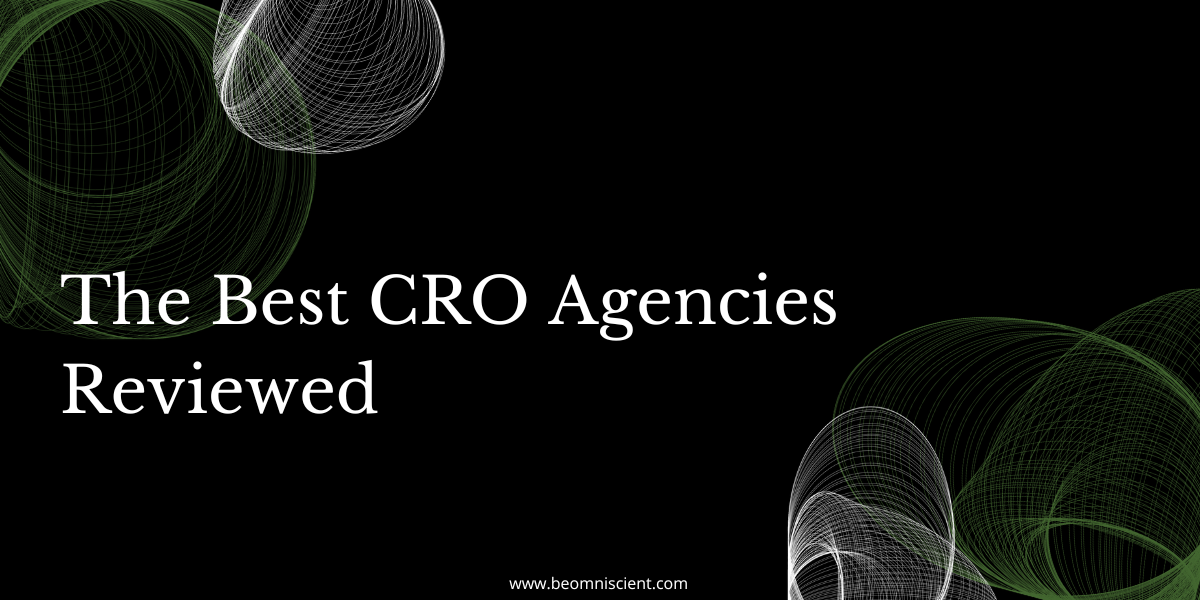 Building and scaling an inhouse optimization program requires you to have buy-in from relevant stakeholders who will provide the resources you need.
You also need to have competent team members who can run experiments, analyze data, and implement their findings.
However, most inhouse teams run into three common hurdles: lack of a clear process lack of, manpower, and lack of buy-in from relevant stakeholders.
Without a proven process, you won't know where to start and if you do, you'll have trouble formulating solid testing hypotheses that allow you to run precise experiments.
Without competent team members to run the program, your program will slow down due to challenges such as design backlogs.
Without buy-in from relevant stakeholders, you can't deploy effective tests because you lack access to the tools you need to run heatmaps, user testing, and collect accurate data that will help you make informed decisions.
Since conversion rate optimization isn't something you think of when your conversions plateau, you need to embed it into your business operations to help you constantly improve.
And if your inhouse team has a gap that gets in the way of running a successful CRO program, then working with an agency will help you build and scale faster.
What questions should you ask when evaluating a CRO agency that you want to work with?
A conversion rate optimization service isn't all about offering a monthly retainer, installing different analytics tools to track different metrics, and providing monthly reports on the numbers.
It's also not a service that agencies can add into their wide range of service offerings as an afterthought to make it look like a complete full-service digital marketing agency.
It runs deeper than that and before you choose a CRO company, you need to ask the right questions.
In addition to sharing my views, I spoke to two conversion rate experts who shared what questions to ask when evaluating a CRO agency:
What does their process look like?
When a CRO agency has a proven process, you can always relax and know that it's going to work to deliver on the promises they make.
The insights they collect during the research phase, the audits they run and the insights they reveal from your experiments are always guaranteed to drive more conversions. Talia Wolf, founder of GetUplifit, explains:
"From my experience the most important element to consider when hiring a CRO agency is their process. You want to make sure they have a solid, proven and tested process for CRO, that's based on profound research and that goes beyond best practices."
A solid process is what helps them learn about your business and target audience, the audits they run, the roadmap they build for you. It will also inform the predictions they make and the impact it will have on your business goals. Quick results and quick wins won't cut it here.
When they speak about their process, it should be obvious that their approach is based on the higher level marketing strategy and product strategy the business is engaged in.
You want to hear something repeatable. Here are some of the questions you want to ask around their process:
What process do they use to drive results for clients in your industry? Is it repeatable, focused on inputs and outputs?
How do they learn about your audience and business? What do they look for when auditing your funnels to identify leaks?
Have they documented their process?
What to look out for: Wishy washy responses around quick wins and quick results they have delivered and their likelihood to default to CRO principles and best practices when explaining their process.
How do they evaluate test results?
When it comes to test results, Lianna Patch, founder of Punchline Conversion Copywriting argues that some unscrupulous folks may slice and dice data to cherry-pick results that aren't *actually* boosting the bottom line.
And since we've already mentioned that a CRO program goes beyond monthly reports, the agency you work with needs to make sure that they're collecting all the data you need from the experiments they run, and run it through quality assurance to make sure it's accurate.
Here are two questions you need to ask about evaluation of test results:
How do they collect data when running experiments?
What methods does the agency use to evaluate these test results?
What to look out for: Both qualitative and quantitative methods of data collection and the significance of these test results are on the bottom line a.k.a your business goals.
Do they have specialized expertise in my niche?
Be wary of CRO agencies that "do it all." If it's a PPC agency and they have landing page CRO services, this might make sense, but make sure they actually have CRO resources on their team. If it's something copy-pasted just to upsell you, it's not going to work out well.
For example, at Omniscient we have the human resources capable of doing CRO, but we choose not to offer these services because they are so separate from our normal content marketing services.
In rare scenarios, you can find an agency that does social media marketing, Google Ads, web development, email marketing, SEO (search engine optimization), PPC, CRO (and all the other acronyms) well. But again, it's rare and it's usually the case that they do one thing very well and the rest are sort of stapled onto the offering.
When I see a full service digital agency that also offers CRO and experimentation, I get very skeptical.
Lianna Patch offers suggestions on some of the questions you need to ask:
Does the agency have specific niches or clients it serves or does it promise broad-spectrum CRO services to anyone who happens to come calling?
What types of clients does it serve? Enterprise? Small and medium businesses?
Though different conversion optimization strategies exist for different niches (for example, B2B lead generation is different from ecommerce; startups and small businesses are different than enterprises). And CRO does contain many individual disciplines, including analytics, web design, usability, etc. But at heart, the agency should be CRO experts.
What to look out for: Whether it serves clients in your industry and business size and evidence of sufficient resources to provide CRO services for your business.
Do they have relevant case studies?
Consider their case studies as well and look through them with a scrutinous eye. You don't just want an agency with great design skills, strategic minds, or copywriting capabilities.
You also want an agency that is analytical and honest, else you're constantly going to be fighting them on experiment design and integrity of results.
Here are the questions you'll need ask when evaluating their case studies:
Do they seem too good to be true for example, 500% increases in conversions and revenue? They probably are.
Is the case study relevant i.e. does it reflect results from a business in your niche and industry?
Years of experience is less relevant than a proven track record of increasing website conversion rate. I know plenty of providers who have been doing this for a long time that I wouldn't hire.
What to look out for: Irrelevant case studies and numbers that are too good to be true for example, huge increases in conversions and revenue e.g 500% increase in conversions.
6 Best Conversion Rate Optimization (CRO) Agencies
Armed with the questions I've just provided above, you're now ready to evaluate CRO agencies and you're likely to make the right choice the first time. In this list, we'll talk about the following agencies:
Speero
Spiralyze
Conversion Sciences
Invesp
GetUplift
SplitBase
1. Speero
Speero is a conversion optimization agency that works with marketing and product teams to build and scale their CRO programs by conducting user experience research and running experiments.
Some of their notable clients include Miro, Ebay, P&G, Codecademy, and Monster.
Their experimentation process includes running internal audits, assessments on your CRO program, conducting user research on your target audience and running A/B tests.
In addition to running experiments, the team also helps you integrate experimentation into the business so that conversion optimization becomes a business process that you run together with other processes.
CRO strategy is their specialty, and you can see this clearly by the amount of proprietary frameworks and artifacts they've developed.
For instance, Speero's conversion research process relies on the ResearchXL methodology, where they run customer conversion research to understand user behavior and their motivations. The data they collect helps them derive insights that guide business decisions with a high ROI.
Speero audits your Google Analytics setup to ascertain whether you're collecting all the data you need, its accuracy, and identifies any leaks in data collection.
Once you implement their recommendations from the audit, you'll have comprehensive and accurate data that helps you make informed business decisions.
Here are some of the results the team has delivered for clients:
Helped MongoDB to cultivate an experimentation culture that helped them scale from 0-100 tests per year in six months
Improved the customer experience for Native that led to $1.5 million in additional revenue
Increased LTV and reduced churn for Codecademy leading to 5x business growth
If you have an inhouse team, you also get access to CXL training on conversion rate optimization to equip your team with the skills they need to run an experimentation program.
2. Spiralyze
Spiralyze is a conversion rate optimization agency that works with both e-commerce stores and SaaS businesses to improve conversions and reduce the cost of customer acquisition.
Their process involves custom research to improve customer understanding by identifying gaps in motivation and objections.
The team also designs data driven experiments that are aligned with your brand, and then runs A/B tests to collect data to identify the most effective variant. .
Spiralyze works with qualified QA analysts who conduct rigorous analysis on the data from these experiments to make sure it's accurate.

This process has allowed them to help clients get their first wins after 43 days of working together. Some of the results they have delivered for clients include:
Increased landing page conversion rates by more than 30% for Ideal Image MedSpa in 3 months
Increased landing page conversions from 20% to 50% for Podium
Increased landing page conversions for ServiceMax by 30%
The agency's pricing model comes in three models:
Performance based pricing where you pay after you see the results they deliver.
Flat fee pricing starting from $20,000 per month over 6-18 months. If this sounds scary, you're free to cancel anytime after you start working together.
Pilot pricing where you pay a small fee for a pilot project to prove that this will work. This model is ideal when you want to get everyone's buy-in.
3. Conversion Sciences
Conversion Sciences is a data-driven conversion rate optimization agency that has worked with companies such as Amerisleep, SurePayroll, Vari, Seagate to increase their conversions.
Some of the results the team has delivered for clients include:
Increased conversion rate for Wasp Barcode by 250% through website redesign
42% increase in conversion rates for subscriptions for a B2B Web security company
18% increase in revenue per session for Galeton, an ecommerce company.
The agency provides a fully managed CRO program for its clients, so if you don't have an inhouse team but you want to improve your conversion rates then the team can do it for you.
If you're building an inhouse team that requires training, the team at Conversion Sciences will train your team and equip them with the skills they need to run an inhouse CRO program..
Conversion sciences relies on a scientific process that starts with a conversion optimization audit that covers your analytics and website to identify what you need to do to improve conversions.
It relies on a bank of more than 20,000 testing ideas, and they've conducted more than 7000 tests, with 100 clients seeing a 10% increase in conversions with each test. .
This means that once the team is done with their audit and in depth research, they'll create a hypothesis, run tests, collect data and implement the insights they collect from the data that are guaranteed to drive conversions.
4. Invesp
60% of clients who work with Invesp are ecommerce businesses looking for more users, CRO audits, landing page design and optimization, CRO training and UX design.
Invesp's process starts with understanding your business and customers and running audits to find what's broken on your landing pages and on your website.
They then come up with new designs and copy that will help you address conversion challenges and run A/B tests on several variants to help you end up with the best converting variant. You can expect to have 4-12 tests per month when working with the agency.
Some of the results they have delivered for clients include:
15.3% increase in conversions for Campus Books
18% increase in signups for Dish Network
In addition to providing CRO services, Invesp also has CRO software called FigPii. It combines your data and makes suggestions on what changes you need to implement.
It also analyzes the impact of these changes on visitor behavior and uses machine learning to refine the suggestions it makes that will further improve your results.
5. GetUplift
GetUplift works with SaaS companies, publishers and ecommerce businesses to run conversion rate optimization audits, run A/B tests, and optimize their funnels to increase conversions and drive sales.
Their notable clients include Mercedes, Bitly, Thinkific, Teamwork, SproutSocial, and Upright.
Some of the results the team has delivered for clients include:
Increased signups 172% on critical pages for Teamwork
Increased sign ups for Ptengine by 57%
Increased ticket sales for by 15% for Social Media Examiner
When running a conversion optimization audit, the team at GetUplift analyzes your website and marketing funnels to identify gaps and missed opportunities.
They also use the emotional targeting methodology which involves conducting voice of customer research, analyzing the user journey, and qualitative research to understand how users are behaving on your website.
In addition to providing conversion optimization services, GetUplift also has training materials that cover emotional marketing, funnel set up and email marketing for teams and solopreneurs who want to work in their CRO programs inhouse.
6. SplitBase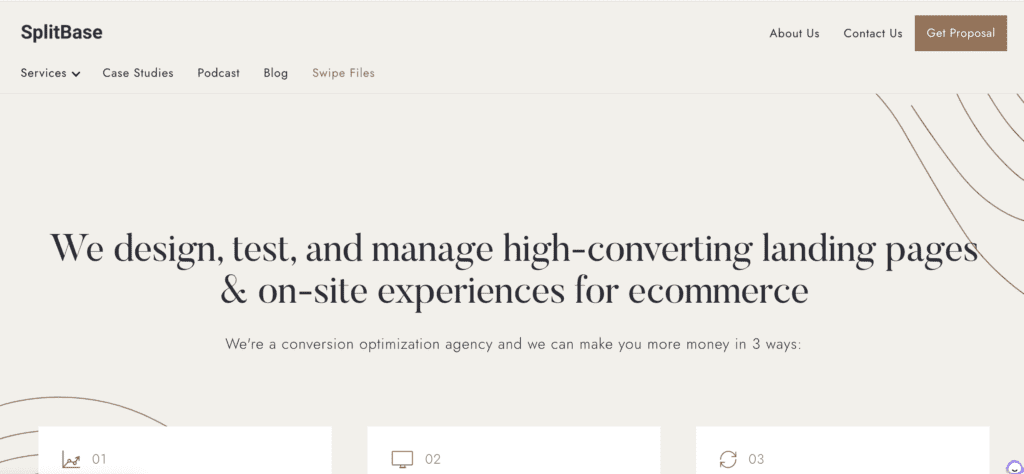 SplitBase is a conversion optimization and landing page optimization agency specifically for $10M – $100M DTC e-commerce brands.
Some noteworthy clients include Dr Squatch, Hyperice, Bones Coffee, and Amika.
Their process, the Testing Trifecta, aims through quantitative and qualitative conversion research to discover customer behaviors, words of customers, objections, and motivations to leverage to increase conversions.
Using insights from the research process, they launch site experiments and build quizzes and landing pages to help e-commerce brands make more out of their advertising spend.
Some results the SplitBase team generated for clients include:
Increased monthly revenue by over $1M for Dr Squatch
Increased Laura Geller's conversion rate from Facebook ads by 43%
Helped Moon Pod add over $300k per month by optimizing upsells and cross-sells.
SplitBase's team takes care of the entire conversion optimization program for their clients, with an in-house team that includes CRO-trained UX/UI designers, copywriters, developers, data analysts, and strategists.
Choose the right CRO agency that will increase your conversion rates
When picking a CRO agency, you want to make sure that they have a proven process which allows them to uncover meaningful insights that drive business objectives.
Such processes go beyond industry best practices, because it shapes how they audit your website and funnels, run multivariate tests, analyze data, and implement changes.
The agencies we've discussed above have a proven track record of delivering results for clients and businesses in your industry.
The teams running these agencies are also known for their expertise in conversion optimization and their contribution to the development of conversion optimization as a discipline and business process.