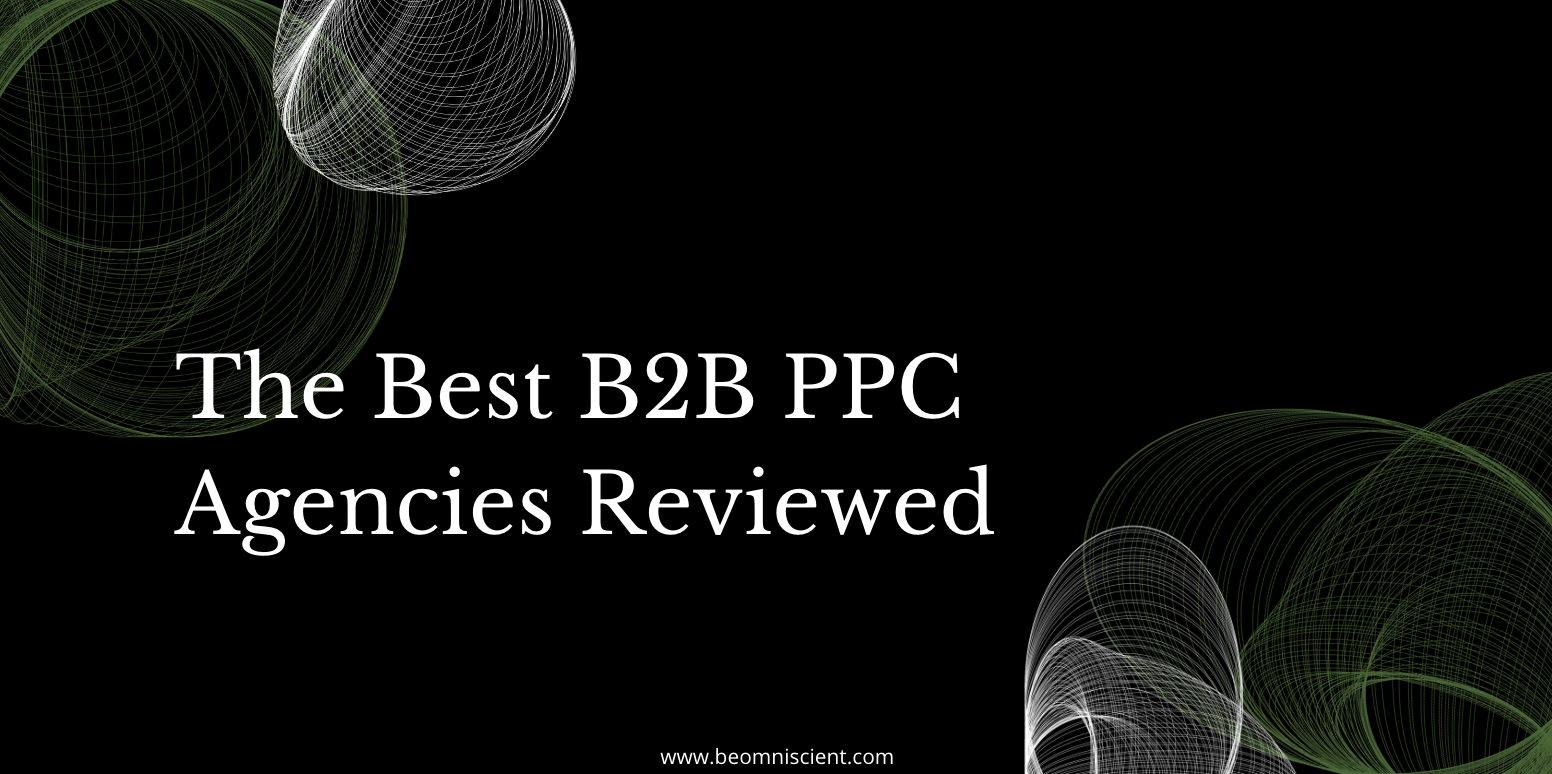 Pay-per-click (PPC) advertising is one of the top strategies B2B companies use to get exposure, drive qualified leads and generate conversions. Companies are expected to have spent $164.8 billion on search ads worldwide by the end of 2022.
This is simply because PPC advertising works and is cost-effective — you only spend what your budget allows and still get results. But not all companies have dedicated teams to run PPC ads for them. The logical move is to hire a PPC agency.
Choosing the right PPC agency, however, can be a nerve-wracking process because if you pick the wrong one, you'll lose money.
That's why we've curated a list of the best 6 B2B PPC agencies that can help you grow your business.
What to look out for when choosing a B2B PPC agency
There are dozens of PPC agencies out there that offer services that specifically help B2B brands grow. But not all of them are the best choice for your business.
So how do you choose which agency is the best one to help you achieve your business goals?
Here are 5 things to look out for when hiring a PPC agency:
Deep knowledge of B2B marketing and your industry
B2B marketing is different from B2C marketing because the latter focuses on getting the attention of business leaders rather than consumers. The right PPC agency for your B2B business should know how to reach other businesses that are likely to become your customers.
The agency should also have some knowledge about your industry. So before choosing one, check their website to see if they have worked with a competitor or a company in your industry before. That's the only way to be sure that they'll understand your target audience, choose the right transactional keywords, and create PPC campaigns that will get your business in front of the right people at the right time.
Knowledge of PPC platforms
Although Google is the go-to platform for PPC ads, it isn't the only one. Running ads through other channels like Facebook, LinkedIn and Bing has also been effective at helping B2B brands get qualified leads and conversions.
The right B2B PPC agency should have adequate knowledge about the major platforms you might want to run ads on, including search engines, social media platforms, and shopping platforms. They should also have reporting and analytics tools through which they can gather stats from each marketing channel.
Analytics and Reporting
Speaking of reporting tools, you want to choose a PPC agency that will show you what they're using your ad budget for and how your ad campaigns are performing.
They should be able to provide in-depth, but easy-to-read reports and insights into the kind of copy and audience segments that are producing the best ROI so that you can cut ad spend on the campaigns that aren't working and focus on the ones that are.
It may be difficult to find out how well a PPC agency tracks information like this. So when discussing with them, make sure to ask about the metrics and data they measure to influence their decisions concerning campaign strategies. This way, you won't blow your ad budget working with an agency that doesn't care about iterating your ads and collecting first-party data.
Case studies
Although it is impossible to predict the outcomes of an ad campaign correctly, a PPC agency should be able to give you an idea of what it's like to work with them and the kind of results they can help you get by showing you case studies of other companies they've worked with.
Case studies help you determine if an agency would invest your ad budget well based on how they've helped other companies (preferably in your industry) grow.
Most B2B PPC agencies publish their case studies on their blogs. Read some of them before making a decision.
Local PPC capabilities
If your business has a physical location where you sell products or consult with prospects, you'll need to invest in local PPC. So when you're deciding on the right agency for you, ask if they offer local paid search services or if they can help drive foot traffic from a specific community to your business.
Multi-channel PPC service range
The services that PPC agencies offer differ across the board. Some agencies specialize in just PPC, while others offer other services alongside PPC, such as content marketing/strategy and SEO.
If you just need an agency to help you run PPC ads, pick a specialist agency. But if you want to do omnichannel marketing, it's better to go for an agency that offers the extra marketing services you need. Working with one agency is easier than working with multiple teams from different agencies.
The 6 best B2B PPC agencies
No one PPC agency's the best for all B2B companies. The best agency for you is contingent on the services you need, the goals of your ad campaigns, and the budget you're working with.
However, we've compiled a list of some B2B PPC agencies that have a track record of helping their clients run effective ad campaigns. Some of these agencies also offer other services to help companies achieve their desired marketing outcomes.
We'll review:
Single Grain
Klientboost
Directive
Semetrical
93X Agency
Riverbed Marketing
Best for: SaaS companies
Notable clients: Amazon, Uber, and Salesforce
Single Grain is a full-service digital marketing agency that specializes in running PPC campaigns that deliver quantifiable results for their clients.
Their paid media team comprises experts that have mastered the nuances of multiple advertising channels, including Facebook, Google, Bing, Instagram, Amazon, LinkedIn, Pinterest, and TikTok. They also have copywriters, graphic designers, and video editors that contribute to the process of creating high-ROI PPC ads for clients.
On their website, Single Grain makes it clear that when you work with them, they'll connect you with a specialist who will take the time to learn about your brand, industry, and business goals. Then they'll use this information to find the best transactional keywords for your business (and the search intent behind them), determine the platforms your target audience is present on, and draw up a customized PPC marketing strategy that drives action and elevates your conversion rates.
Apart from PPC ads, Single Grain offers other marketing solutions, including:
Search Engine Optimization
Content marketing
Conversion rate optimization
Podcast marketing
Crypto & NFT marketing
Best for: SMBs, SaaS, and eCommerce companies
Notable clients: AirBnB, Hotjar, and Upwork
Klientboost is one of the best PPC agencies around. They specialize in running paid search ads and paid social ads to increase brand awareness and drive conversions at a low cost.
One thing the team at Klientboost is good at designing and optimizing landing pages. Landing pages play a big role in how well an ad converts leads into customers. That's why Klientboost's in-house team has conversion designers, developers, and marketers that contribute to the process of designing conversion-focused landing pages and smooth customer experiences.
Over time, Klientboost has created a PPC management strategy that is next to none. Not only do they do keyword research for you, but they also A/B test all your ad campaigns, take note of new ad opportunities, and create easy-to-understand reports on all your metrics and strategies. They work with you to get the results you want.
As you'll see in their huge portfolio of 200+ case studies, Klientboost's ads have produced incredible results:
195% increase in conversions for Segment
86% increase in Return on Ad Spend (ROAS) for Gorjana
57% decrease in cost per conversion for Base
67% decrease in cost per acquisition of CarDash
Klientboost also offers services like conversion rate optimization, SEO, and email marketing to help you get a higher ROI for your business.
Best for: B2B SaaS and enterprise companies
Notable clients: Bill.com, Cisco, and Samsung
Directive is an agency that runs effective paid ads campaigns to help SaaS companies increase brand awareness, generate leads, and crush brand KPIs (demos, free trials, and SQLs). The team at Directive takes time to understand your brand/product, analyze your market and competitors, and do advanced keyword research to ensure that your ads are on the right channels and are found by businesses that are interested in your offer(s).
Directive uses techniques like LTV: CAC projection, targeted CPA, negative keyword addition, and n-gram analysis to increase your reach while reducing your ad spend. Then they take things up a notch by combining PPC with display ads, CRO, retargeting, and landing page optimization to create full-funnel ad campaigns that fill your pipeline with Sales Qualified Leads (SQLs).
Their methods work.
In the Success Stories section of their website, Directive chronicles impressive results like:
165% increase in conversion rate for EasyVista
31% increase in paid leads for TigerConnect
336% increase in bottom-of-the-funnel conversion rates for Xactly
56% increase in pipeline revenue for ServiceChannel
In addition to getting consistent results from their strategies, Directive's team also nails customer service. They communicate with clients via Slack and weekly video meetings where they ask questions, exchange ideas, and allow clients to go through detailed reports on their SQL numbers and campaign ROI.
Best for: B2B enterprises
Notable clients: Stripe, Ticketmaster, and FDM
Semetrical is an award-winning advertising agency that designs data-driven paid ad campaigns for B2B companies. They understand how to target ads and audiences on popular advertising platforms, such as Google, Bing, Facebook, and LinkedIn.
Before running any ads, the team at Semetrical works to understand their clients' brands and long-term business goals. Working closely with these clients, the team uses bespoke technologies like keyword research tools and S.A.M. attribution to get valuable insights into new ad opportunities. They also conduct deep keyword research, relevant audience targeting, and omnichannel integration to maximize conversions while reducing ad spend.
If you work with Semetrical, you'll consistently get analytics and reports that show you exactly what they're using your money for, as well as a behind-the-scenes view of your competitors' advertising efforts.
Semetrical also offers services like SEO, B2B content marketing, social media marketing, web analytics, and digital PR to help you maximize your results.
Best for: B2B tech and SaaS companies
Notable clients: Bankable, PathMotion, and Telefonica
93x agency is a digital marketing agency that specializes in using PPC and SEO to generate qualified leads, drive pipeline, and grow revenue for B2B technology companies.
Of all the platforms that support pay-per-click ads, 93x agency focuses on two: Google and LinkedIn. They run ads on these channels to target niche markets that don't usually have high search volumes, or where prospect accounts are being targeted as part of an ABM strategy.
Because page experience is important for conversion, 93X agency has in-house design and development teams that build UX-focused pages that convert visitors to paying customers.
Before working with them, 93x agency gives you a B2B PPC briefing template you can use to learn about the information they'll need to help you achieve your business goals. And as you work with their team, you'll get your custom dashboard filled with stats from Google Analytics, Google Ads, and Search Console, as well as lead generation and conversion data from CRMs and marketing automation tools.
Best for: Small to medium-sized B2B companies
Notable clients: Sensibill, Harold, and Wardell International
Though they're not as popular as some of the agencies on this list, the team at Riverbed Marketing has 12 years of experience running paid ads for B2B companies. The team understands the intricacies of the B2B sales cycle and uses their skillset to optimize marketing campaigns and drive leads for B2B companies.
Before undertaking any tasks, the team at Riverbed meets with their clients to discuss and understand the complexities of their industry and the goals they're looking to achieve through pay-per-click ads.
If you're just starting with PPC ads, Riverbed's team of PPC experts as part of their dedicated team services, will work closely with you to craft a high-impact PPC strategy from scratch. You'll be a part of everything from audience research to keyword research and ad copywriting. But if you've been running PPC ads for some time, the team will take over your existing campaigns and look for opportunities to optimize them to get more leads and conversions.
Hire the right B2B PPC agency for you
When it comes to PPC ads, the most important thing is getting results — especially if you're thinking of hiring an agency to help you.
When picking a PPC agency, you want to be sure that they understand your brand and can create powerful ad campaigns and optimize your ad efforts over time so you'll get the most ROI from your budget.
The agencies listed above have a proven track record of getting tangible results for brands similar to yours. They're also known for their transparent and honest work relationship with their clients, as proven by client reviews and awards.