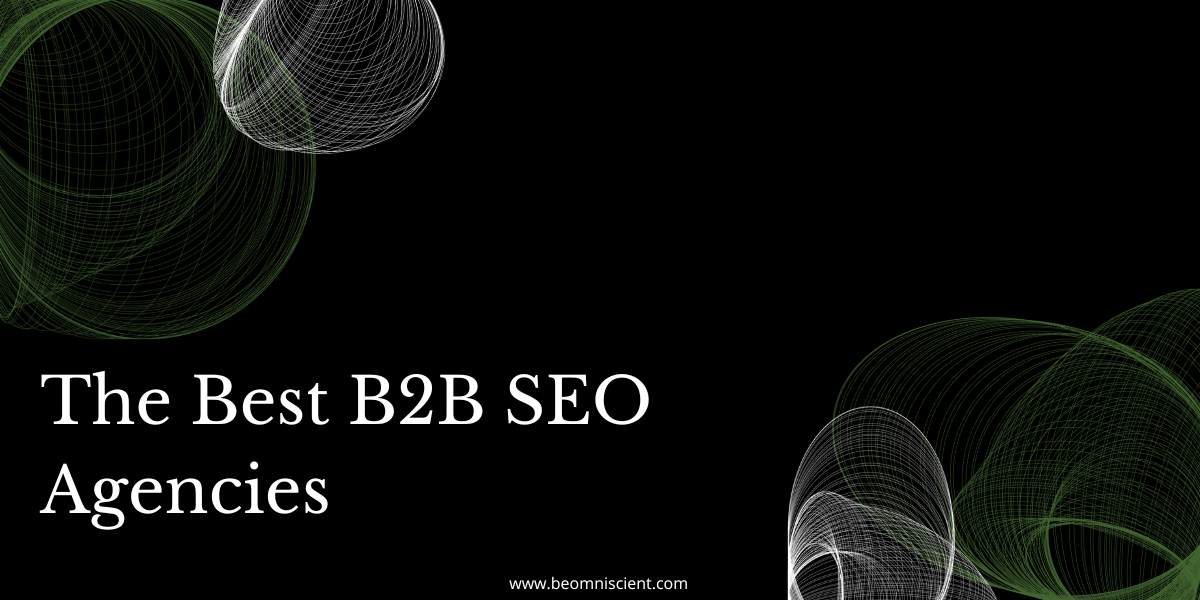 Looking for a B2B SEO agency to scale your organic traffic?
No matter what trends rise and fall, search engine optimization continues to be a channel of massive scale.
This now includes not only Google search and Bing search, but also YouTube, TikTok, Reddit, and any other platform that has a core search functionality.
But it's not just about organic rankings; it's about driving pipeline, product users, and ultimately revenue.
5 Criteria for Hiring a B2B SEO Agency
Before you start your search for a B2B SEO agency, consider first: do you need an agency at all?
It may be the case that you can get by with a freelancer or consultant, or perhaps you want to build this function in-house.
If you've determined that a B2B SEO agency can help you drive qualified leads and they solve a real gap in your current capabilities, judge them on the following criteria.
Cost
You always want to get the most bang for your buck. While you probably don't want to go with the cheapest option, make sure that you're getting what you pay for.
Generally speaking, the more expensive agencies are going to be better at their craft, but that's not always the case.
The thing you want to worry about is trying to get free lunch and hiring someone cheap who actually ends up hurting your organic rankings. I've seen this countless times.
We've had to come in and clean up after terrible agencies generate a bunch of spammy backlinks, as well as having seen agencies that offer basically zero SEO strategy and just give clients a massive list of irrelevant keywords.
I've also seen bad agencies completely muck up the technical SEO components like structured data and web design itself (not to mention the ones who literally just charge you money to hand you technical SEO audits they pulled directly from Ahrefs).
My point being, do your research and be prepared to pony up for an SEO company that knows what they're doing.
Experience
Experience is one of the most important criteria for hiring an SEO agency. Don't just look at the number of years they've been in business. Check out who they've worked with, what their results were, and the chops of the founding team.
Many digital marketing agencies are broad in scope. They do it all. They do a little bit of PPC, a little bit of content marketing strategy, a little bit of web design, and a little bit of SEO. Sometimes they're good at all of these. Most of the time, I don't believe they are.
You want focused SEO services from a company that has a proven track record, ideally in your general industry, but at least with similar types of companies (for example, SaaS companies in general have similar customer journey mapping and SEO campaign structure).
Look at their case studies, but do so with a skeptical eye. Make sure you understand what THEY actually did (not the in house SEO experts they worked with). In many cases, the execution falls solely on the client, which is fine if you want them to only focus on the SEO strategy.
See if you can get references from past clients or current clients. If any agency is cagey about that, that's a red flag.
Scope
What digital marketing services do they offer? And what do you actually need?
Most SEO agencies do technical SEO audits, but you should ask them what that actually means to them? Obviously it's going to include some meta tags, meta descriptions, adding structured data, basic broken link audits. But at what depth are they operating? And do they help you implement it, or just hand you a list of issues and say "good luck?"
Do they do keyword research? How? Is it a general marketing agency that also does paid advertising, Google Analytics and Google Tag Manager implementations, and everything under the sun? Do they do content optimization? Audit internal links?
If you only need one specific service, then you don't want to be paying for the "all-in-one" SEO company price.
But if you need a holistic organic growth agency, make sure they've got the talent and execution chops to get stuff done and implemented. It's often easy to give you a list of long tail keywords and some basic SEO tips. It's much harder to get that implemented at the enterprise scale.
Can they create content? Can they do link building to boost that domain authority up?
Most importantly, can they speak to a process that actually generates more qualified leads?
Methodology
Finally, I believe great B2B SEO agencies should be able to speak to their own methodology.
This isn't a playbook that they apply, cut and paste style, to all clients. This is a framework, an operating model, that allows them to drive predictable results.
If they don't have this, you might get lucky, especially if you work directly with the founders. But without a model, the agency is very likely disorganized and results will be random and unpredictable.
We have, for example, the OmniscientX framework that we use for content & SEO strategy research. Then we have the Barbell Strategy portfolio model for combining SEO best practices into a holistic content marketing roadmap.
We follow the ResearchXL model for conversion rate optimization.
We have guiding principles and frameworks we can apply across client content strategy projects.
Accountability
There are very few pay-for-performance agencies (I'd also be careful with this model for many reasons, too many for this article).
Most of the time, you'll get accountability on a deliverable basis: we'll produce X and you'll pay Y.
Personally, I'd want an agency that acts as both a strategic partner as well as a partner who can execute, or at least guide execution. I'd also want to hear projections or plans to reach core business KPIs like inbound leads or sales qualified leads.
Many SEO programs are based on illusory success metrics that don't translate to business results. Don't fall for a marketing agency that just promises something nebulous like more traffic. Keep them accountable to business objectives.
It's easy to drive more traffic and search volume; it's difficult to translate organic search success to business success.
The 9 Best B2B SEO Agencies in 2023
Omniscient Digital
Grow and Convert
Growth Plays
Straight North
Power Digital
HawkSEM
RevenueZen
Seer Interactive
IPullRank
1. Omniscient Digital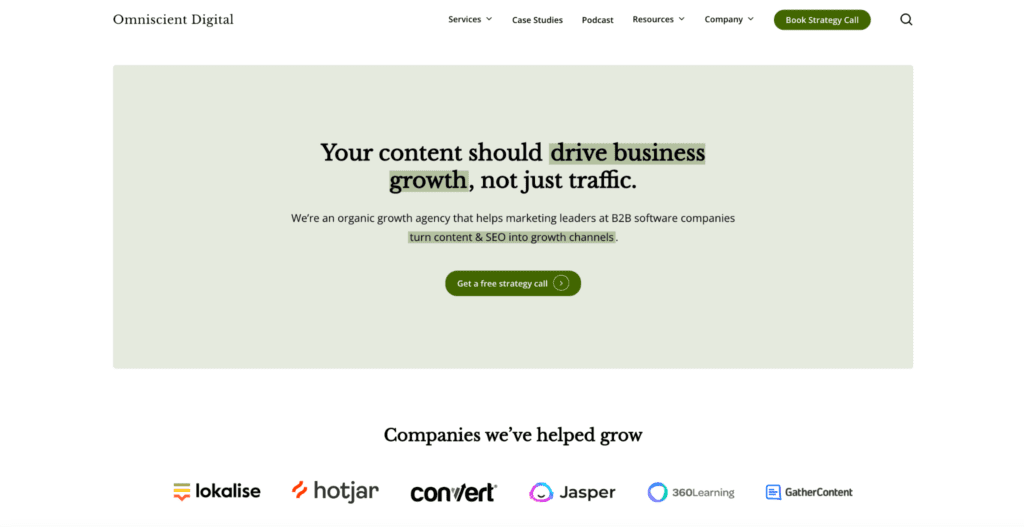 Hello, I'm Alex, and I'm the co-founder of Omniscient Digital.
Welcome to the world of content marketing and SEO, where the listicles you're reading are almost certainly biased in some way.
At least I'll be upfront about it.
Here's what we do:
We're a growth-focused content marketing & SEO agency that works with B2B brands to generate revenue through organic channels.
Basically, we map towards your core business objectives, design custom content-based strategies that tailor to your strengths and opportunities, and then do the implementation and execution.
As for the implementation and execution, we do link building, content production (both programmatic and editorial), and content optimization (both conversion rate optimization and historical updates).
We measure success on revenue or the closest facsimile we can measure – form submissions, lead generation, engagement from potential customers through your sales team, etc.
We start with a deep understanding of your ICP and buying group, as well as your product and subject matter experts. It's not a quick and dirty content marketing strategy, but it will resonate with your target audience, and it will drive business results.
Why shouldn't you hire us?
We're not a local SEO agency. We're also not the deepest technical SEO agency (we don't do development). We focus on business growth.
We're not the cheapest B2B SEO agency, but we focus on the forest as well as the trees and set up our programs so they holistically hit SEO goals (meaning we don't, for example, do link building in isolation from the rest of your SEO strategies).
The other thing people like about working with us is we're basically a part of your marketing team.
Meaning things are fluid and effortless, but you'll also enjoy working with us. I've become great friends with many of our clients (have even taken international coworking trips with them).
2. Grow and Convert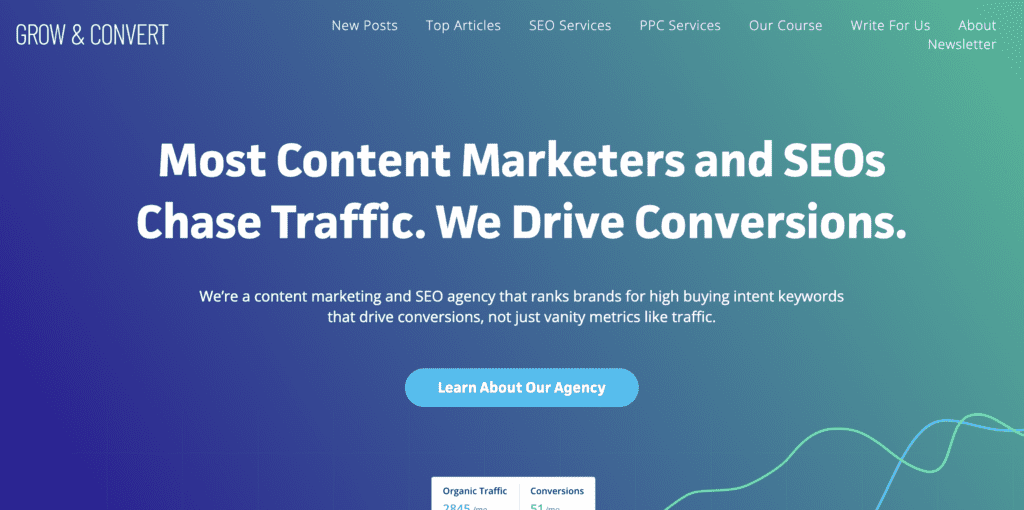 Grow and Convert is a B2B SEO agency that helps ambitious businesses break their previous record of organic-sourced revenue growth.
Like us, they are a conversion-focused B2B content marketing agency that hopes to fill pipeline for clients and not just increase organic traffic if it doesn't map to the target audience and their pain points.
Speaking of pain points, Grow and Convert coined the phenomenal concept of "Pain Point SEO," a methodology that indexes on customer research over keyword-first research methodologies.
They tend to work with startups in both B2B and B2C / prosumer spaces.
I'm impressed with the team they've built. I'm not sure how deep they go on the technical components of SEO, but they do understand search intent and they also include paid search services (as well as ancillary stuff like link building).
Solid agency for startups. Pricing is mid-range – affordable, but definitely not the cheapest SEO services either.
3. Growth Plays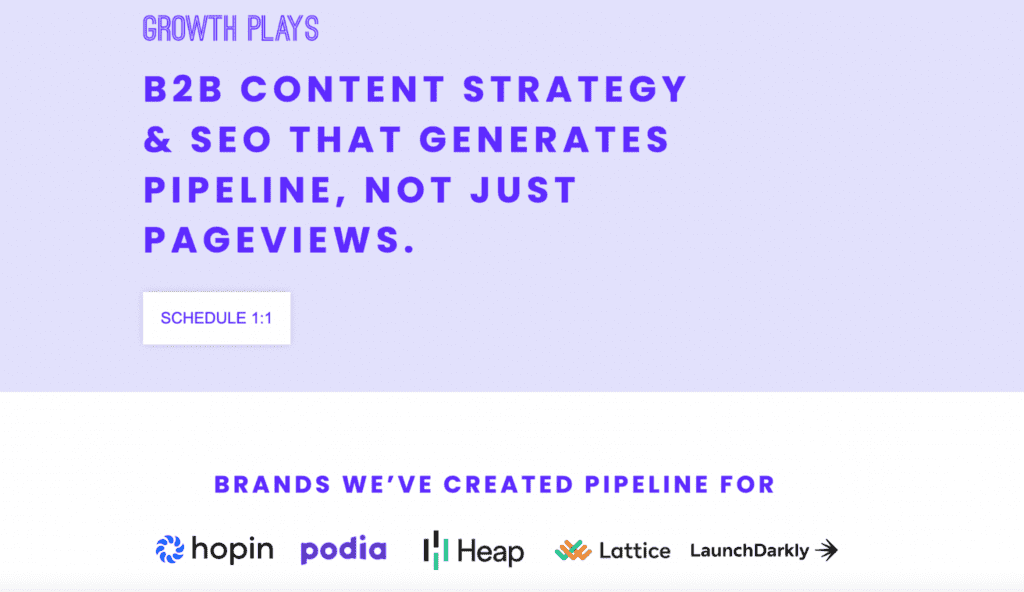 Growth Plays is a B2B SEO and content strategy consultancy that focuses on generating sales pipeline.
Run by John-Henry Scherck, they focus on three key pillars:
Content strategy – website content strategies designed to map to complex buyer journeys.
SEO – SEO strategy fueled by machine learning and constant monitoring.
Playbooks – intuitive playbooks that marketing teams can run with.
They've worked with well-known SaaS brands like Lattice, Heap, and LaunchDarkly.
While Growth Plays doesn't provide content creation, they lay the roadmap that includes keyword research and customer journey maps, website architecture, and content workflows and briefs to guide production.
They also offer monitoring and reporting, competitive analysis, and contract content hire recruiting.
4. Straight North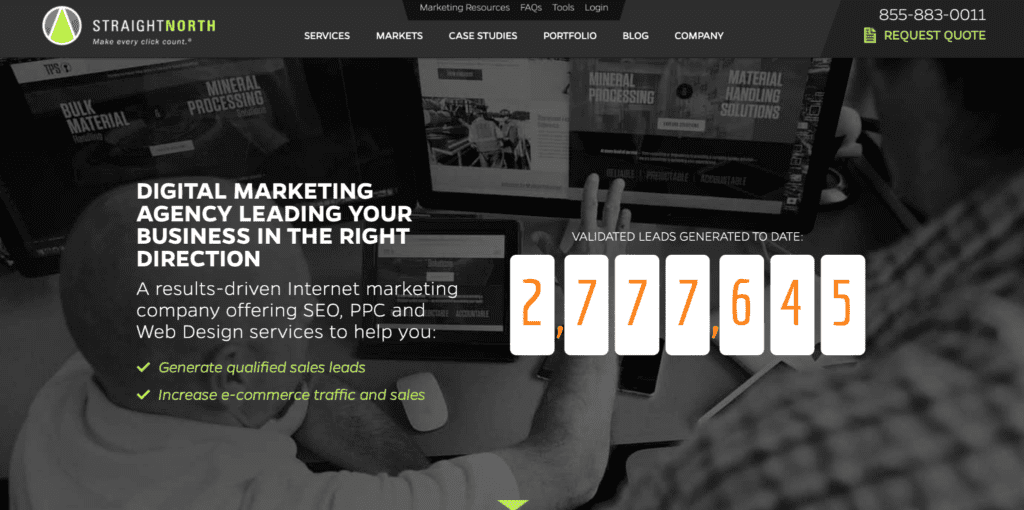 Straight North is a large digital marketing agency with 100+ employees and a ton of different services, including B2B SEO.
They come in at a slightly lower price point, but they have less of a pure focus on B2B SEO (they also offer marketing strategies and execution around web design, PPC management, display advertising, and email marketing and graphic design).
Their value proposition is that they provide comprehensive SEO services to help businesses achieve maximum visibility and ROI from their online presence. Their methodology involves a combination of keyword research, content optimization, link building, technical SEO, and analytics tracking to ensure that clients get the most out of their campaigns.
Straight North offers affordable pricing plans for businesses of all sizes. They also offer custom packages tailored to each client's specific needs.
5. Power Digital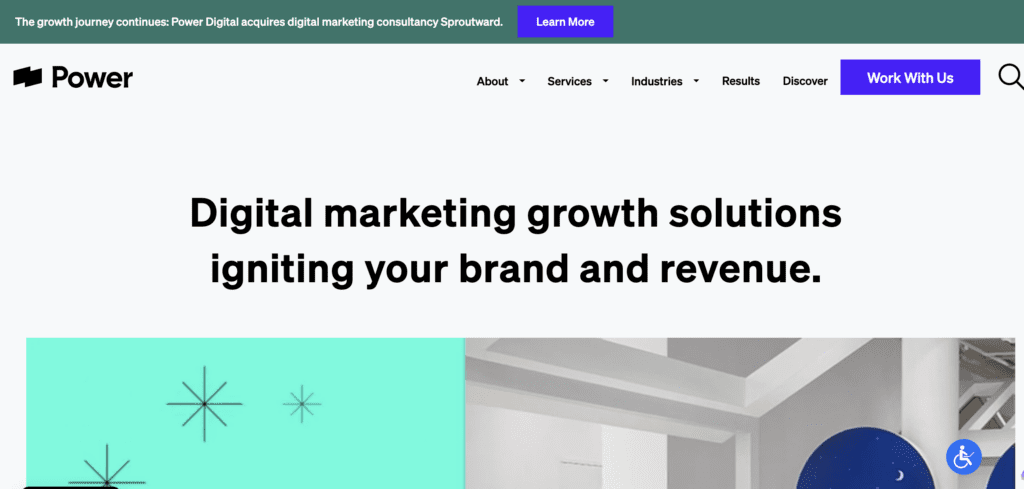 Power Digital is another full-service digital marketing agency that also offers B2B SEO services.
They offer, well, pretty much the entire gamut of digital marketing services:
Affiliate Marketing
Amazon marketing
Branding & Creative
Content Marketing
Conversion Rate Optimization (CRO)
Creator Community (UGC)
Email & SMS
Influencer
Marketing Operations
Organic Social Media
Paid Media
Paid Social
Partnerships
Public Relations
Programmatic
Search Engine Optimization (SEO)
TikTok
Website Development
I'm usually skeptical when it comes to such a broad offering, but I know clients they've worked with, and I can speak to their abilities especially on the paid ads side of things.
Their methodology is grounded in data-driven strategies, ensuring that every move they make is laser-focused on what matters most: conversions.
Power Digital's client roster is mostly B2C, but their B2B logos include ShipWare, hide.me, and Platform 9.
6. HawkSEM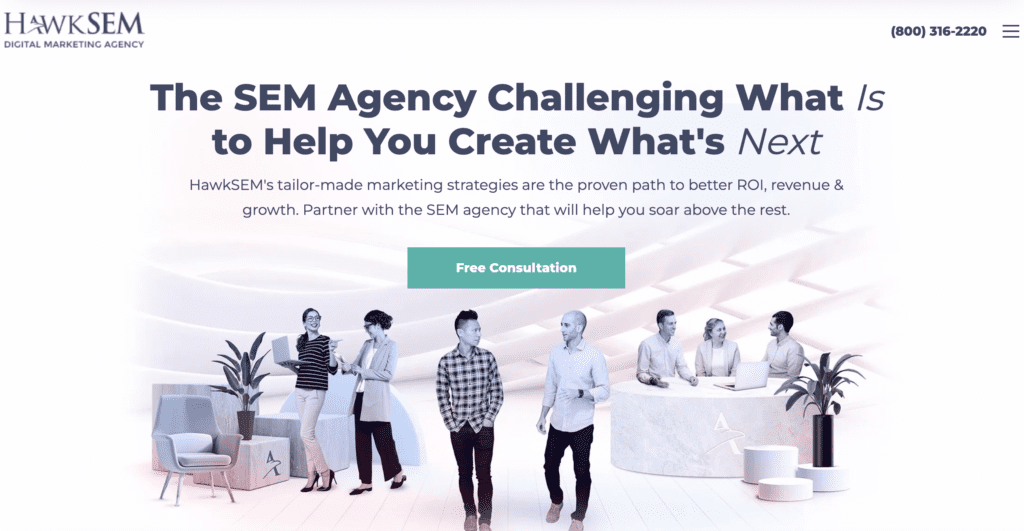 HawkSEM is in the Top 3% of agencies in the country. They work with their clients to strategize, build, and improve their marketing strategies.
Using decades of industry experience, best practices, and the latest technology, their team of experts can help you better connect with your audience, create effective digital marketing programs, and grow your business as a result.
While some other B2B SEO agencies only focus on one channel, HawkSEM provides the full suite of digital marketing services: PPC, SEO, content marketing, social media campaigns, and more.
Best for: B2B/B2C, ecommerce, SaaS, finance, healthcare, education, professional services
Services Offered:
PPC, SEO, Social, Content
Audience and competitive analysis
Keyword research and development
Landing page A/B testing
Conversion and goal tracking
Campaign audit, PPC strategy, and execution
Custom reporting
Proprietary ConversionIQ tech
Notable Clients:
Verizon
Microsoft
Nike
Siemens
7. RevenueZen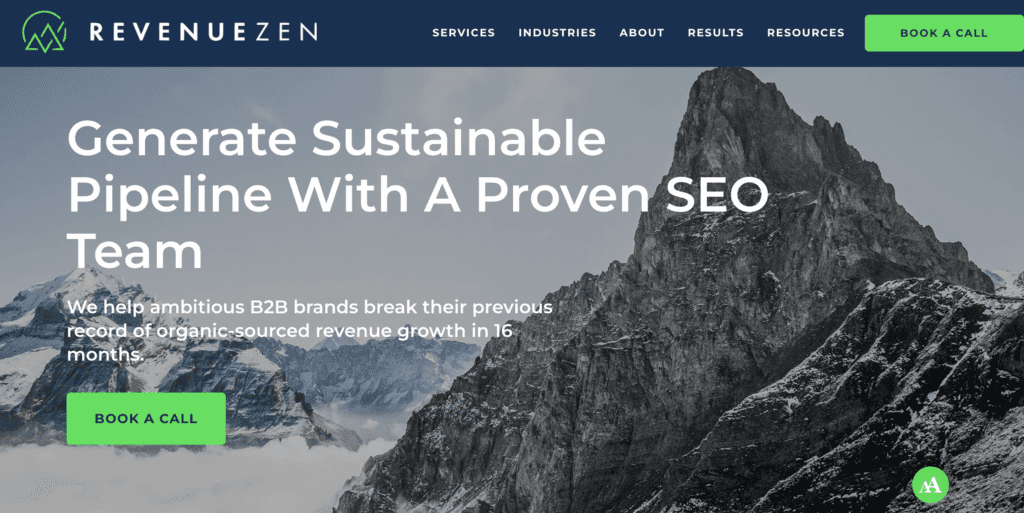 RevenueZen is a B2B growth agency with a focus on SEO.
Their tagline is ambitious, helping "ambitious B2B brands break their previous record of organic-sourced revenue growth in 16 months."
The core four services they offer are:
Search engine optimization
B2B LinkedIn marketing
B2B content marketing
B2B messaging
I like that they have both messaging and LinkedIn marketing as part of their services.
At least today, buyers are spending a lot more time on LinkedIn. We've seen that channel be incredibly effective at our agency and with our clients.
Also, messaging is so underrated, and SEO services are often applied willy-nilly without thinking about what brands actually want to say and how they want to say it.
Anyway, they have some great logos including AirCFO, Lightyear, and ProdPerfect. 
8. Seer Interactive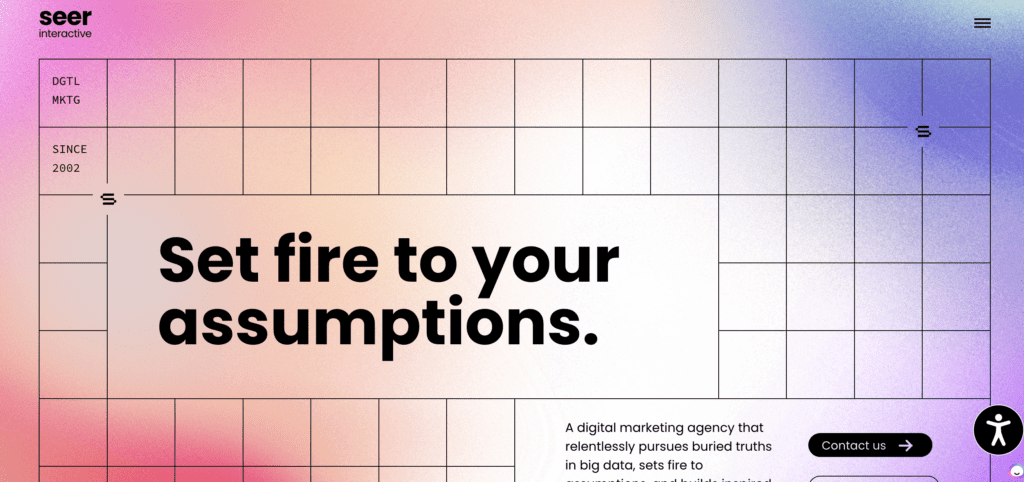 Seer Interactive is a legendary SEO agency run by Wil Reynolds.
I've learned so much from Wil's writing and talks over the years, and now his agency is massive, sitting at roughly 200 employees.
They're heavily focused on data-driven decision making, even building custom software called Supernova to fuel search marketing insights for Google organic and paid search.
They also offer conversion rate optimization, paid media, creative, consumer insights, and analytics.
Side note: I always wonder why SEO agencies don't pair CRO services with their efforts. We do it, and so does Seer. B2B PPC agencies also often do it. It just makes so much sense to actually drive revenue growth from all the traffic you're bringing in. But I digress…
Seer is an enterprise-focused SEO agency with clients across all spaces, including B2B brands.
9. IPullRank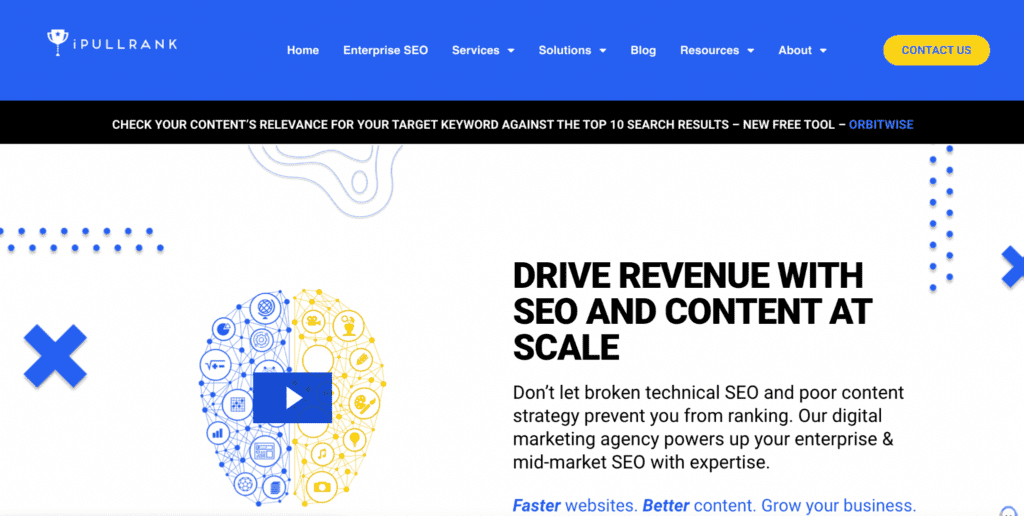 IPullRank is another SEO agency that I admire a ton.
Mike King, the founder and SEO, is a writer and speaker who I've followed for years. I remember a series he did around python use cases that got me tinkering.
I love pioneers in this space, and this agency is definitely one of them.
They focus on mid-market and enterprise brands, some of which are B2B but they span the spectrum. Some of their logos include American Express, LG, and DocSend.
The services they offer include audience research, content strategy, search engine optimization strategy, technical SEO, content engineering, and even generative AI consulting.
This is definitely a personal favorite B2B SEO agency for me to follow.
Conclusion
Alright, so the best B2B SEO agency? Well, there is no "best." But there is a best for you. And hopefully this list, filled with both helpful information and wit, helped you find them.
Remember on your quest: search results, in isolation, don't matter. Search results should lead to business results, and any top B2B SEO agency will know that.