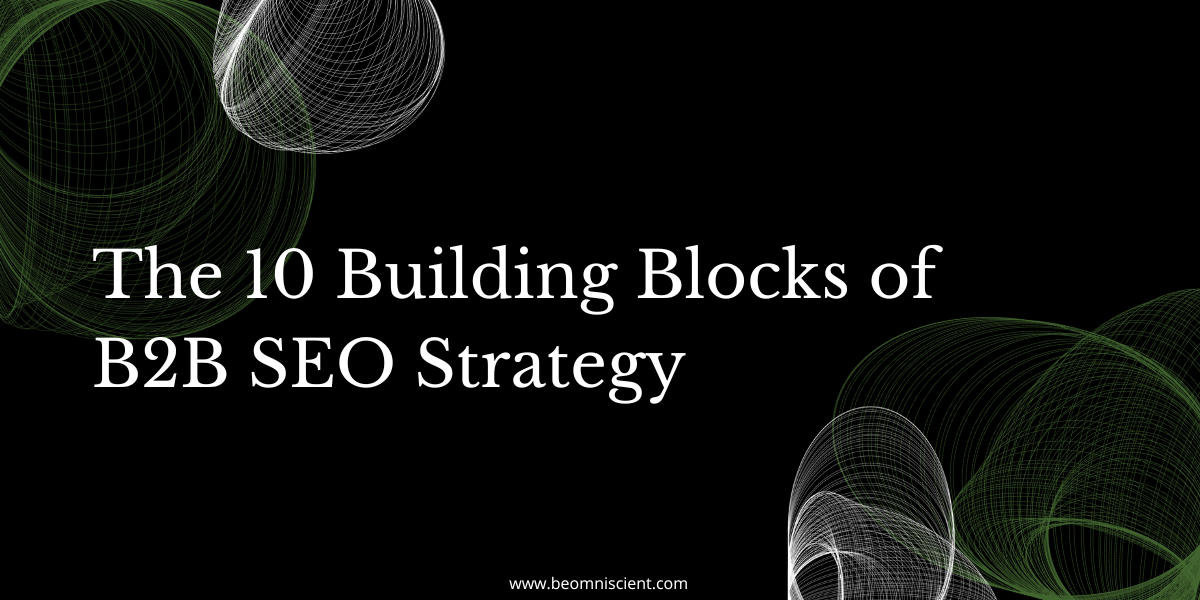 Most B2B brands will eventually incorporate some level of SEO into their marketing strategy.
It's one of the few truly scalable channels.
Without a solid, well-thought-out B2B SEO approach, you'll struggle to reach the right people, generate leads, and drive conversions.
It's synergistic with other channels as well; B2B SEO makes outbound marketing and paid acquisition more effective, if not well.
What is B2B SEO?
B2B search engine optimization (SEO) is a strategy designed to leverage search engines like Google and Bing to rank web pages and blog posts to drive traffic to your website, and inevitably, business results.
There are many flavors of B2B SEO, from ranking dedicated landing pages and product pages to writing blog content and even programmatic SEO or local SEO, depending on the type of business you run.
Whether you're a product-led growth startup looking to drive massive amounts of new product users, or you're selling enterprise software or services at a high price point, SEO can drive predictable, repeatable, and compounding results if done correctly.
B2C SEO vs B2B SEO
The difference between B2C SEO and B2B SEO isn't as big as you would think.
For example, a product-led growth company like Notion or Evernote has a lot more in common with your average ecommerce website than it does an enterprise legacy software like Oracle, despite both being business to business brands.
Many will tell you that the sales cycle is longer in B2B, but that's not necessarily true.
For example, someone searching for a Notion template might sign up in under 5 minutes: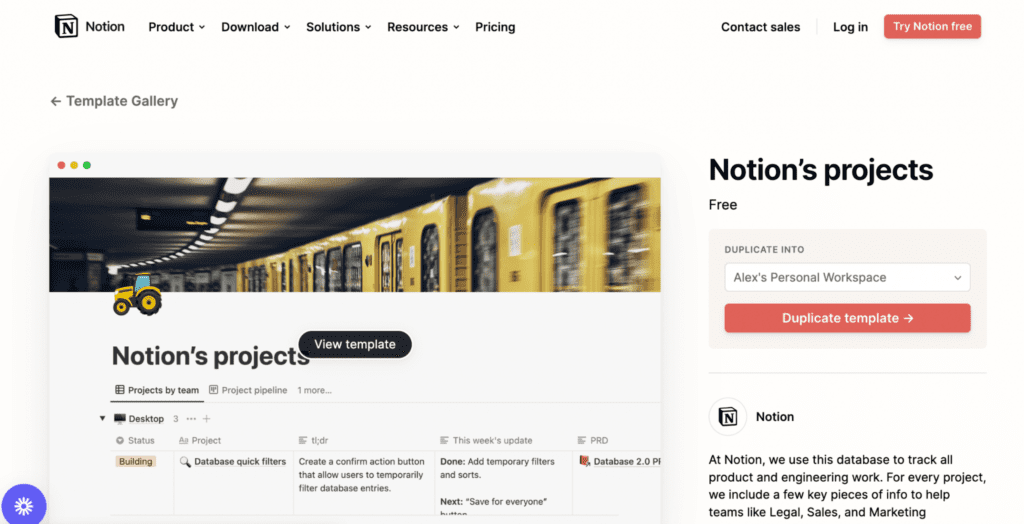 But someone searching for the perfect kettlebell set for their home gym? Well, they've probably got a lot of researching to do before making their purchase.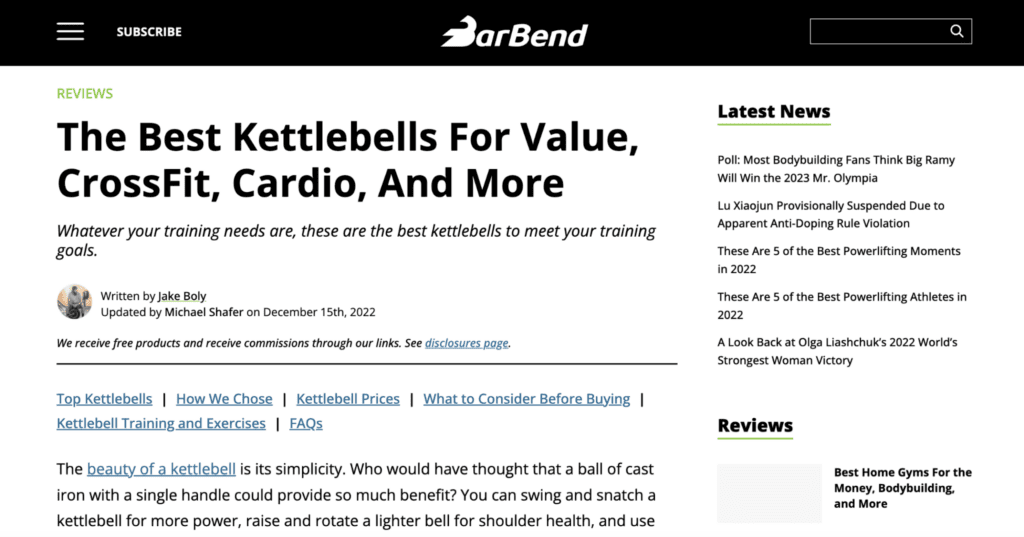 Both, however, can engage in product-led content marketing as well as brand building to increase both their direct response conversions as well as their top of mind awareness.
In most cases, however, consumer content marketing and SEO can cater towards the bottom of the funnel for one core reason: lack of buying groups and committees.
If I want to buy a tea set, for example, I can just do it. Maybe I have to consult with my significant other, but I don't have to make the business case to my boss, my team, legal, and other departments at my company.
A consumer searching for a product is likely to be closer to the purchase funnel than someone searching for information on a particular enterprise software, who may be researching multiple solutions or just trying to learn more about the industry.
However, I'd make the case that the fundamentals apply equally for both B2B and B2C SEO: you map out your business goals, identify your target audience, hypothesize the customer journey, and index on your own strengths and opportunities to build out compounding growth.
Many people say consumer SEO is higher volume or focuses on a broad audience. Again, that's not always the case. The market for a CRM might be much broader than the market for a super niche paleo / keto soup.
With that out of the way, let's dive into the 10 step process for creating a B2B SEO strategy.
The 10-Step Process to Creating a B2B SEO Strategy

We'll walk through each of the following pieces of building a B2B SEO strategy:
Research and planning
Buyer personas
Creating organic growth models
Investing in product-led SEO and content
Keyword research
Content creation
Website architecture – Landing pages vs blog posts (which page types do you need)
Content distribution (how to reach people outside search engines)
Create once, publish everywhere
Measurement and optimization
1. Research & Planning
Before ever embarking on identifying decision-makers or researching long-tail keywords, you've got to take a step back and ask: what do I want?
Not only do you need to map out your key metrics, but you need to figure out your unique strengths and weaknesses, the nuances of your audience, and the competitive arena in which you're operating.
I like to break this down into a few different forms of intelligence gathering, best captured in a simple SWOT analysis:
Know thyself
Know your audience
Know your competitors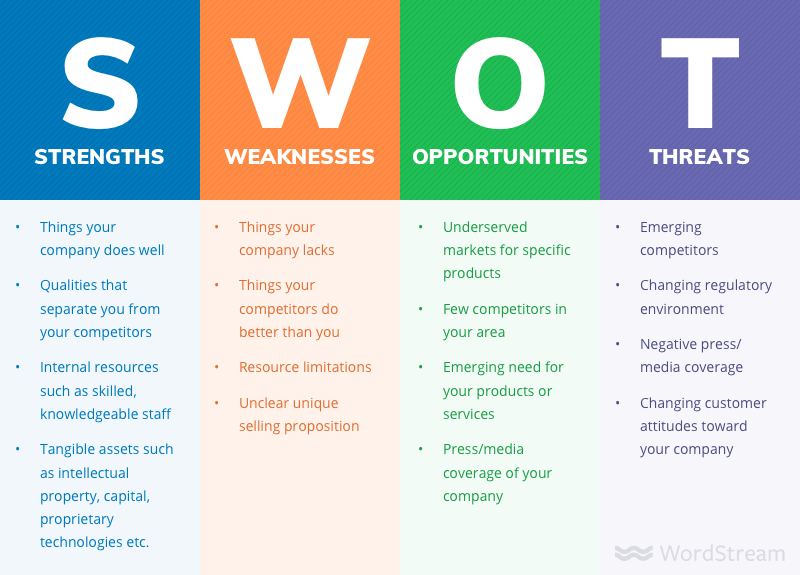 If you have a keen understanding of the landscape in which you operate, the customers and audience you hope to reach, and an honest assessment of your strengths, weaknesses, and limitations, then you can form a content & SEO strategy that works specifically for you.
Know this: you can't copy and paste a playbook from another company or competitor and hope that it works for you.
In most cases, you're only copying the surface level stuff without knowing what went on behind the scenes or really drawing out the causal factors to success.
For example, everyone wants to be HubSpot. But if you're a startup in 2023 trying to replicate their playbook, consider this:
HubSpot started blogging in 2006
Dharmesh Shah was already blogging on his OnStartups blog, driving influence and thought leadership
HubSpot sells to marketers
HubSpot drives a ton of traffic, most of it not high intent or BOFU, because this is a broad play
HubSpot not only has a team of writers, marketers, and freelancers, but a whole international SEO team to support efforts.
So when you think, "I'll just compete with HubSpot," think about all the entrenched advantages they have.
Think also about the real value of ranking for something like "best sales quotes." Is that actually going to sell your sales software?
Nowadays, it might be more popular to take after Dave Gerhardt, Drift, or Chris Walker, and drive "dark social" demand through social media.
But do you have the ability to drive buzzworthy content consistently on social, and do you have the team's involvement to create a surround sound effect through decentralized content marketing? Is your audience actually on LinkedIn?
My point: do research and find your unique angle. Don't just copy what others are doing.
This involves understanding your target audience and their search habits, identifying your competitors, understanding the opportunities in your market, and creating a plan for success.
You should also analyze the data from past campaigns to identify what has worked (and what hasn't).
This will help you create an effective strategy that can stand up against competitors and drive results.
Some good intelligence gathering tools include:
Customer interviews
Ahrefs, Semrush, and keyword research tools
Buzzsumo and Sparktoro (audience intelligence)
HotJar, Qualaroo, or Fullstory (qualitative website analytics)
2. Buyer Personas?
Buyer personas are, by and large, overrated.
Sure, you want to have an understanding of who your customer is. But that doesn't mean you need to spend 6 weeks creating a slide deck about "Marketing Mary" and what her favorite color is or what car she drives.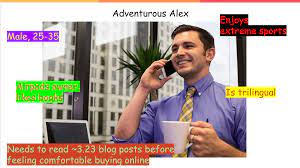 Better framework: figure out your content "jobs to be done" and serve those.
Even better: map backward from your product jobs to be done and the pain points associated, and just write about those.
Even better: start with action and learn from customer feedback as you go. A buyer persona done in a boardroom will always suffer from a lack of real world feedback. Like Mike Tyson said, "everyone has a plan until they get punched in the face."
In B2B, it's also important to identify your buying group, ICP, and also the influencers those buyers follow. Your strategy can index on reaching both of these groups, the core buyers and the influencers they follow.
Don't overcomplicate this stuff. Buyer personas are often an example of "productive procrastination."
3. Create an Organic Growth Model

The next step is to create an organic growth model.
This should include a comprehensive list of keywords that your target audience is likely to search for, as well as ideas for content that can be created to attract more qualified leads.
The goal here is not to create a website structure and content plan that will help you rank higher in the SERPs (search engine results pages).
It's to help you understand the feasibility of your goals, the assumptions at play that will allow you to hit them, and to deconstruct the plan and tweak variables to make it more likely you'll break even and have positive ROI.
At this stage, you don't want to perfectly cull your keyword list. You want to figure out a sort of "search TAM" by pulling a bunch of competitor keywords, long tail variants of head terms, and completed clusters.
Note: this won't be a perfect representation of reality, and it won't include off-page SEO factors like link building nor will it include the expected value of technical SEO. It's just a loose approximation for the total business value of the keywords in your space and the cost it would take you to get there.
Then, you can input your costs, conversion rates, average lifetime value, and see when and how you'll actually hit your conversion goals. If you have some lead generation data, enter this. If not, use a conservative baseline and assume you can make some meaningful improvements over time.
This is an amazing tool, because it's likely you'll have a growth model for your entire business or marketing program as well, and doing one for SEO shows how SEO fits into the broader company goals.
This makes it an effective communication tool, but it also helps you get buy-in and budget to conquer the big goals you've set forth.
It also helps you figure out, outside of SEO and new content creation, what can be done to move the needle (whether that's blog or landing page CRO, onboarding optimization, or a better GTM motion to increase LTV).
Marketers, don't be afraid to get a little "mathy" here.
4. Product-Led SEO & Product-Led Content
In addition to traditional SEO, product-led SEO and B2B content marketing strategies should also form part of your approach.
Product-led SEO focuses on optimizing for the keywords related to specific products or services that you offer. These often arise directly out of the product functionality and have little discernible search volume in common SEO tools like Ahrefs.
The best case scenario is you can create templates or use cases that allow searchers to directly sign up for this product feature (marrying the product-led SEO play with product-led growth). Companies like Jotform do this well: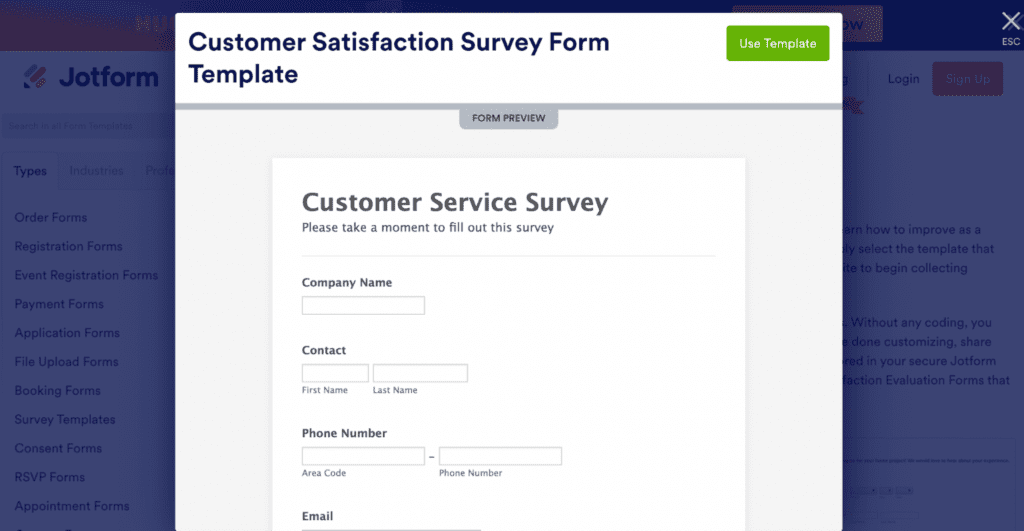 You can also use "product-led content marketing" to essentially weave your product into the narrative of ANY content you're producing, even top of the funnel stuff.
The best in the game at this is Ahrefs: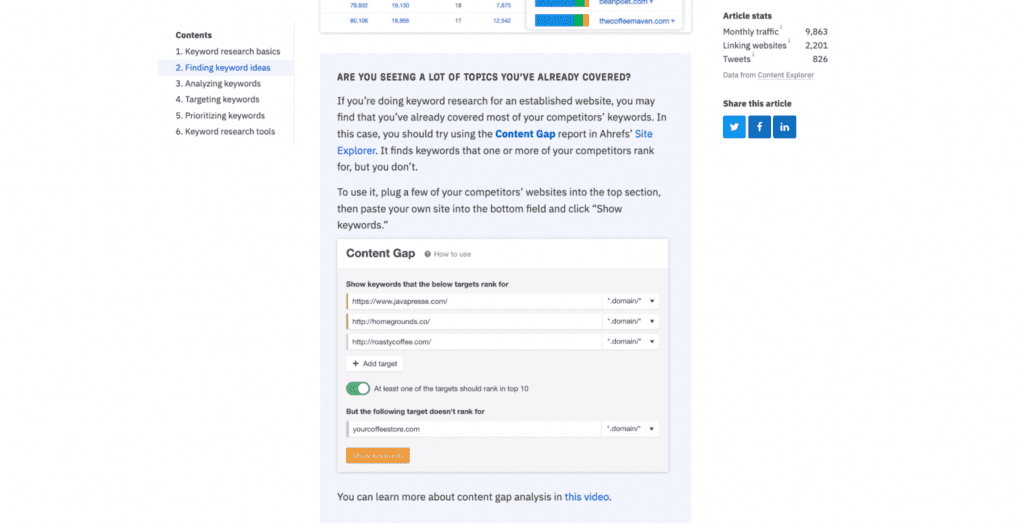 Many marketers are too afraid to be "salesy," but that's not usually a huge concern. Think: is your goal to drive organic traffic, or is it to drive business value?
Organic traffic is a necessity, but B2B companies can often fall into the "traffic trap." They index only on search volume, set their goals to improve this number, and neglect the lower search volume terms that could actually drive business value and leads.
5. Keyword Research & Optimization
At this point, you've got a solid understanding of your digital marketing goals and how organic search fits into them.
You've also done some cursory research on the competition, your target audience, and your own desires for which product-related terms you want to rank for.
Now it's time to hone in on keyword research and build out a content roadmap report (a fancy content calendar).
There are a million keyword research techniques. My high level approach goes like this:
Gather TONS of keywords
Filter by relevant terms
Tag and cluster by theme
Prioritize by search intent, search volume, difficulty, CPC
Iterate as I go.
For the keyword research process, some techniques I like include:
Competitor research and content gap analysis
Land and expand (using head keywords to identify thousands of long-tail keyword variants)
Pain point SEO (start with customer pain points uncovered via qualitative research)
Product-led SEO (scaled out SEO using product features and product language)
How you prioritize your roadmap will depend on your goals and resources.
With my personal website, I always start out with several thousand keywords. I find these using Ahrefs, Keywords Everywhere, and KeywordInsights.ai.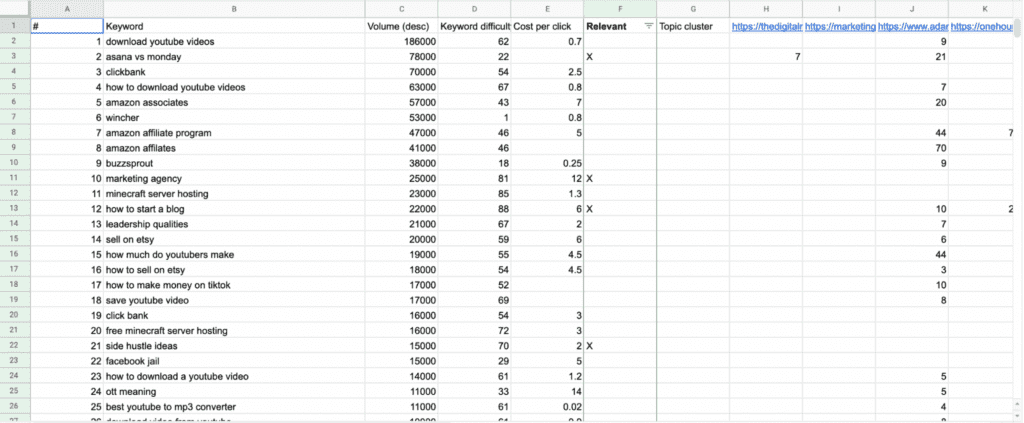 Then I manually filter them down to a more manageable roadmap based on my priorities and audience: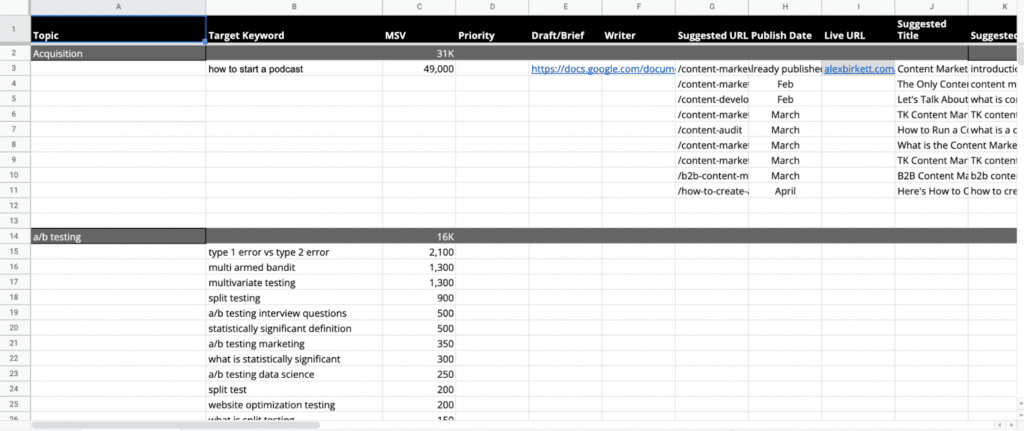 Nothin' too fancy.
6. Content Creation
Obviously, at some point, you have to drop the research and actually write a piece of content.
No matter how much research you do on the Google search algorithm or how many keywords you have in your backlog, someday you'll have to put pen to paper and hit "publish."
Or, at least, you'll have to hire some writers to do that.
Content comes in many forms—blog posts, articles, infographics, whitepaper/ebooks, case studies, videos—and each piece should be optimized with relevant keywords as well as written with readers in mind.
High-quality content not only helps boost organic rankings but also engages readers and drives conversions. So don't just write for the algorithm or ranking factors; write for your audience.
This is the stage you'll want to consider hiring writers and creating content briefs as well.
Content briefs are basically content outlines on steroids used to communicate the vision and guardrails of a piece of content to the writer who will execute it.
In our briefs, we like to include obvious stuff like target keywords, title tag suggestions, metadata, and related low-volume keywords to include. We also like to include sales funnel suggestions (which CTAs to use and where), internal links and user experience considerations, and b2b buyer group targeting.
This document (which we have a template for) should be a foolproof communication tool to make sure the vision is translated from your strategic level to the execution level of the writer creating the piece.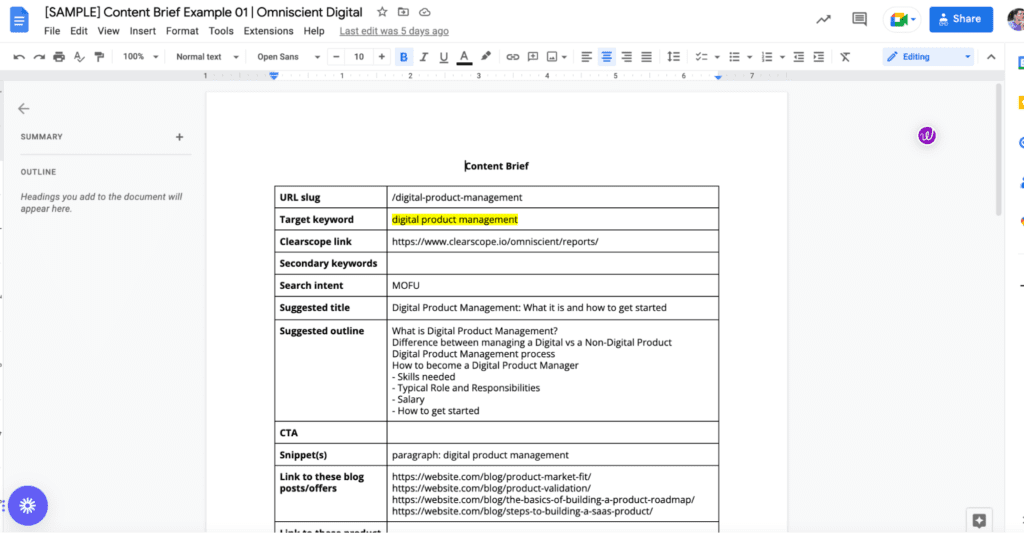 We also include Clearscope links for on-page SEO and optimization considerations.
7. Landing Pages vs Blog Posts vs Pillar Pages vs Glossary
Depending on the type of content you are creating, you'll need to decide whether to build landing pages, blog posts, pillar pages or glossary pages.
There are some strong opinions on which to use and when. For example, my co-founders just ranted about SEO glossaries on a recent podcast episode. These have been used by companies like Optimizely and Shopify to provide quick definitional content.
This is a content strategy discussion, but I often think that B2B companies should write blog posts for terms they're targeting with landing pages and product pages.
The reasoning? Look at what Google ranks for transactional keywords like "live chat software."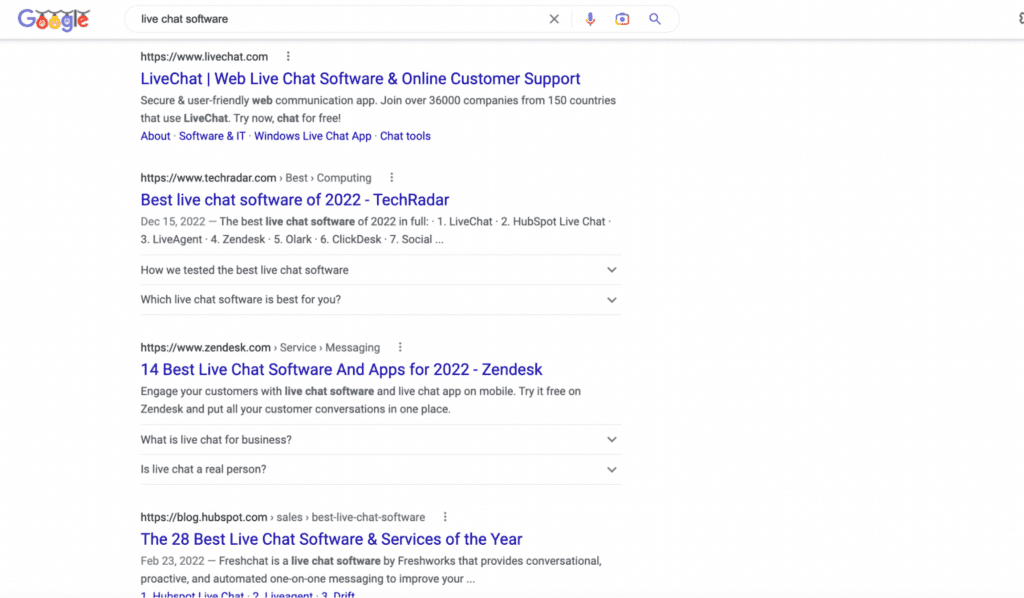 Listicles! They like blog posts. So write 'em. They can often get similar click-through rates and conversion rates to landing pages.
Format summary:
Product pages and landing pages are typically designed to be a part of the sales funnel, driving conversions
Blog posts should be used for educational pieces that answer questions and provide readers with valuable information.
Pillar pages are longer pieces that provide an overview of a topic and link to related blog posts or landing pages.
And finally, glossary pages list terms commonly used in your industry and explain their meanings.
But here's my advice: question the best practices and choose the format that hits your goals. Oftentimes search times can be better captured with long form blog posts than shallow landing pages (and any good B2B SEO agency will advise you of the format as well as the keyword).
8. Content Distribution (Go Where The Fish Are)
Finally, you'll need to think about how you are going to distribute your content.
It's not enough to just create content and expect people to find it.
When I talk about SEO, I'm mainly talking about link building. Especially in competitive niches like SaaS or for search queries with tons of competitors, you're going to need links. And contrary to popular belief, manual link building is still common and works (even HubSpot has an in-house link building team).
Personally, I think it's worthwhile to hire out SEO services for link building, especially if you're a small business. It's one thing to resource your own content creation, but link building is a whole different skill set (much more similar to Digital PR, where you need relationships as well as solid pitches).
Outside of link building, you should consider some short term content promotion strategies as well, such as posting to social media, joining and engaging in forums and communities, and even promoting pillar pages and gated content with paid ads.
If a tree falls in the forest….
Anyway, we've got a huge guide on content distribution here that you can check out.
9. Create Once, Publish Everywhere
To maximize the reach of your content, you should consider adopting a COPE (Create Once Publish Everywhere) strategy.
This involves creating content once and then repurposing it across multiple platforms. For example, you could create a blog post and then repurpose it into an infographic or video that can be posted on social media.
This is what we do with our podcast.
I invite a smart guest on, talk into a microphone for an hour, and then we turn that into:
A podcast
A blog post
Several twitter threads
Several LinkedIn posts
A YouTube video
Videogram and audiograms
It's a high leverage strategies, incorporates influencers into the content creation process, and can be used to fuel the content creation process for B2B companies.
10. Measurement & Optimization
Last thing: measure and optimize your efforts.
Measure the performance of your content with analytics tools such as Google Analytics. Hook it up with your CRM data. It's easy to do this in Google Data Studio.
Measure both your lagging and leading indicators. If you can track the amount of revenue you're generating with SEO, that's the most important. But which goals ladder up to that? Probably rankings, so make sure you incorporate Google Search Console.
Probably organic traffic and conversion rates, too, so make sure you've got Google Analytics set up correctly.
This will help you identify which pieces are performing well and which need to be improved or optimized.
Then, use this data to fine-tune your keyword strategy, adjust titles and meta descriptions, and revise content as needed. Content optimization is entirely underrated and often has a huge expected value for marketers.
By constantly measuring and optimizing, you can ensure that your B2B SEO strategy is always up-to-date and delivering results.
Conclusion
A successful B2B SEO strategy requires careful research & planning; keyword research & optimization; content creation; as well as ongoing monitoring & testing throughout its implementation period.
An effective SEO campaign can make all the difference when it comes to reaching potential customers online and driving leads for your business.
With these building blocks in place – you'll soon see improved rankings in search engine results pages.