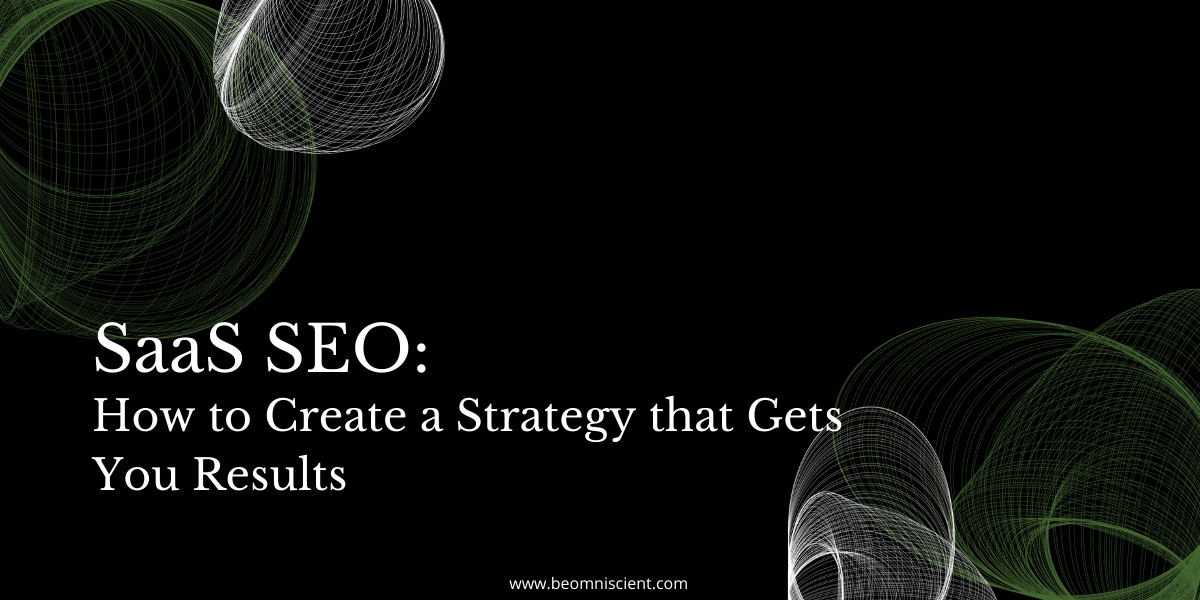 It's every marketer's goal to land the top spot on Google (or, at least, the first page). But marketers for SaaS products often feel like they're banging their head against a brick wall.
This is because of the sheer growth of the SaaS industry in just 10 years. In fact, the industry is expected to reach $171 billion in 2022. The competition is huge, and the constantly changing nature of the tech world means you have to stay on top of your game… or you lose.
Every year, an influx of new products, tools, and software are launched, some of which we never even knew we needed.
Which brings me to point two.
Lots of SaaS products solve problems that consumers don't know they have, which can make it tricky to pinpoint relevant keywords and create the right content to suit the search algorithms.
Search engine optimization (SEO) is crucial for SaaS companies that want to stand out and win organic market share.
What is SaaS SEO?
SaaS SEO involves optimizing your website to include relevant keywords and content to increase your Google ranking. Common strategies include in-depth keyword research, running site-wide audits, optimizing on-page SEO, building out high-intent product pages, creating content, and generating links from popular sites.
Sounds easy, right? Just like any other SEO strategy!
Except, it's not.
SaaS SEO comes with a common set of challenges, including:
Fierce competition from aggregator sites (like G2, Capterra)
Limited search volumes
Misaligned keyword use
Fierce competition in general (not just aggregator sites)
Why SaaS Companies Should Invest in SEO
SEO takes a lot of the hard work out of the sales cycle.
According to HubSpot, the average sales cycle for a SaaS product is 84.3 days – a lot longer than the impulse buys that define consumer-focused industries. Users tend to need a lot of touchpoints with a brand or product before they make a final decision, which is where SEO comes into play.
However, lots of software companies make the mistake of going straight for the most competitive keywords they can find that relates to their product. They take popular organic search terms like "email marketing software" and pump their product page full of target keywords, alt text, and keyword-led meta descriptions.
In any other industry, this would make perfect sense.
If someone is searching for "email marketing software", chances are, they're looking for an email marketing software, so why wouldn't they want to see a product page that aligns fully with their search term?
However, take a look at search engine results for "email marketing software":
The first four results aren't product pages, they're lists of the best services, reviews, and comparisons. Trying to compete on this keyword with a product page (no matter how polished and primed it is) simply isn't going to work because the user intent of the search is to find options and compare them.
SaaS companies need a more comprehensive technical SEO strategy than most other industries.
It's not enough to stuff keywords into product pages and hope for the best. Instead, marketers must lead potential users through the buyer's journey, providing them with information, comparisons, and social proof along the way.
The Top 3 SaaS SEO Strategies
There are three common strategies that should be used in tandem to create a fully functioning SEO strategy:
Intent-inspired content
Link building
Keyword research
Combine these three things together along with other marketing channels, like social media, and you should have a pretty tight marketing strategy on your hands.
SaaS SEO Strategy #1: Intent-Inspired Content
When creating content, it's important to push past the keyword and determine what users actually want when they're running a search. This will vary depending on where they are in the buying cycle. Creating content that touches on their needs at each stage will build a richer experience.
Consider the different types of searches people are carrying out:
1. Informational
This describes searches where people are looking for general information about a topic. Usually, these people are at the top of the funnel, just getting started on their research.
Content that aligns with informational search intent includes: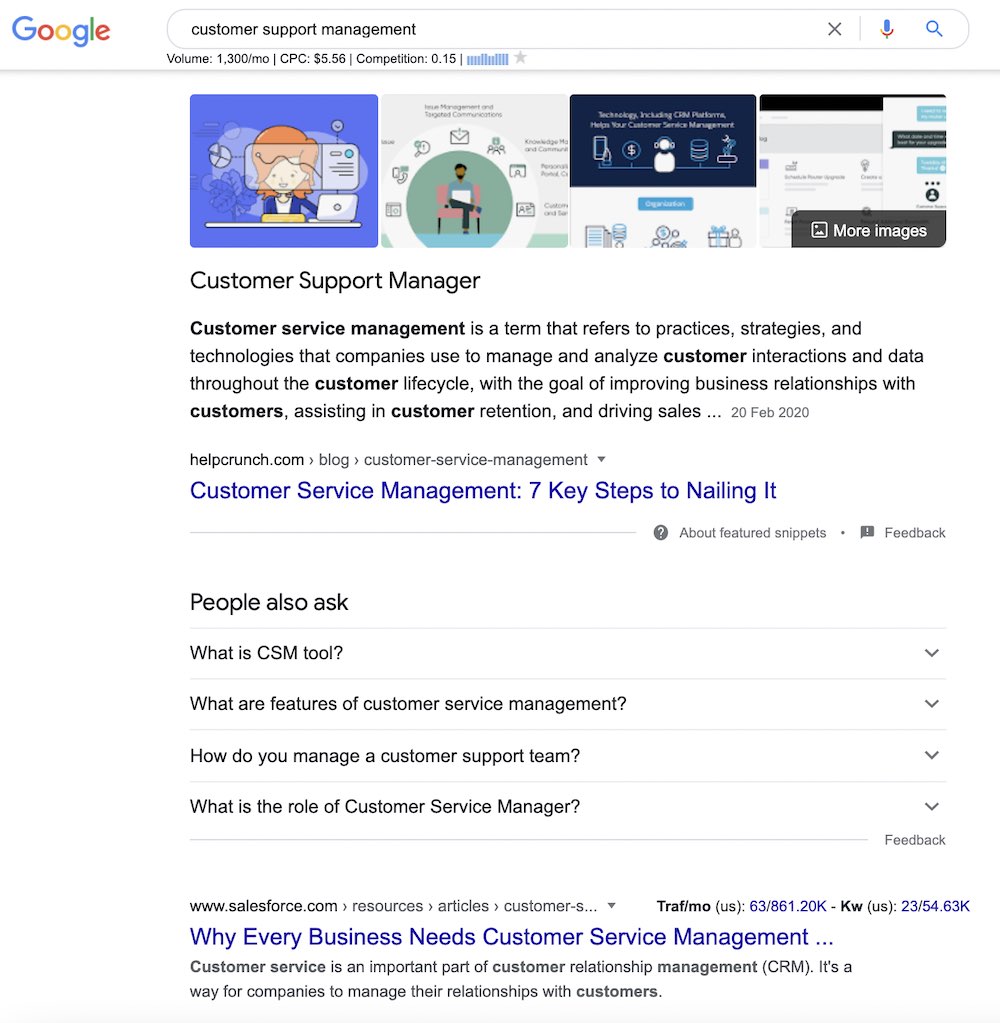 For example, the top two results for a search on "customer support management" are a guide to customer service management and a piece explaining why it's important. Making it clear that this search has an informational intent.
2. Commercial
Consumers carry out commercial searches when they're looking to compare products.
Content that fits in with commercial intent includes:
Blog posts discussing alternative software options
"Best of" lists
Guides to the top ten tools
Comparison posts

Take a look at this example by Moosend. For the keyword "best email marketing services", the company has published a post outlining the best email marketing services. Yes, they have to list their competitors here, but the intent behind the search shows that they have a better chance of ranking for this kind of post than by optimizing their product page for the same search term.
Top tip: take a leaf out of Moosend's book and list your own product at the top. If you manage to land a Google Snippet feature, your product will then show up as the best tool in your arena.
3. Navigational
Navigational searches are carried out when a consumer is looking for a specific page on a specific SaaS website.
Content that fits into this category of search includes:
Feature page
Pricing page
Demo page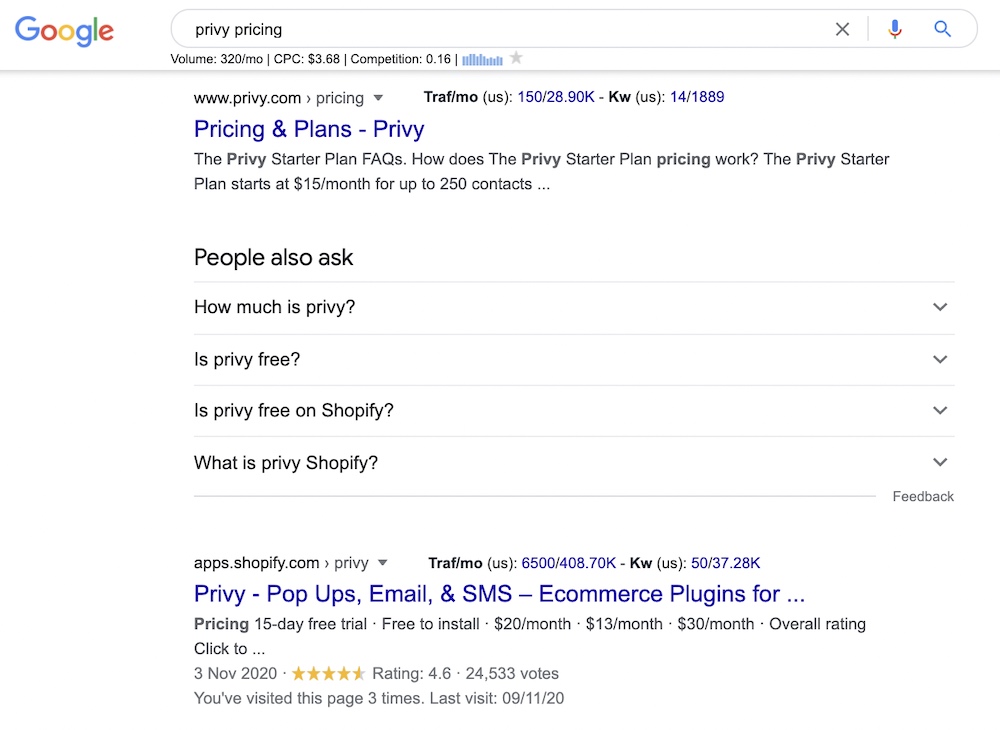 If someone types in "Privy pricing", they're looking to find out the pricing for the software. Most likely, Privy's own pricing page will show up on top.
4. Transactional
Transactional searches are made by people at the bottom of the funnel. They're ready to buy.
Content at this stage includes:
Free trial pages
Demo pages
"Register" landing pages

Type in "Asana free trial" and the first result is Asana themselves.
Create a Suite of Content for More Visibility
The more content you have for various stages of the funnel, the more likely you are to show up when a user carries out a search. Expand your content library with a range of different pages, blog posts, and other types of content for best results.
Think about including:
Landing pages
Case studies
Tutorials
Demos
How to guides
Support documentation
Features pages
Whitepapers
Datasheets
The more content you have available, the more chances you have of showing up in the search results – simple.
SaaS SEO Strategy #2: Link Building
Internal links are good to have, but backlinks are still one of the most important Google ranking factors. The more high quality links you have from top-end industry sites, the more Google will trust your content.
Luckily, for SaaS brands, there are plenty of link building opportunities that don't involve rabidly guest posting or sliding into influencer DMs.
The easiest way to do this is by creating tangential content. This is content that isn't directly related to your brand or product but naturally attracts links. Industry-focused content that provides some kind of new insight or information makes it more likely to get picked up and shared by publishers.
There are three key ways you can do this:
Create and publish reports: put together a report on a specific part of your industry, a trend, or a technique
Create and share visually-appealing infographics: include relevant industry data and new insights
Run surveys: ask your target audience or industry influencers questions that will be useful to other companies and publications
For example, Hootsuite publishes a Social Trends report every year that gets a lot of interest from big publications and industry high-flyers.
SaaS SEO Strategy #3: Keyword Research
Keyword research should be the basis of your SEO strategy. It should provide you with the words your customers are using and the search terms that will help them find you and your product.
While most industries find it easy to identify relevant keywords, it can be a lot more complicated for SaaS brands.
This is because the right keywords aren't always obvious.
Many companies in this industry have a very niche product that doesn't have an immediately obvious keyword to target (if any at all), which is why keyword research is now more important than ever.
Here are three ways you can discover the best keywords for your product.
SaaS Keyword Research Tactic #1: Capterra and G2
While Capterra is often a bugbear for SaaS marketers because it seems to take the top spot for a majority of competitive search terms, it can also be a really useful way to find relevant keywords.
Take a look at your product or your competitors' products on Capterra to determine the category it's listed in. This is particularly useful for products where it isn't always obvious what category they belong to.
Then, check out the list of features to get some keyword inspiration for blog posts and feature pages.
SaaS Keyword Research Tactic #2: Analyze the Competition
Along with using G2 and Capterra to suss out your competition and their potential keywords, you can use a keyword research tool, like Ahrefs or SEMRush to determine what keywords they're actually ranking for.
Go into Ahrefs, type in the URL of a competitor, and check the "Prefix" option to see what keywords their blog section ranks well for.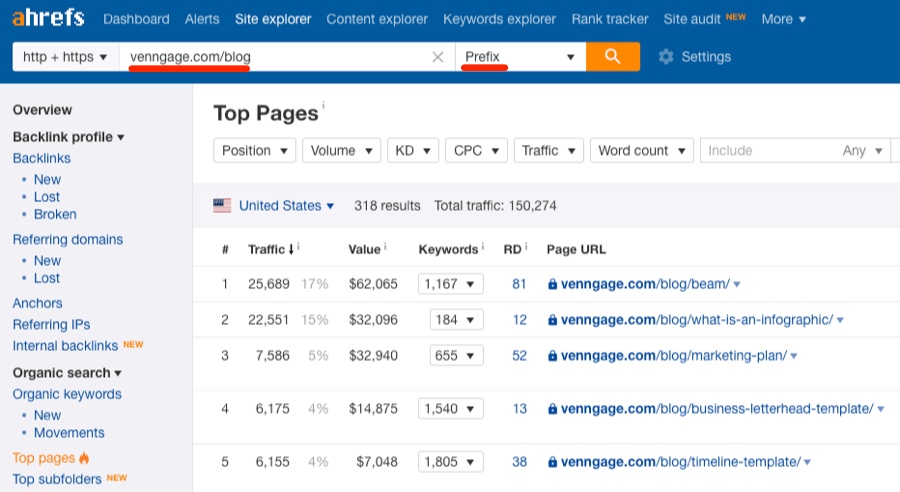 You can also do it without checking the "Prefix" option if you want to see what keywords they're ranking for, in general.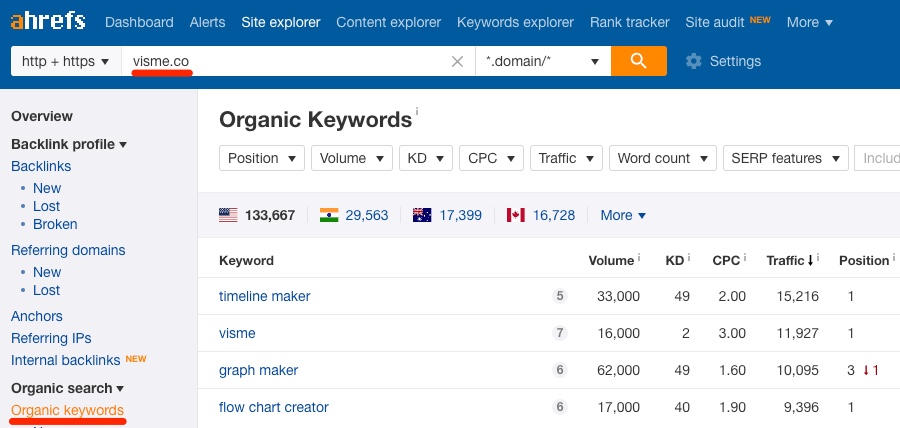 SaaS Keyword Research Tactic #3: Talk to customers
If all else fails, one of the easiest ways to arrive at the search terms potential customers might use to find your product is to ask them. Talking with your customers and learning about their wants, needs, and the problem you're solving for them is an excellent way to get to know them. It's also great for pinpointing keywords they use to describe your product.
Think about asking them questions like:
What problem were you trying to solve when you started your research?
What search terms did you type into Google?
Is there a particular type of content that would be helpful to you?
What words would you use to describe our product?
These should give you an insight into the common words and phrases real-life customers are using to find your product.
SEO Tools and Websites to Help
As a SaaS marketer, you already know there are plenty of tools out there that can make the SEO process much easier for you, whether it's by helping you identify keywords, optimize content, or monitor your rankings.
Here are some of our favorites:
If you're wondering whether it's better to invest in tools for SaaS SEO or a great-looking website with good UX, we recommend both.
You could have the best-looking website in the world, but if no one can find it (because of poor SEO), you're not going to get many sales.
Likewise, you could show up top on the search results for all the best keywords, but your terrible site design could put visitors off because they can't find what they're looking for.
Your SEO Strategy is the Glue That Holds it All Together
Good content, descriptive product pages, and a valuable product are all absolutely crucial to SaaS business success, but your SEO strategy brings them all together. It makes sure your content and product pages get seen and presents your product to the right people at the right time.
Make sure you do it justice by carrying out ample keyword research, running an SEO audit, creating a rich content library, and generating backlinks from high-quality industry sites.
Download our SEO content brief template to consistently make good content or dig deeper into the core digital marketing frameworks in our content strategy course.