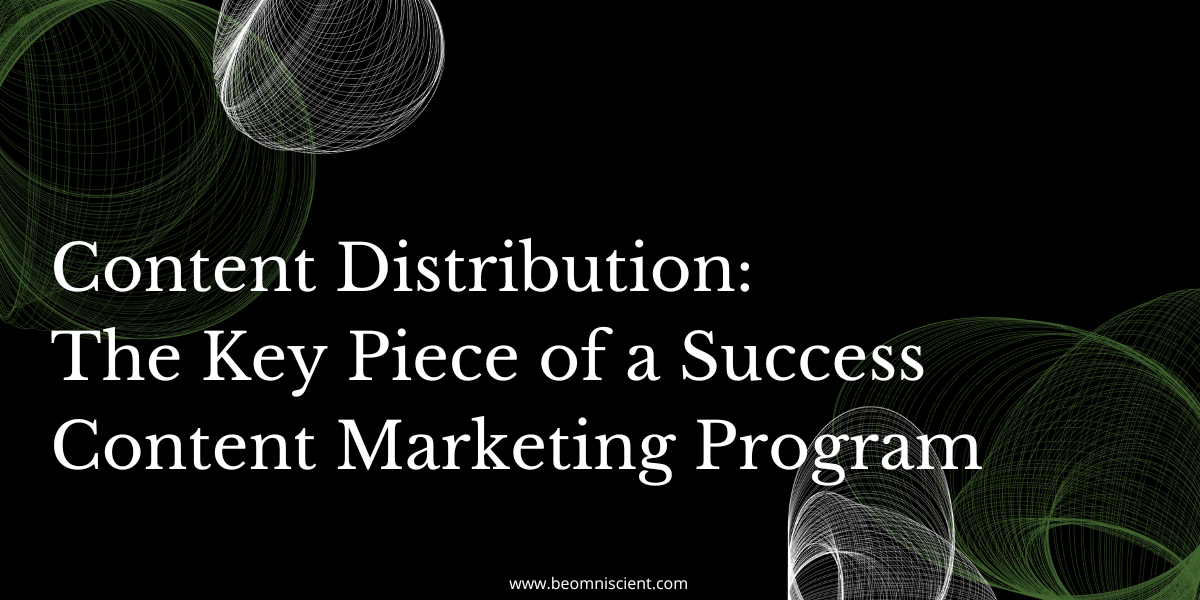 Distributing content is one of the most important aspects of content marketing, but it's also the most difficult part.
A successful content distribution strategy for your B2B software company requires a deep understanding of how and where your target audience consumes content.
This dictates what channels to focus on and how your content should be formatted to be optimized for those channels.
In this post, we're going to assume you've already produced well-researched, high-quality content.
The problem is you're waiting for it to start ranking on the Google search results and no one is currently reading that great content. That's where content promotion comes into play.
SEO is a great passive distribution channel but it requires that you actually rank in the first three positions in the search engine results to see meaningful traffic.
There are plenty of other distribution channels that are worth your time despite them requiring active participation.
We're going to focus on how to build a content distribution strategy that will increase the reach of your content among your target audience.
I'm also going to share specific tactics for active distribution channels to consider in B2B SaaS along with examples of how the Omniscient Digital team is putting these strategies and tactics into practice.
Passive versus active content distribution
The simplest way to think of passive content distribution is to think of SEO. You produce the content and ideally it ranks on the search results and brings in traffic without any additional effort.
Yes, in some cases you'll lose rankings and have to optimize the content or build links to improve your rankings, so it's not 100% passive, but it's as close as you'll get.
On the other hand, active content distribution requires regular action on your (or your team's) end. Examples include sharing on social media and email newsletters.
While passive content distribution is the ideal, it isn't realistic for all content programs due to different stages of maturity and credibility.
The best content programs utilize both passive and active distribution channels.
Why SEO shouldn't be your only distribution channel
If it's possible, you should always consider SEO as your passive distribution channel. If you can get your content to consistently rank in positions 1-3 in Google's SERPs, the main cost is producing and designing the content, and you will continue to get organic traffic at effectively no cost.
In most cases, you'll have to improve your website authority by building backlinks which will be an additional cost. Again, the cost effectively goes down to zero over time.
While SEO can be a reliable passive distribution channel, it requires investment up front to produce all the content and build your website authority.
SEO is also slightly limiting because you don't control who's searching the query and clicking to view your content. Ideally you've built content marketing program that's keyed in to your target personas, but it could be anyone conducting the search.
If you're like me, you want to do everything you can to get your content program to succeed, at least in the short-term. That's where active content distribution channels come into play.
Embrace active content distribution
Even though active content distribution requires regular effort, it could be an even more targeted approach to getting your content in front of the right audience.
It's also the most effective path toward distributing content that isn't written for search.
Consider sales enablement content or content based on customer research. That type of content may not be as straightforward to optimize for a keyword. And if there is a keyword to optimize for, the various SEO tools might tell you there's zero search volume. That might scare some folks who rely too much on what these tools say. (Hint: If you're doing customer research and these topics some up, there might actually be people searching for these queries.)
Regardless, that type of content could be ripe to be shared on social channels.
You'll find that as we get into the specific channels, you can choose whether these will be owned channels and audiences who have opted in to hear from you, or you can go down the sponsorship or ad route.
Develop a content distribution strategy
A content distribution strategy should be as simple as a single sentence that defines what you'll do to distribute your content and why.
When asked what their content distribution strategy is, you'll find many people will say they post the content on various channels. Their answer will be something along the lines of, "We post it to Twitter, LinkedIn, and Facebook and share it in our email newsletter."
That's not a strategy.
That's a list of tactics. It's a to-do list.
A content distribution strategy starts with understanding your target audience and knowing what type of content to produce before you decide on where to distribute that content.
For example, if you produce a podcast targeting audience are Gen Z who want short pieces of video content, your content distribution strategy might be:
We produce long-form podcasts with video and cut the video into short-form content to be posted to TikTok, Instagram, and YouTube shorts.
Notice that the content medium and the channels are tailored for the target audience. This is all part of having a strong content marketing strategy.
On the other hand, if your podcast is for marketing professionals that consume content in various formats which they discover mostly on LinkedIn as they continue to decrease Twitter usage, your content distribution strategy might be:
We produce long-form podcasts with video and cut the video into short-form content to be posted to LinkedIn. We also take pull quotes and snippets of the conversation and turn them into quote graphics and long-form LinkedIn posts.
That's a slightly different strategy, also tailored to the specific audience.
Notice that content repurposing is a key tactic in both strategies. Take one starting piece of content, in this case, a podcast, and turn it into multiple pieces of content in a variety of formats.
Start with understanding your audience and how and where they consume content before determining your content distribution strategy.
You may realize that your current distribution strategy is simply a list of to-do items that aren't generating results.
For example, if you're targeting Gen Z and you're posting on every social media channel, I'm willing to bet money that Twitter isn't your most successful channel.
The distribution channel determines the content format
Each social media platform encourages a specific type of content format and incentivizes those who post content in that format with impressions.
LinkedIn used to promote broetry. Or at least that's what tended to get a lot of engagement. Now it's long-form, educational, sometimes personal posts. Yes, people also post very personal stories on there like it's Facebook in 2011, but that's not a sustainable or relevant way to distribute content. You can learn about how to grow your LinkedIn reach and produce content that performs on the channel from Justin Welsh's LinkedIn guide.
Twitter is more difficult to crack but at the moment it's educational threads. There's a craft to writing a great thread that gets engagement.
YouTube obviously only takes video, but they're experimenting with YouTube Shorts, their response to TikTok and Instagram Reels.
I wouldn't be able to speak to the type of content that works on TikTok, but you get it.
The different channels each have their own algorithm that promotes certain types of content more than others.
Specific channels and tactics
Let's get into the specific distribution platforms including social networks, email, and paid options.
Twitter
Twitter is a numbers game. The more at bats you have, the more likely you'll publish something that resonates and gets retweeted. People have often said that the silliest tweet or most random tweet they posted without much thought was the one that went viral.
I posted a small rant about content marketing and it ended up getting over 100 retweets.
I didn't want to spend my time cracking the code for Twitter to instead focusing on LinkedIn but you can follow folks like Sahil Bloom to learn content creation techniques to grow your following.
Tip: Use a content distribution tool like Hypefury to create a publishing schedule and schedule your Tweets ahead of time. My favorite feature of Hypefury is you can add your tweets to your "Evergreen" library. So if you fall behind on scheduling tweets, Hypefury will pull from your Evergreen tweet library and repost old tweets. This means you'll continue promoting your older content.
LinkedIn
LinkedIn, although it's the largest professional networking tool, is a still a relatively new channel that hasn't been exploited yet like Twitter or Facebook.
It looks like everyone is posting personal stories about their own version of the hero's journey, but on an individual level, those posts are few and far between. There are only so many personal stories someone is willing to share.
There's an opportunity to use LinkedIn to grow your audience on the educational front.
Take your blog posts and turn them into LinkedIn posts.
Create a promo video for your blog post and post that on LinkedIn (hat tip to Andy Crestodina).
Share a behind the scenes of why you decided to write that blog post to make it a bit more personal.
Tip: Hypefury is primarily for Twitter but also allows you also to schedule and cross-post to LinkedIn.
Instagram
Instagram became famous for being the platform to post a square photo. However at the time of this writing, the algorithm promotes video content and reels much more heavily than static photos. Maybe this is in response to competition from TikTok.
So Instagram is best if you're producing video content. Take your video content and use an Instagram video editor to cut it into bite-sized pieces and publish them on Instagram as posts and Reels.
Other tools you might want to consider to help streamline your publishing across social platforms include:
TikTok
Similar to Instagram, if you're doing any form of video content, it's worth promoting through TikTok. Contrary to what folks think, it's not just for Gen Z dance videos. People are using TikTok to get news and educational content, and it isn't just for consumer products. If you want to test out the channel without investing your own resources, you can try working with influencers on the platform.
Examples include GaryVee (who always seems at the cutting edge of new channels), Codie Sanchez, My First Million, other TikTok experts, and even fans creating content for the All In Podcast.
Facebook
Facebook is notorious for decreasing organic reach of company posts. From algorithm changes to simply more companies advertising on Facebook, you can imagine it's tough to compete on Facebook by just posting content.
However, there's a silver lining. At the time of this writing, Facebook Groups are alive and well.
That means two things: (1) You can create your own Facebook Group or (2) join Facebook Groups where your target audience spends time and engage in those groups (without being self-promotional).
Companies like Jasper and Exit Five are case studies in building successful Facebook Groups to engage with their audience.
Quora
After producing a piece of content, do a Quora search for questions that the piece of content answers. Then answer those questions and refer back to the original content. If the original content you created is a video or podcast, then it helps to transcribe the content so you can break it up into written answers.
Beyond Quora, you can find niche forums to engage in as well. The key to any of these forums is to avoid being self-promotional. Start by engaging and being helpful rather than just linking to your content.
Slack communities
A newer platform that has grown over the last few years are private Slack Communities. These often require admin approval to join and the ones I'm in are very strict on any self-promotion or selling.
They usually have a channel called "shameless plugs" or "promote your stuff" where people can drop their links. But in my experience, these channels often get no engagement.
Instead, you'll need to spend time engaging in the core channels and being helpful. In some cases, it may be natural to link to content you've created.
Email marketing
No matter what anyone says, email marketing is still alive.
That's why it continues to be important to grow your email list and build a newsletter.
Even though these are people who have already opted into your content, it's still worth promoting helpful content and engaging with them. Who knows, maybe they'll become a customer down the road.
We use HubSpot for our email marketing and strongly recommend it.
Content curation sites
In the earlier days of content marketing, we'd share content on websites like Hacker News, Growth Hackers, or Inbound. These communities don't seem to have as much engagement as before, but it doesn't hurt to try posting and seeing if any of your content gains traction.
Paid advertising
I'm only recommending a non-free promotional tactic because it can be done with a small budget. You can use platforms like Outbrain or Taboola to promote high value pieces of content with a few bucks a day. You can do the same with pay-per-click social ads on channels like Twitter Ads and Facebook Ads. LinkedIn ads are too expensive to promote content.
Distribution accelerates differentiation
We've mostly talked about how to distribute content, but distributing content for the sake of distribution is a fool's game.
The end goal is to build brand awareness, increase your reach, communicate your product's messaging and positioning, and ultimately differentiate from competitors. That requires being top of mind and present where your target persona spends their time.
By regularly distributing your content where your audience is most likely to see it, you're more likely to stand out from your competition by being top of mind.
Make content distribution a key part of your marketing efforts and have more control over the success of your content program.
Think about how the success metrics of your digital marketing program is ultimately leads and growth.
Similarly, the key performance indicators for the success of your content effort isn't just impressions and traffic but business impact.
When framed in that broader context of driving company differentiation and ultimately customers, content distribution is imperative to driving business results with content.