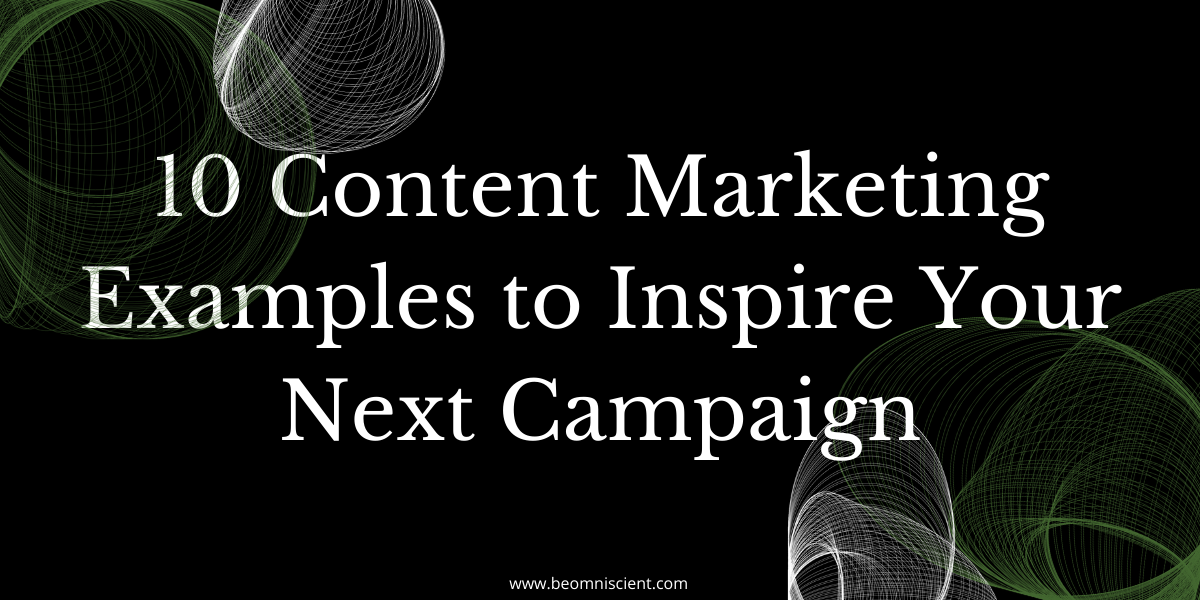 Any content marketer knows that coming up with fresh, new ideas is no walk in the park, but an effective and engaging content marketing campaign can be a real game-changer for a brand.
Successful content marketing allows you to create a personal connection with your audience, share your unique thoughts and ideas, and turn followers into customers.
There's always the risk that your audience won't respond to your message, but when they do, the rewards and conversions can be huge and well worth the marketing effort.
In this article, we look at 10 stellar examples of content marketing and what made them so successful. Consider these mini case studies of some of the best written and visual content marketing campaigns.
Let's dive in!
1. Nike: Colin Kaepernick
Nike's 30th-anniversary ad campaign featured a close-up photo of Colin Kaepernick, a former quarterback for the San Francisco 49ers, against the words: "Believe in something, even if it means sacrificing everything." The ad was seen on TV, all over social media, and plastered on billboards.
Kaepernick came into the public eye in 2016 to 2017 for using his position to make a statement on police brutality and racism by kneeling during the national anthem during each of his games. His actions caused two camps to emerge—those who supported Kaepernick and the first amendment, and those who felt he was disgracing the flag and the country.
Nike took a calculated risk by using Kaepernick in their ad campaign, and it paid off. Although they faced a backlash from many conservatives, the praise they received far outweighed any negativity. Plus, while both camps were voicing their opinion, Nike's name and brand remained at the forefront.
The marketing campaign was brilliant because it was geared toward their target audience. They knew several people would be unhappy, but they were relying on the fact that it would speak to their younger, dedicated customer base—and it worked.
Nike's shares closed at an all-time high for six days straight, and their brand remained front and center through all the talk, both good and bad.
2. Peloton: "Meet Our Members"
Peloton's campaign "Meet Our Members" put the Peloton community front and center and focused on real riders as opposed to actors. It was a far cry from their controversial "Wife Ad" of last year and showed that Peloton listened to their community and what they wanted.
Peloton shifted the focus of their campaign to be less about their gear and products, and instead aimed to build a personal relationship with their customers. It paid off, and Peloton customers were thrilled to see other riders who looked like them in the ad as opposed to models.
The ad was also extremely timely as it took advantage of real people worldwide finding time for in-home workouts during the pandemic.
The focus on community helped Peloton find a way to undo the damage of the previous "Wife Ad" and helped the brand regain their customer's trust.
3. Coca Cola: #ShareaCoke
A sign of any high-quality content marketing campaign is personalization, and Coke nailed it with their #ShareaCoke Campaign. The world went nuts when they saw their name written across one of the biggest brands in the world, and they couldn't wait to get their hands on one of the personalized, name-stamped bottles—making the campaign uniquely interactive.
The campaign took off and generated a massive amount of sales, plus it was widely shared across all social media platforms. Customers snapped photos of their bottles featuring their name or the name of a close friend, and some parents even used the "Mom" and "Dad" bottles to announce their pregnancy on social media.
Coca Cola generated buzz and excitement for their brand while making their customers feel loved and special. To this day, this is arguably one of the most memorable content marketing campaigns to date.
4. Always: #LikeaGirl
The #AlwaysLikeaGirl video is a brilliant example of using a campaign to share your brand's voice and make a statement. Always is a feminine hygiene brand that wanted to find a way to appeal to a younger audience. Most period ads focused on product performance but Always wanted to do something different.
They were aiming to appeal to young girls on an emotional level. Their research showed that as girls hit puberty, they started to lack confidence. They latched onto the expression #likeagirl and showed how girls and boys viewed that expression differently.
During casting calls, they found that boys acted silly or self-deprecating when told to "act like a girl," while girls did the opposite—they tried as hard as they could.
This was the basis for the entire campaign. The #likeagirl video series played on YouTube and resonated with people everywhere. It was shared across social media by women, athletes, and celebrities. The campaign brought Always' brand name into the spotlight and helped young girls and women associate the brand with confidence and trust.
Always successfully took an insulting phrase and reclaimed it with a hashtag and digital marketing campaign, empowering girls everywhere to act #likeagirl. The video has since been viewed 69 million times.
5. Coors Light: #CouldUseABeer
Timing is everything! Coors Light's marketing campaign #CouldUseABeer stemmed from a photo of a 93-year old woman. Olive went viral after she held up a sign in her window reading "I need more beer" while stuck in quarantine.
The photo led to a brilliant marketing campaign. Coors Light realized that their customers could use some cold ones during their quarantine days, so a simple yet incredibly effective campaign was born—people could nominate a friend or a loved one on Twitter to receive a free six-pack of beer. (Better yet, Coors Light didn't have to develop their own content; they were able to leverage user-generated content which likely helped their marketing budget.)
The campaign aimed for a lighter note compared to most other campaigns at the time. While most companies were appealing to their customers on a deep, emotional level, Coors Light found a way to lighten the mood and bring their customers joy.
The campaign was a huge success. It created brand awareness, loyalty, and positive sentiments for the company, and Coors Light gave away half a million beers to people all over the world.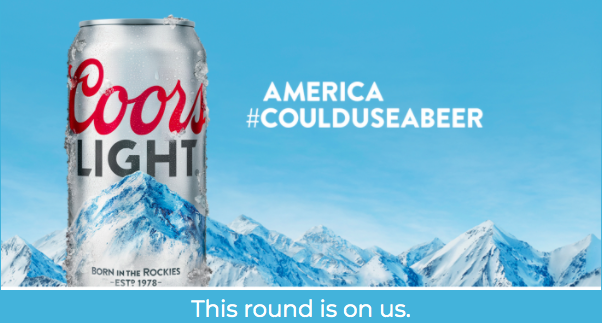 People were genuinely thankful for a free six-pack during quarantine and shared their love of the brand across social media, generating even more affinity and brand awareness.
6. Aerie: #AerieREAL
The #AerieREAL campaign is a great example of a brand that understands their audience and what they want.
Aerie realized that women shopping for their products were tired of seeing ads with unrealistic, picture-perfect bodies, so they made a six-year pledge to only use real bodies and stop airbrushing their models or influencers.
To convey their brand message, they choose unique and diverse Aerie role models to represent "real" women. The women ranged from actors, athletes, body-positive models, to disabled women making a difference in their community.
The campaign struck an emotional note with several women, especially those who weren't used to seeing people like themselves represented in ads. Women shared on social media how grateful they were to see others like themselves in the ads.
Aerie went even further and built upon the campaign by creating an entire homepage dedicated to their body-positive message. It featured different pieces of content on a range of topics including REAL Talk, Style & Trends, Health & Movement, Aerie Fam, Better World, and Events.
With their campaign, Aerie cemented itself as a brand that empowers women and champions all voices, bodies, and sizes, ultimately building trust, loyalty, and respect with their customers.
7. Starbucks: #WhatsYourName
Starbucks UK partnered with Mermaids, an organization that supports transgender and gender-diverse youth, to create the multi-platform campaign #WhatsYourName.
Everyone knows that a huge part of the Starbucks experience is getting your name written on the side of your cup. This campaign was designed to be inclusive toward people of all genders and respect their chosen names. It was a huge success and helped promote the brand, while emotionally connecting with their audience and building loyalty.
The campaign combined TV advertising and social media to get the word out, and people applauded Starbucks for taking a stand on a controversial issue.
Starbucks took the simple gesture of writing your name on a cup and turned it into a beautiful, successful campaign that made their customers feel welcome no matter their gender or name.
8. Burger King: Twitter "Liking"
Burger King brilliantly built an entire online marketing campaign around the idea of liking old tweets from 2009 to 2010. It was a subtle yet strategic content campaign that created a huge buzz.
Burger King chose a handful of handles, mostly celebrities or organizations with large followers, to go back and like tweets from 2009 to 2010.
Once people started noticing Burger King liking old tweets, they then tweeted about it, which gave Burger King plenty of organic press from big celebrities.
The idea behind this campaign was to bring back something they had on their menu in 2009 to 2010, Funnel Cake Fries. The slogan for the campaign was: "Some things from 2010 are worth revisiting—like your old tweets. and funnel cake fries. get them now for a limited time".
Burger King was able to spark conversation about their brand simply by liking old tweets. It was a brilliant way to leverage and repurpose old content.
9. Hootsuite: Game of Social Thrones
Social media management platform Hootsuite came up with a great campaign that played into the hype of Game of Thrones, giving their campaign an added boost from super fans.
Their video went viral and was viewed and shared on YouTube more than one million times. The video content was a spoof of the iconic Game of Thrones theme song with the tagline: Unite Your Social Kingdoms.
Hootsuite found a way to seamlessly connect their brand with a worldwide phenomenon. The video made consumers aware of Hootsuite's product (similar to Buffer's), and the campaign displayed how you can find a way to have fun with your customers while still educating them about your product.
10. McDonald's: Our Food, Your Questions
McDonald's "Our Food Your Questions" content marketing campaign was a large success because it used honesty to change customer's perceptions of their brand. McDonald's is no small business, but it was able to address customer concerns like one.
McDonald's Canada answered 10,000 customer questions and stepped out from behind the curtain, giving people real facts and information. Their transparency resonated with their customers which made them love the brand even more. Moreover, McDonald's was able to answer common customer queries, authentically investing in search engine optimization (SEO) and driving page views and organic traffic.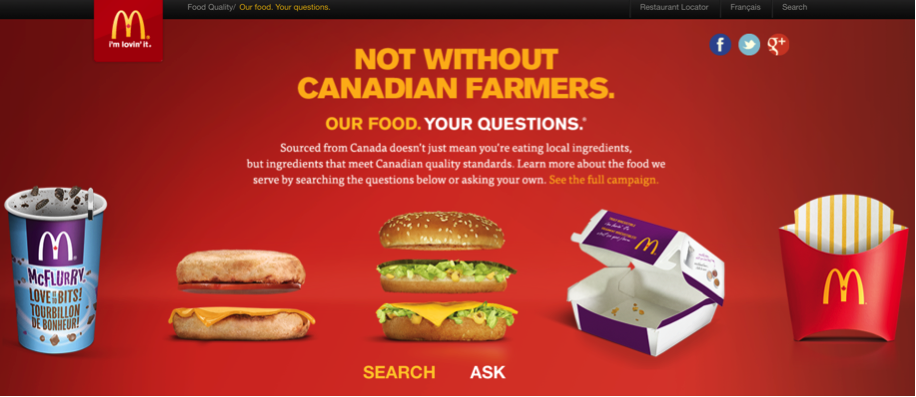 This campaign allowed McDonald's to personally engage with their customers, helping to build trust and loyalty. Customers were excited to have their questions answered and featured in ads—plus they appreciated McDonald's honesty.
Tap into some of the above examples to spark inspiration for your next great content marketing campaign.
If you still need a little more guidance or some fresh ideas, check out our content marketing strategy course to get you on the right path and set you up for success.