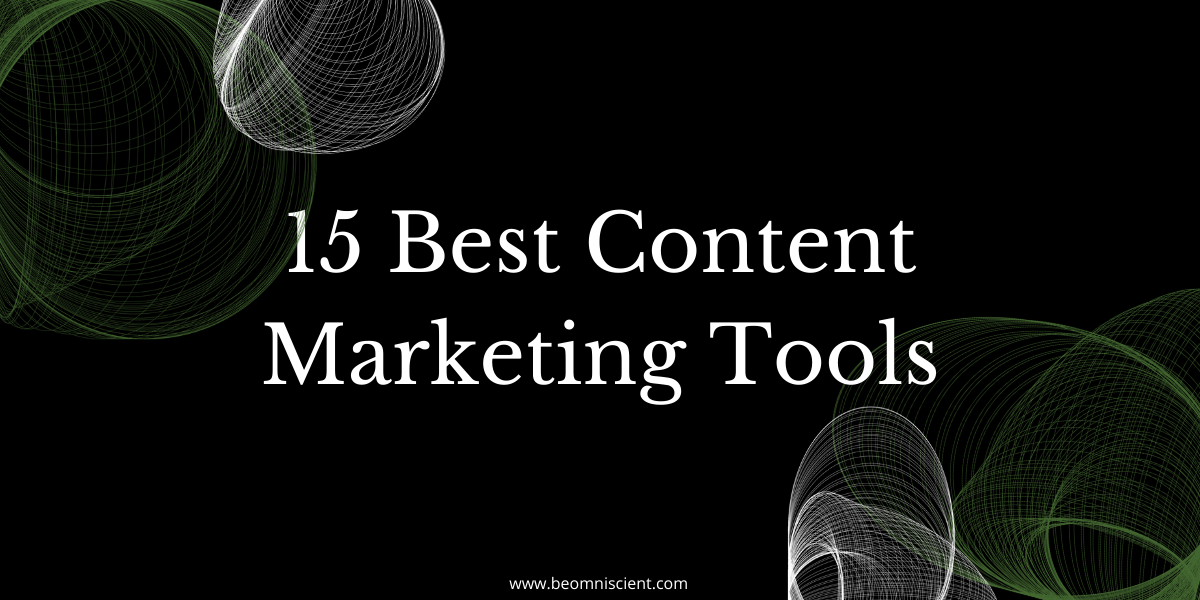 You decide you want to write a blog to showcase your writing talents to get more clients. You create interesting content to attract and convert potential customers.
However, after many blog posts and social media or email marketing blasts, not many people have visited your website.
In today's world, it's not enough to be a great writer—you should also consider the intention behind your writing, especially for content marketing.
If your goal is to rank well on Google and be discoverable by potential clients, you need to write more strategically and incorporate tools that bring more attention to your work.
There are hundreds of tools to help you succeed with content marketing. We know how overwhelming it is to figure out the best ones to use.
To help you, we selected the top 15 that can really help you boost your blog and website content.
The 15 Best Content Marketing Tools
Headline Analyzer
Grammarly
One Look Reverse Dictionary
Ahrefs
AnswerThePublic
Content King
Clearscope
INK
Sprout Social
Link Hunter
Meet Edgar
Trello
Asana
Airtable
Chisel
Content Marketing Tools for Content Creation
Price: Free
Do you find it challenging to write a flashy headline? Headline Analyzer by Coschedule is a free tool for content marketers and online writers.
It helps you see your headline's strength, then suggests improvements so you can attract more readers and subscribers to your content.
Price: Free version and paid, starting at $12 per month
It's always good to have another pair of eyes editing your work. That is precisely the idea behind Grammarly. This tool is a must-have in your content marketing toolkit.
The free option helps you with spelling, grammar, and punctuation, while the premium version scans and comments, for example, on your tone and stylistic choices. (It works in WordPress, too.)
Price: Free
We all get stuck while writing, trying to find the best way to explain or express an idea. If this happens to you, you're going to love this free tool.
One Look Reverse Dictionary is free and helps you find the word you're looking for just by typing its definition. Visually, the website is a bit outdated, but it delivers on its premise.
Content Marketing Tools for SEO
Price: Starting at $99 per month
One of our favorite SEO tools here at Omniscient Digital, Ahrefs helps you analyze your competition in real-time and discover how they approach their content marketing strategy. This knowledge can then enable you to learn from and surpass them.
Ahrefs is a user-friendly tool for keyword research and content marketing insights. At Omniscient Digital, we use it extensively to fuel both our content strategy and those of our clients'. (SEMrush is another helpful SEO analytics tool.)
Price: Two free searches per day, then $99 per month
What if you could know what kind of content people are looking for? Well, with AnswerThePublic, you can.
The tool helps you avoid that dreaded lack of ideas and provides new approaches to how your audience is using and searching for relevant long-tail keywords. Another helpful tool in this space is BuzzSumo.
We use AnswerThePublic extensively in our Content Strategy Course. Learn more about our course here.
Price: Free trial, then starts at $39 per month
Content King analyzes your blog posts, landing pages, and other website content and recommends personalized ideas to help it perform better. It also sends you alerts if any issues occur.
Whether you go with its free trial or jump right into a subscription, chances are your content marketing strategy will benefit from using this tool. Offering real-time SEO auditing and content tracking, Content King helps you efficiently prioritize your content and makes your data work for you.
Price: $170 per month
Clearscope helps you with content optimization to better understand how relevant and comprehensive your content marketing is.
But that's not it: The tool also informs you of the best keywords to include in your content and how many times you should use them to effectively and naturally attract traffic from the SERPs. It also features a Google Docs extension, so you can analyze and edit your work as you write.
While there's no free version, you can request a demo to analyze if Clearscope is the right fit for your content marketing strategy.
Price: Free and paid version
INK is a content marketing software that helps you create high-performing content and best of all, helps you keep your voice while you rise in the search ranks.
This tool scans the internet for articles with targeted phrases and helps you improve your writing. INK offers many features, including word count, grammar suggestions, and ideas to optimize your content for search engines.
Content Marketing Tools for Promotion
Price: 30-day free trial, then $99 per month
When it comes to content marketing promotion, Sprout Social is one of the best options on the market (alongside tools like Buffer and Hootsuite).
This tool lets you schedule social media posts, publish content on your social networks, and run reports to analyze your social and digital marketing performance. If you're looking to improve your marketing automation and save time in your content marketing efforts, this is the tool for you.
Price: Starts at $49 per month
Everyone knows the importance of seeking high-quality backlinks for your content, but few people have the time or know-how for it. Enter: Link Hunter.
This tool discovers potential websites to be featured, scans for SEO information, finds emails, and creates outreach spreadsheets with relevant backlinks to help you grow your rankings.
Price: 7-day free trial, then $19 per month
It's no secret: Some of your content will perform better than others, and it's not a crime to share the same content that drives the most traffic. Meet Edgar provides useful metrics for your best performing content.
This neat tool analyzes your content to see what's performed well and automatically reshares it when it's time (copying and pasting a post for your queue is a thing of the past!).
Content Marketing Tools for Project Management
Price: Free version and paid, starting at $9.99 per month
One of the most popular project management tools on the market, Trello offers everything you need—whether you're a freelancer, a small creative team working on a few projects, or a large organization balancing many workflows. For content marketing, Trello can even serve as your editorial calendar, as you can assign due dates and other critical information to each deliverable.
Moreover, the paid plan gives you the option to add automation, integrations, and get priority support.
Price: Free version and paid, starting at $11 per user per month
Asana has strong task management and collaboration features, making it an excellent tool for marketing teams. It functions similarly to Trello, with Kanban board views and moveable cards, but also offers list views (and you can choose your format for each project; you're not limited to one style format). Asana Rules allow you to automate your tasks and projects, freeing you up to find other personalized ways to make this tool work for bettering your business.
Its free version includes up to 15 collaborators and lots of helpful functionalities; for more, you'll have to upgrade.
Price: Free version and paid, starting at $10 per month
A combination of spreadsheets and databases, Airtable is an easy-to-use content curation and project management tool. This tool's outstanding feature is its various views, including list, grid, and calendar view. It also provides a few database templates to get you started.
If you're in need of larger data storage or smart collaboration features, you'll need to upgrade from the free version.
Price: Free forever version at $0 and premium version at $79 per month
Chisel's free forever version has been quite a sight for the sore eye in the product management world. Chisel offers various services for product managers such as team alignment, prioritization, roadmaps, customer surveys, feedback, and much more!
Today, Chisel is helping many product managers across various industries to ship high-quality products and provide customers with the best experience possible.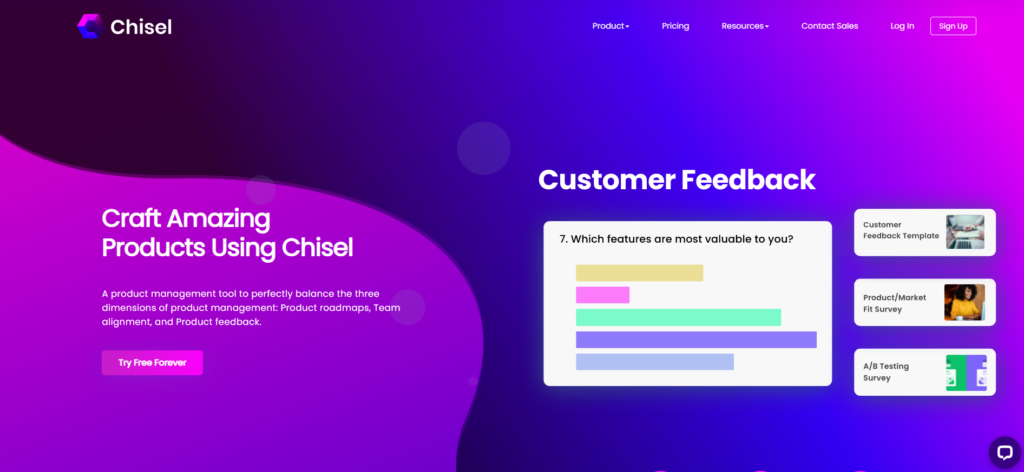 Over to You
Before blaming low rankings or bad performance on ill-written content, try some of these tools to optimize, manage, and promote your content.
Your strategy will improve, and your audience will grow.