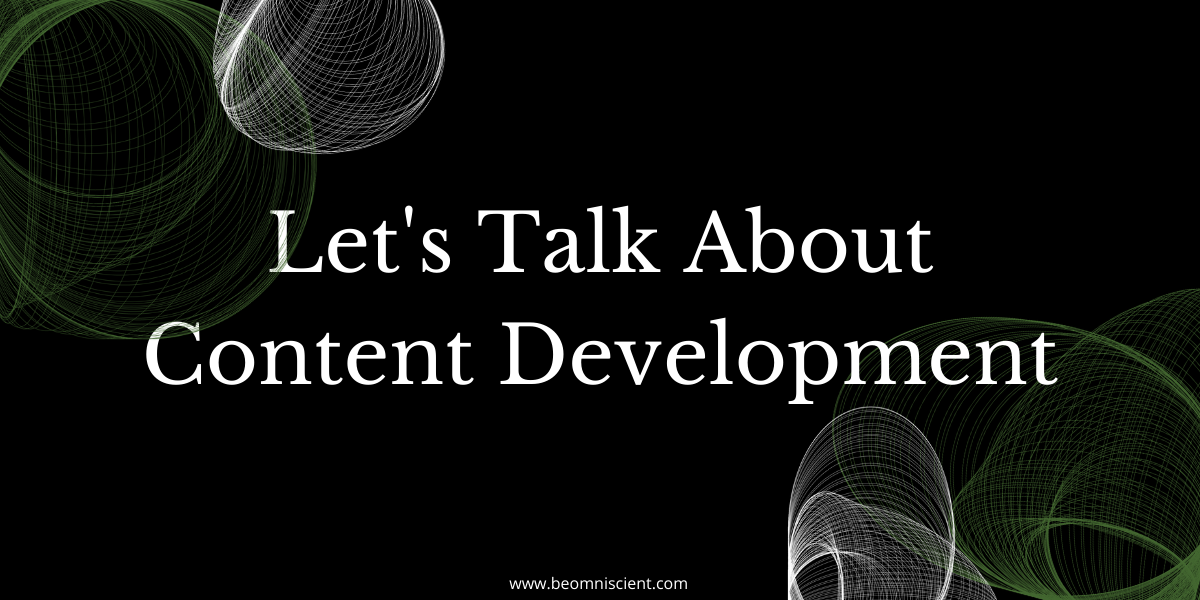 Gone are the days of cringey sales calls and persuading people to buy your stuff right now! Today, consumers are masters of their own fate and actively seek information to help them decide. 
Serving the right content at just the right time gives people the motivation they need to move through the sales cycle on their terms. 
No more pushing. Just a gentle nudge in the right direction through critical digital marketing efforts. But it's not enough to throw a few blog posts up and hope for the best (in fact, blogging is just the tip of the iceberg). 
Developing great content that educates, informs, entertains, and showcases your expertise is crucial, especially when there's so much competition online. 
Content development (like content strategy) gives you control of the sales conversation through planning, creating, and promoting content at integral customer touchpoints. 
What is content development?
Content development encompasses four key stages:
Planning content
Writing content
Publishing content 
Promoting content 
It involves everything from researching what content your audience would love to read and bringing it to life to then, afterward, making sure the right people see it at the right time. 
Marketers often get caught up in content production without first laying the foundations. This process won't give your content the traction it deserves and will result in it falling flat with your audience. 
Content development eliminates this risk with a two-pronged approach featuring both strategy and creation. Without the strategy, content creation can be empty and hollow, and you'll quickly get frustrated with your lack of results. (But without creation, a strategy is just a fancy plan.)
A full-stack content development approach (like the one we deliver for clients here at Omniscient Digital) can help you:
Reach a wider audience through organic means
Tailor your content to different types of consumers at various stages of the sales funnel
Create exciting and engaging content that stands up against your competitors
Convert more visitors into paying customers
Establish trust around your brand and build up your industry expertise 
Are you sold on content development? Let's walk through the process.
The Content Development Process 
1. Planning Content 
Planning your content is the first and most important step in the content development process. Skip this, and you'll struggle to create content that resonates with your readers and customers.
The content planning process will help you better understand who your audience is and what they might need or want from you at any given time. 
Define Your Content Goals 
Consider what you want your content to achieve. 
What value will it add to your brand? For example, will it educate readers on your product or help them solve a problem? 
You should have two goals in mind when creating a piece of content: 
Your overall content goal

What is the ultimate aim of your content strategy as a whole? To boost brand awareness? Drive more signups? Become a household industry name?

Your unique content goal

What is the goal of this specific piece of content? Is it to get people to join your email list? Is it to get them to click through to learn more about your latest product?
Understanding what you want to achieve with each piece of content and your overall strategy will help you stay on track when you zoom out and address your entire content strategy.
Identify your overall content goal first, as this may inform the smaller, bite-sized goals you establish for each blog post (or other pieces of content).
Map Out Your Sales Funnel
The sales funnel will vary for every brand, but at the minimum, you should know the route customers take before they buy from you.
Dig into your data to track a typical buyer journey, identifying important touchpoints and pivotal decision-making moments. 
For example, your sales funnel might look something like this: 
Awareness: Your customer arrives on your website from a search engine.
Consideration: They read two educational blog posts and a comparison post about your biggest competitor.
Decision: They download a case study and join your email list where they then make a purchase after one week.
The key is to figure out what your customers need at each stage of the sales cycle. Start addressing these needs by developing content for every step of the content marketing funnel.
Conduct Audience Research
Your familiarity with your audience can mean the difference between creating content that misses the mark and creating content that readers can't get enough of.
In addition to digging into customer data, learn more about your buyers through:
Surveys: Ask existing customers the content they want to see and encourage them to share their most significant challenges and fears.
Forums: Look up common questions that people have around your product or a broader industry topic.
Real-life questions on Quora about email marketing
Interviews: Speak to existing customers to learn more about why they decided to choose your product
Social media: Check out what your audience is talking about on social media and note down any questions that regularly pop up.
Customer support: Lean on your support team to provide the queries and questions they get the most.
Keyword research: Determine high-search volume phrases your customers use to search for products like yours with tools like Ahrefs and Semrush.
Run Competitor Research
Planning your content also involves finding space for your voice amongst your competitors. This involves digging into what content is already being published, determining the common themes, and identifying any gaps that you can swoop in and fill (or ways in which you can beat your competitors). 
Create a Content Calendar 
The research you've conducted thus far will determine how you populate your content calendar. For example, the questions you see on forums can form a series of blog posts, while a gated ebook might tackle a big challenge that came up in your survey.
Start plotting each piece of content on an editorial calendar — but don't go all out. It's best to plan per quarter rather than over a full year since industries can change quickly and new trends emerge all the time.
When creating your content calendar, consider:
The different types of content you want to create
How often you want to publish each type of content
The schedule you want to (and can) stick to; it's better to underpromise and overdeliver
Key dates throughout the year, like industry events and holidays as well as essential launch dates across the company
When you're going to write the content and then publish it
2. Writing Content 
Once you've mapped out your sales funnel and learned more about your audience, it's time to start writing. Use your content calendar to guide your content writing efforts and plan your resources. 
Create Content Briefs
Each piece of content will need a brief to ensure the result is exactly as you envisioned. 
A brief will also help anyone involved in the writing process—be it your internal marketing team or a freelancer—understand what you want from the piece. 
Include information like:
Proposed titles and headers
The target audience for the piece
The format of the piece
The target word count
Any target keywords
Similar content that's ranking on Google 
Key information about your product or brand
Hire High-Quality Writers
You might find your internal team isn't big enough to deliver all your content needs, or perhaps you don't have a team at all. (That's where an online marketing agency like Omniscient Digital can come in handy!) 
In any case, you'll need to outsource your content creation to high-quality writers. These folks should be experts on your subject matter or at least people who you've seen write well on similar topics. 
Finding, vetting, and hiring the right freelancers can be challenging—we know. (We wrote a blog post about our experiences and best recommendations to secure great writers.) Here are a few tips:
Ask for recommendations from people you trust.
Check out the bylines on pieces you've enjoyed reading.
Google "[your industry] freelance writer." 
Once you've identified potential writers, review their portfolios and websites to see if they'd be a good fit, and then schedule a call to check their availability. 
Make Your Content the Best it Can Be 
Your content should be the best of the best if you want it to stand out and meet the goals you established in part one. Google any topic, and you'll find thousands of pieces of content, all of which vary dramatically in quality.
So how do you make sure yours is one of the best? 
Optimize your content: Optimization means injecting relevant keywords into your content to boost search engine optimization (SEO) rankings as well as using proper formatting and linking to high-quality sites.
Back up your ideas: Include data, metrics, and statistics, get quotes from subject matter experts (SMEs), and share customer stories and case studies.
Incorporate visuals: Create visuals, include graphs, charts, and screenshots, and add visual references to complex ideas.
Write as you speak: Make your content easy and engaging to read with short paragraphs and jargon-less wording.
Include a call-to-action: Ensure your content does what it's supposed to by including powerful CTAs to guide your readers through your funnel.
3. Publishing Content 
Publishing content is the next logical step after writing it. Look at your content calendar for the dates you plan to publish and decide who will upload the piece into your content management system.
Alternatively, if you're creating a piece of content that isn't a blog post, think about whether you want to get it professionally designed and where you want to publish it. For example, if it's a downloadable ebook, white paper, or template, consider turning it into a PDF and attaching them to your welcome email sequence. 
There's no one-size-fits-all approach to the publishing part of content development. The one thing we can tell you? Go where your audience is.
4. Promoting Content 
The final part of the content development puzzle is creating a promotional plan. While your content calendar will tell you what content needs to be created by when, you should also carve out time to promote your content after it's live.
The methods you choose will depend on where your audience hangs out, the type of content you're creating, and what its ultimate goal is. 
Here are some promotional activities you can add to your list:  
Share the content across your social media channels.
Repurpose the content into different formats (like video, a Twitter thread, infographics, or a presentation).
Send it to your email list.
Pay to promote it via social media ads.
Reach out to industry influencers you've included in the piece and encourage them to share it.
Share it in relevant forums like Reddit or Quora.
Link to it from your most popular posts.
Content Development Tools 
Of course, we could all do with a helping hand sometimes. These useful content development tools make at least one part of the process much easier than doing it all by yourself: 
Get Started With Content Development
Content development is the key to a successful content marketing strategy. Start by learning about your audience and competitors, digging into topic ideas that will resonate, and exploring what you want to achieve with your content. 
Doing this will help you create high-quality content that hits the spot every single time. Want to dig deeper into content strategy? Take our content strategy course!