Artificial intelligence (AI) has come a long way the past few years.
From virtual assistants to driverless cars, AI has been making waves in the tech world for quite some time.
But what about content creation? Could AI be the answer to our content woes? Help us remove writer's block from our vocabulary?
Personally, I've experimented with and used several AI content generators and I love 'em. They help me start outlining a long form blog post, fill in the basic details, and save a ton of time. I also use them to help me repurpose our podcast episodes to social media content.
While they don't do EVERYTHING for me (nor would I want them too), they've been an incredible content assistant for me this year.
What are the best AI content generators available today and what will they look like in 2023? Let's find out.
The State of AI Content Generators Today
Today, there are many different types of AI content generators on the market.
One of the most popular types is natural language processing (NLP), which is used to generate text from data sources. These programs can analyze large datasets and then generate new text based on patterns found within them.
Another type of content generator is more focused on visuals, such as image recognition software that can recognize objects or faces in images.
Finally, there are also conversational agents, which use machine learning algorithms to generate conversations with users.
Depending on your use case and budget, there's likely an option for you and your business. Let's look at a few of my favorite AI content tools.
The 11 Best AI Content Generators in 2023
Jasper
Copy AI
GrowthBar
Frase
Hypotenuse AI
ChatGPT
WordAI
Wordtune
Quillbot
Writer
Writesonic
1. Jasper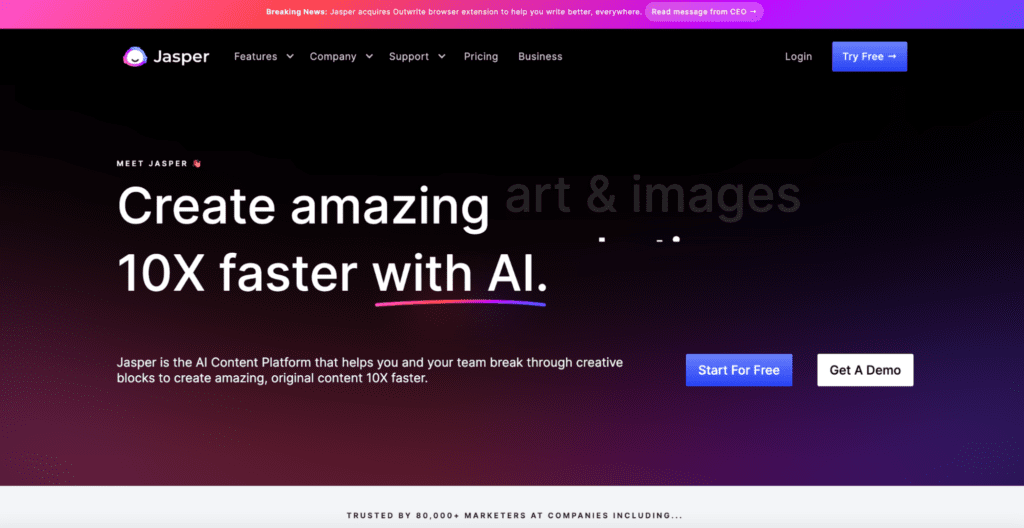 It should be no surprise that my favorite AI content generator is Jasper.
They're a great client at our agency (see case study here), and they're an incredible company.
I started playing around with their AI text generator last year, and though I didn't "get it" right away, eventually it became an integral part of my content creation process.
They have such power and flexibility while also giving you a ton of easy-to-use templates for specific copywriting purposes. For example, you can use the PAS framework or AIDA framework tool to write effective sales copy.
Or you can use the "One Shot Blog Post" tool, which just requires a title, audience, and tone to generate a full blog post in a few seconds.
I, personally, like to use the free form editor included with their Boss Mode plan to use custom commands. This lets Jasper write alongside me, effectively busting through writer's block and often phrasing things better than I could have myself.
They also launched a Chrome extension and have an AI art generator as well. The team continues to innovate, which is why they're the biggest name in the space.
They've got solid integrations with Grammarly and Surfer SEO as well.
Price: $24/month for the starter plan, but you really want to opt for the Boss Mode plan, which gives you 50k words and access the the Google Docs style editor for $49/mo
G2 Score: 4.8/5
2. Copy AI
Copy AI is a strong Jasper competitor and has its own strengths, namely the abundance of ready-made templates that make AI copywriting easy even for beginners.
They have templates for full blog posts (their blog post workflow is actually incredible, starting at the title and idea, working through an outline and brief, and then generating the complete long-form post).
They also have a ton of templates for email marketing and sales copywriting, especially effective for Facebook Ad, Google Ad, and Instagram caption testing.
Great company, effective product, and affordable plans.
Price: they have a free plan (no credit card required) for up 2000 words and then paid plans start at $49/mo for unlimited words
G2 Score: 4.8/5
3. GrowthBar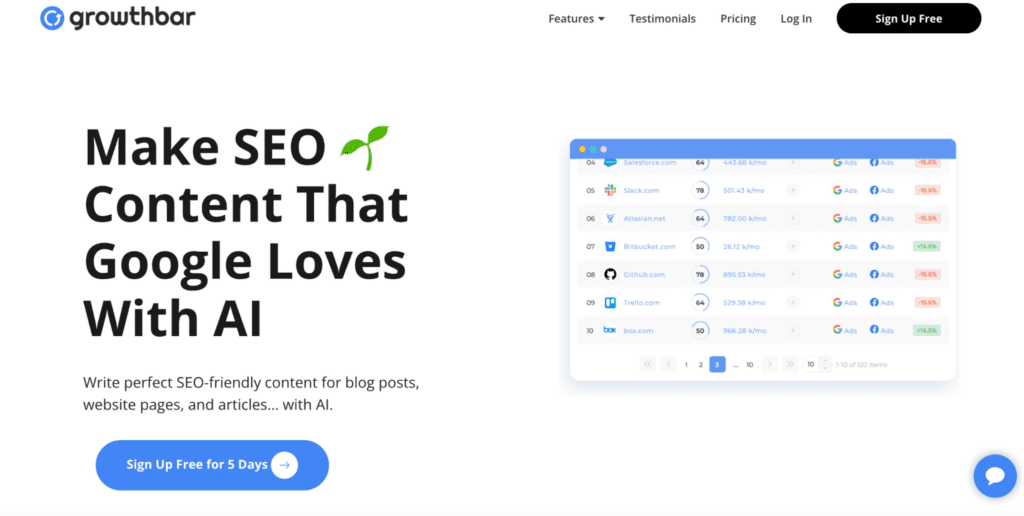 GrowthBar is a newer tool on the market but it's quickly picking up steam.
In addition to their AI writing functionality (which is built on OpenAI), they're really a fully featured SEO tool. Their feature set includes keyword research, backlink analysis, competitor analysis and an on-page SEO analysis feature.
They've got a great Chrome extension you can use to generate content wherever you are, including social media (Twitter, LinkedIn, Facebook) or on your Google Doc or WordPress interface.
Price: $48 /Month and this gets you:
25 AI Content Outlines
Unlimited AI Blog Ideas
Unlimited AI Meta Descriptions
200 AI Paragraph Generations
Unlimited Keyword Research
Track 25 Keywords Across 1 Site
300 Competitor Keywords Per Query
300 Competitor Backlinks Per Query
300 Competitor Google Ads Per Query
G2 Score: 4.9/5
4. Frase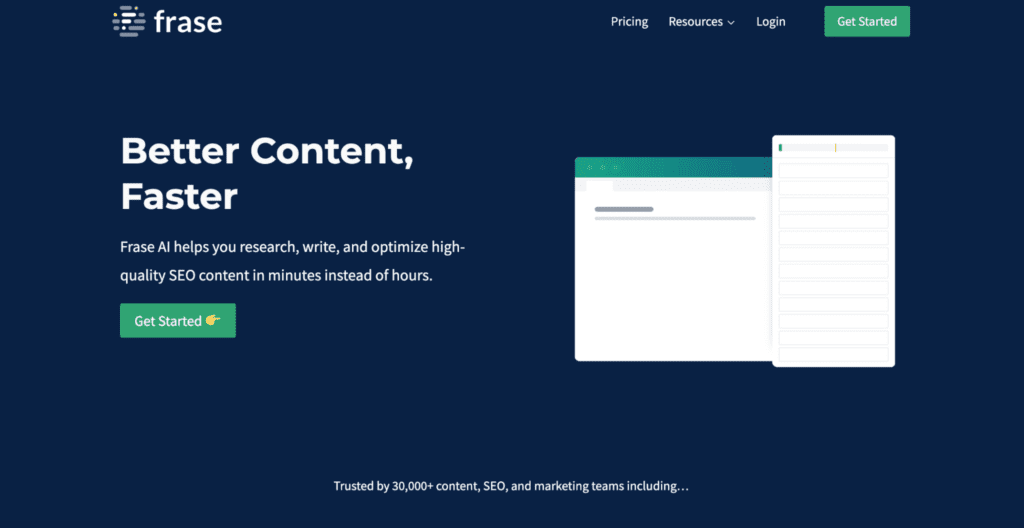 Frase is primarily known as a content optimization tool, but it's so much more powerful than a simple MarketMuse alternative.
They help you speed up the entire content creation process, from research and outlining to creating content briefs all the way up to writing the actual content.
In fact, because of this context surrounding the entire blog post, I've found their AI content generator to be one of the best in the space.
I particularly like the outlining and content brief features, as you can quickly audit the competitive SERP landscape and see which H2s, H3s, and talking points you should cover in the article.
Price: $14.99/mo for the solo plan
G2 Score: 4.8/5
5. Hypotenuse AI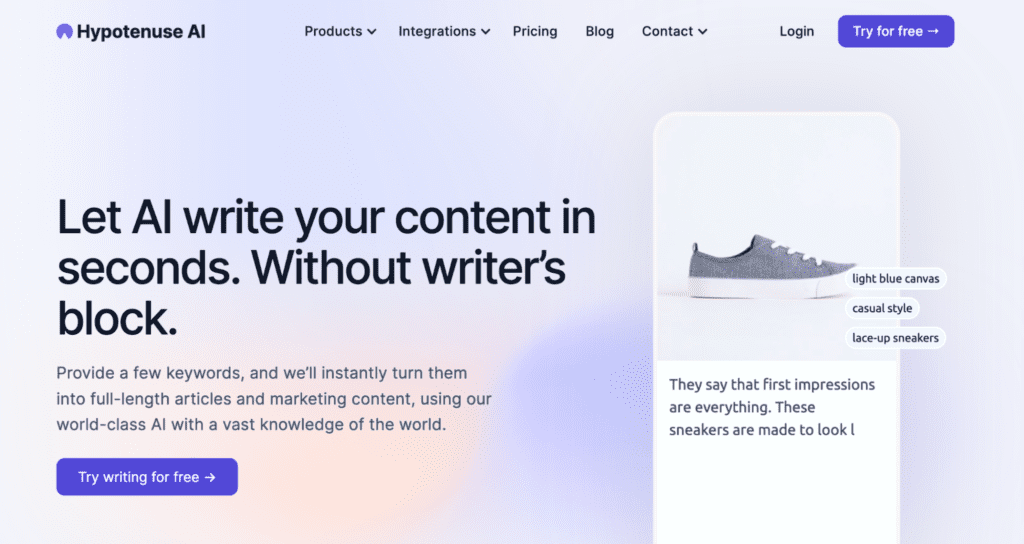 Hypotenuse AI (love the name) is another rapid riser in the artificial intelligence content space.
They started out focusing on ecommerce (mass scale product descriptions, etc.), but now offer a broad array of AI tools, including an image generator.
One of my favorite features is their content detective feature, which uses AI to help you research and generate factual data in your content (something lacking in many of the AI content tools).
Price: Basically the same pricing tiers as Jasper, although the product features and usage limits differ. Starts at $24/mo
G2 Score: 4.2/5
6. ChatGPT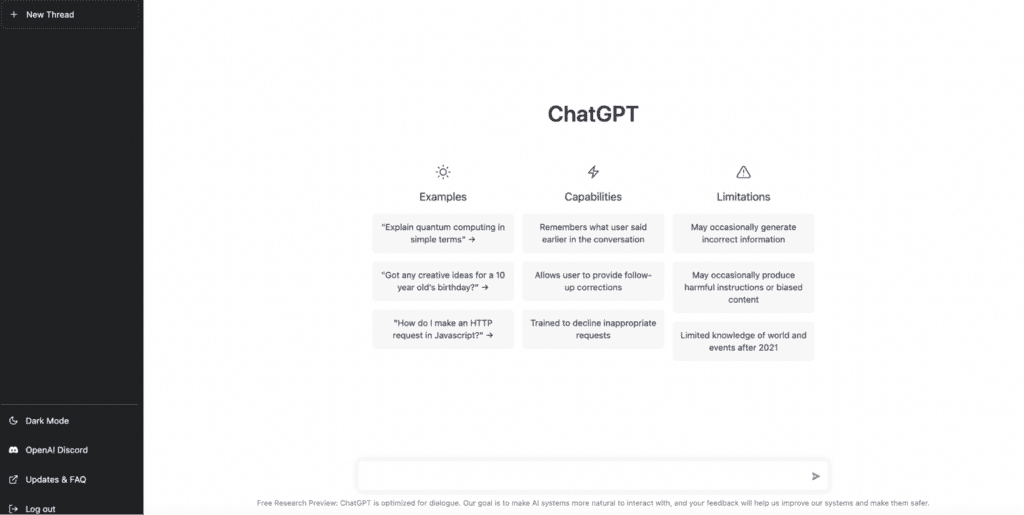 OpenAI lies at the core of all the new AI content tools. Most of them are built directly on top of GPT-3, the latest NLP model they've launched.
Newer yet is ChatGPT, which is a conversational interface that can generate answers to questions as well as net new content.
This tool is incredible and has really launched AI content tools into the mainstream zeitgeist.
While it still suffers sometimes from a lack of fact checking, it does seem to answer technical queries better than Google (for example, asking it how to set up cross-domain tracking in Google Tag Manager, it actually gives great step-by-step instructions).
This is currently free to use.
Price: Free
G2 Score: N/A
7. WordAI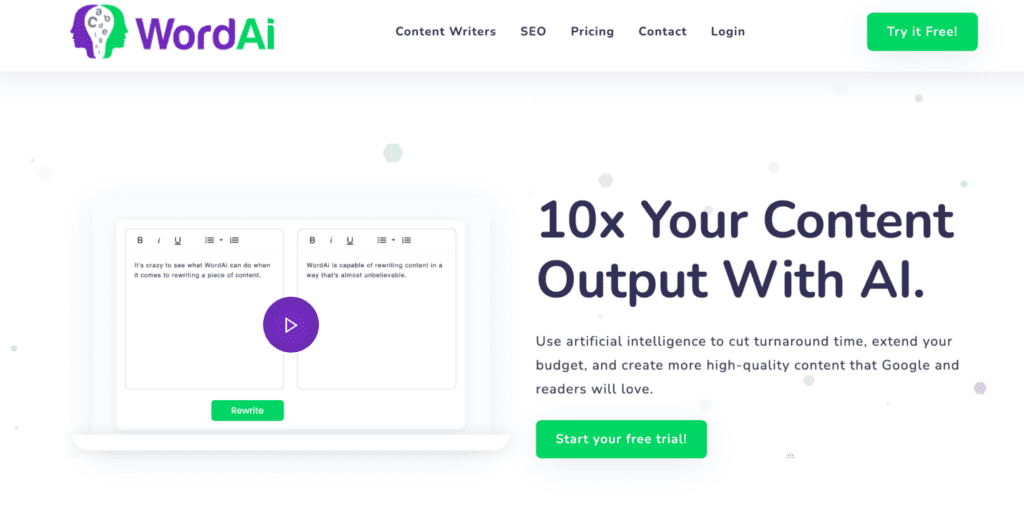 WordAI is an AI content generator built for scale and specifically for SEO marketers.
It offers AI-generated content for both web pages and blog posts, with a simple AI-driven content editor to help you curate and publish AI generated content.
They focus heavily on rewriting content, which is wonderful for improving the clarity and persuasiveness of your copy, or for repurposing the same idea into different formats.
They also have a bulk article spinner, which allows you to create up to 1000 new version of the same piece of content.
Link builders – use this wisely. Just because you can spam 1000 websites for crappy guest posts, doesn't mean you should.
Price: $57/month
G2 Score: 3.9/5
8. Wordtune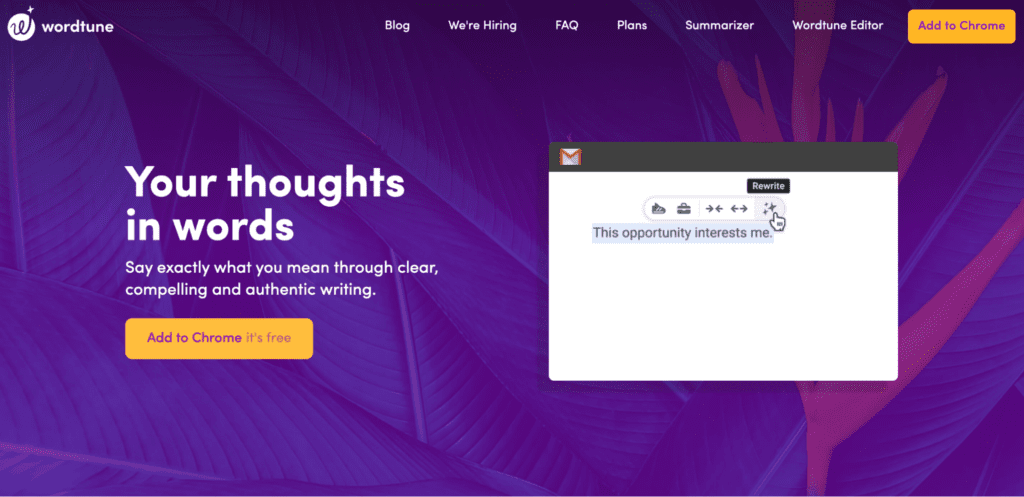 Wordtune is an AI content tool that is fully focused on rewriting content.
It's genuinely impressive. You can use it directly on their site for free without creating an account.
I use the Chrome extension, so I can just highlight text on a Google Doc or Twitter and it gives me suggestions as to how I can improve the copy.
They also have a product interface where you can chop up and improve longer drafts.
Great tool, highly affordable, and solves a different problem than some of the general purpose AI writers like Jasper.
Price: free to start using
G2 Score: 4.3/5
9. Quillbot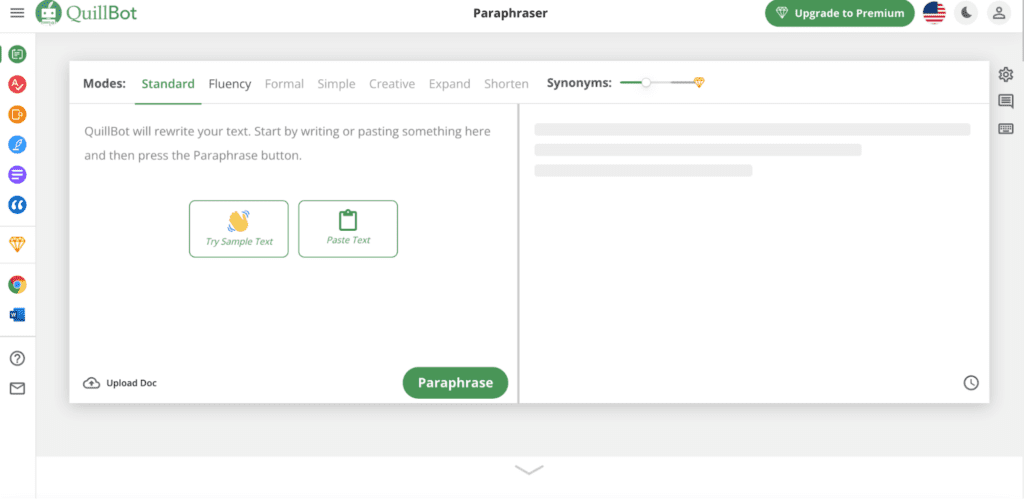 Quillbot is similar to Wordtune in that it focuses fully on rewriting text that you've already written.
They, however, don't have a Chrome extension but seem to be more effective for longer paragraphs and chunks of copy.
Like Wordtune, you can use the tool for free directly on their website without creating an account.
You can spin the content to be shorter, longer, clearer, more persuasive, or have a different style and tone.
This is a great tool for marketers who are looking to spice up their voice and create more resonant content.
Price: Free to use with limitations, and then premium plan is just $8.33/mo
G2 Score: 4.5/5
10. Writer
Writer is a complete platform for content and UX teams that helps you homogenize your brand voice and create guardrails for the content you create.
This is super useful for larger teams who are writing across their product, website, marketing channels, and more.
They also have a dedicated AI content generation tool that uses these brand guardrails and persona data to craft net new copy.
Price: $18 per user/month
G2 Score: 4.6/5
11. Writesonic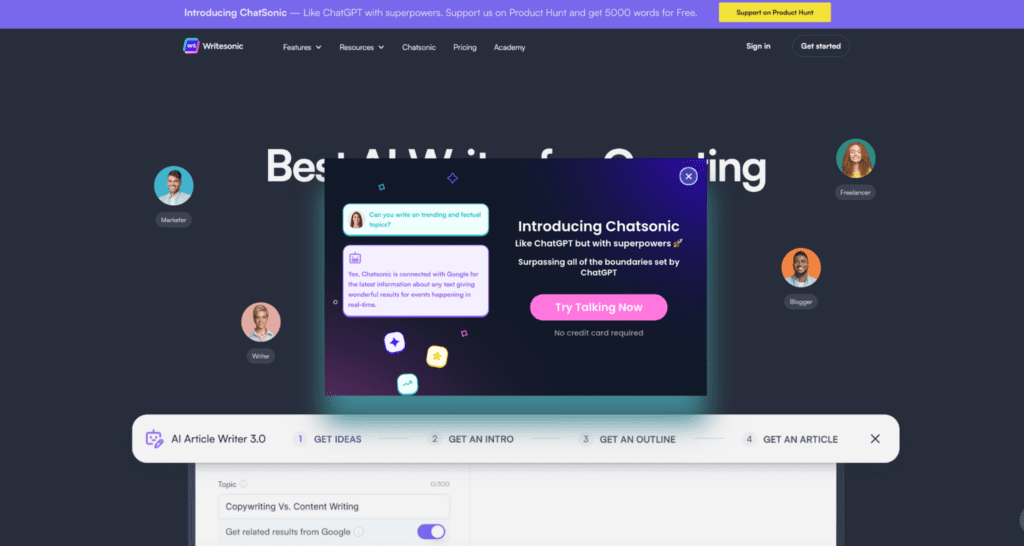 Finally, we have Writesonic. This is another team that went through Y Combinator and built an incredible all-purpose AI content writing tool based on OpenAI's GPT-3 technology.
Like Jasper, they have tons of templates as well as a way to write free form copy.
I like this tool because of its inclusive pricing (you can choose not only word count and functionality, but you can pay based on the quality of the output – although I'm not sure why you would choose to generate "economy" copy…)
They also have an AI image generation tool called Photosonic and just launched a similar tool to ChatGPT called Chatsonic (solid branding).
Price: starts free for up to 6,250 words and then plans begin at $12.67/month for "good" content output. You have to pay extra for Photosonic and Chatsonic
G2 Score: 4.8/5
2023 Predictions for AI Content Generation
Fast-forward to 2023 and we'll likely see even more powerful AI content generators than those available today.
It is expected that these tools will be able to create entire pieces of content from scratch without any input from humans, making them perfect for copywriters, SEOs, and marketers who need high-quality content quickly.
Additionally, it's likely that these programs will be able to better understand context and provide more relevant results than ever before.
We may even see personalized results tailored specifically for each user based on their behavior and interests.
Overall, we'll see AI touch digital marketing from several angles – from speeding up listicles, suggesting marketing campaigns, coming up with content ideas, creating short-form marketing copy, and building out long-form content and SEO content from scratch.
Automating the basic stuff (writing a blog intro for example) will save a lot of time for the creative stuff.
However – I don't think these will replace human writers like some people do. Content marketing still requires a ton of ingenuity, strategy, and direction.
What's scarce is valuable, and if AI writing assistant and marketing tools level the playing field for the average content creator, then what stands out will be your unique voice, angle, and take.
Conclusion
As you can see, artificial intelligence has come a long way since its inception and it looks like it's only going to get better over time.
AI writing tools are awesome now and they'll only get more awesome.
With advancing technology comes new opportunities for businesses to leverage this powerful tool to create amazing pieces of content quickly and effectively.
While no one knows exactly what 2023 holds for us when it comes to AI content generators, one thing is certain—it's going to be an exciting year.
With the right tools at your disposal, you could find yourself creating high quality content faster than ever before.