Jasper Grows Blog Organic Sessions 810% and Blog-Attributed User Signups 400X
"We get reports every other week on how the blog is doing and the results have been incredible. We've published over 100 articles which has also directly led to new business. We've created over $4M in annual recurring revenue through our blog."

Austin Distel

Senior Director of Marketing
growth in organic blog sessions
blog-attributed product signups
blog-attributed ARR (yes, million)
Jasper is an artificial intelligence writing tool that helps you write content faster. Their community of users are fanatics about the product (they've even gotten the logo tattooed) and includes people from companies like Google, Airbnb, IBM, and more.
The Challenge: Build and scale a content program with few resources.
The Jasper team in July 2021 was 14 people strong, and Austin was a marketing team of one. Despite that, he was determined to build and scale a content program to drive organic traffic and user growth.
He knew the personas and use cases deeply, but he needed support turning that knowledge into content. Most importantly, he needed content that would bring in traffic that turned into users.
Jasper was also migrating their website domain from jarvis.ai to jasper.ai in January 2022, which meant organic traffic was at risk. The team wanted to maintain and grow their organic traffic through this migration.
The Goal: Grow product signups with content.
In 2021, Austin and the Jasper team wanted to generate product signups, trials, and customers through content. They wanted to reduce their reliance on a sales team by turning content into a growth channel.
To grow organic traffic, they'd need to produce product-led content based on their key personas. They would also need to target topics and keywords focused on product use cases.
The Jasper team had already produced some content focused on these use cases but wanted to amp it up and build a content machine. This new content would support user acquisition when they launched their free product.
Hear from both Austin who initially brought Omniscient Digital on and from Krista who joined the Jasper team to lead SEO during the engagement.
Austin and the Jasper team knew they had to find a partner to help the team hit the ground running on content.
They chose Omniscient Digital as their content and SEO partner based on our expertise in B2B software.
Omniscient Digital worked with Jasper in four strategic phases to align the content program with overall business goals.
Phase 1: Drive relevant, top-of-funnel traffic.
Phase 2: Produce content that captures visitors further along in their buying journey using product-led content.
Phase 3: Capture searchers looking for specific AI tools and use cases that Jasper solves for.
Phase 4: Insert Jasper into the product evaluation process by capturing keywords related to competitors.
Each phase moved the focus closer and closer to the product. Ultimately, the goal was to get more people to use the product, start free trials, and ultimately become paying customers.
Developing this full-funnel content strategy included competitive analysis, content gap analysis, an audit of existing content for update opportunities, and keyword discovery—all to uncover new, relevant ranking opportunities.
After developing the strategy, Omniscient Digital implemented a full-service content production process. This included publishing new content, building valuable links (with a minimum domain rating of 50), and improving Jasper's domain authority post migration.
The content strategy (and execution) proved successful. Jasper significantly grew organic blog sessions and turned content into a growth channel for user acquisition and revenue.
In that time—despite a website domain migration in January 2022—organic blog sessions grew 810%.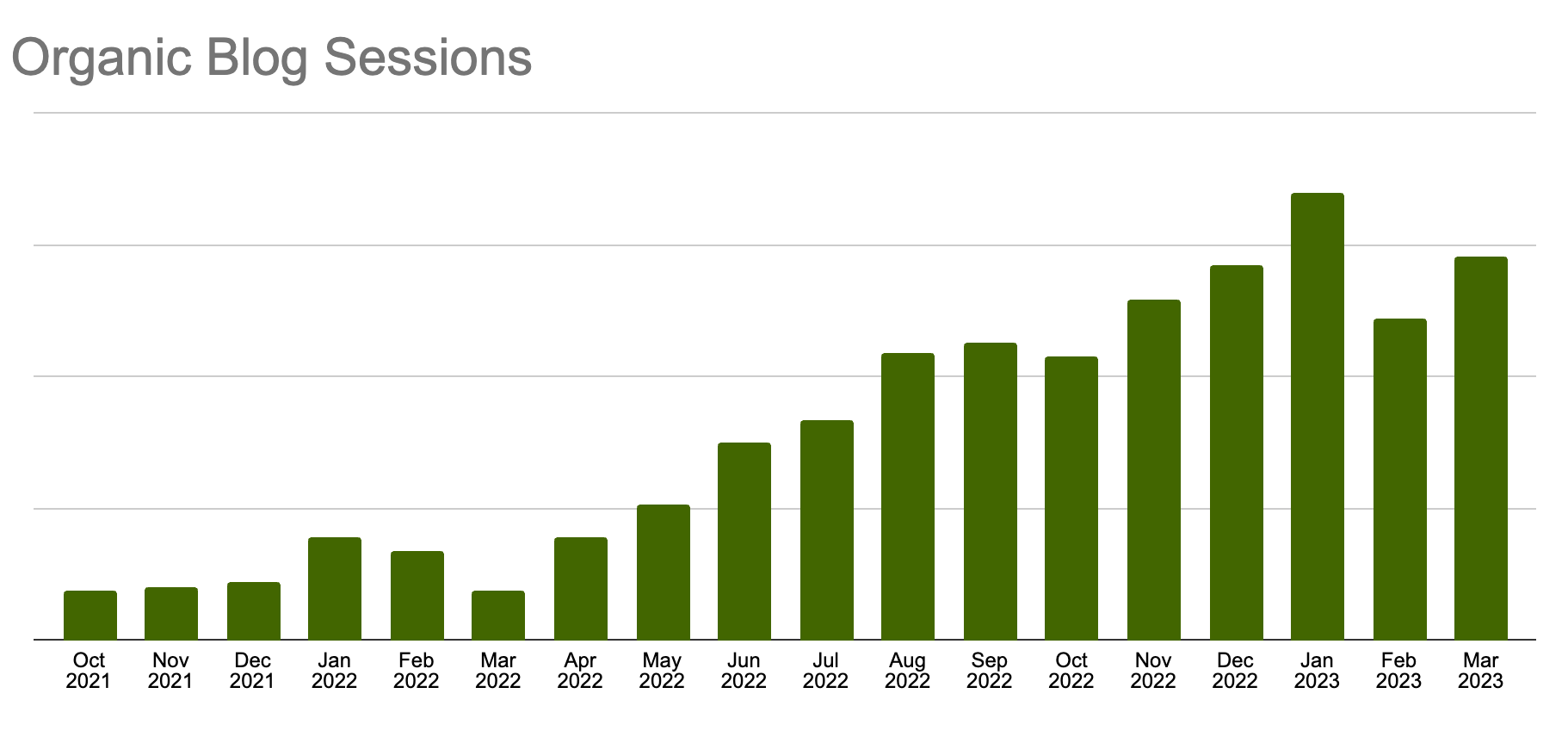 Going beyond traffic, product signups directly attributed to the blog grew 400X.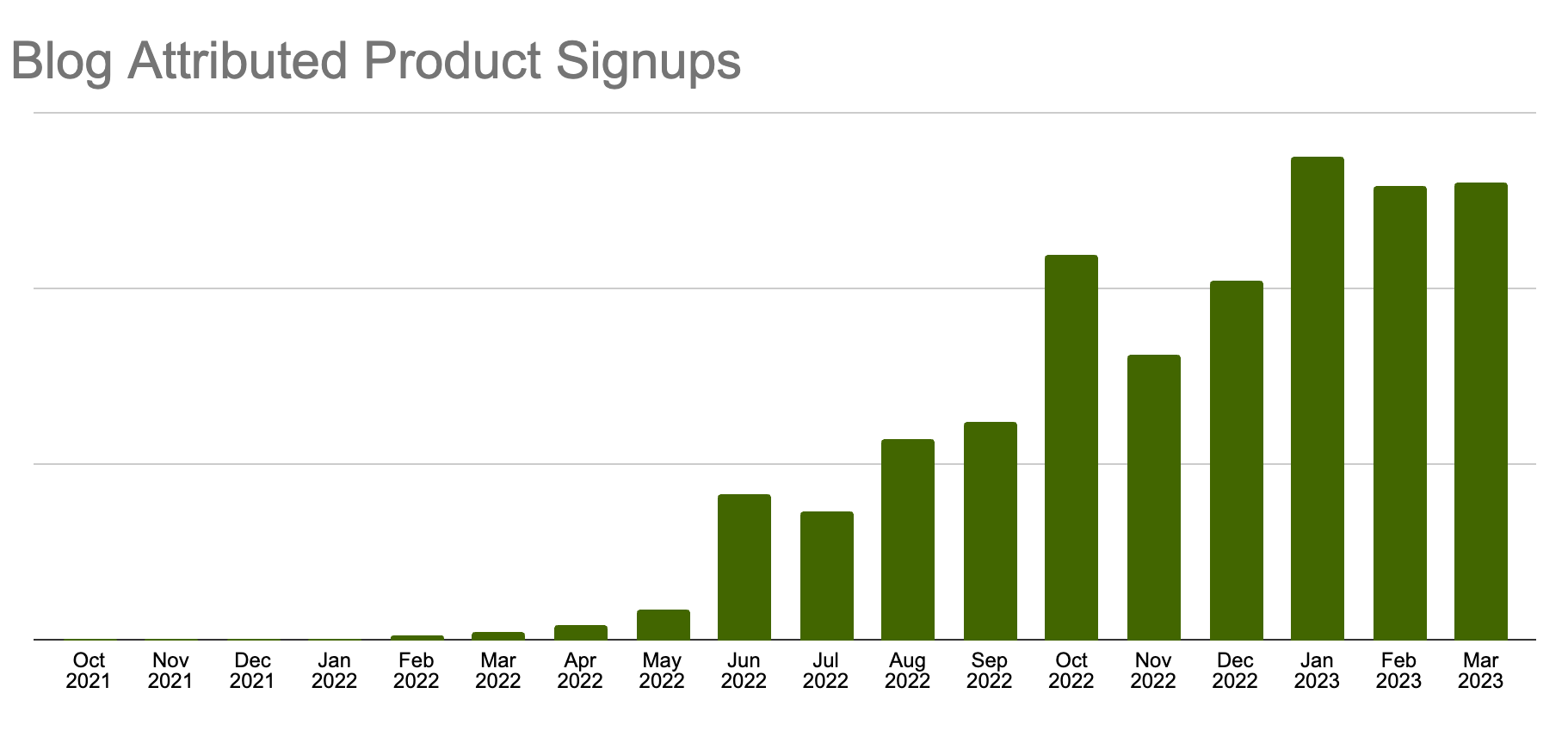 The Jasper team had a 1 day conversion window to attribute registrations to the blog.
The median time it took for users to sign up after reading the blog was 1 minute and 53 seconds.
This demonstrated that the content strategy meant to convert users had succeeded.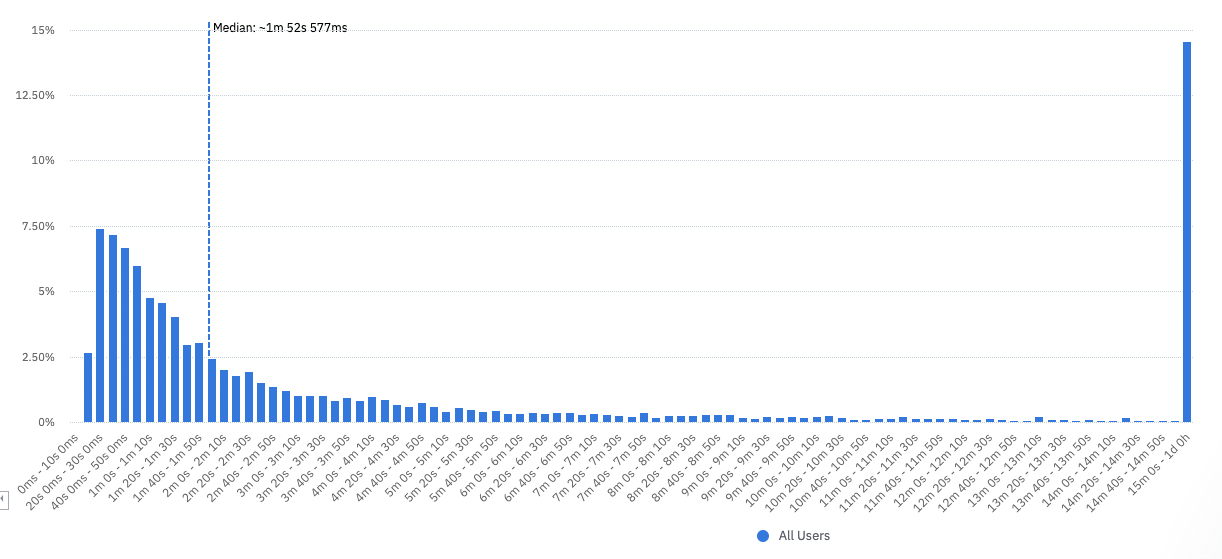 Furthermore, the conversion rate from visiting the blog to signing up for the product aligned with the content strategy.
As we shifted our focus to bottom-of-funnel content, the blog-to-registration conversion rate increased from about 1% to as high as 8%.
Typically when you increase traffic, the conversion rate decreases because not all the traffic is high quality. In this case, we see that the traffic had high conversion intent.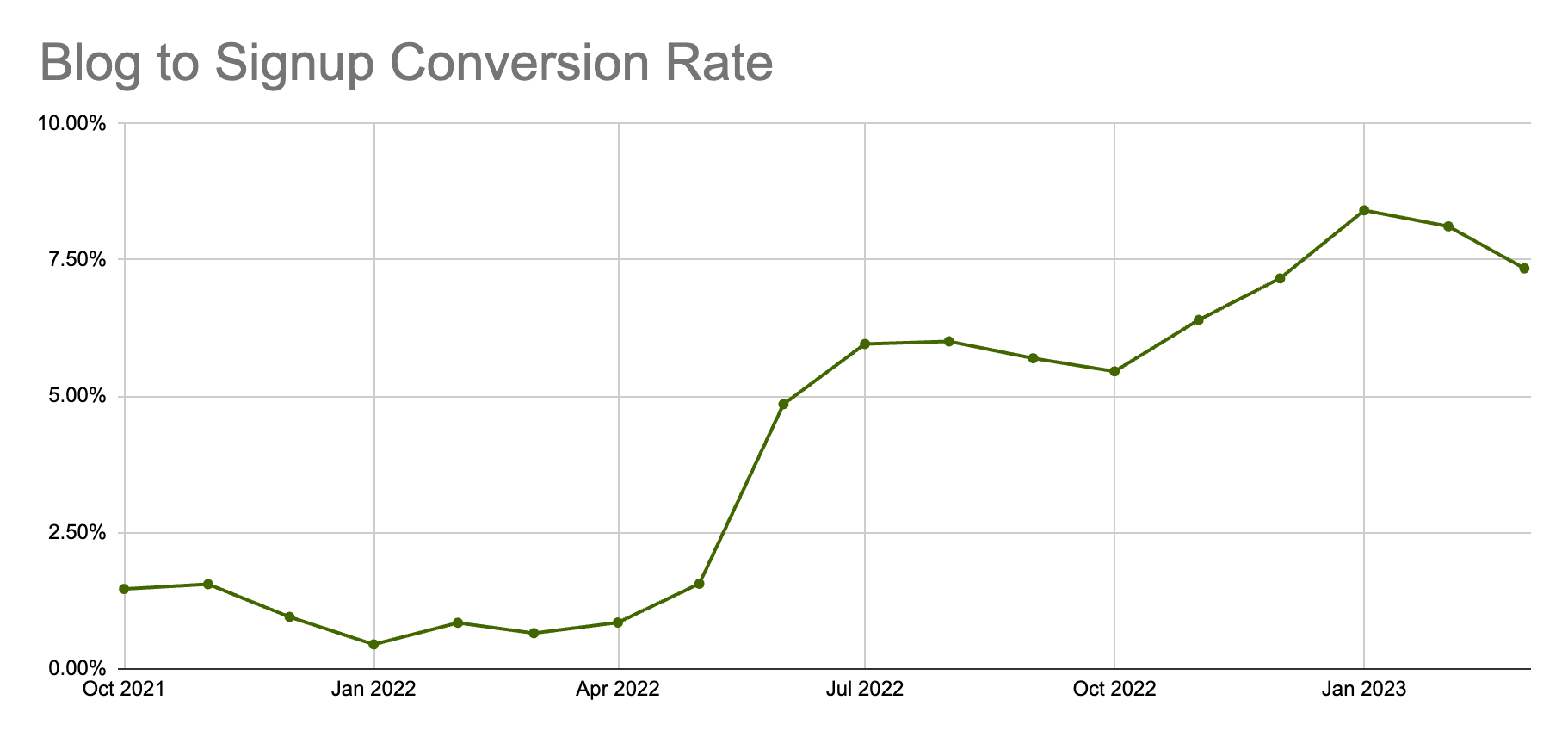 What does this mean for revenue?
It doesn't matter if the blog drives user signups if those users don't use the product or become paying customers.
Our reporting shows that signups that were attributed to the blog turned into paying customers.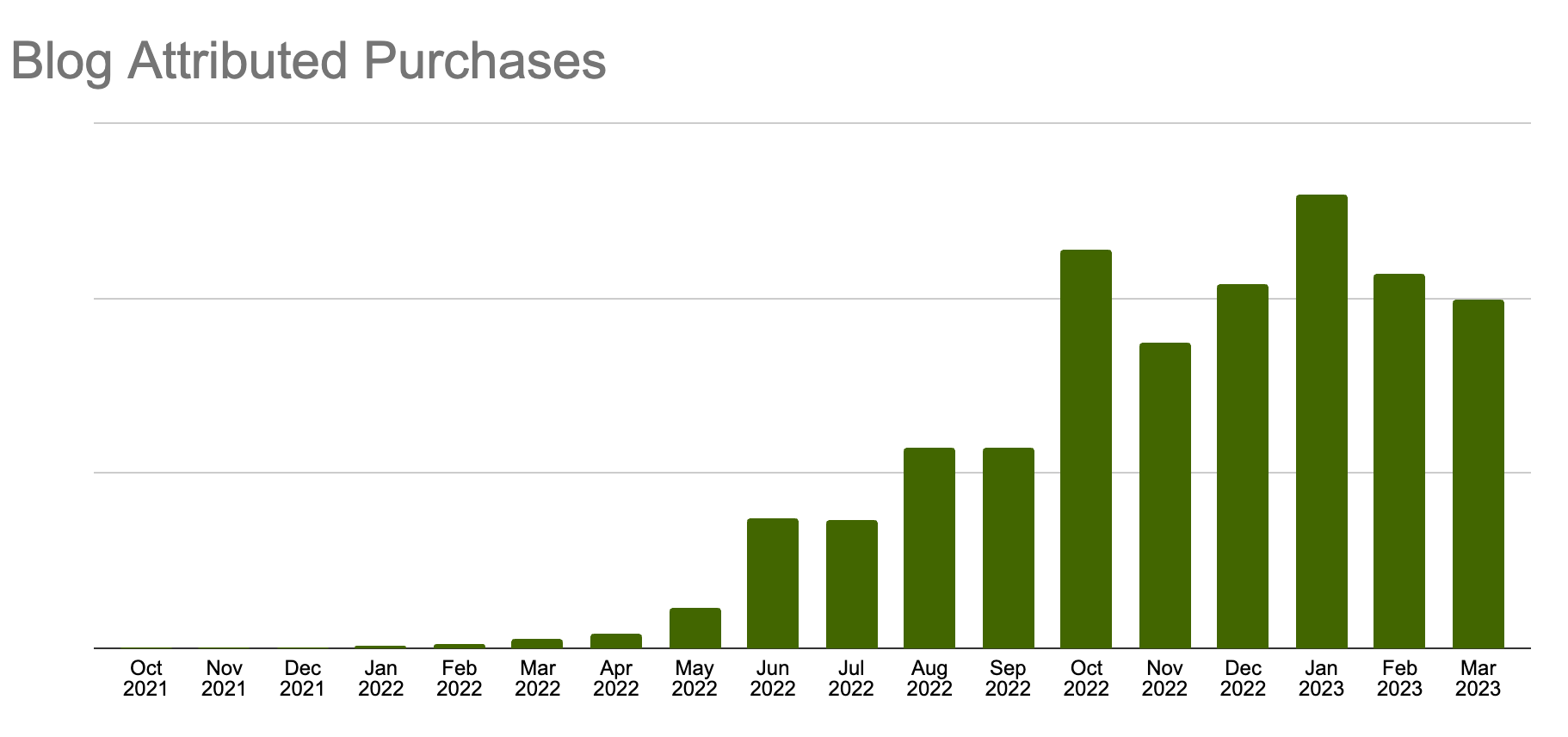 Those blog-attributed users upgraded to a paid account at the end of the 5-day trial, resulting in new monthly recurring revenue that continues to compound each month.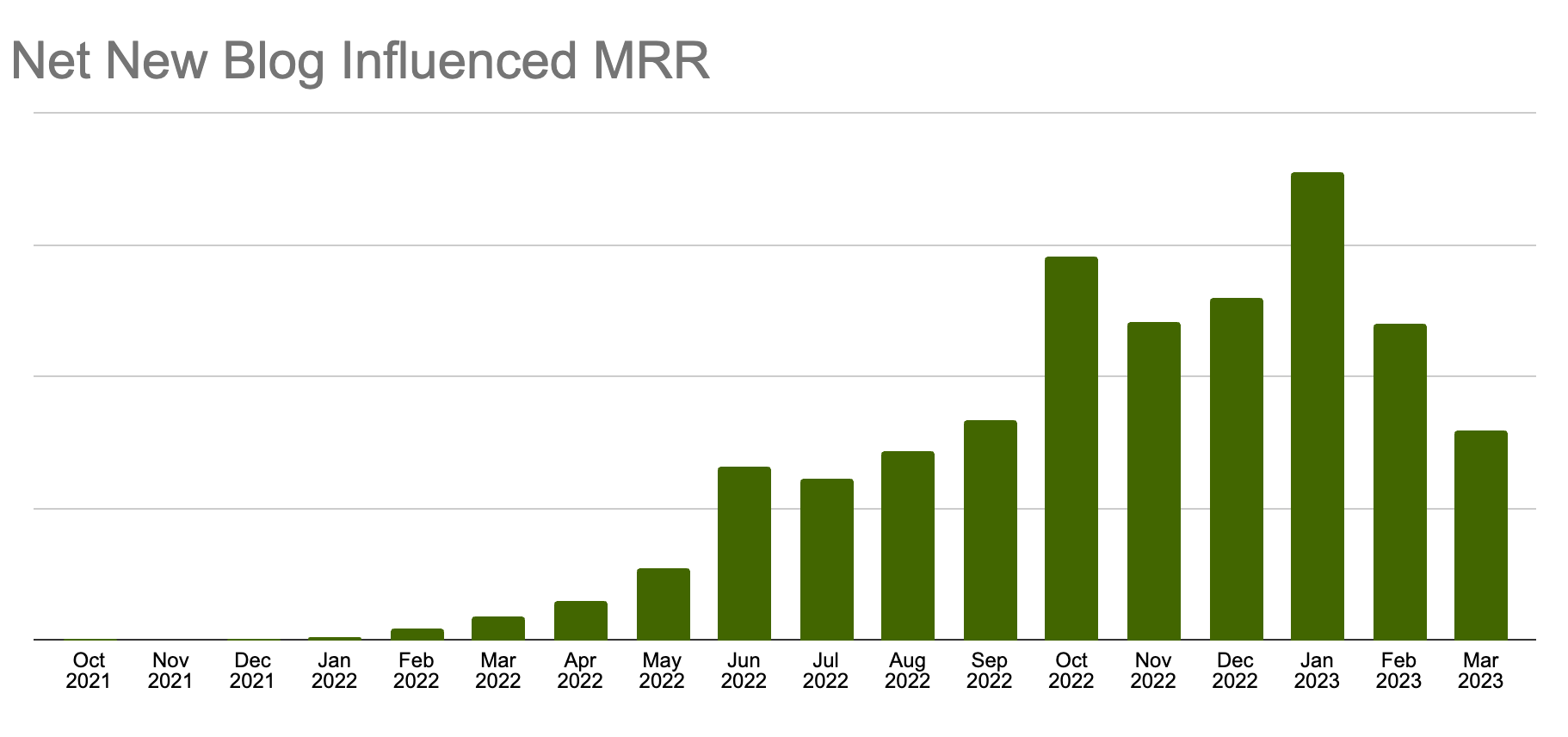 To date, the content program has driven over $4M in annual recurring revenue and the Jasper team continues to see content drive product signups and revenue.
Let's find out how we can help you turn content into a growth channel.
Let's work together
We've helped B2B software companies turn content and SEO into growth channels. Let's do the same for you.
Full-service engagements start at $10,000 a month.