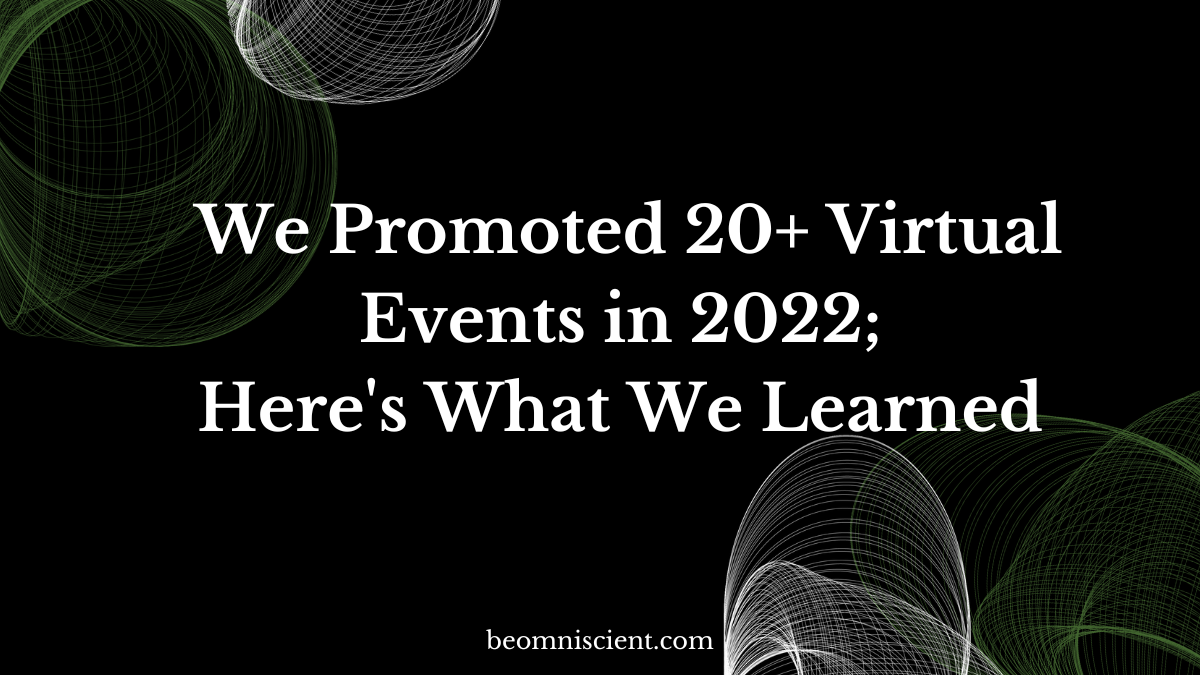 We've heard of "webinar fatigue", but trends are showing that virtual events aren't going anywhere. The webinar market size is expected to reach $4.44 billion by 2025, according to Abdalslam.
But what we are getting tired of is the redundancy of webinars as a whole. I don't know about you but even the word "webinar" makes me cringe.
According to Meisha at Goldcast, they "looked at 900+ webinars across 100 different B2B brands and found that using the word "webinar" in the event title decreased registration and attendee numbers."
But we know people still want the value that virtual events can deliver.
And we know they can serve multiple goals for businesses such as brand awareness, lead generation, relationship-building, community-building, and so much more.
Event-Led Growth
At the start of 2022, we set an end-of-year goal to hit 5000 email subscriptions which was about 10x more than we had. We decided to reach this goal through event-led growth.
We knew it would allow us to reach new audiences, engage existing and future clients, drive organic growth opportunities, and establish ourselves as thought leaders in the industry.
Growing our email list was not only the biggest initiative for our internal marketing team, but it was also our way to stay proactive and diligent with a pending recession on the horizon.
At the time, we were already hosting one virtual event every two months, but we saw much smaller teams doing events once a week, which challenged us to take up a notch.
We created a plan to host two workshops a month and a couple bigger summits each year.
We just concluded our final event of 2022. After 20+ events, here's what we learned about promoting a virtual event, or ahem… webinar.
There's Room to Innovate
Your main goal when you promote an event is getting the right people to sign up for your event in the first place.
Your secondary goals are producing a quality event, engagement, and all that good stuff.
But I believe what's most important is getting a prospect so intrigued they can't wait to give you their email.
Now, I'm pretty sure I've read every article or guide out there on how to successfully promote a webinar. Unless you're a total beginner, these articles are repetitive at best, and useless at worst.
I came across the same suggestions over and over:
Promote your event on social media
Do some email marketing
Come up with a catchy title (What does that even mean?)
What I concluded was that marketers are either afraid to experiment with virtual events, they feel limited by technology, or they believe that what they are doing isn't broken, so why fix it?
I wanted to come up with creative ways to run and promote events.
I came across this term "edutainment" a few times. People want to be educated, but they also want to be entertained.
My direct managers are great leaders because they empower me to think outside the box and go against the grain. This approach allows me the freedom to experiment and test ideas, and we can iterate as we go.
Since I have a background in television production, I loved the idea of taking my entertainment background and marrying it with B2B marketing.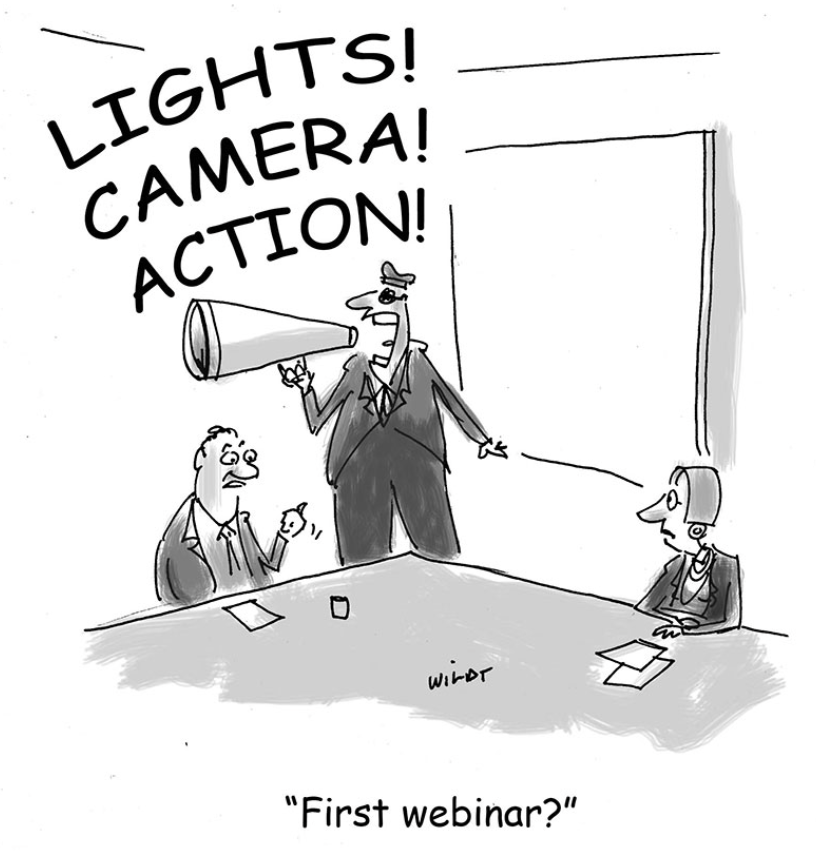 Not in that way.
But look at this way. At the turn of the century, Vaudeville became popular because it was a series of entertaining sketches. The shows were a mix of comedy, song and dance routines, and magic.
Why not take a page from their book and incorporate sketches into virtual events– which are notoriously bland and boring?
In this era, shows like America's Got Talent and The Voice continue to capture audiences and garner huge ratings. At the end of the day, an audience is an audience.
Whether we're targeting Jane Smith to get her to invest a SaaS product for her company, or Joe Schmo on his couch watching Netflix, everyone wants to be entertained. B2B brands can do so by evoking positive emotion, and one way to do that is through entertainment.
When it came time to plan our first ever virtual summit we decided to take what we were already doing with Office Hours and go bigger. This event, which we would call The Road to Mastery, would feature multiple speakers instead of just one speaker for an hour.
With our new format, I instantly thought of a variety show.
I pitched hosting an event that would be a mix of educational sessions with a break between workshops for some virtual entertainment.
This opened the door to more ideas. Imagine the "flyers" we could share on our social media platforms. Similar to an IRL event flyer for a music festival or a comedy show lineup?
Wouldn't it stand out in a sea of work tweets?
More importantly… wouldn't you sign-up?
It was fun to get creative with new marketing ideas and event promotion strategies.
Although there were some concerns on the entertainment portion. "What if people don't attend?" Or "What if they're too busy?"
"It's fine," I thought. "I'm after the signups."
And worst case, they can watch it back later.
Here's what we produced: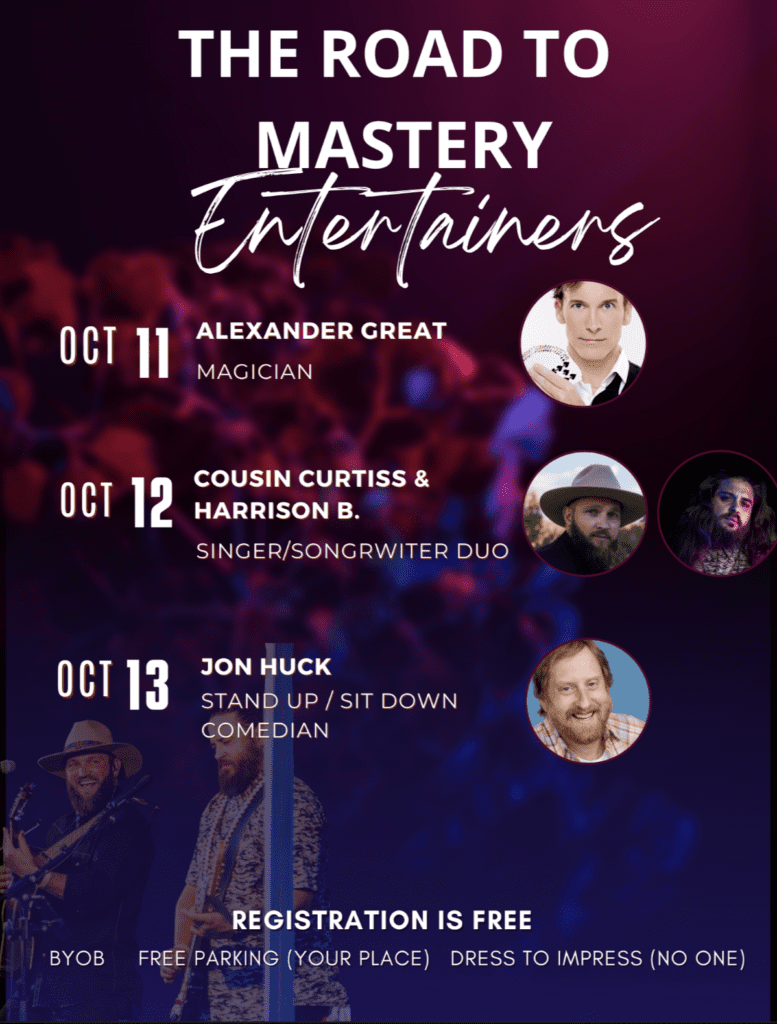 Here's an example of our Road to Mastery 2022 agenda.
Day 1 featured a workshop with Els Aerts on The Good, The Bad, and The Ugly of User Research. She's a phenemonal speaker, by the way, and entertaining in her own right.
Her session was followed by Vegas-based magician Alexander Great. He was a hit! We'd close the day with a very tactical workshop by Andy Crestodina on content-driven ABM strategies.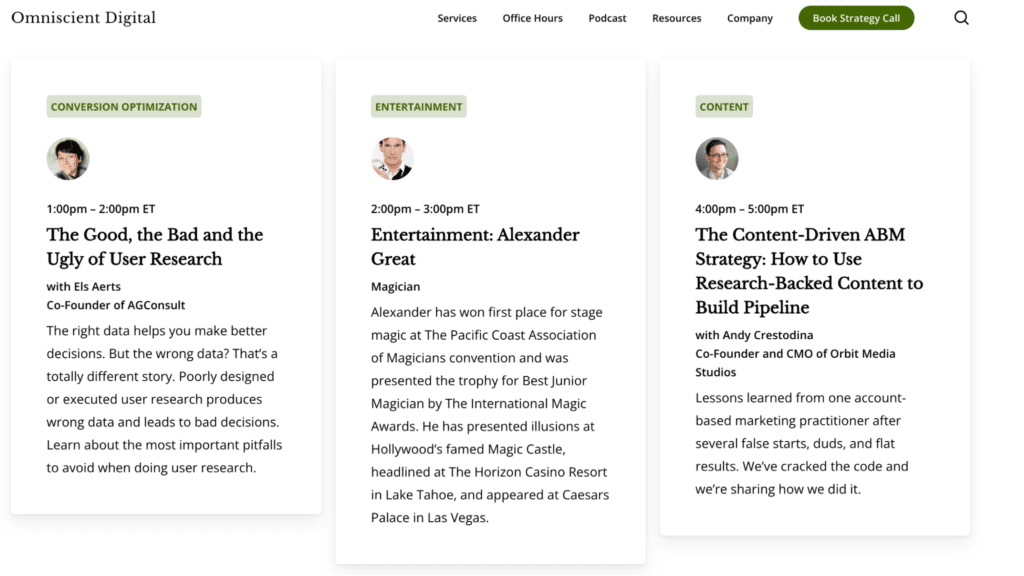 Entertainment on Day 2 was a singer/songwriter duo (who joined us live from their tour van!).
And Day 3 featured a self-proclaimed "sit-down comedian" (because of the virtual setting) who has performed on Comedy Central.
We didn't have large audiences for the entertainment portions, but we got some great feedback from our attendees and seasoned speakers. Many said they hadn't seen anything like it. In fact, I'm sure it's why some of them agreed to speak– they were a part of something unique.
From a promotion standpoint, we drove nearly 500 registrants. I can't attribute that solely to the added entertainment portion, but it didn't hurt us either.
As Andy Crestodina described it, it's a "gift" we gave our audiences, and to me that a great qualitative measurement of success.
So when your organization is in the planning stages of your next "webinar", here's your permission to go ahead and think outside the box. You want something that will set apart from the competition and leave an impression. Adding an entertainment element may be just the thing you need.
Maximize Influencer Marketing
With my goal to bring in newer audiences and drive sign-ups, I wanted to incorporate influencers into our strategy. The idea was to book speakers that fit the following criteria:
They were knowledgeable about their given topic
They were seasoned speakers
They had great influence in the space, and their followers were our target audience
They'd agree to help us promote the event to their audiences
We know that connecting with the right people can make a world of difference when it comes to marketing. That's why we went after top-notch speakers to bring in fresh crowds and hopefully boost signups.
My biggest mistake was focusing solely on social media promos and not asking for newsletter or email list pro,otions– which is even more valuable.
Many of our speakers have huge followings on Twitter and Linkedin so I thought surely, a single post will drive a ton of registrants, but that wasn't necessarily the case.
Email marketing has much more weight than social media posts. Even with 10k twitter followers, how many people will actually see your tweet in that given moment?
Social media followers are nice, but those fluffy numbers don't always translate to conversions.
It was a learning experience: never underestimate the power of an email list – because that opt-in traffic is essentially saying "You have my attention"!
According to this benchmark report, the average open rate for a B2B opted-in emailis 15.1%, and the click through rate is actually higher than it is for B2C emails.
With this in mind, I plan on making newsletter mentions a big part of our email marketing strategy for our next summit. We'll use the latest best practices to ensure that the content through email resonates with our audience and encourages them to keep up with us. Hopefully this will yield amazing results.
Design an Effective Landing Page
Your event page has one job: to convert.
This means your copy should be straightforward and immediately convey what your target audience will takeaway from registering for your webinar. Whether they attend live or not. (We believe in sending out the recordings and slides post-event.)
It should also have a strong call to action.
During the planning stages of our event, we sent out a survey in various Slack communities we're apart of and on Twitter to see what people don't want to see in a webinar. Here are the most common responses:
No long, drawn-out introductions
No sales pitches
No boring slides
So we put that on our landing page. Our promise was you wouldn't see these in the type of events we host.
We also included a video from Alex, Omniscient Digital co-founder, as a teaser on what they can expect from our summit. Video marketing is effective at converting. 10/10 would recommend one.
Lastly, we include the agenda for each day and brief bios for the speakers and entertainers.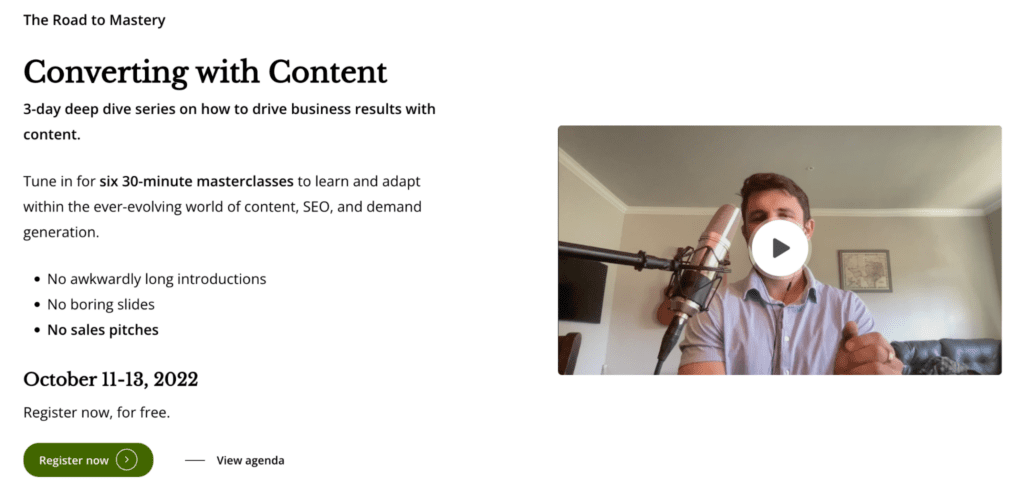 You can also include testimonials from your previous attendees or speakers sharing quotes on what they loved about your previous events, with their permission of course.
Describe how the interactions between speakers and attendees made lasting impressions or how certain featured topics sparked lively conversations among guests. Showcase pictures of smiling faces enjoying themselves during the event – this will help create a sense of community around your occasion and entice newcomers to join in on the fun.
Finally, mention successes that were achieved due to attendance at the event – did networking lead to business deals? Did new perspectives cause someone to take action? Showcasing these successes will help convince potential attendees that it's worth their time and money.
Lastly, your event landing page is not the place to promote your newsletter or your latest podcast episode.
The only links visible on your event page should be the registration button. In fact, we included it three times so if they don't find it the first time, they will the second or third time. We don't want them clicking anywhere but "register now".
Keep it simple and focused, and you'll increase your chances of getting more people to sign up for your event.
Do a Giveaway
Everybody likes free stuff. Forget about winning, just the idea of a giveaway is an instant dopamine hit. It's a great way to drive registrants. It gives them something tangible that they can strive towards.
In fact, if you plan to announce the giveaway winner during the event it can help increase your attendance rate.
A giveaway can be:
An Amazon gift card
Company swag (tumblers, gear, attire)
Free membership to an SEO tool
Free lifetime access to your course (in fact, we've done this with our course)
If your budget is small to zero, a great way to incorporate a giveaway is to ask your favorite brands to sponsor the event. In exchange for a giveaway, you can share their logo in promotional material on your social media channels, and on the landing page.
Sponsorships and partnerships are a win win for everyone– great exposure for them, at no cost to you.
Pre-event you should decide how winners will be chosen and announced during your event (e.g., random drawing). Make sure you clearly communicate this information with potential registrants so they know exactly what they are signing up for and when they need to be present in order to collect their prize.
Finally, make sure you promote your giveaway far and wide with an event hashtag so that as many people as possible learn about it and have a chance to participate.
Giveaways are a great marketing tactic to drive event registrations, and ultimately increase event attendee rates.
Event Promotion Ideas
To sum up our learnings, here are some ideas we think may be worth incorporating into your event-led growth strategy to level up your marketing efforts.
Consider incorporating an "edutainment" element.
You want to drive registrants so ask yourself what will stand out in your promotional materials? That can mean booking a speaker who also happens to be very entertaining, funny, talented.
Or it could mean adding entertaining elements into your live sessions. Here are some ideas: host a game show or trivia segment; or book musicians, comedians, magicians, a mixologist, a puppeteer, a fire breather…. pretty much anyone who can perform in a virtual setting. I wouldn't suggest a flying trapeze artist.
Aim for newsletter promotions
I would continue to go after social media promotions, but really aim for newsletter mentions if your speakers and sponsors are willing. A big following doesn't necessarily equate to massive sign-ups. But a newsletter mentions holds more weight.
• Leverage your existing relationships and network to promote your events
• Utilize content marketing strategies on social media and other platforms to reach new members of your target audience.
• Run email campaigns, surveys, and polls to start conversations about the topics you'll be discussing in the webinar and get valuable feedback
Design an effective landing page
Before your upcoming event, look through dozens of event websites and registration pages (ones you know are successful) and take from what they have done. You'll spot the commonalities. But I also suggest adding your own unique spin on it. Think outside the box, remember?
Look at the way they format the page, their event branding, the messaging, and call to actions. And make sure the registration button cannot be missed.
Give something away
Use dopamine and positive feelings to your advantage when promoting. If done strategically, giving something of value away can cost you little to nothing. You can also use it as a strategy to increase in-person attendance rates.
In conclusion, if done properly event-led growth can be one of the most powerful tools available for driving business success in today's competitive climate.
By the end of next year we will have produced twice as many virtual events. My goal is to significantly level up our event marketing strategies and I'll be sure to share what I learned with you in part deux. Happy Hosting!