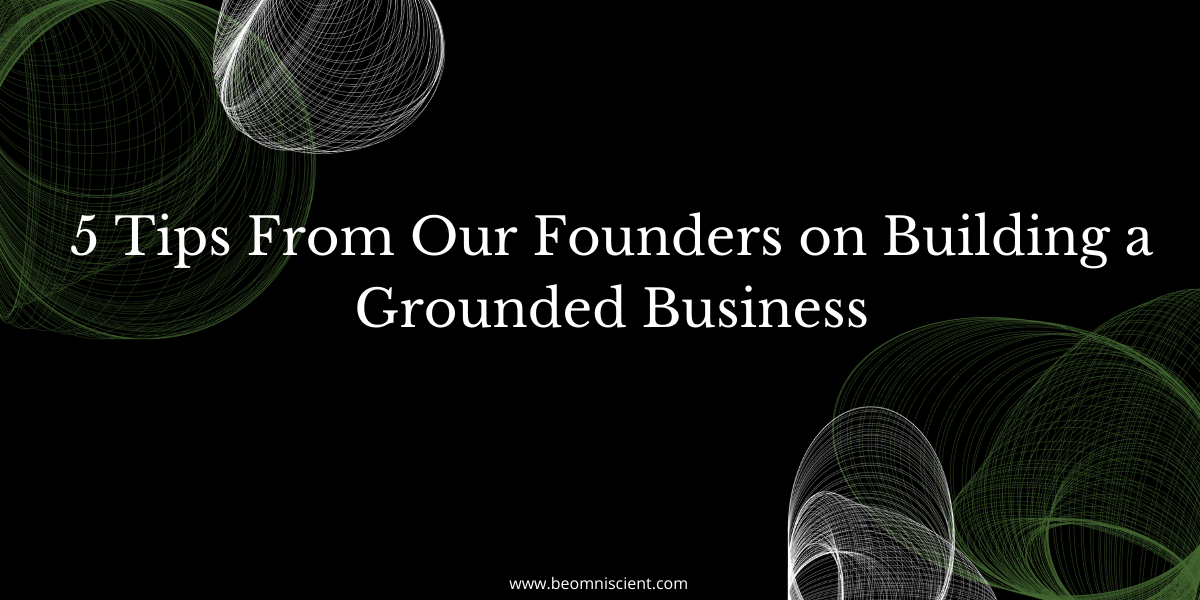 What do lemonade stands, freelance writing, and Greek philosophy have to do with starting a business?
At Omniscient Digital, we believe our backgrounds paved the way for us to connect and create something authentic.
Recently our team came together to talk about our career journeys. Here's what we shared about our biggest accomplishments, lessons learned, and the legacies we want to leave behind.
1. Bring big ideas to life
When our co-founder David was in college, he partook in a social experiment. That experiment was what ultimately helped him see the impact of good marketing and the power of words.
"One of the more entrepreneurial things I did," David said, "was there was this Ted Talk called, 'Before I Die.' You put up this public wall that says, 'before I die' and there are a bunch of lines where people get chalk and write what they want to do before they die."
It was a simple concept that created space for others to be themselves and spark conversation.
"I ended up rallying a bunch of friends together," David said. "We built this huge wall, we hoisted it up and it went viral on campus. We got news reporters coming to see it. And I was like, 'This is cool. This is marketing.' We somehow got some hype around this and I thought, 'What's another project I can do?'"
The experience showed him how a small idea can grow into a big one when you understand your target market, implement a strategy from start to finish, and understand its impact on the community.
2. Build solutions for pressing problems
My own proudest career moments come from working on challenging open-ended projects and getting to build solutions from the ground up.
When I was at HubSpot, I was afforded a lot of autonomy, which was amazing. My manager at the time, Scott Tousley, gave me the green light to pursue my own creation: I called it project "surround sound."
Basically it was a strategy I had that included trying to get on all of the pages that are ranking for a given keyword. There was no tool to figure out how much real estate you occupied on a given search page.
Since there was no tool available that could provide the data we needed, I decided to build a solution on my own.
Building a product from scratch felt amazing, as did the freedom to pursue challenges that need solving. Following your interests and personal passions can propel your career forward in new and unexpected ways.
3. Find euthymia in your career
Another of David's insights wasthe pitfall of constantly comparing yourself to others.
His interest in philosophy led him to discover the Greek word "euthymia," which roughly translates to ​​a normal, tranquil mental state or mood. The philospher Seneca defines it as believing in yourself and trusting that you're on the right path, and not being in doubt by following the footpaths of others.
Embracing this mindset opened up a new, peaceful approach to his working life.
"One thing I realized I did a lot when I was at HubSpot was I was looking left and right a lot around what other people are doing. And I started working with these people who went to Harvard and Dartmouth and Yale, and people who got MBAs. And I'm like, 'Oh, I'm not as good as them. I didn't go to Harvard.' Or, 'Maybe I should get my MBA.'"
He felt like he was spending so much time comparing, but using the wrong measuring stick.
Playing the comparison game can be paralyzing because you will always find peers with different experiences and accomplishments.
"Taking that approach has just made things much easier," said David. "Iinstead of thinking about all the possible options in my life and like having anxiety about all the things I'm missing out on, I just feel much more focused."
Without that contended confidence of knowing you're on the right path, you can waste a lot of time and energy stressing about other people's life journeys.
4. Take risks that align with your calling
Sometimes following your calling means taking a leap of faith.
Allie talked about how her proudest accomplishment is being able to recognize her passion for writing and start her freelance business.
Allie's decision to leave a secure 9-to-5 job at a Fortune 500 company wasn't what her loved ones had in mind for her career path straight out of college.
"It went against every bone in my body to do that. I had a lot of pushback by pretty much everybody in my life," she said.
Following her instincts without the support of loved ones helped build Allie's sense of self-worth and was a defining moment in her career trajectory.
"I didn't really know what I was doing at the time. I just knew I didn't like my job, and I just wanted to write and get paid for it. So, it wasn't really an achievement in and of itself, but I felt like I achieved something by that risk and coloring outside the lines a little bit."
Having the conviction to choose her own path and the confidence to find work with her favored skillset started her on a new path toward content marketing.
5. Know that it's okay to be naive
We all have to start our career somewhere, and there's nothing wrong with a good dose of beginner's cold feet.
David talked about the life and business lessons he learned from his coffee delivery service in college, and how naivete can be a useful tool when starting a new project.
"I think my doing the college apartment coffee delivery service was a big turning point for me," David said. "I somehow strategized my quote 'go-to-market' by inviting the popular people I knew — who I knew would share it with their friends — and get more people to order drinks. It got me comfortable with using spreadsheets and starting to do calculations and managing profit margins. It taught me that I can rally people together to work on this thing that I started."
What started as a small and fun idea to help peers make it through finals week grew into an entrepreneurial exercise in managing a small business.
"That gave me some level of confidence, not having much confidence growing up. It taught me I can do something without asking for permission where there's no playbook built out," David said.
Being able to manage all the various elements of a food delivery service without any guidance and still make a profit demonstrated David's natural business acumen to both himself and others.
"Maybe me being naive at that age is what allowed me to do that," David said.
Today, we can all benefit from reminding ourselves that sometimes it's okay to be naive and just jump in. It may lead to valuable solutions you may not have otherwise built.
---
Check out this clip