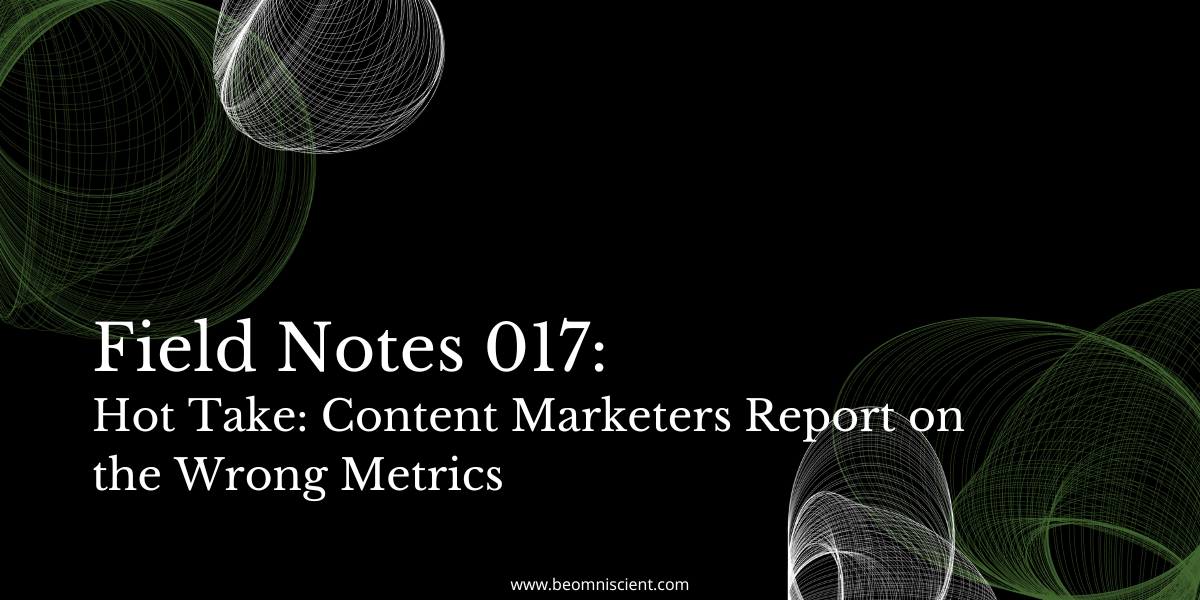 What goes into creating a great content strategy?

We talked about this on a podcast recently (we'll let you know when it's published) and arrived at three conclusions:
Folks in content marketing need to improve how they communicate their impact on the business.
To be a great content strategist, you need to be familiar with more than just content.
Great content strategy stems from clear business strategy.
Let's focus on the first point.
What do you typically hear about when you hear reporting from paid marketing and demand gen teams?
Leads, MQLs, pipeline.
Now, contrast that with what you hear from a content team:
Keyword rankings, traffic, backlinks, social shares, bounce rate… vanity metrics.
Don't get me wrong. Those are important to understand how a content program is performing… but business impact?
It's objectively true that leads, MQLs, and pipeline are much closer to revenue than keyword rankings or traffic.
So how did content marketing end up reporting on these vanity metrics? Why do we see these type of results when you Google "content marketing metrics." (The irony is that content marketers are the ones writing thise articles about "content marketing metrics.")
Look at what content marketing agencies boast about in their case studies. "Grew traffic 300% and increased keyword rankings by 500%." (By the way, that's not what we focus on.)
But ask any executive what's important to them and they'll say something related to money (revenue, pipeline, MQLs, cutting costs, etc.).
My best guess is content marketers report on those metrics because they're easy.
Most content marketers don't have experience in the parts of the business that are closer to the money, like a sales or demand gen role. Whether that's from lack of training, lack of initiative to learn, or simple ignorance is not my place to judge.
The takeaway is not that content marketers aren't doing a great job or aren't capable. Far from that. It's that there's an additional step needed to communicate the business impact of their content programs.
Communicating the impact of a content program might mean:
Holding yourself and/or your team accountable to a lead number (!!)
Building attribution models to understand how the blog influences leads, pipeline, and revenue (simple last-touch models are better than nothing)
Getting down to raw numbers on the cost of investing in content and its ROI
These are much more difficult to do than reporting on traffic and keyword rankings.
That's why we take a different approach to content strategy with our clients.
Sure, we talk about traffic growth, but we also help clients start from strong foundation by focusing on the business goals and strategy. Once that's clear, then we can determine whether content can support those goals, and if so, how.
If you want to chat about whether content and support your business goals? Book time for a free consultation.
Recommended Reads
1. How to Model and Predict ROI from Content Marketing – I recently taught a workshop with the folks at Clearscope to help you build a model to understand what return you might get from investing in content marketing. It's a simple model, but hopefully useful.
2. Content Marketing ROI: 6 Steps to Measuring Growth – Start here if you want to get started measuring the impact of your content marketing program.
3. Content Marketing Metrics: 23 Metrics to Track Success – Alex looked at all the articles talking about what content marketing metrics to measure provides guidance on which ones are actually helpful.