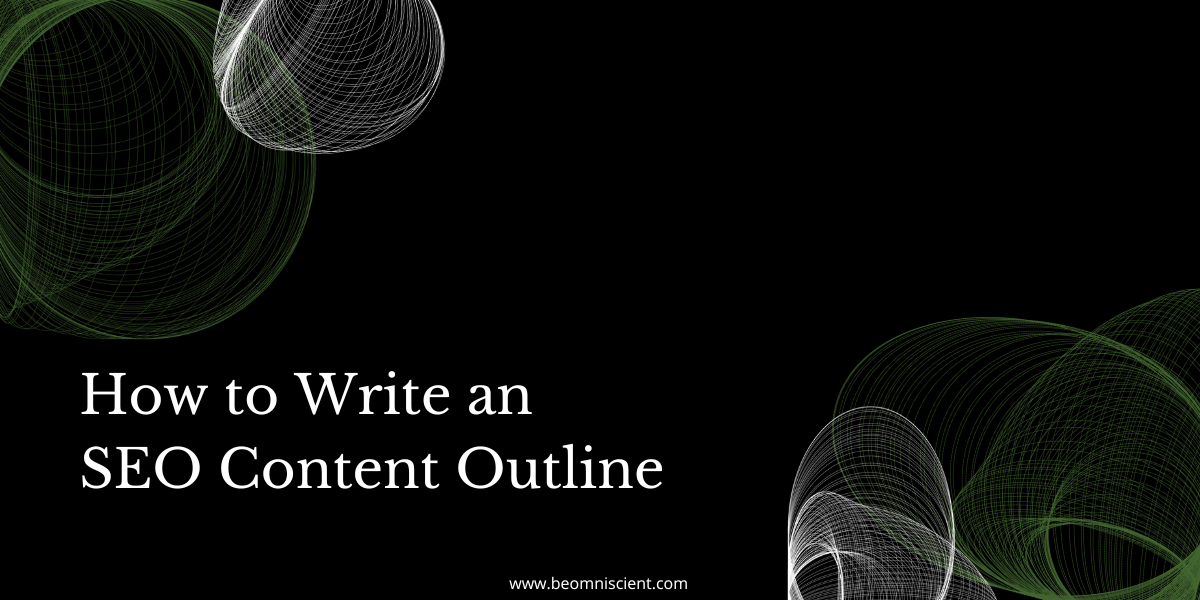 Have you ever found yourself staring at a blank page, unsure of where to start or how to organize your long-form blog post?
Or maybe you've spent hours writing a piece of thought leadership content, only to realize that your ideas are scattered and lacking focus?
There's just no oomph, no pazazz, no zeal, behind your words.
If this sounds a little too familiar, then perhaps it's time to explore the underrated art of content outlining.
It's the secret weapon used by professional marketers–including the team here at Omniscient–that creates a consistent high-quality output of content without compromising on speed.
In this article, we'll share a proven framework for writing a solid content outline. Additionally, we'll provide a few actionable tips and recommendations from the Omniscient team.
Table of Contents:
What, exactly, is a content outline?
What are the benefits of a content outline?
How to Create a Content Outline (5 steps)
Is your blog post MECE?
So, let's dive in.
What, exactly, is a content outline?
A content outline is a carefully considered roadmap that lays out the purpose and direction of your content. It's your overarching blueprint.
There are two main forms that a content outline can take. It all depends on whether you're writing a piece of story-led thought-leadership content or a more traditional technical post.
Here's the breakdown:
Typical format: emails, social media and short-form blog posts.
Thesis Statement, i.e. "What is the main argument behind your content?"
Reasoning, i.e. "What are the main reasons that support your argument?"
Takeaway, i.e. "What does this mean for the reader?"
Technical How-to Guides
Typical format: long-form blog posts, whitepapers and e-books.
JTBD, i.e. "What is the main problem your reader is looking to solve?"
Methodology, i.e. "What are the practical steps to solve it?"
Next steps, i.e. "What should the reader do after they've accomplished their goal?"
What are the benefits of a content outline?
Defeat Writer's Block
When you have a clear outline in place, you always know what to cover next.
This eliminates the frustration of staring at a blank page and gives you the confidence to dive into each section, making the content writing process smoother.
Strategic Alignment with Marketing Goals
Content outlines allow you to strategically align your content with your product-focused goals.
For instance, you can structure your outline to address pain points that your product solves, highlighting its unique features and benefits. This approach ensures that your B2B content resonates with your target audience while showcasing your offerings.
Speed without Compromising Quality
With a well-defined outline, you can focus on creating content without constantly worrying about the structure or missing key points.
This speedier process ensures that you produce content more quickly while maintaining the high standards expected in B2B marketing.
Scaling Your Content Production Across The Entire Team
When you share a detailed outline, team members can quickly understand the content's direction, tone, and SEO objectives.
This consistency ensures that everyone is always on the same page, contributing to a cohesive content strategy even as your team grows.
How to Create a Content Outline (5 steps)
Define Your Ideal Reader
Before diving into the writing process, it's crucial to identify your target audience.
As Alex Birkett aptly states, "Quality is not for you and me. It's for the reader."
Quality hinges on the reader's perspective–whether it's a TikTok meme or a comprehensive whitepaper. It all depends on their goals and preferences.
According to content strategist, Nia Gyant, crafting an effective Ideal Customer Profile involves addressing three fundamental questions:
"Before starting the outline, I make sense of the brief, in part by telling myself the story of the audience based on their:
Role. What are their job responsibilities, main objectives, and top concerns? If I'm unfamiliar with a particular role, I'll pull up job descriptions on LinkedIn and similar sites.
Jobs to be done (JTBD). Besides what they want to accomplish, I jot down why a specific JTBD is important to them.
Awareness stage. What does the audience already know and what do they want or need to learn about next?"
For instance, if you were creating a blog post for an email marketing software product, here's what this may look like:
While creating a detailed profile of your ideal reader might feel excessive, it pays off immensely as you move into the outlining phase.
Armed with this knowledge, you can align your keywords with critical issues that matter to your audience.
Conduct Topic and Keyword Research
(Already Done Your Keyword Research? Feel free to skip to stage 3.)
Now that you've honed in on your ideal reader and their journey, it's time to bridge the gap between their needs and your content.
We want to figure out what our article's actually going to cover.
Based on our research, we know that these are the main topics our ideal reader wants to explore:
SaaS email inspiration
Automated workflows
Behavioral targeting
To aid in this process, SEO tools like Ahrefs can be incredibly helpful.
So, continuing with our example, let's explore the topic of "SaaS email marketing". Here's what we find:
Moderately high keyword long-tail keyword volume + low keyword difficulty = Perfect target keyword!
Top Tip: While it might be tempting to chase after high-competition keywords that giants like HubSpot target, remember that tailoring your content to relevant and specific topics is often more effective.
Identify the Search Intent
Before you can hope to rank for a search term, it's important to figure out the search intent behind the keyword. This ensures that you don't waste your efforts writing a detailed piece that doesn't address the reader's expectations.
The best way to do this is to start by scouring the SERPs. Google literally tells the type of content most likely to perform well.
There's typically seven main options to choose from:
Listicles (You can read a more detailed guide, including a listicle content outline template here)
How-To Guides
Opinion-based/Thought Leadership
Video
Reviews
Product pages
So, let's take a look at our current plan for "SaaS email marketing":
It looks like How-to guides and listicles are the best route to take in this case.
Find Your Content's Unique Selling Point
Next, it's time to find the unique spin for your content. What is the direction you can take in order to stand out from the crowd?
According to Alex Birkett, there are several different ways to figure out where you could take your article:
"Take in all the information you can on the topic. A quick Google is tablestakes. Ask ChatGPT to explain the concept to you like you're 5, 10, 15, and 20 years old. Scour forums, like Hacker News or Reddit, and see what's been written and what's being asked. Ask friends who are experts. You want as big of an information pool as possible to start from, and then you whittle down to the essentials from there."
As Nia adds, we want to dig until we can spot the hidden opportunity–not yet existing amongst the competition:
"Use sources that others won't. Many won't take the time to conduct an interview, listen to a podcast, or attend a webinar to gather expert insights. If you do, your content will automatically be more valuable to your audience and more unique."
So, returning to our outline example, let's say take a look at our target persona and a few potential important topics to mention:
Advanced email marketing strategies (eg: personalisation, behavioral targeting and automation)
Successful SaaS email case studies and examples
Tips on converting your existing subscribers into paid customers
Diagram Your Main Points and Subtopics (H2's and H3's)
This is the stage where you can begin to organize all of your research into your writing. It's where you outline the specific problem you're seeking to address in your writing and how you'll resolve it.
A great starter for figuring out your main topics is to look closer at the existing search results. You want to make sure that you're answering the right questions.
The best way to do this is to explore the long-tail keyword variants.
Although there are many great tools for finding the outline structure of published articles, my favorite is SEMRush's Outline Builder. It shows you all of the ranking pieces, broken down in a really accessible format. (It can even help you write out your article's meta description!)
Additionally, you can draw inspiration from sources like Google's "People Also Ask" section in the search engine results page:
And for extra hidden secondary keyword opportunities, I like to use Answer the Public. It's not quite so intuitive as Ahrefs, but there's a wide array extra keywords to explore:
After reviewing the long-tail keyword data, here is our unedited blog post outline:
Title: The Definitive Guide to SaaS Email Marketing
I: Introduction–What is SaaS email marketing?
II: Benefits of SaaS email marketing
III: Why is SaaS email marketing important?
III: Effective email marketing strategies to try in 2023
Lead-nurturing
Segmentation
Behavioural targeting
Engagement
Automation
IV: SaaS email marketing examples worth studying
Grammarly
MailChimp
Trello
Zapier
Hubspot
V: The best email marketing software (Picked by SaaS experts)
HubSpot
ActiveCampaign
Drip
ConvertKit
Klaviyo
MailerLite
SendinBlue
Moosend
VI: Conclusion
Summary
Next steps
Is your blog post MECE?
Just before you begin writing your first draft in Google Docs, there's one final question worth considering: "Is your content MECE?"
As Ryan Law shares in his exquisite article for Animalz, great content outlines often fulfill two criteria:
Mutual Exclusivity
This means that your H2's and H3's warrant their own sections. Each section should address a specific aspect without overlap or repetition.
For example, you don't want to write headers like this:
"What is SaaS email marketing"
"Benefits of SaaS email marketing"
"Why do SaaS email marketing".
They are redundant sections because they cover the same information from a slightly different vantage point.
And–If a reader is already familiar enough to search for a specific long-tail term like "SaaS email marketing"–odds are they don't require endless convincing.
Collective Exhaustion
A "Collectively Exhaustive" content outline basically means comprehensive. The subject matter doesn't leave any obvious gaps.
The main rule here is to avoid ambiguity. Leave no room for misinterpretation.
Anticipate this at the content outline stage and you'll find it much easier to remedy any unnecessary stumbling blocks.
For example, it's better to have specific promises in your outline like, "7 Affordable SaaS Email service providers" rather than a more vague header like "Email service providers".
Personally, I find that the MECE test is a great final way to check if your outline is logically sound and ready to go.
You've done all the heavy lifting of research, brainstorming and organization, MECE highlights any obvious knowledge gaps or areas of incoherence.
So, here's our final content outline:
Conclusion
Crafting a content outline is the secret weapon to crafting superior, efficient, and scalable content.
An effective outline not only bolsters your SEO rankings but also equips your writers with a clear roadmap, fostering consistency and quality. It supercharges your content ideas by containing it within a logical narrative.
By delving into your audience's Jobs-to-be-Done (JTBD), finding the right keywords strategy and ensuring MECE structure– you establish a robust foundation for content that resonates and (hopefully) ranks in search engines.