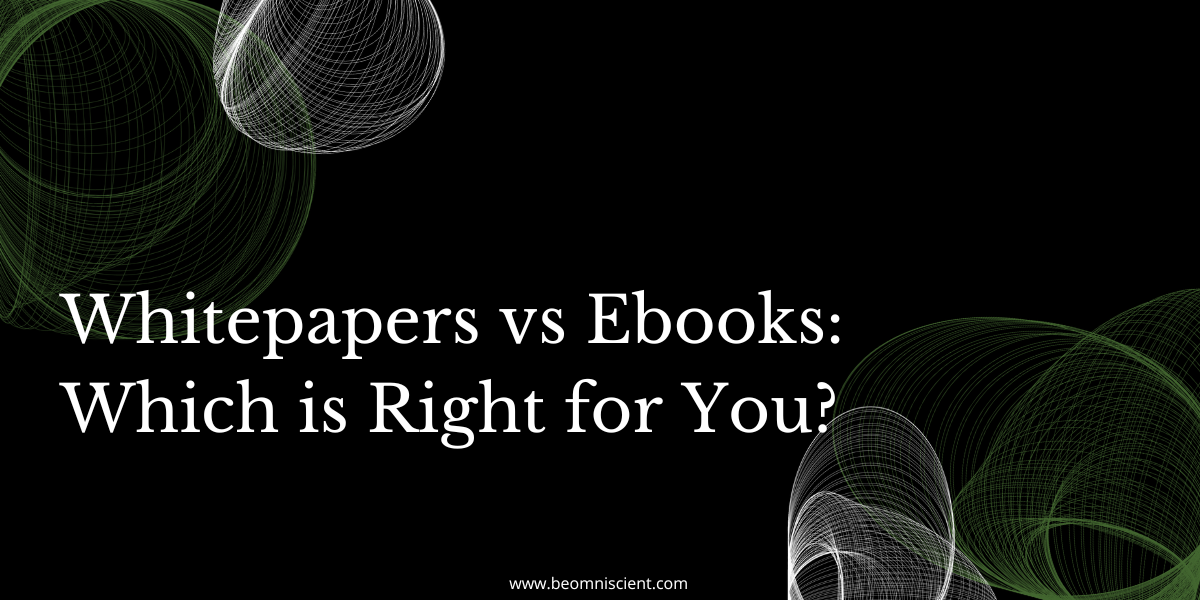 The difference between e-books and whitepapers comes down to two main factors:
Who is your target audience?
What is your marketing objective?
Whitepapers are research-packed reports that tackle technical topics and target key decision-makers at large enterprise companies, such as IT consultants. E-books, on the other hand, are how-to guides and best practices that speak directly to the needs of your target audience.
In this guide, we'll help you navigate the nuances between these content types and decide whether to create an e-book or a whitepaper.
We'll explore their specific use cases and marketing goals, so you can choose the perfect content type to attract, engage, and delight your ideal customers. 
What is an E-book?
In the context of content marketing, e-books are tools for lead generation.
They take the form of an online book–usually as a PDF–and solve customer pain points in exchange for contact information.
E-books are a type of inbound marketing typically designed to provide valuable information to prospects who are in the early stages of the buying process.
This may include individuals who are conducting research on a particular topic, exploring potential solutions to a problem, or seeking information on a product or service that may be relevant to their needs.
The three main types of e-books:
1. How-to Guides
If your product or service requires some level of expertise or technical knowledge, creating an e-book that provides step-by-step instructions can be a great way to educate potential customers and demonstrate your knowledge. 
Example: How to Optimise Your SaaS Landing Page
2. Industry Trends
If you want to establish your brand as a thought leader, presenting original research–in the form of a high-level overview–can be incredibly effective. Not only are they shared widely amongst co-workers, but these market reports can also establish your brand as a trustworthy authority within your niche.
Example: The State of Media and Content Planning in 2022
3. Resource Lists 
If you have a lot of expertise in a particular area, creating an e-book that provides a list of resources (e.g. tools, books, websites) can be a great way to differentiate your brand from the competition.
By providing a valuable asset they can refer back to, you can ensure your company remains top of mind as they progress through the marketing funnel.
Example: 100 Mission Statement Examples and Templates
What is a Whitepaper?
White papers are typically used to inform decision-makers or educate the public about a particular issue or solution. In contrast to e-books, these documents tend to be more technical and information-dense.
Gordon Graham, aka "That Whitepaper Guy" and author of 'Whitepapers for Dummies', defines whitepapers as:
"A persuasive essay that uses facts and logic to promote a certain product, service, or viewpoint."
White papers tend to avoid self-promotion. The goal is to win over its target audience through sound reasoning, credible sources, and compelling industry data. Rather than push the company's own products, whitepapers allow the reader to come to their own conclusions.
If the document has made a convincing argument and presented expert knowledge, the company's product offering should feel like the intuitive next step.
The three main types of white papers:
1. Problem/Solution
Problem/Solution whitepapers are typically used to address specific issues your prospects may be experiencing. They are meant to provide solutions to the problems that your prospects are facing and are often shorter and more to the point than other types of whitepapers.
This type of content is most useful for prospects who are just starting to research a particular problem or issue and are looking for solutions.
Example: Trusted Cloud: Overcoming the Tension Between Data Sovereignty and Accelerated Digital Transformation
2. Numbered List
A numbered list whitepaper is a more concise whitepaper that presents information in a list format. They are easy to read and can quickly convey important information to the reader.
By the time your prospect is ready to read a numbered list whitepaper, they're evaluating a specific course of action. They're in the information-gathering phase.
This is the type of content for prospects who are aware of the problem, understand the solution, and want to know some of the common benefits and pitfalls involved.
Example: Start Your Move to the Cloud: Five Pilot Project Ideas
3. The Backgrounder
Backgrounders are often used to provide in-depth information about a specific product or service. They are typically longer and more detailed than other types of whitepapers and are meant to provide a comprehensive understanding of a product or service.
This type of white paper is most useful for prospects who are already familiar with your brand and are actively considering your products or services. By providing them with more detailed industry knowledge, you can help move them closer to making a purchase decision. Therefore, backgrounders are often used at the bottom of the funnel to generate leads and push prospects toward a purchase.
Example: Data, Index, LOB, Backup and Network Compression with Oracle Advanced Compression.
E book vs Whitepaper: Which is right for me?
It can be tricky to figure out which content asset is right for your content marketing strategy. While there are no strict definitions for either whitepapers or e-books, here is a simple comparison:
Who is my target audience?
At its most simple, the difference between whitepapers and e-books comes down to who you are writing to. Whitepapers are a specific type of document designed for senior decision-makers. E-books on the other hand can target everyone from interns to CEOs.
A useful principle to remember is that whitepapers are generally dense technical documents. Therefore, the reader must have a sufficiently compelling reason to invest their time and effort. Here are the three main reasons:
New and disruptive industries, for example, tech.
Highly complex subjects, for example, medicine.
Expensive solutions, for example, those targeted at enterprise companies.
A great way to illustrate the difference is to compare these two documents side by side.
What can we deduce from these two examples?
The whitepaper is discussing an emerging (i.e. new) concern for media buyers, while the e-book discusses an evergreen topic for a more general audience.
The whitepaper focuses on a complicated topic in depth, while the e-book takes a lighter overview stance.
The whitepaper concludes by mentioning several expensive product solutions, while the available next steps in the e-book are a free course.
Gated vs Ungated Content
Deciding whether to gate or ungate whitepapers and e-books can make or break our marketing efforts. It directly impacts the number of leads we can acquire and the quality of these leads.
While gating can boost lead generation and allow you to follow up through email or other marketing channels–there's always a risk of alienating potential customers. Requiring too much information or making it too difficult to access the content is a big red flag.
In comparison, ungating is dramatically more likely to maximise your content's reach and impact. If your goal is to become an industry thought leader in a busy niche, ungated content may provide a necessary competitive edge.
It's also worth considering the perceived value of your piece within your content strategy. If you were in your reader's shoes, what would it take for you to exchange your personal information?
In many cases, particularly if it's a rehash of an existing blog post or dated study, the answer will be no. But, if you've conducted original research, interviewed subject matter experts or solved an urgent customer pain point–odds are your reader will gladly fork over an email address.
Conclusion
When it comes to creating long-form content, like e-books or whitepapers, it is essential to consider your target audience and their position in the buyer's journey. If you are targeting senior decision-makers, for instance, your content may need to be more in-depth and geared towards providing solutions to complex problems. On the other hand, if your audience is top-of-the-funnel prospects, you may want to create more introductory content that raises awareness and interest in your products or services.
Additionally, the type of content you create should align with your marketing goals. For example, a backgrounder may be more suitable for establishing your brand's authority and thought leadership, while a how-to guide could be used to generate leads by offering practical solutions to common problems. A trend report, on the other hand, might be more effective in reaching a wider audience and increasing brand awareness.
Lastly, it's important to consider what is more important to you in terms of marketing goals: widespread reach or lead generation. E-books and whitepapers can be powerful tools for both, but it's important to understand how to tailor your content to achieve your desired outcome.
By considering these four key questions, hopefully, you feel more equipped to create a high performing piece of content that resonates with your target audience and ultimately drives revenue for your business.