Build & Scale Your Thought Leadership
Every individual in your company is harboring unique insights about your industry and, if properly articulated and distributed, would be game-changing for growing your business.
Building thought leadership could fundamentally change the conversation prospects have about you and your competitors.
Creating Thought Leadership Content is Hard
We're going to guess that you're strapped for time.
We all are – especially those at the top of their field. Those people (you) are often the ones with the most untapped insights.
This was a problem for us here at Omniscient Digital.
We had a ton of unique opinions to share, but we three founders couldn't find the time to write long-form essays, not with the client work, sales, marketing, and operational tasks that consumed our days.
So we built a process to scale and distribute thought leadership while investing as little as 2 hours a week.
That's leverage.
That's how we've built our podcast, The Long Game.
How We Build Thought Leadership Content (and How We Can Help You Do The Same)
It all starts with an idea. A scratch. A pain point.
We take those ideas, produce themes, and develop a series of interview questions, and record an interview with you. That conversation gets turned into:
A podcast complete with artwork, music, and distribution
A fully edited and optimized YouTube video
Audio + videograms to promote on social media
A transcript
A blog post
Multiple social media posts (Twitter, LinkedIn) to promote the content
The best part? It requires minimal effort on your end. Just show up to the interviews ready to do a brain dump on the things you already think and have opinions about.
We'll do the heavy lifting for you.
This approach to content isn't for everyone.
You need to have unique points of view and be willing to express them.
You need to understand the pain points and topics of interest for your audience (we'll help you with this).
You need to have company leaders who are willing to spend time conversing with us to produce these materials.
CASE STUDY
How AppSumo grew organic traffic 843% and revenue from organic traffic 340%
Learn the 4-step process that grew AppSumo's organic traffic.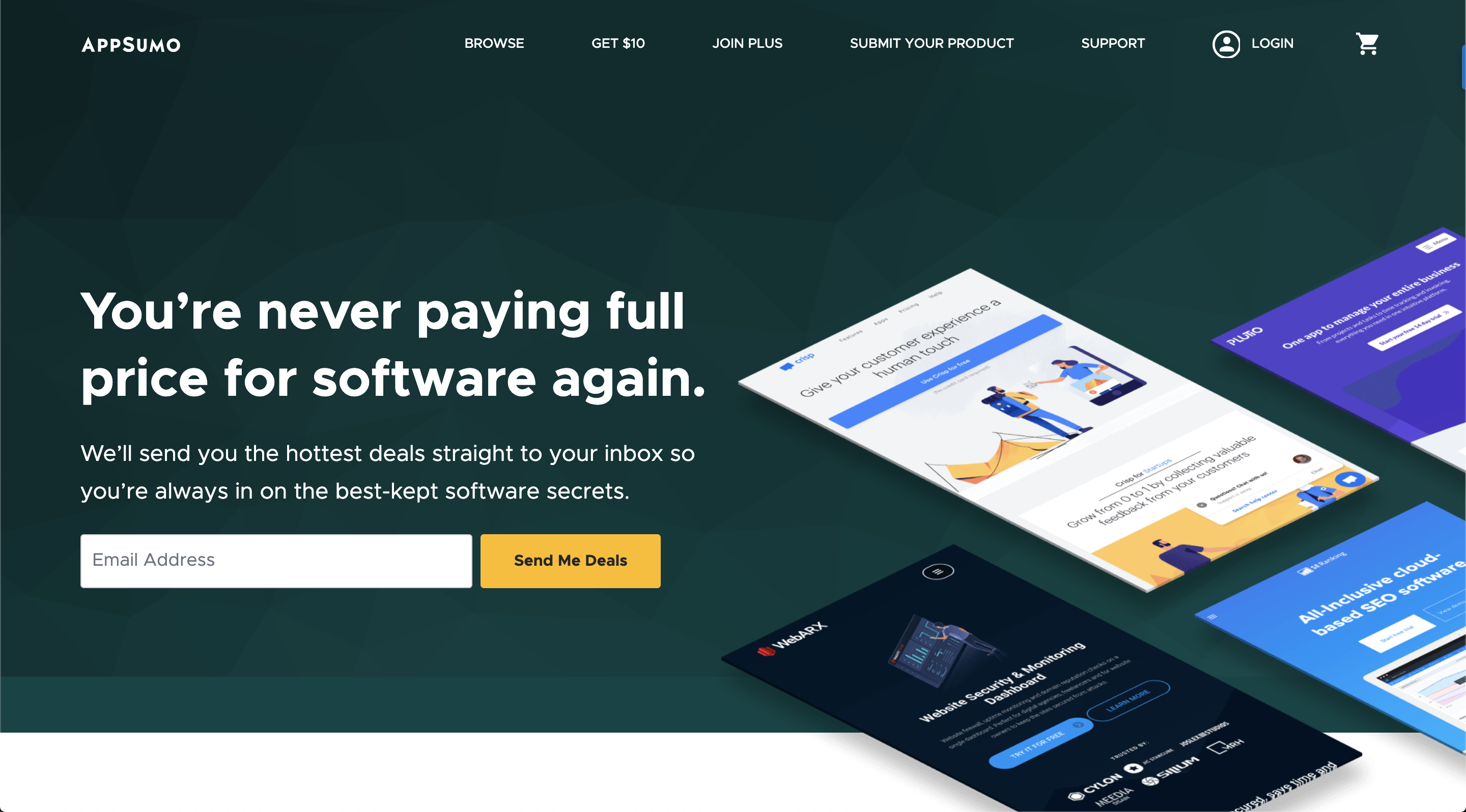 They say the next generation of software companies will become media companies. Easier said than done. So we'll do it for you. All you need to do is bring your industry expertise and we'll do the rest.
We offer two thought leadership packages to help you create demand and build authority in your industry.
Our thought leadership services start with a tailored Content Roadmap Report to determine which topics you should target, which key questions and points to dig into, which authoritative voices to utilize, and where to distribute this content.
This report is based on deep competitive and content research, collaborative customer research, and market research with your team.
Paper includes the following deliverables:
A transcript of our interviews
A comprehensive blog post for every topic
Social media posts
All we need from you is your expertise and we'll do the rest.
Paper package start at $10,000 per month.
Get a free strategy call to learn if this is right for you.
The Multimedia package includes all the deliverables in Paper, plus:
Podcast episodes complete with artwork, music, and editing
Edited, optimized, and published YouTube videos
Audiograms and videograms
Distribution and promotion of podcasts and YouTube materials
Packages start at $18,000 per month.
Get a free strategy call to learn how we might work together.
Companies we've helped grow






You're ready to play the long game for sustainable growth
You're ready to invest in content for several months or years
You have an appropriate budget to fund an ongoing partnership
You want a partner who will drive the entire content marketing strategy and look out for your business
You're fine writing bland content and operating without differentiation
You haven't produced any content and are just starting to explore the channel
You don't believe in the value of content marketing or thought leadership
You want immediate results
You want cheap content
You want a team of yes-people

"With Omniscient, we 10x'd our blog traffic and established a content strategy we're excited about that's defensible and sustainable. I'm so grateful for their continued help and support throughout this process."

Ilona Abramova

Head of Content

"Omniscient helped us kickstart our content efforts and streamlined our process. More importantly, our organic traffic has seen significant growth."

Emils Veveris

Head of Digital Growth
Let's work together
We've helped other B2B software businesses grow through content marketing. Wondering if we can do the same for you? 
Full-service engagements start at $8,000.