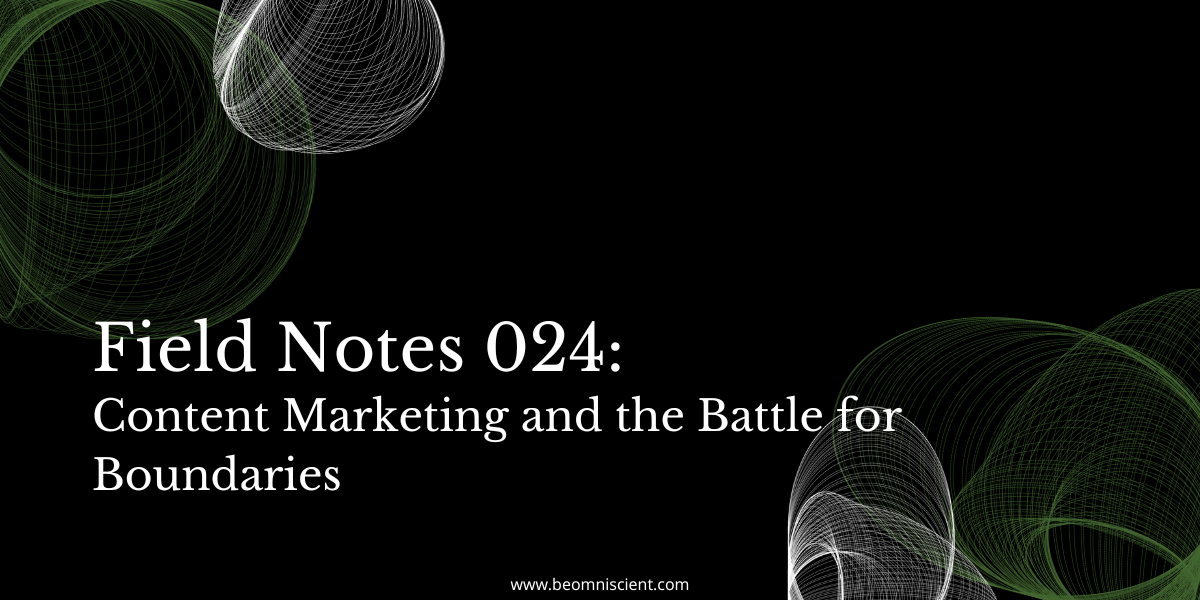 This week's discussion is aimed at my fellow content marketers, but all are welcome to read and reply!
David and I were chatting with a prospective client last week, and one of the team's content writers mentioned a pain point that stuck with me: he and his team often receive content ideas and "assignments" from leadership, making it difficult for them to stick to a consistent content strategy.
He feels pulled in multiple directions and, sometimes, taken advantage of. Moreover, because the assignments are from VPs and C-suite, they're subject to multiple rounds of revisions, slowing down his publishing cadence.
This is not the first time I've heard of this struggle from content teams, nor am I a stranger to that feeling myself.
If you've listened to our podcast, you may have heard me rant calmly talk about how I feel that, in some organizations, content teams are susceptible to being treated as second-class marketers.
Because of how most B2B marketing teams are structured, Content typically lives farther away from the customer (Product / Sales) than, say, Demand Gen or Product Marketing.
Moreover, some content teams score themselves on vanity metrics like keyword rankings, social engagement, traffic, and time on page—all helpful checkpoints to measure progress but not as impactful as CVR, MQLs generated, or blog-attributed purchases.
I digress.
My point here is that not all CEOs or CMOs are bought into content and may (unintentionally) take advantage of the "resident writers" to get shit done.
Don't get me wrong. It's always helpful to have input from C-suite, Product, Sales, and Customer Success…especially when the brainstorming well runs dry. It's also likely that these teams know your customers better than you do, and that's OK. You need that front-of-house POV when creating content.
But leaning on other teams to feed you topics is not sustainable for a content marketing team looking to turn content into a growth channel. It can also be annoying, tbh.
Whether you're a team of one, ten, or thirty, you must create a healthy boundary between you (Content) and the rest of your organization. It's a crucial step towards taking more control and building leverage for your projects.
Here are a few things I've done (or seen my previous team leads do) to give Content some creative wiggle room:
Create a topic submission form
When I was at HubSpot, we were hounded with folks looking to leverage our big writing team. (I don't blame them; we were pretty awesome.)
Thankfully, our manager created a simple yet effective Google Form to capture topic submissions. We shared that form in Slack, on our Wiki, and at the end of our monthly reporting calls. It was a helpful way to distill external ideas and force folks to think about the what and why before sending projects our way.
Own the meetings between Content and Sales/Product/CS
Don't wait for other teams to come to you. Set monthly meetings with your customer-facing colleagues and the folks responsible for building your product, and own the brainstorming conversation. Come prepared with questions and knowledge gaps only those teams can fill, and limit their contributions to a set number of content requests per month or quarter.
Also, encourage your Content co-workers to build their own internal networks, as they might need quotes or interviews for future articles. Plus, having cross-functional friends is fun 😀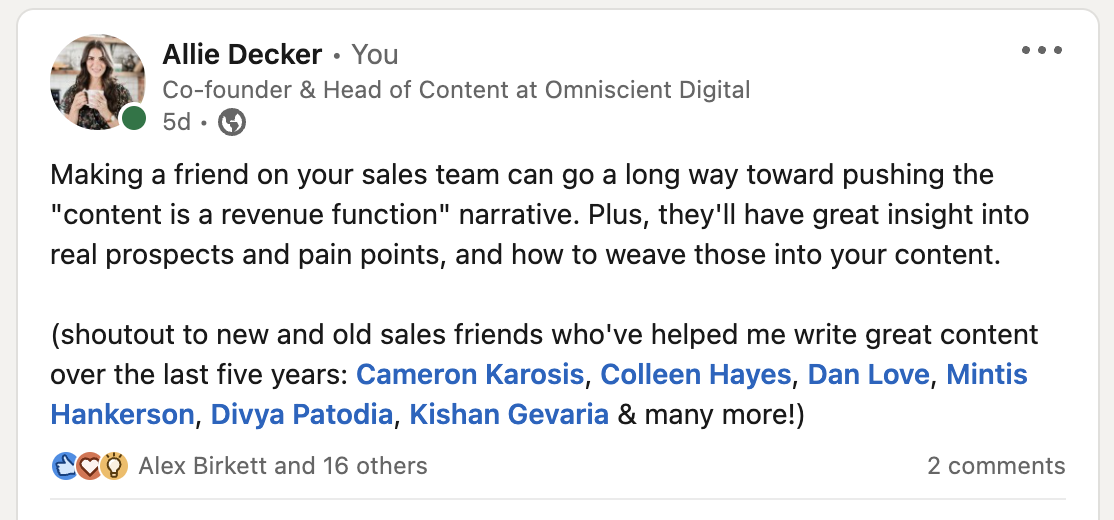 Proactively share your published content
My Lead at Shopify created an RSS feed via Slack where published and recently updated pieces would be automatically shared. Anytime someone asked what we were working on, we asked them to join that Slack channel. Before long, folks across Sales, CS, and Marketing were using our pieces for their own campaigns and projects.
This approach lessened the random Q&A from other teams and helped them utilize our work for their purposes (instead of them utilizing our time for their projects).
Work from a roadmap
A skill we've BIG on here at Omniscient is ruthless prioritization. Focus should be fun. The content you produce should always help move the business forward.
You can't do that without a strategic roadmap to guide you—and serve as a moat between you and any external assignments that may come down the line.
We've learned that most businesses don't fail at content marketing due to bad content or a lack of promotion. They're missing a clear strategy. Without one, you will likely waste a lot of time, effort, and money on content that doesn't achieve your goals.
(Strategy ≠ keyword research. It's a holistic approach that considers your customer behaviors and buyer journey, marketing campaigns and sales process, business goals and content KPIs, and the team's strengths, weaknesses, and constraints. We have a whole course on this.)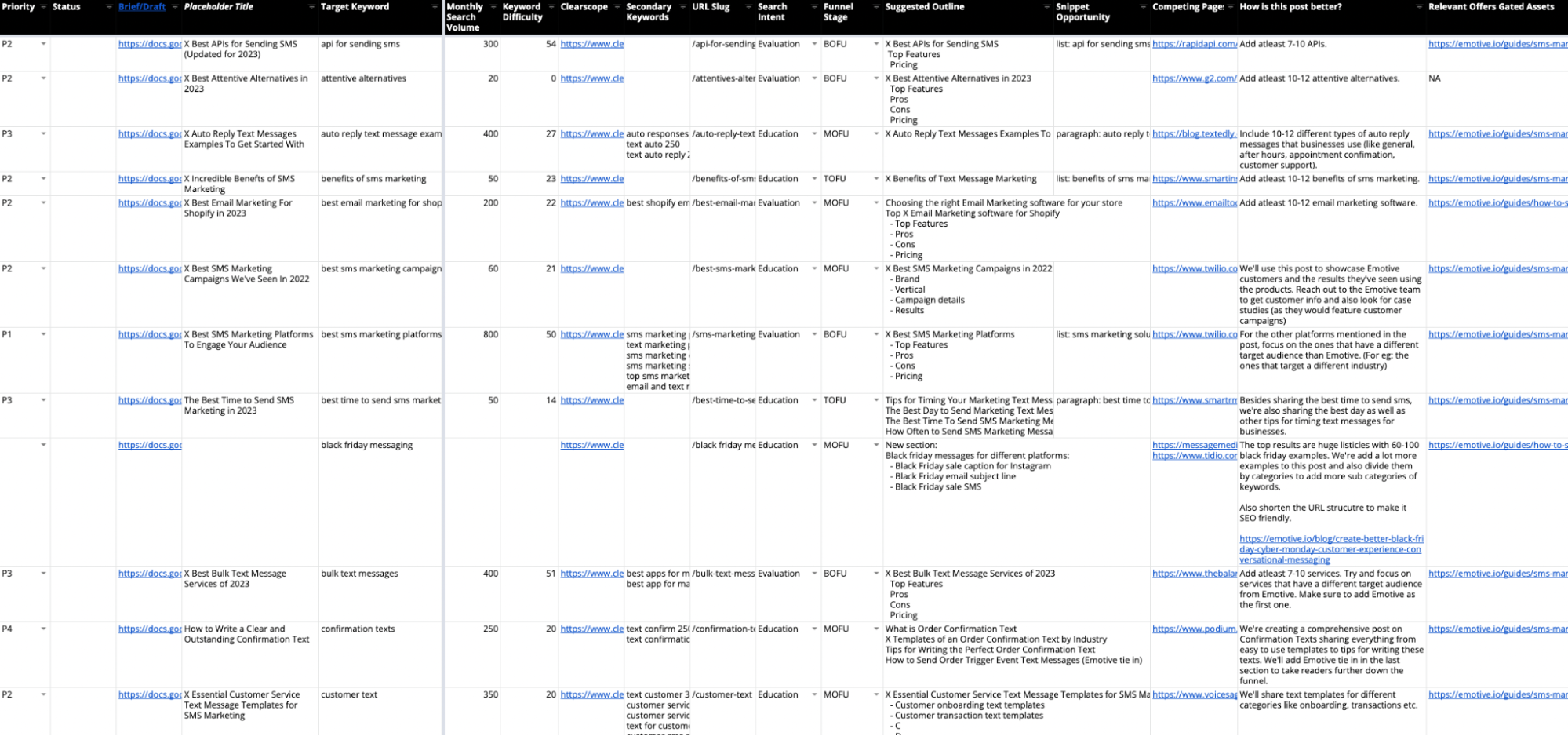 We also do this for clients—evaluate their business, create their content strategy, and map out a year's worth of content. Working from a strategic content roadmap does not mean you're locked in for the next six to 12 months. We recommend assessing your production workflow weekly, reviewing your content reporting monthly, and auditing your content strategy and roadmap quarterly to ensure it's always aligned with your business's larger goals. (Yep, we do QBRs with clients, too.)
When you work from a content roadmap, you can point to a cogent strategy if and when folks come to you with content ideas. Plus, they may learn something new from your strategy, too. 
Recommended Reads
1. We Hosted 20+ Virtual Events in 2022; Here's What We Learned About Event Promotions – Our very own Karissa, the producer of The Long Game, Office Hours, and Road to Mastery, contributed a super helpful piece on event promotion and what we've learned in 2022.
2. The Future of B2B Lead Generation Strategy for CMOs at B2B SaaS Companies – David dove into the trends he's seen in B2B lead gen and how to weather the storm of changes in buyer behavior and decentralized content marketing.
3. Bonus: Recent Trends and Building an Audience with Amanda Natividad (SparkToro) – Amanda is a brilliant marketer and amazing audience-builder. She and I discuss a ton of exciting topics, from career growth to zero-click content to imposter syndrome. Give it a listen!