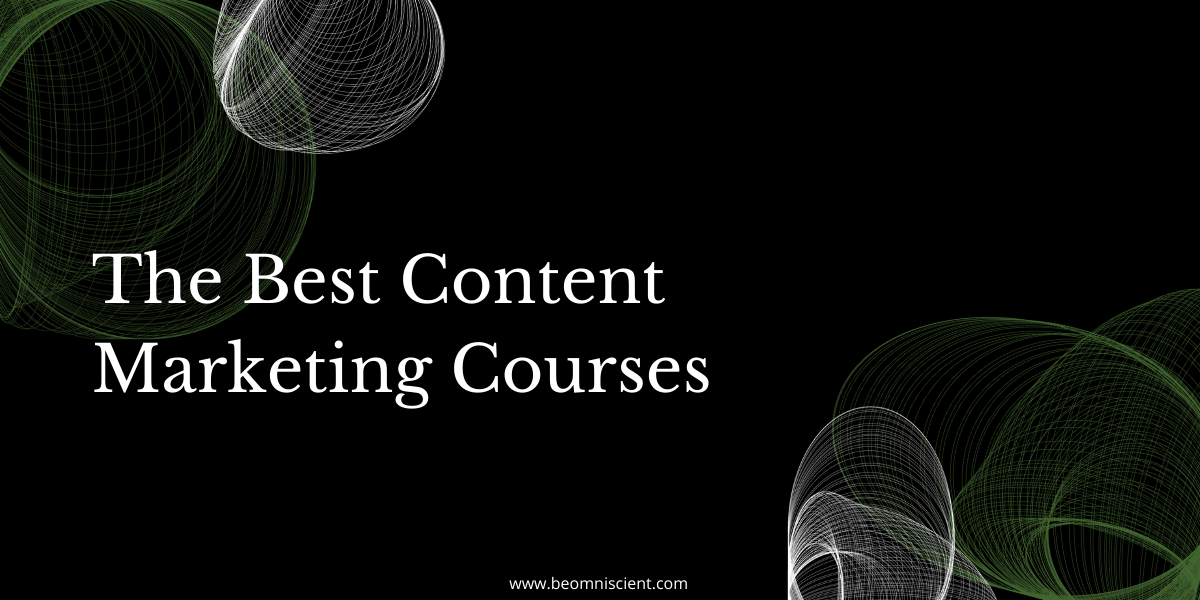 It's 2022, and you can learn whatever you want online.
Hip hop dance? Check. Yoga? Absolutely.
So of course if you'd like to learn to become a better content marketer, there are many content marketing courses for that as well.
At Omniscient, we founders have worked at a myriad of different companies in content related roles. We've helped dozens of clients boost their top line revenue with content marketing. We've also hired dozens of content marketers and have a pretty good grasp on what knowledge a content marketer needs to know to be successful.
So we've decided to put together a roundup of the best content marketing training programs and courses available right now.
I'm going to give you a spoiler alert: our own content strategy course is going to be the top of the list. It's the best one out there. However, we'll also include several other courses we've taken and can personally vouch for. 
Whether you're totally new to content marketing and want to jump start your career or you've got years of experience and want to sharpen the sword, there's a content marketing class on this list for you.
The 8 Best Content Marketing Courses in 2023
SiegeLearn
SEO That Works by Brian Dean
Traffic Think Tank
CXL Institute's Link Building Course
HubSpot Academy's Inbound Marketing Certificate
Grow & Convert's Top Content Marketer
Blogging for Business by Ahrefs
Hi, I'm Alex. I co-founded Omniscient Digital, and I co-created this course. 
Let's get the bias out of the way, and ask: why did we create this course?
Three reasons:
First, no one covers content strategy comprehensively.
The courses that do talk about the strategy part of content marketing typically waste all of their time talking about stupid things like developing personas (which are almost always taught entirely inaccurately) and whether you should publish blog posts, social media posts, or webinars (they basically cover the "types" of content marketing).
We thought this was frustrating.
Most content marketing programs fail to break even on their investment, and a huge part of that is because company's don't spend time developing a smart strategy.
Second, this is the stuff we use when we work with clients.
We've developed tools and frameworks such as the Barbell Content Strategy, content economics, Product Led Content & Buzzworthy Content, and growth modeling. These help us plan, research, and execute economically sound content strategies that both produce timely results and scale well.
Finally, we were developing this training for new employees as a method of faster education and onboarding. We figured, why not make this a public thing, too? So you're basically getting our training we give to internal staff.
It's the most advanced training on content strategy out there. Check it out.
Not ready for a paid course? Get started with our free email course Foundations of Content Strategy.
2. SiegeLearn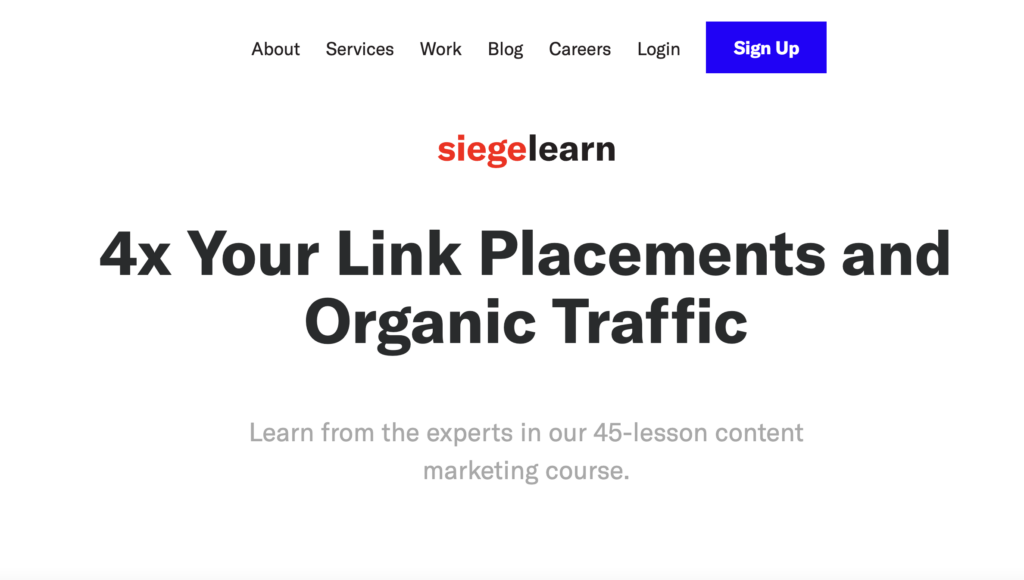 SiegeLearn is the content marketing course that will teach you the SEO, content marketing, and link-building strategies used by the Siege Media team to drive results for some of the biggest brands in the world today (and tomorrow).
Instructors Ross Hudgens, Caroline Gilbert, and Vince Nero—all titans of the content marketing industry in their own regard—unveil the methods they've used to achieve repeatable and sustainable growth for hundreds of clients over the last decade.
That's a lot of expertise and experience in one "room."
SiegeLearn covers everything from ideation to execution of various content types, best practices for outreach to ranking and optimization strategies, and more. This course, paired with our content strategy course, will set you up to succeed in content marketing for yourself, your site, or your clients.
3. SEO That Works by Brian Dean
SEO That Works by Brian Dean is one of my favorite beginner to intermediate courses on the *content* side of SEO.
In this course, Brian covers fascinating frameworks such as the "linkreators" (the people who can give you links), why they are often your core audience for content, and how to inject certain features into your content to make it more shareable and linkable.
If you're looking for a crash course in efficient and effective blogging, this is it. There may be no one better suited to teach high leverage SEO than Brian, who gets probably hundreds of thousands to millions of visitors a month with a couple dozen blog posts.
What I like about this course is it's focused (really covers SEO from the content side deeply, instead of trying to cover technical SEO and advanced keyword research too). I also like that it's engaging and easy for the beginner to follow along with. Brian is great at developing frameworks and names to easily explain complex ideas (e.g. Skyscraper Technique).
4. Traffic Think Tank
Traffic Think Tank is a combination of a private community and courses and training on SEO and content marketing.
One thing I've learned in my years working in digital marketing: none of the exciting conversations happen on blogs, on stage, or in courses.
They happen at the conference bar.
This is true across fields (for reference, I've attended or helped organize dozens of conferences in the A/B testing and CRO space, and also attended dozens of content and SEO conferences).
So joining a community means you're much likelier to get unfiltered feedback, cutting edge tactics, and raw and honest discussions.
That alone is worth the price of admission. Then you get access to all of the existing training materials from some of the biggest names in SEO, as well as ad hoc webinars and interviews. This is a great program.
5. CXL Institute's Link Building Course
Link building is a massive component of SEO and is entirely underrated in the content marketing world.
Many companies that teach content marketing do so from the vantage point of a) starting very early b) having a large content creation budget and c) having a super high domain authority.
Most companies don't have those benefits.
Most companies, rather, are dealing with limited resources and a low or middling domain authority. This means they can't functionally just produce content at a high pace and hope it ranks. They have to do some link building, both manual and organic.
CXL Institute brought on Irina Nica, who is also our head of digital PR and taught a section in our course, to teach a full deep dive on link building tactics.
She's the master of scale when it comes to link building, so I love this program. She doesn't teach one off hacks, but rather systems you can use to repeatedly generate high value backlinks.
6. HubSpot Academy's Inbound Marketing Certificate
Hubspot Academy is often the gateway drug for marketers entering their career. It's user friendly, ubiquitous, and teaches the foundations well.
The foundations include things like buyer personas, social media marketing and social media management, content marketing formats (such as webinars, podcasts, blog posts, etc.), and measuring your results from content marketing.
I think this is a good introduction, though you'll likely 'graduate' from this material rather quickly.
Use HubSpot's Academy to train new or junior employees, or get your jumpstart into content marketing. Then start executing and gaining experience, and you can pick up some other courses from this list as well.
7. Grow & Convert's Top Content Marketer
Grow & Convert's Top Content Marketer program is a comprehensive content marketing course as well as a curated expert community with bonus materials.
The course itself is in-depth, covering content strategy (with case studies from my different types of business and business models), content production, promotion, and conversion optimization.
The cool thing is the community, though. It includes an ongoing discussion and the ability to get your questions answered, but also live bonus Q&As with marketin celebrities like Dave Gerhardt and Brian Dean.
8. Blogging for Business by Ahrefs
I'm an Ahrefs fan boy, and I love the way they do marketing and content (they were my initial inspiration for coining "Product-Led Content" and we use them as an example throughout our own course).
Of course, anything they put, I trust as being high quality. This course is no different.
Though it's definitely a beginner course, I like how they frame their lessons.
It's all about predictable growth, not just spikes of traffic or fluffy stuff like building BS buyer personas. Another cool thing is it shows you how to do everything using Ahrefs itself (well, unless you use a competitor to Ahrefs like SEMRush).
Anyway, for beginners to SEO driven content marketing and for those hoping to learn Ahrefs platform better, check out this free course. It's pretty good.
Content Marketing Courses to Avoid
Like I mentioned in the introduction, there are *tons* of courses online.
Here's a well-known secret: most of them are not very good.
Many content marketing courses will skirt around the actual meat of what makes content marketing important, namely its business value it can generate.
They treat content marketing as something inherently valuable as an end, rather than a means to grow your company. Which is fine, I supposed, but I'd not call it "content marketing," I'd call it "writing for a hobby."
Again, totally fine if that's your aim. But if you want to drive conversions, I'd stay away from high level programs that teach things like how to get social shares, how to write "compelling content" (one of the most meaningless phrases ever created), and especially anything that takes more than a few minutes to describe personas.
While I'm not going to list every bad course, I don't want to disappoint you, so I'll list a few that I'd avoid if you care about your time:
It's not that these courses are entirely without value, it's just that there are much better, meatier options. Avoid the high level thought leadership, rah rah, "content marketing is great!" type courses, and filter towards those that teach tangible skills and have an eye towards ROI.
Additionally, don't overvalue certificates. Nobody cares about them. They may provide marginal benefits when first starting your career, but you can take the HubSpot one in like 2 hours and just add it to your LinkedIn. Never pay for a program simply because of the certificate. Go for the tangible skills and results orientation instead.
Your best bet? Take a course or two to get the fundamentals down, and then start *doing things*. You can take courses all day and never outcompete the one in the arena actually writing content. You'll learn as you go. Of course, it helps to have guidance (so buy my course!).
But never forget why you're doing content marketing: to get results.
Conclusion
This has been a filtered list of my favorite content marketing courses and training programs online today (as well as some free content marketing classes and paid ones I think you should avoid)
If your goal is to become a great content marketer, any course on this list will help you to that aim. I'd recommend for beginners to take HubSpot Academy's course or Blogging for Business by Ahrefs.
I'd recommend intermediate to advanced content marketing professionals take Omniscient's course or Brian Dean's course, and then also join one of the communities listed (Traffic Think Tank or Top Content Marketer).