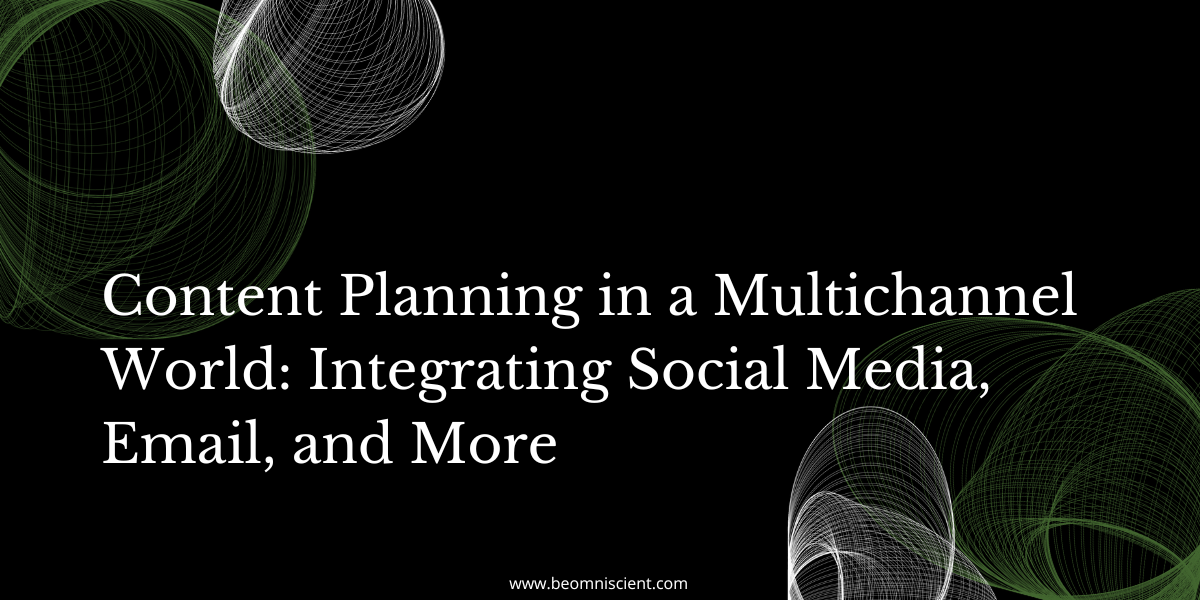 People consume content from all directions. In fact, an average person spends six hours and forty minutes online daily.
In other words, it's more important than ever for businesses to create highly engaging and relatable content. The best way to do this is to use a multichannel content planning strategy.
By using a multichannel strategy, businesses can reach customers wherever they are and increase the chances of their message being seen.
However, creating content for multiple channels isn't an easy feat. There are several challenges, such as not knowing where to start, not having enough resources or time, and not being able to track the results of the content.
If you're one of those businesses stuck with content planning, don't worry. This blog will guide you to understand content planning in today's diversified digital landscape.
What is content planning in a multichannel world?
Content planning in a multichannel world means creating and distributing content across multiple channels, such as your website, social media, email, and paid advertising.
In 2023, 73% of consumers will use multiple channels to research products and services before purchasing. Thus, creating and distributing relevant and engaging content can build trust and credibility with your audience and ultimately drive more conversions.
Clean Origin is a great example of a company that excels in content planning within a multichannel world. They seamlessly integrate their brand message and engaging content across various platforms, including their website, social media, email, and paid advertising.
As a result, they can effectively reach their diverse audience and reinforce their position as a leader in sustainable, lab-grown diamonds.
Here's a look at how they clearly outline their mission on their website: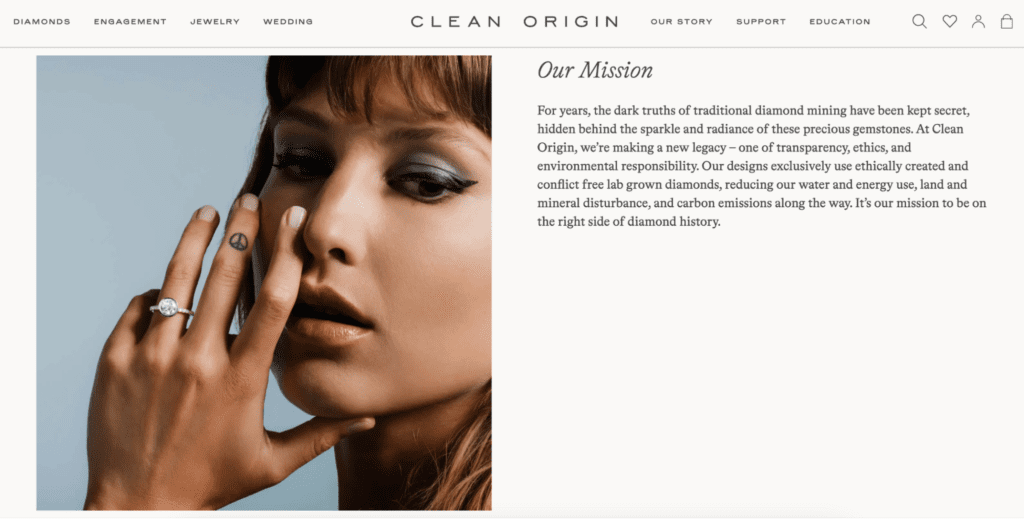 Source: Clean Origin
And here's how they took that same mission to Instagram to boost brand awareness and reach more feeds: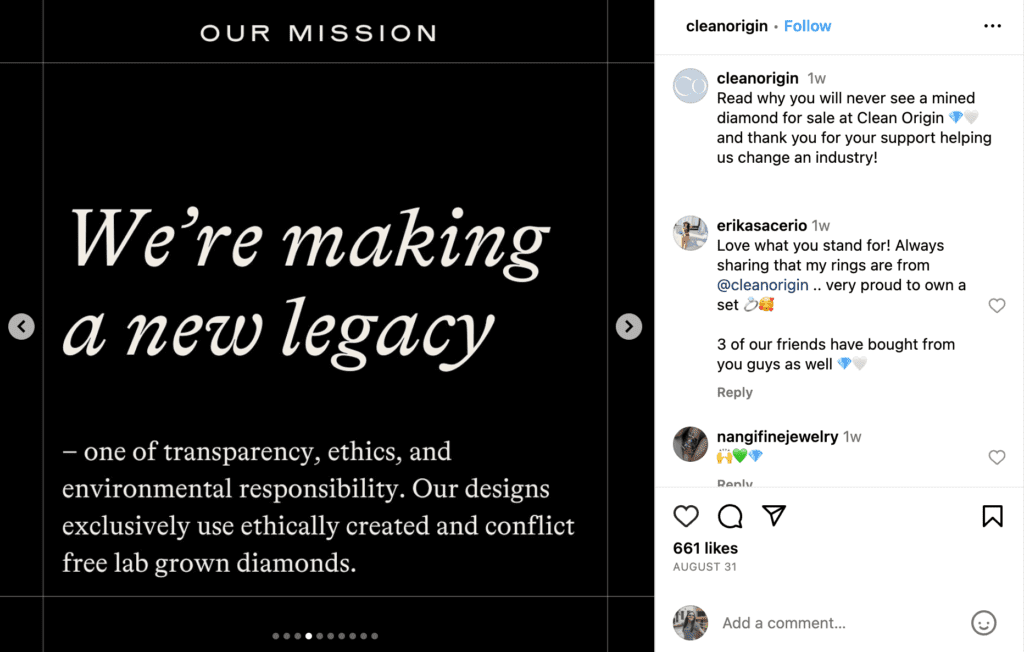 Source: Instagram
Why does content planning matter?
Content planning is essential for any successful content marketing strategy. Think of it as a roadmap that guides your content creation and distribution efforts.
The result? A blueprint for creating and sharing content that aligns with your goals and resonates with your target audience.
Here are some of the benefits of content planning:
1. Maintaining consistency
You can create a consistent message and tone across different channels (including offline channels) when you have a content plan from day one.
Paying attention to the small details helps to build trust with your audience and makes it easier for them to remember your brand.
2. Boosting audience engagement
Understanding your audience's needs and interests enables you to create content they'll find valuable and engaging, which in turn helps attract and retain customers.
In other words, you can create exceptional content that aligns with the customer journey.
Pro tip: Creating buyer personas also works wonders.
3. Allocating resources effectively
Through content planning, you can gauge the necessary time and money for content creation and distribution. Such foresight prevents overspending and under-delivering with any digital marketing initiative, especially a multichannel approach.
4. Aligning your content with your business goals
With content planning, you can ensure alignment between your content and overall business goals, making your content more effective in achieving desired outcomes.
5. Avoiding duplication
Content planning prevents the creation of duplicate content, saving time and resources and boosting search engine rankings.
6. Encouraging team collaboration
A simple content plan can help improve team collaboration by ensuring everyone is on the same page about the goals of your multichannel marketing strategy. And you have a clear outline of the type of content that you plan to create. It's a win-win.
Mastering multichannel: 7 proven steps for effective content planning
Content planning is essential for successful content marketing, but it doesn't come without a few challenges.
Here are some surefire ways to streamline your content planning process and boost the effectiveness of your content marketing efforts.
1. Understand your target audience and their preferred channels
The first step to effective content planning is understanding your target audience. This initial step includes knowing their demographics, interests, and online behaviors.
Once you know your audience, you ‌can create a marketing plan to help tailor your content to their needs and preferences.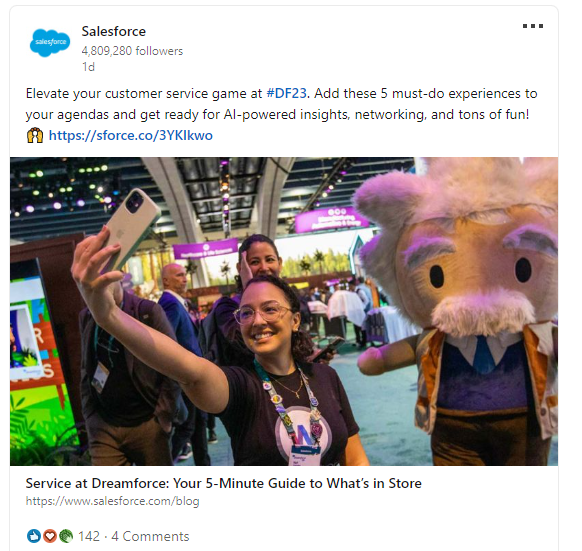 For instance, B2B brands like Salesforce and HubSpot have excelled in creating content for LinkedIn by customizing their posts and articles to resonate with their professional audience.
Here are some specific questions you should consider to understand your target audience and develop content ideas:
What are their demographics?
What are their interests?
Where do they spend their time online?
What are their pain points?
What are their goals?
When you understand your target audience, you can create content that they'll find valuable and engaging. This information will help you build relationships, drive traffic to your website, and achieve your business goals.
2. Align your content with channel-specific goals and formats
When creating content, it's important to consider the specific goals of each channel you'll use to distribute it.
For example, if you want to drive traffic to your website, the best way is to create long-form, informative content, such as blog posts and infographics. These types of content are typically more engaging and can help keep users on your website longer.
However, it's important to remember that in today's multichannel world, you can't just create generic content and expect it to reach your target audience. You need to tailor your content to each specific channel.
One brand that does a great job tailoring its content to each channel is StudioSuits. StudioSuits is a brand that specializes in impeccably crafted jackets, suits, pants, and more.
They have a blog that provides informative content about men's fashion, and they also use social media to share stylish photos and videos.
Here's a peek at their blog featuring keywords around men's fashion, with the goal of driving organic traffic from a Google search: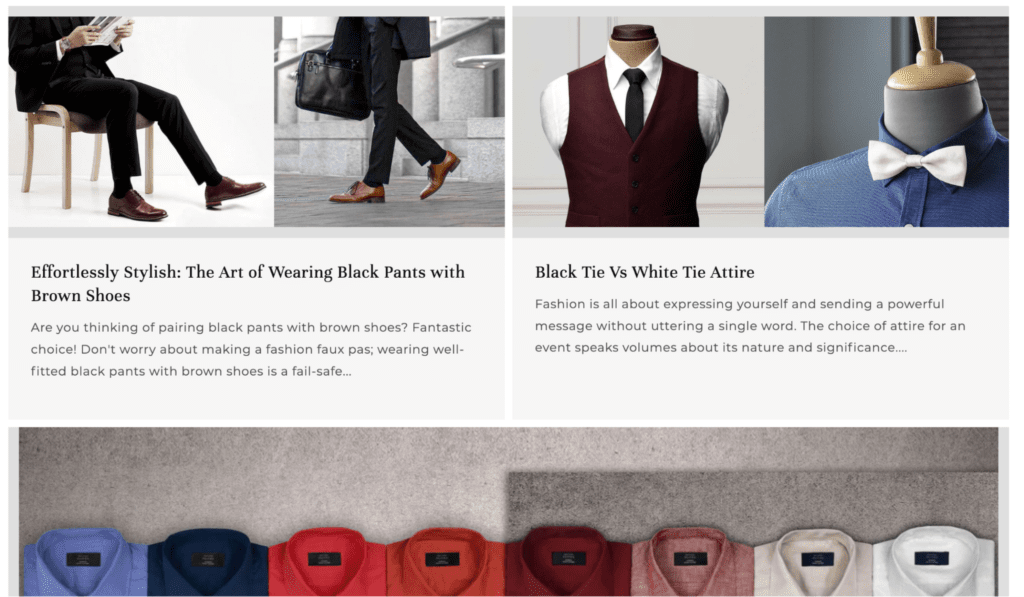 Source: StudioSuits
Then, they use Facebook to highlight custom suit orders to inspire the next customer (and thank their existing ones).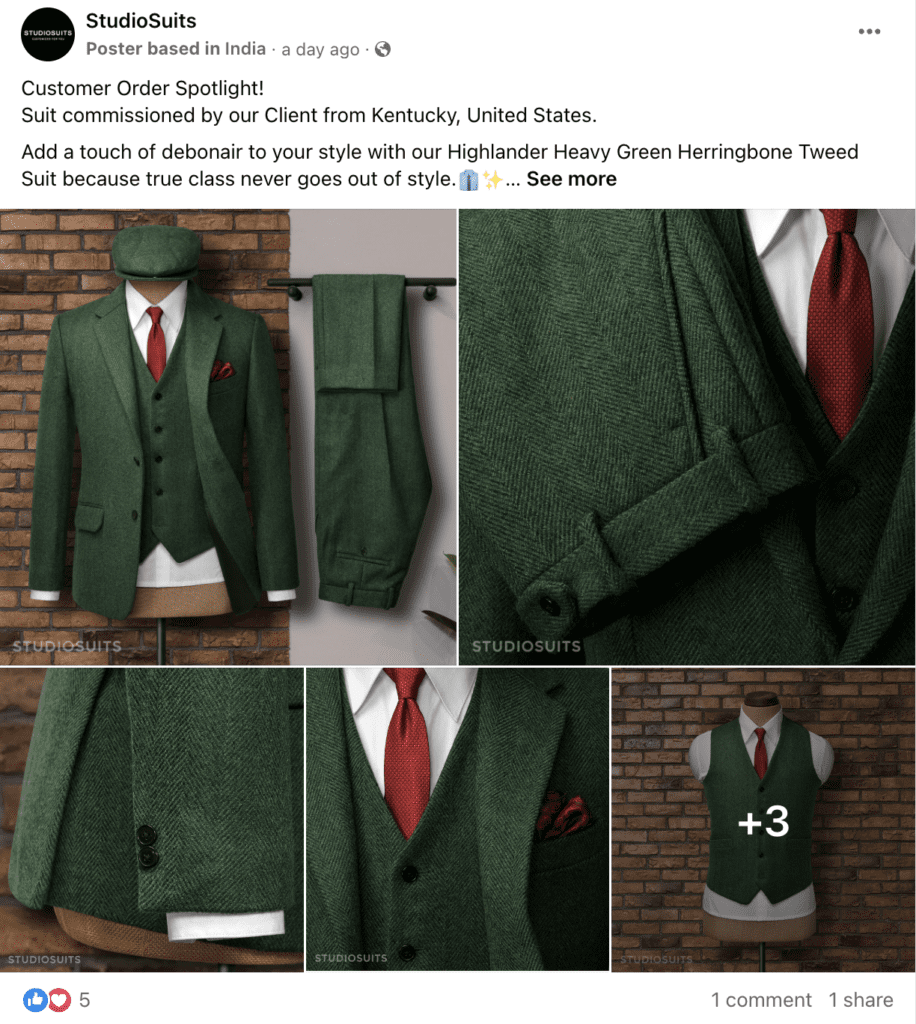 Source: Facebook
Ultimately, the best way to create compelling content is to understand your audience and tailor it to their needs. By doing this, you can ensure that your content reaches the right people and achieves the desired results.
3. Create an editorial calendar for cross-channel content planning
An editorial calendar is a great tool for planning, creating, and distributing content across multiple channels. Creating an editorial calendar makes sure your content strategy aligns with your business goals, audience needs, and brand voice.
Source: HubSpot
For example, HubSpot uses an editorial calendar to plan and publish content across its website, social media channels, and email newsletters.
However, here are a few things to consider while creating a content calendar for cross-channel content planning:
Your target audience: Who are you trying to reach with your content? What are their interests and needs?
Your business goals: What do you want to achieve with your content marketing? Do you want to drive traffic, increase brand awareness, generate leads, or drive sales?
Your channels: Where will you publish your content? Will you use social media, your website, email marketing, or other channels?
Your content formats: What types of content will you create? Blog posts, infographics, videos, or something else?
Your publishing schedule: How often will you publish content? Will you repurpose anything that already exists?
To boost the effectiveness of your omnichannel marketing plan, make sure each content piece addresses the following information—the type of content, target audience, channel, date of publication, and who'll be responsible for it.
Pro tip: Remember that creating an editorial calendar isn't a once-in-a-while thing. Update it regularly. As you create content and learn more about your audience, tweak your calendar accordingly.
4. Leverage social media for content promotion and engagement
Creating content is only half the battle. You must also promote content effectively to reach your target audience and achieve your marketing goals. Social media is a powerful tool that can help you do just that.
You increase the chances of reaching a wider audience and boosting engagement when you share content on social media platforms where your audience is most active.
You can use hashtags and other engagement tactics to boost reach and interaction. These tactics include running contests, setting up giveaways, collaborating with influencers, responding to comments and questions, and more.
For example, Starbucks uses social media to share its coffee culture (read: user-generated content), announce new products, and run contests and giveaways.
You can even leverage tools like an IG feed planner to streamline your content strategy on platforms like Instagram. These tools facilitate the visual organization and scheduling of posts, guaranteeing a consistent brand presence.
Here are a few things to keep in mind when leveraging social media for content promotion and engagement:
Create high-quality content that's relevant to your audience.
Use visuals to capture attention.
Keep your content concise and easy to read.
Promote your content on other channels, such as email and your website.
Track your results to see what's working and what's not.
In a nutshell, leveraging social media for content promotion and engagement is a powerful way to reach your target audience, build relationships, and grow your business.
5. Integrate email marketing for personalized content delivery
Email marketing is a great way to deliver personalized content to your audience. You can create more relevant and engaging emails that drive results by segmenting your audience based on different factors.
Some of the factors you can use to segment your audience include the following:
Demographics (age, gender, location)
Past interactions (pages they've visited on your website or what products they've purchased)
Interests (what topics they've clicked on in your emails)
Behavior (open rates, click-through rates, purchase history)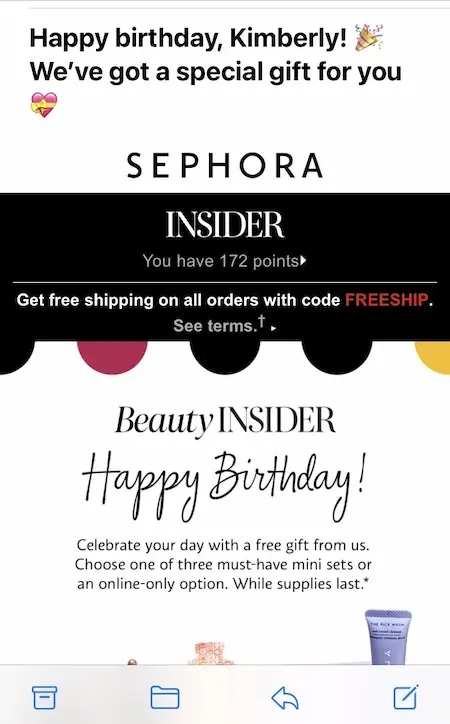 Source: HubSpot
Once you've segmented your email list, you can tailor your content to each segment. One study found that personalized emails have an open rate that's 29% higher and a click-through rate that's 41% higher than non-personalized emails.
When creating email marketing strategies, it's important to remember that email marketing is just one part of a larger content marketing strategy.
Your email campaigns should complement your other content efforts, such as your blog posts, social media posts, and website content. These details will help you create a more cohesive and engaging experience for your subscribers.
Finally, don't forget to test and optimize your campaigns. See what works and what doesn't, and make adjustments accordingly. By following these tips, you can use email marketing to deliver personalized content to your audience and drive results for your business.
6. Explore new channels for content distribution
You can distribute content through various channels. Some have been around the block, while others are new to the party.
Traditional channels include blogs, social media, email marketing, and paid advertising. Newer channels include video, podcasts, and influencer partnerships.
You can also integrate text-to-speech software if you want your social media posts, blog articles, or email marketing campaigns to stand out. This software converts written content into spoken words, making your material more accessible and versatile.
When integrating new distribution channels into your content planning, it's important to consider the following factors:
Your target audience
Your content goals
Your budget and resources
Once you have considered these factors, you can explore new channels that fit your audience and goals. Here are some tips for finding undervalued platforms for distribution:
Look for channels that are growing in popularity.
Pay attention to the channels that your competitors are using.
Ask your audience where they prefer to consume content.
Experiment with different channels to see what works best.
7. Monitor and analyze performance metrics across channels
The last but most important step of your content planning process is to track and analyze its performance across different channels.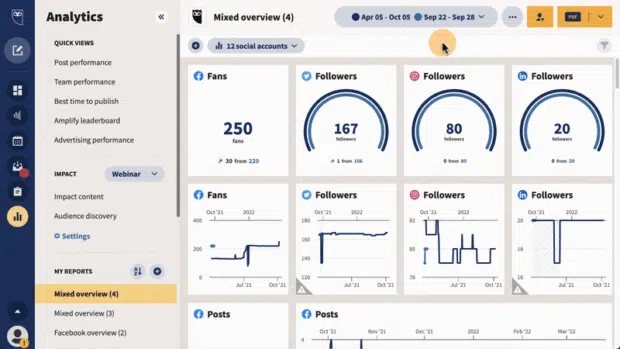 Source: HootSuite
This final step will help you understand what content resonates with your audience and what doesn't. You can use various tools to track performance metrics, such as Google Analytics, social media analytics platforms, and email marketing platforms.
Some of the key performance metrics to track include:
Website traffic: The number of people that visit your website
Social media engagement: Likes, shares, and comments
Email open rates: The number of people opening your emails
Click-through rates: The number of people clicking on the links in your emails
Conversion rates: The number of people taking the desired action, such as purchasing or signing up for your email list
By tracking these metrics, you can identify which content is performing well as well as what needs improvement. Use this information to optimize your content strategy for future success.
Multichannel content planning: Now is the time to start
Remember, successful multichannel content planning requires a cohesive strategy and consistent messaging.
By understanding your target audience and their preferred channels, you can create relevant and engaging content. However, continually adapting and optimizing your content based on audience feedback and performance data makes a world of difference.
Further, when you stay updated on emerging channels and trends, it can help you beat the competition and build a competitive advantage. What's not to love?
With these tips and strategies, you can easily navigate the complex multichannel environment and maximize your content's impact and reach, ultimately achieving your marketing objectives.
Contact Omniscient Digital today for more expert advice on your content planning.
---
Author Bio:
Jugraj Singh is a freelance content and copywriter from Delhi who's great at writing compelling content that converts. When not writing, you can find him reading thoughtful books and engaging in socio-cultural discussions, which fuels his creativity.
---