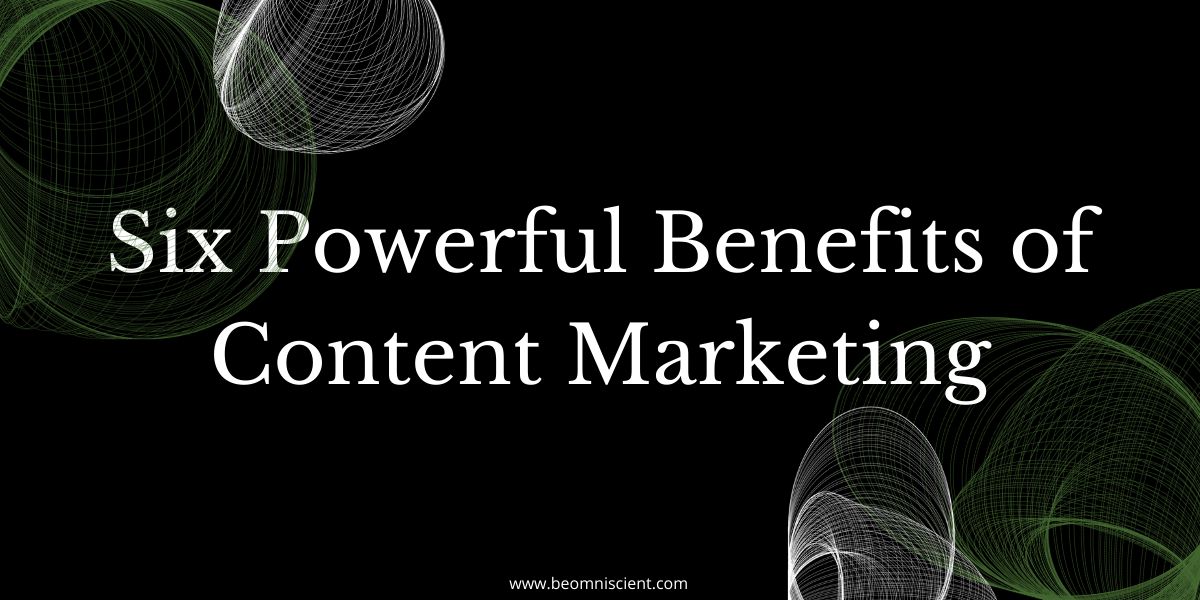 What do you do when you need information?
Let me guess — you head straight to Google and type out your search term, sometimes without even thinking.
With Google, we have a digital encyclopedia at our fingertips that can tell us anything we want to know about everything.
It's no wonder that businesses want a slice of the search action.
What is content marketing and why is it important?
As a content marketer, you already know the basics of content marketing (also known as inbound marketing) and are probably aware of a few different strategies.
Essentially, it involves creating and sharing effective content, including blog posts, videos, downloadables, infographics, social media posts, and guest posts to attract an audience and gently nudge potential customers through the sales cycle.
Imagine if a person had a question about a topic related directly to your business and, when they Googled their search term, they landed on your site.
This scenario is a far cry from the days of pushy billboards and one-sided TV ads. Instead, consumers control the content they consume, and becoming a go-to source for their needs is the highest accolade you can achieve.
Today, content is the beating heart of business — and marketers are clueing into it. 53% consider content creation a top priority; additionally, 29% of B2B marketing budgets are reserved for content marketing campaigns.
It's no secret that content marketing costs are considerably lower than traditional online marketing methods either. You don't have to pay exorbitant rates to pump out ads to a cold audience; instead, you use relatable content to pull people to you.
If you're beginning to see the benefits of content marketing but could do with an extra push in the right direction, here are some of the most notable advantages.
6 Benefits of Content Marketing
1. Drive traffic with strong intent to your site.
Google loves content — original, valuable, and up-to-date content is the number one ranking factor in SERPs.
The mammoth search engine's number one goal is to provide searchers with the information they need. According to Google itself, the algorithm looks at the meaning behind the searcher's query and the relevance of the content that matches those search terms.
Content marketing helps you align these two things and improve your SEO efforts, which pushes your blog posts, landing pages, and other web content up in the search results to the top spots (that searchers are most likely to click).
As a result, you'll get more click-throughs and more traffic (especially if you can capture that much-coveted top spot, which attracts 25% of clicks).
Publishing a backlog of linkable, buzzworthy content was the key to Wordable's digital marketing success. Rather than throwing proverbial spaghetti at the wall and hoping it stuck, we created a juicy content plan that helped them rank for key terms in their industry (and competitive terms, too).
Consistently rolling out this plan increased their organic search traffic by 500% in just one year.
On top of this, the more content you have, the more backlinks you'll generate from top industry sites. As one of the most significant Google ranking factors, this will elevate your search engine status.
2. Educate customers to build trust and credibility.
Trust is an essential factor in the sales cycle, and bolstering customer relationships is crucial for business today.
If consumers don't trust what they see, they're not going to hand over their hard-earned cash. Luckily, content is the perfect tool for providing useful advice and valuable content that educates readers on a specific topic (for free).
Becoming an expert in your industry or the go-to resource on a topic is a surefire way to boost your readership, establish trust even with brand new buyers, get your brand out there in front of the right people, and empower purchasing decisions.
AppSumo has a library of expert content that potential users can browse through. The brand knows its stuff, especially about freelancing, graphic design, and running a business. With our content strategy work, we helped them establish dozens more keyword opportunities for new, authority-building content.
3. Explore new topics to see what makes your audience tick.
Content doesn't have to be a rigid practice. In fact, this often does more harm than good. Consumers today crave brands that know what they want and understand their needs beyond providing a product they could find useful — which often requires flexible, agile content.
Testing different topics and content types will provide insight into what your target audience wants to read.
Are you lacking traction on that post about email open rates but seeing a ton of shares on the piece about subject lines? This tells you what your audience wants to read so you can create more helpful content.
Exploring new topics in this way can also help you reach new audience segments and elevate your brand to expert status in several different industries at the same time.
Buffer is a prime example of a company that's experimented with the types of posts they publish. Initially, they began sharing content aimed at their users (a.k.a., customers looking for social media management). After building a loyal following, they created a brand new spin-off blog that documents their ups and downs as a business. This allowed Buffer to explore tangential topics while continuing to build trust with their audience.
4. Populate the sales cycle and generate more sales.
Content marketing gets you more traffic, but traffic alone pretty useless if it doesn't convert into more sales.
With a robust content marketing plan, you can populate your sales cycle with highly-relevant content that pushes people towards a sale and increases your conversion rate.
At the top of the funnel, blog posts, videos, social media posts, and podcasts educate new leads on a problem they have.
Intercom has a vast resource center full of different content types to fit different stages of the sales cycle. There are TOFU articles that talk about business growth, as well as BOFU videos that show customers how to use the tool.
At the middle of the funnel, ebooks, checklists, email marketing sequences, and other downloadables capture contact details.
And, at the bottom of the funnel, knowledge bases, tutorials, and customer stories delight existing customers and keep them coming back for more.
Optimization efforts will help you get the most out of every stage of the funnel. Tweaking content types at the top of the funnel might generate better results. At the same time, tracking which demos and tutorials are most popular will help you provide better content for existing customers.
5. Build a useable, evergreen content library.
The more useful content you create, the more resources you have available for new and existing customers.
Suppose a lead reaches out to your sales team. In that case, the team is able to pull out a useful piece of content that could double as sales collateral. Similarly, if an existing customer is having problems using your product, they can tap into a well of resources rather than get frustrated and go elsewhere.
Having a content library populated with pieces geared towards your audience's needs allows your audience to make decisions in-the-moment.
Imagine this scenario: Someone needs a team management app for their department. While researching their options, they come up against a problem. Maybe they need an app with a unique collaboration feature, or perhaps they need something that isn't limited to the number of people who can use it at any one time.
If they can solve these problems during the research stage without having to reach out and wait for your sales team to get back to them, you're far more likely to make a sale.
Your content library will continue to grow and expand as you add new pieces of content, making it an increasingly valuable resource for new and existing customers.
Wunderkind has a great content library packed full of useful resources, running from guides and case studies to webinars and research studies.
6. Attract an audience and boost brand awareness.
If you're not putting your brand out there, new customers won't know you exist. You'll be drowned out by the reams of businesses that are pushing out their best content on the regular.
Creating high-quality content on topics your audience is interested in will elevate your visibility and make your brand memorable.
Say, for example, someone is looking for information on starting a business, and they come across one of your blog posts via a Google search.
From there, they check a few other posts, like what they read, and add your site to their reader app. They might even sign up for your mailing list. You've automatically attracted a new potential lead without too much extra effort.
And, if this happens at scale, you can quickly grow your audience and create a buzz around your brand.
Steezy Dance Studio regularly posts easy-to-digest content for dancers. Once they read one post, they're likely to click through to read another. And Steezy makes it easy for them to do so with a selection of recommended articles at the bottom of each post.
Reap the Rewards of Content Marketing
Content marketing lets you reach leads at various touchpoints with the exact information they need.
If they're struggling to choose between you and a competitor, robust case studies and testimonials will put you in the lead.
If they're just starting to research a solution to their problem, top-level blog posts that exacerbate their pain point before providing an answer will solidify your expertise and build trust.
If you're ready and raring to get started on your content marketing strategy and want a helping hand, check out our content strategy course for marketers.