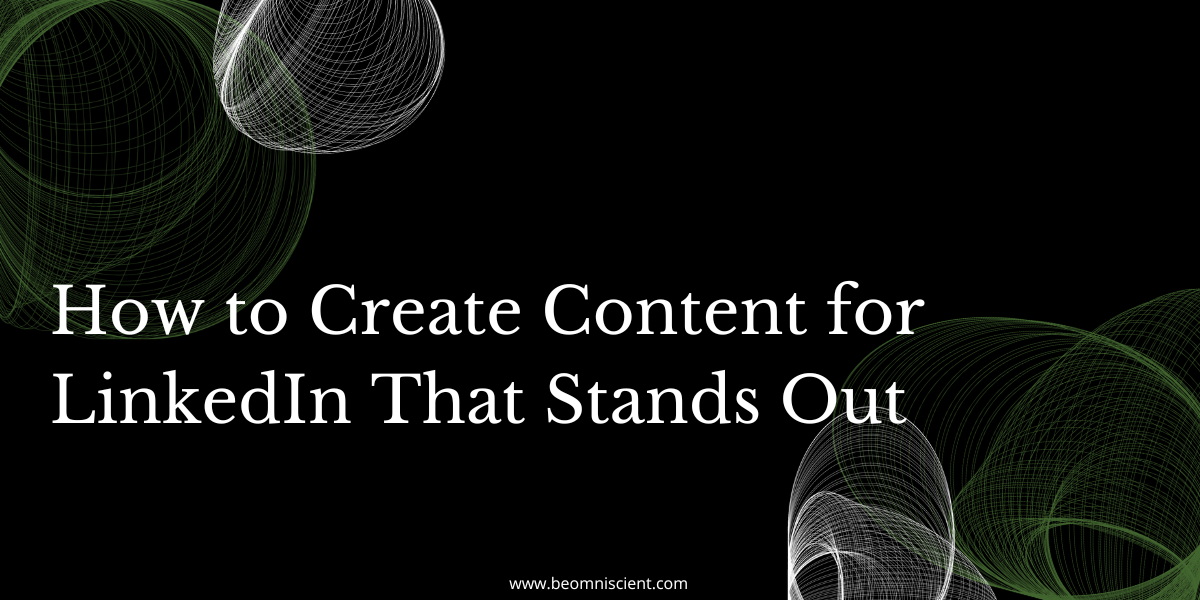 Modern B2B content marketing almost always involves creating content for LinkedIn.
You might already know about the power of the LinkedIn platform. But maybe not. Maybe you're a Twitter purist. Or maybe you're only focused on SEO.
This is likely a mistake.
Depending on who you're targeting, LinkedIn can be an effective platform for laser-targeted lead generation in addition to building personal brand awareness.
In fact, repurposing content to LinkedIn is a key part of our content strategy at Omniscient.
There are now a ton of different ways to create content for LinkedIn, including advertising, groups and communities, company pages, and organic content from your personal profile.
In this piece, I'll cover 5 types of content you can create for LinkedIn as well as 10 tips for LinkedIn content creation. This will mostly cover organic content for LinkedIn, but the lessons can also apply to promoted posts and advertisements.
5 Types of Content That Work Well on LinkedIn
Image sliders
Native video
LinkedIn articles
Native text posts
Event video streams
1. Image sliders (AKA carousel posts)
Image sliders (carousel posts) are a great way to showcase multiple images in one post. LinkedIn's image slider feature allows you to post up to 10 images at once, with each image having its own caption.
This format is especially useful for showing off product features, tutorials, or customer successes.
It's also a great way to repurpose content from other mediums. I see people repurpose Twitter threads all the time, for instance: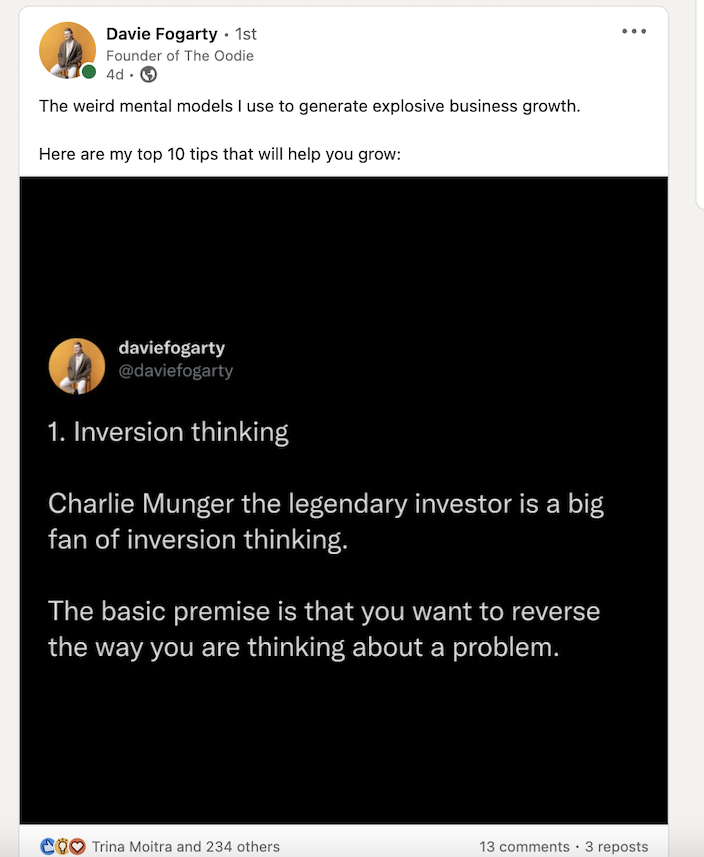 You can also treat this like a mini slide deck (harkens back to the SlideShare days, no?). Take a look at this post by Kacper Staniul for example: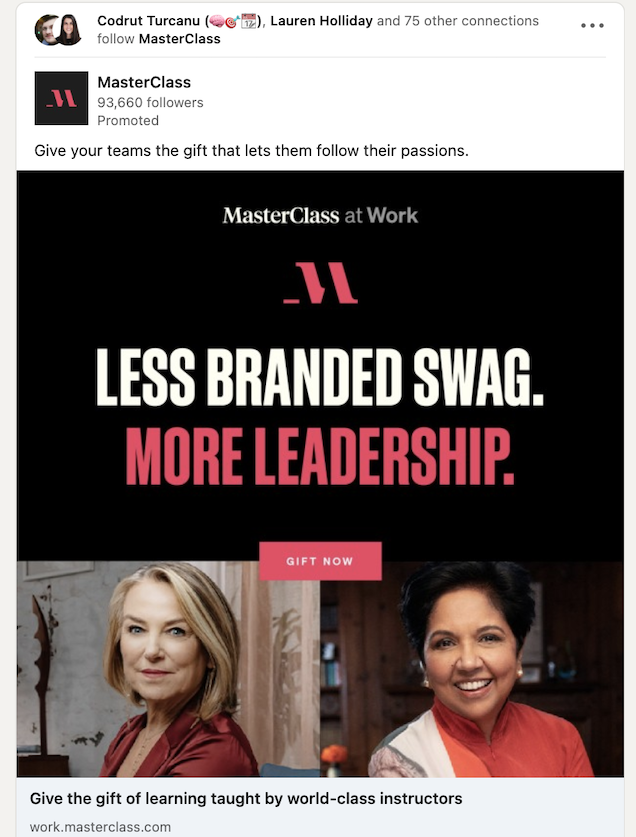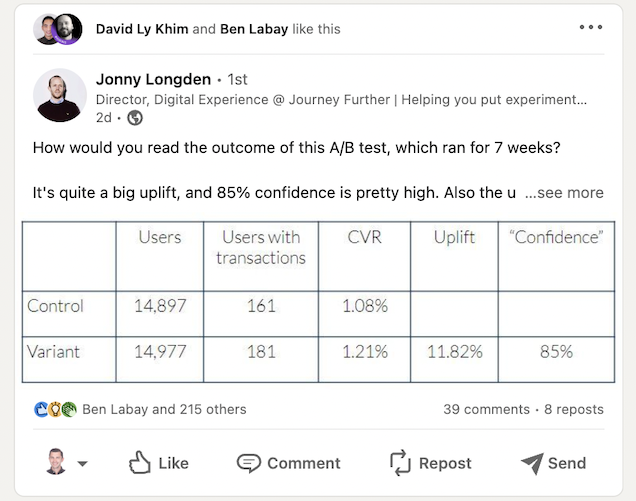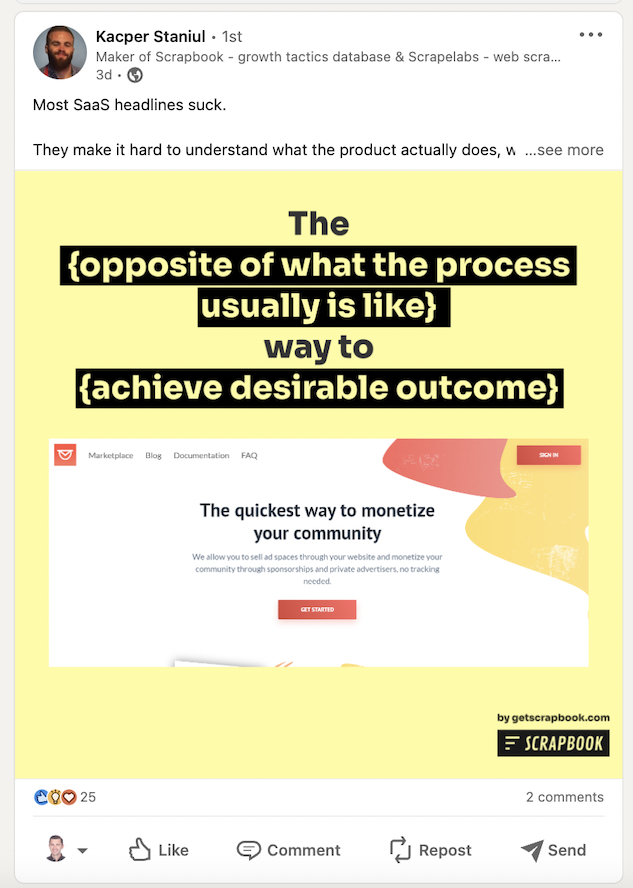 I used to repurpose long-form content from my blog to image sliders.
I'd grab 7-10 sections in screenshots, use those for the image sliders, and then summarize the content in the text above.
This one is repurposed from one of our Omniscient case studies: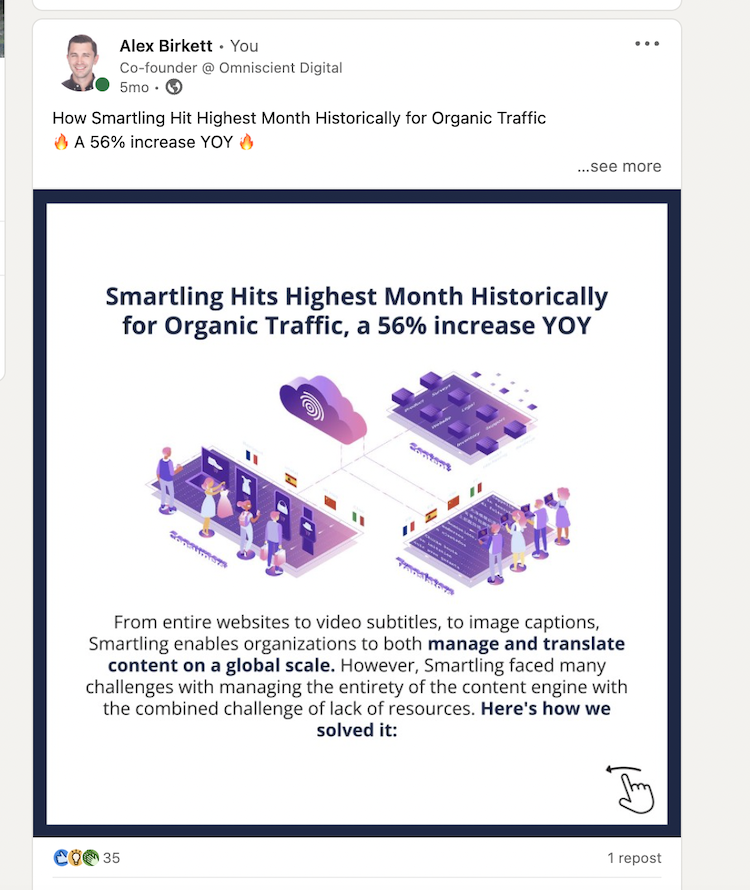 You can see I also employed some solid emojis. Also, note the swiping hand symbol on the bottom right to display that this is a carousel post.
2. Native video
Native video is becoming increasingly popular on LinkedIn. And for good reason – LinkedIn native videos get up to 7x the engagement of regular LinkedIn posts!
Here's an example from Jennifer Furlong Sellar walking through a free app she created: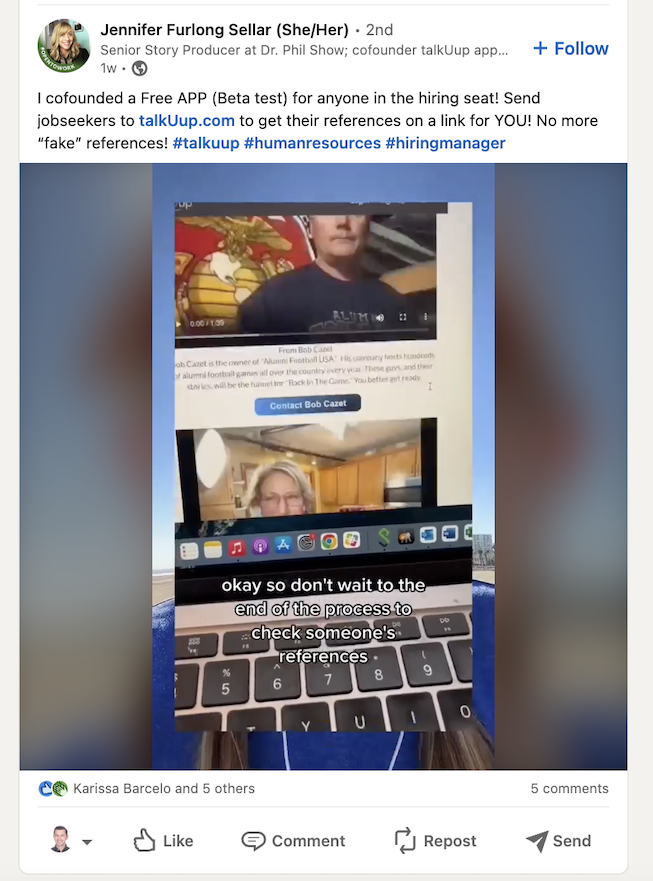 If you're just getting started with native video, try using your phone to record a quick one-minute message about something related to your business or industry. Don't forget to add captions to your video – LinkedIn's automatic captioning technology is surprisingly good.
Here's another example from mi amiga Daphne Tideman (peep the captions on the video):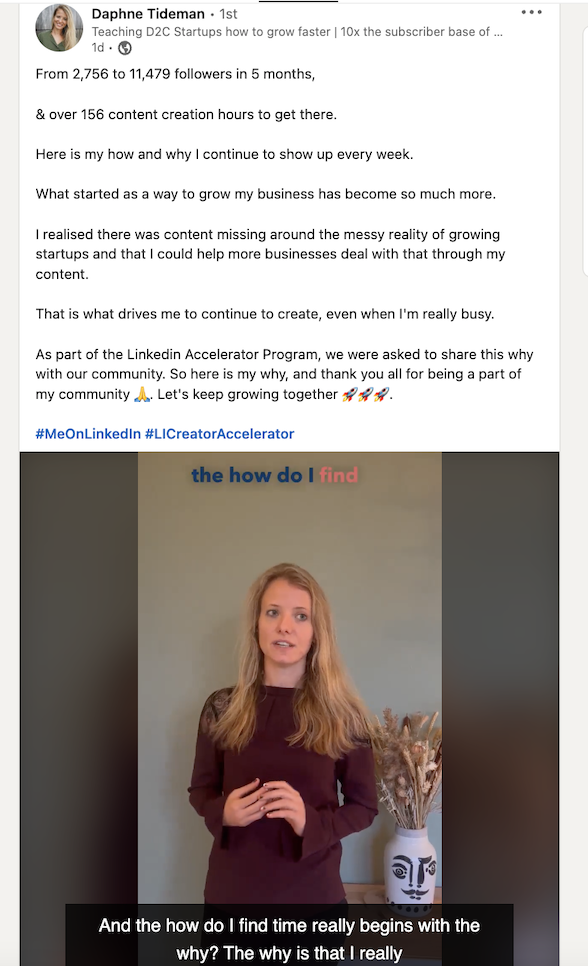 Don't think that these have to perfect. In fact, the more raw, the better. Dave Gerhardt and the Drift team made these off-the-cuff LinkedIn videos famous a few years ago and they still perform like a charm.
3. LinkedIn articles (LinkedIn Pulse)
LinkedIn articles are LinkedIn's version of blog posts. They're longer-form pieces that allow you to cover a broad topic in more depth than you could with a LinkedIn post.
An article can range from 500 to 2000 words, and LinkedIn now allows you to embed videos, GIFs, and other media into the article itself.
Lots of alpha in LinkedIn articles.
People still haven't caught on yet.
As Andy Crestodina told me in our podcast episode, they can also get promoted by LinkedIn themselves on their newsletter.
Essentially, you can repurpose your content from your blog as a LinkedIn article and potentially get a bunch of built in distribution.
Articles published on LinkedIn Pulse get to leverage the benefit of LinkedIn's powerful domain as well. This means you can sort of "hack" SEO if you have an interesting enough idea that you want to spread.
Ronny Kohavi consistently publishes great LinkedIn articles: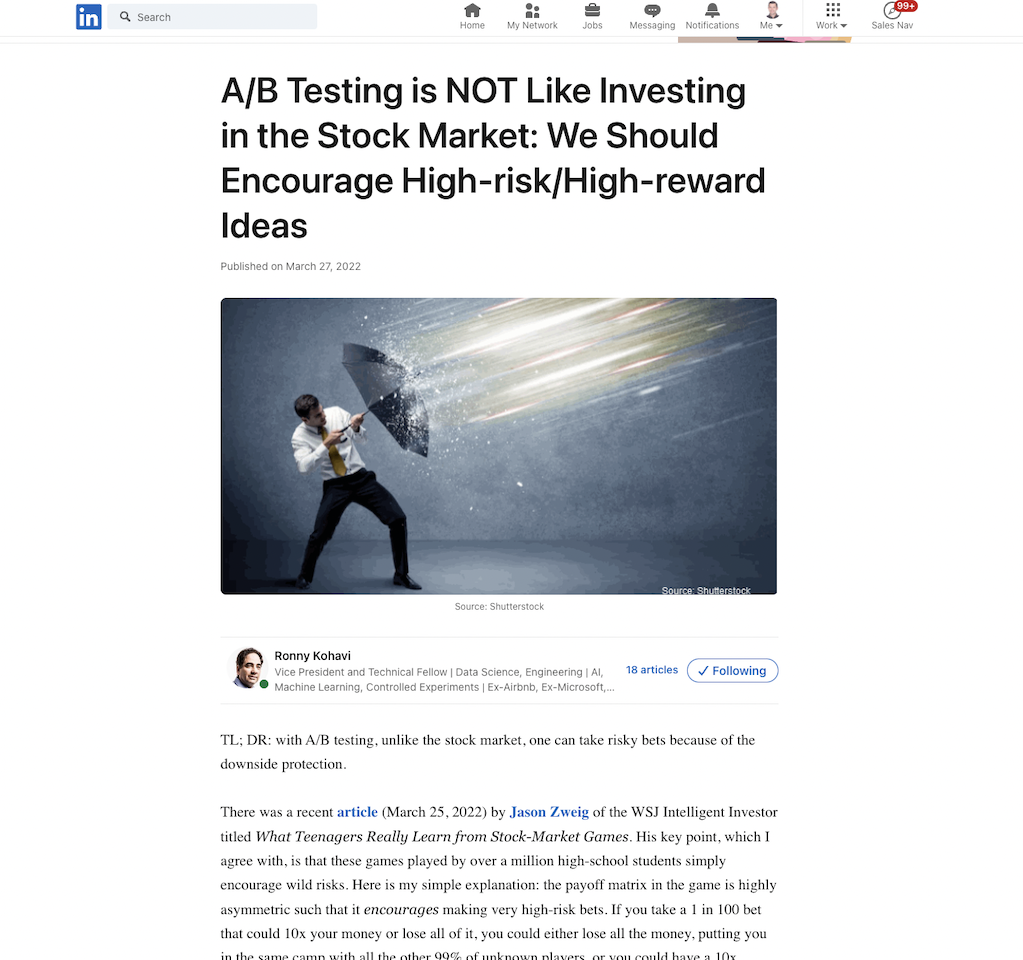 It works, too. You can see here that his LinkedIn article on the Overall Evaluation Criterion ranks first page for the keyword: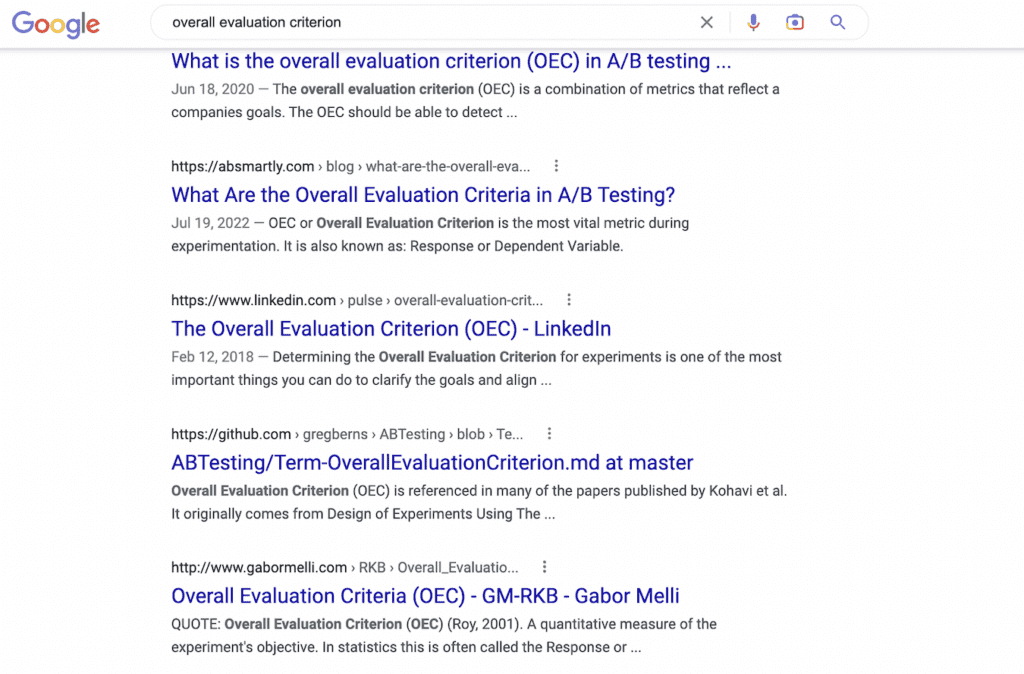 4. Native text posts
Generally speaking, linking out to other content (like your blog or website) doesn't work well.
You want to chop up your content and repurpose it as a native LinkedIn text post. You can add images and video as well, but at heart, this is a miniature blog post that you write on your LinkedIn newsfeed.
This is a good way to get the word out about an event, product launch, blog post, or other announcement.
There are a million ways to do this. Experiment using your own voice and style. You don't need to copy what the influencers do.
Look at this simple thought from my friend Emils: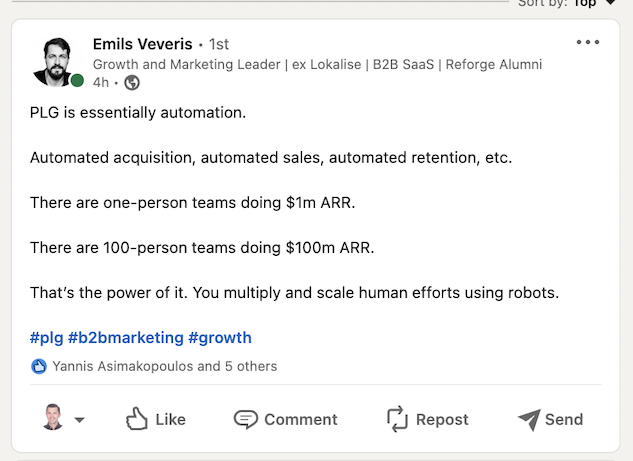 Images help a lot with LinkedIn content. For example, this post by Jonny Longden (a bit technical in nature, about A/A testing) might not "pop" without the use of the image.
It might not appeal to everyone, but those in the A/B testing world immediately recognize this as an analysis from an experiment.
In the post, Jonny asks, "how would you read this outcome?" and follows up by sharing that, "surprise! It's actually an A/A test."
Anyway, great way to call some attention to the idea of his content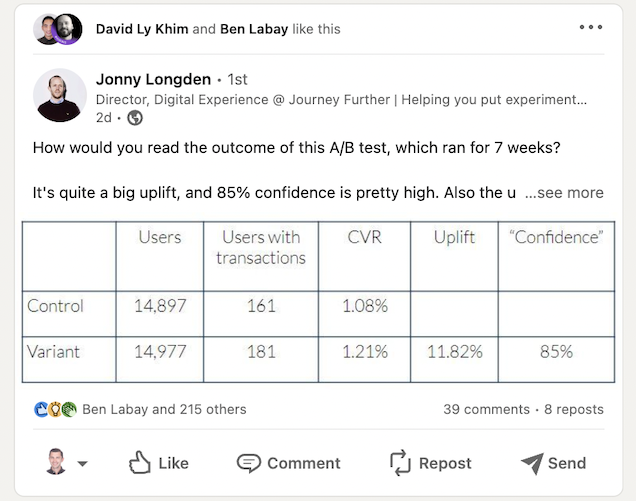 Infographics are fine, but in my opinion, overrated. Content on LinkedIn needs to have some substance, and pure infographics tend to be a little fluffy. But hey, like I said, many content types can work depending on the execution and the audience you want to reach.
5. Event video streams
Video streaming is a great way to engage with your LinkedIn followers. LinkedIn Live allows you to stream events and interviews, making it easy for people to watch in real-time or catch up later.
The key thing to remember when live streaming is that LinkedIn prefers longer broadcasts – aim for at least 10 minutes of content.
Like any other webinar, make it awesome.
We try to stream all of our Office Hours sessions to LinkedIn as well as YouTube to increase the surface area of our reach.
10 LinkedIn Content Creation Best Practices
Now, when it comes to writing content that performs well on LinkedIn, there are a few secrets native to this social media platform.
Remember that these things constantly change as the algorithm changes and user behavior changes.
The best thing you can do is publish regularly and experiment and learn as you go.
As of now, though, here are 10 tips to create content for LinkedIn that reaches your target audience.
1. Write for the skimmer
This is a general copywriter skill for the web in the modern era: write for skimmers.
If you hook 'em and let them get the gist, they might read on. But they might not. They're busy. And have cheap dopamine induced ADHD.
So you use short sentences.
And write one sentence per paragraph.
You can hate all you want.
But that's what works on LinkedIn.
Get used to it.
Also, how ironic is it for Buzzfeed to be writing snarky commentary about broetry. If they didn't invent shitty clickbait, they certainly perfected it.
2. Be timely and relevant
LinkedIn is ephemeral. Not as much as Twitter, but "what's happening now" content works better than evergreen stuff.
Instead of writing about "how to do keyword research" in general, you're better off writing a success or failure story about doing keyword research for your website at this moment in time.
Or write about how you did keyword research for a recent niche website.
Make it new. Flashy. Relevant to the exact moment.
That's why I don't schedule content out too far in advance on LinkedIn. I like to be agile and write for the current zeitgeist.
3. Use strong headlines / opening lines
The opening line is everything. If you're writing a LinkedIn article, that's the headline. If you're doing LinkedIn Live, that's the title of the event.
For a text post, that's the first line of your LinkedIn post.
Headlines are the number one way to get attention on LinkedIn.
Thought leaders and social media marketing experts know this. Look at Liz Willts last few posts from her LinkedIn feed: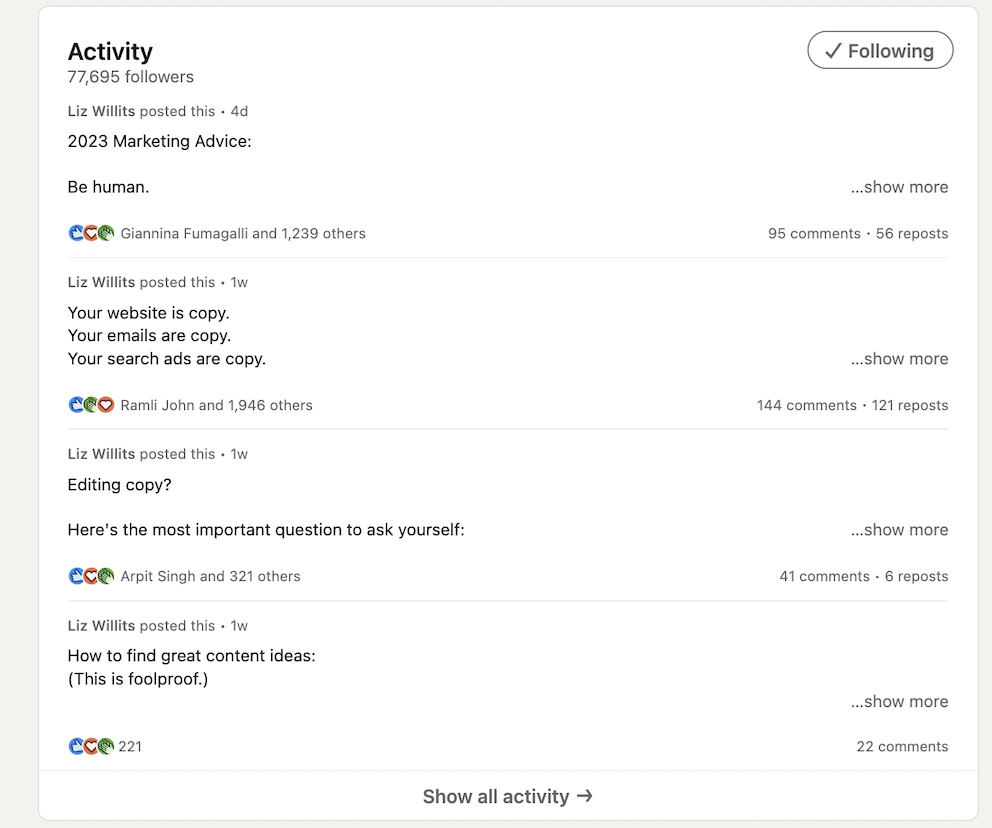 Make sure your headline is specific and interesting, and that it clearly communicates the takeaway of the content.
Don't be afraid to be bold, too – LinkedIn users like energy and humor in their headlines.
4. Write in first person
Content on LinkedIn tends to work best when it's written in first person. This helps you build a stronger connection with your readers; LinkedIn is about relationships after all.
When you write in first person, your content comes alive and people are more likely to engage with it.
5. Hook 'em early
No matter what type of content you're writing, the key is to hook your readers in within the first few seconds. That's why LinkedIn headlines and opening lines are so important; they need to be interesting and attention-grabbing from the very beginning.
Try using stories, emotions, or humor in your introduction to draw people in.
6. Keep it regular
Consistency is key. Two benefits to posting regularly: you get to experiment and learn what works, and you benefit from the "mere exposure effect."
The "mere exposure effect" is a psychological phenomenon where people tend to like something more when they're exposed to it multiple times.
So if you post regularly, LinkedIn's algorithm will push your content further and your followers will become more familiar with you and start to like you more.
As for experimentation, it's critical with LinkedIn. It's almost impossible to predict the success of any given post, but over time, you can learn patterns as to which formats, topics, and stories work best. You can only do this through publication velocity.
Ideally, post on LinkedIn once per day. At least twice per week. You can use LinkedIn to test out new content ideas and messages.
7. Incorporate multimedia
Video and images are far more likely to get attention on LinkedIn than plain text.
This is especially true for LinkedIn Live, where the video format allows you to connect directly with your audience in real time.
Make sure you use high quality visuals wherever possible; LinkedIn users have high standards when it comes to multimedia.
Video content specifically works super well. Pop onto LinkedIn whenever you want and you'll see it all over the place:
Secret hint: offer free templates in exchange for someone commenting.
People love free stuff. And by commenting, they increase the reach of the post.
Check this one out (got hundreds of comments):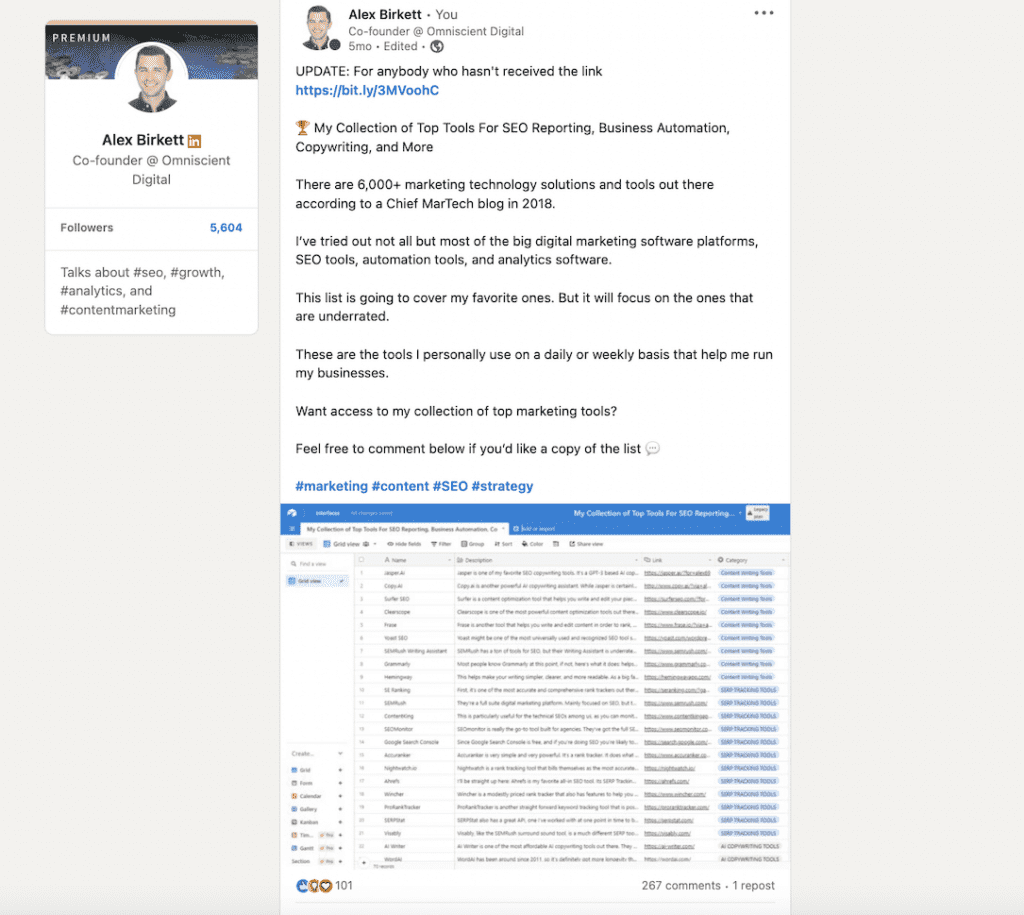 Turns out that thought leadership is forged through algorithm hacking. Who knew?
8. Optimize for SEO
SEO doesn't matter for most LinkedIn content. But it does matter for LinkedIn Pulse / LinkedIn articles.
Just like you'd optimize your title tags, H2s, and body content in a regular blog post, you can do the same with content published on LinkedIn.
Of course, it depends what your goals are with your LinkedIn content strategy.
But LinkedIn has a DR of like 100 (making that up), so you might as well squeeze some SEO traffic out of it, too.
9. Take advantage of Pulse's features
Like I mentioned above, if you're writing long-form content as part of your content strategy, don't sleep on LinkedIn Pulse / LinkedIn articles.
You can repurpose stuff you've already written and get increased distribution via their internal promotion and notifications for this type of content.
10. Promote like crazy
After you post on LinkedIn, pop the link in your company Slack and ask teammates to comment and like it.
Ask your friends and external colleagues to do the same.
Initial traction is everything. Once you've built up an audience, this doesn't matter as much. But when you're just starting out, it helps to have a small cabal of supporters who can help your content pick up steam.
Conclusion
LinkedIn.
People love it, and people hate it.
Me? It's part of the game. It's where much of my target audience lives, and frankly, it's easier to pick up traction there than it is with long-form content nowadays.
It's also an incredible platform for repurposing and testing out content.
Hopefully this article convinced you to start sharing content on LinkedIn. Done well, great content flourishes there and it can really fill out a marketing strategy (and also directly tie back to sales).
We're doubling down on it at Omni. Perhaps you should, too.
For further reading on how LinkedIn plays into our general marketing strategy, read this post on decentralized content marketing. Excited to see which types of posts you share.