Order.co Grows Blog Organic Sessions 1682% and 11X Blog Conversions
"Omniscient helped us make sense of 100+ dead blog posts with data-driven ways to make them useful. They're helping us build up our domain authority with excellent content strategy and production. They're proactive about sharing metrics and results and I get to watch our search rankings roll in each week. I have peace of mind about SEO and content."

Eric Hann

Senior Director of Marketing
growth in organic blog sessions
Order.co is a spend efficiency platform that helps businesses manage what they buy, how they buy it, and how they pay for it, saving them time and money. The company has revolutionized the purchase-to-pay process and helped its 300+ customers (including WeWork, Peloton, and Hugo Boss) save millions of dollars each year.
The Challenge: Flat traffic and leads plus a rebrand and website redesign
In late 2021, the Order.co marketing team was four people strong. They were focused on customer marketing and demand generation, yet their content and SEO program was inconsistent, resulting in a stagnation in traffic and leads.
They also found that visitors downloaded content assets and were interested in the information, but they weren't requesting demos or becoming customers.
The team was heavily reliant on paid marketing and outbound sales to bring in new customers, so they were intent on building an inbound marketing engine to diversify their customer acquisition portfolio.
Ex-HubSpot employees, Corey Beale (Chief Revenue Officer) and Eric Hann (Senior Director of Marketing) knew content was necessary to grow and scale the business, but they also knew the old HubSpot playbook didn't work.
They needed a trusted partner to build the content infrastructure and scale a new content program to achieve their demand generation goals.
The Goal: Build an organic marketing machine that brings in qualified leads
Since Order.co was bringing in nearly 80% of their customers through outbound sales, Eric wanted to turn content into a robust growth channel to generate qualified leads for their Sales team.
He wanted to kickstart the content program with a high-velocity publishing cadence while maintaining high-quality standards.
That meant growing organic traffic by producing product-led content based on their key personas and targeting topics and keywords focused on product use cases. This content would support customer acquisition as they rebranded and redesigned their website.
Order.co was also redefining and tightening their definition of their ideal customer profile (ICPs) to expand their reach into new industries. The content would help them reach those new ICP industries.
Eric and the Order.co team needed a strategic partner to build a search-friendly content strategy, own content production, and provide regular reporting on performance.
They chose Omniscient Digital as their content and SEO strategy partner based on our understanding of the procurement space and our experience working in-house at leading B2B software companies.
Omniscient Digital worked with Order.co to build a content program that aligned with their business goals. The program included five phases:
Phase 1: Align on Order.co's business goals and large company initiatives
Phase 2: Audit Order.co's existing content library to identify update opportunities
Phase 3: Research in depth to develop a full-funnel content strategy mapping to Order.co's business goals
Phase 4: Execute on the strategy with content and backlink production
Phase 5: Content optimization
Phase 1: Alignment
Order.co and the Omniscient Digital team sat down for an intensive Q&A to ensure the team understood the business model, business goals, growth strategy, success metrics, guardrails, and any other relevant marketing initiatives.
Order.co was rebranding from Negotiatus when they engaged Omniscient Digital. They were also in the middle of a full website redesign to support the rebrand. They wanted to maintain their existing traffic throughout the rebrand and redesign.
This context was important in defining the order of operations: the Order.co and Omniscient Digital teams started by making sure the rebrand and redesign were a success in terms of SEO before implementing new programs.
Phase 2: Content & SEO audit
Omniscient Digital's content audit used a data-driven approach that combined insights from Google Analytics, Google Search Console, Screaming Frog, and Ahrefs.
The content audit reviewed over 100 blog posts written and published by previous content marketers. While this content had laid a strong foundation for the Order.co blog, the content wasn't aligned to the newly defined ICPs or optimized for conversions. This explained why the Order.co blog was failing to bring in traffic and leads.
Omniscient Digital identified posts to rewrite, update, repurpose into conversion assets or landing pages, or delete in order to help get more traffic and conversions out of the existing content library. They also conducted an SEO audit to support the rebrand, identifying all pages with links to the old domain and links to 404s that needed to be redirected or updated.
Phase 3: New content strategy
The third phase was focused on building a content strategy that matched Order.co's ICP at each stage of the buying journey, and used product-led content to capture visitors.
Order.co worked with the Omniscient Digital team to develop a full-funnel content roadmap which required team interviews, competitive analysis, content gap analysis, and keyword discovery. This research, paired with the content audit, uncovered new, relevant content and SEO opportunities for Order.co.
Phase 4: Content & backlink production
After developing the strategy, Omniscient Digital deployed their internal editorial team to implement a full-service content production process — taking opportunities from ideas to ready-to-publish content on a consistent basis. In tandem, the team built valuable backlinks with a minimum domain rating of 50 to Order.co's most relevant pages.
Phase 5: Content optimization
Once the content production process was humming along, Order.co and Omniscient Digital worked together to improve the blog conversion rate. Over the course of a year, they improved the conversion rate 3X.
The content audit, strategy, and production proved successful. Order.co significantly grew organic blog sessions and began turning content into a growth channel for user acquisition and revenue.
Since beginning our work together in February 2022, Order.co has published between four and eight posts per month, about 30 of which were content updates.
A look at the result of the content updates (which ensured Order.co's existing content was working for the business).
Looking at all the efforts of content produced and updated, monthly organic blog sessions grew 1682%.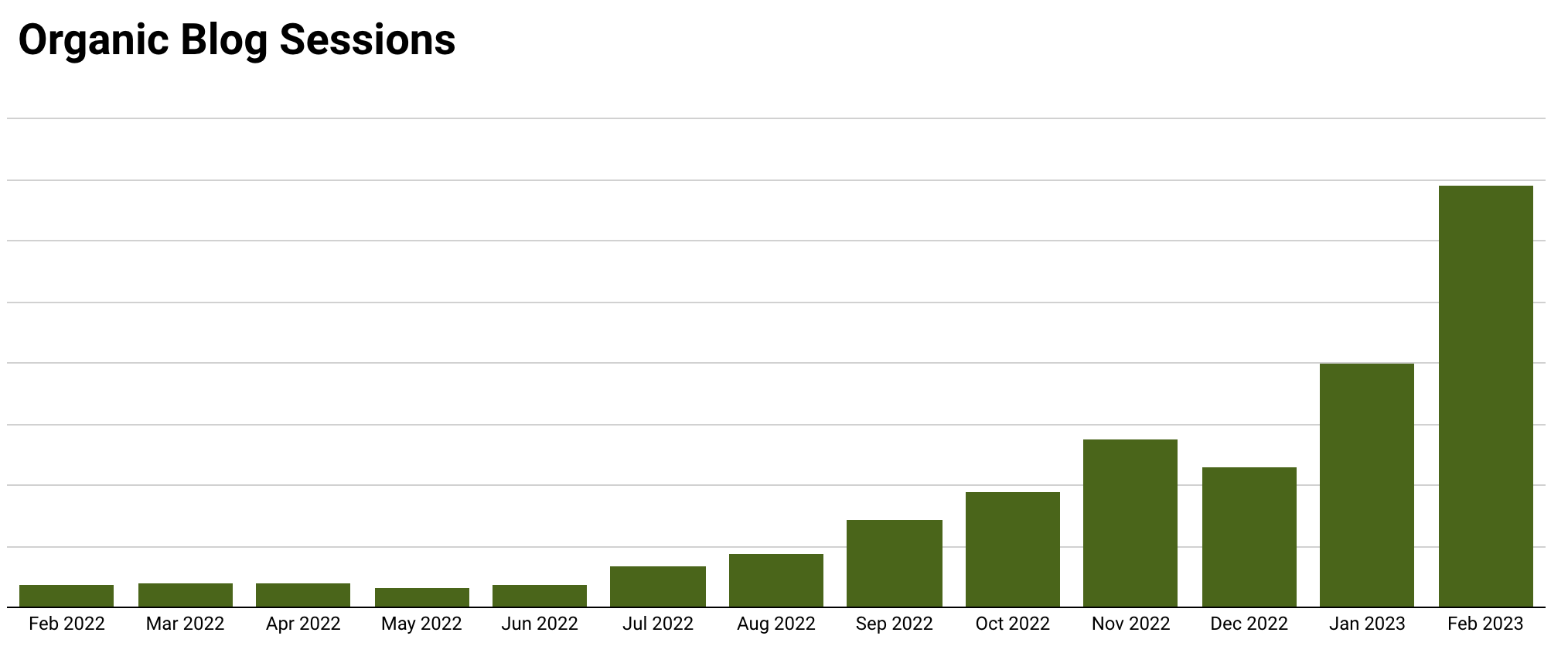 When breaking out updates of existing content, Order.co grew monthly organic traffic to their pre-existing content 600% since March '22.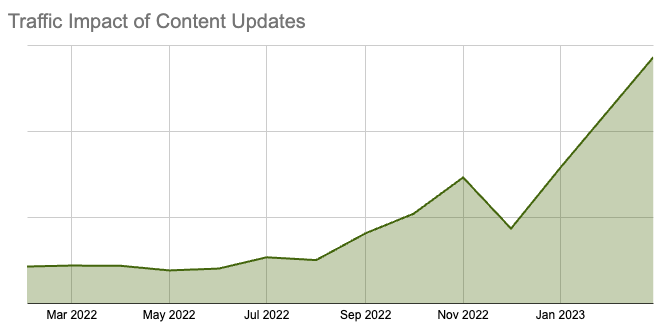 As of February 2022, Order.co appeared in the Google search engine results page (SERPs) for only 524 keywords. By the end of February 2023, they appeared in the 6317 keywords.
Of those, they appeared on the first page for 921 keywords.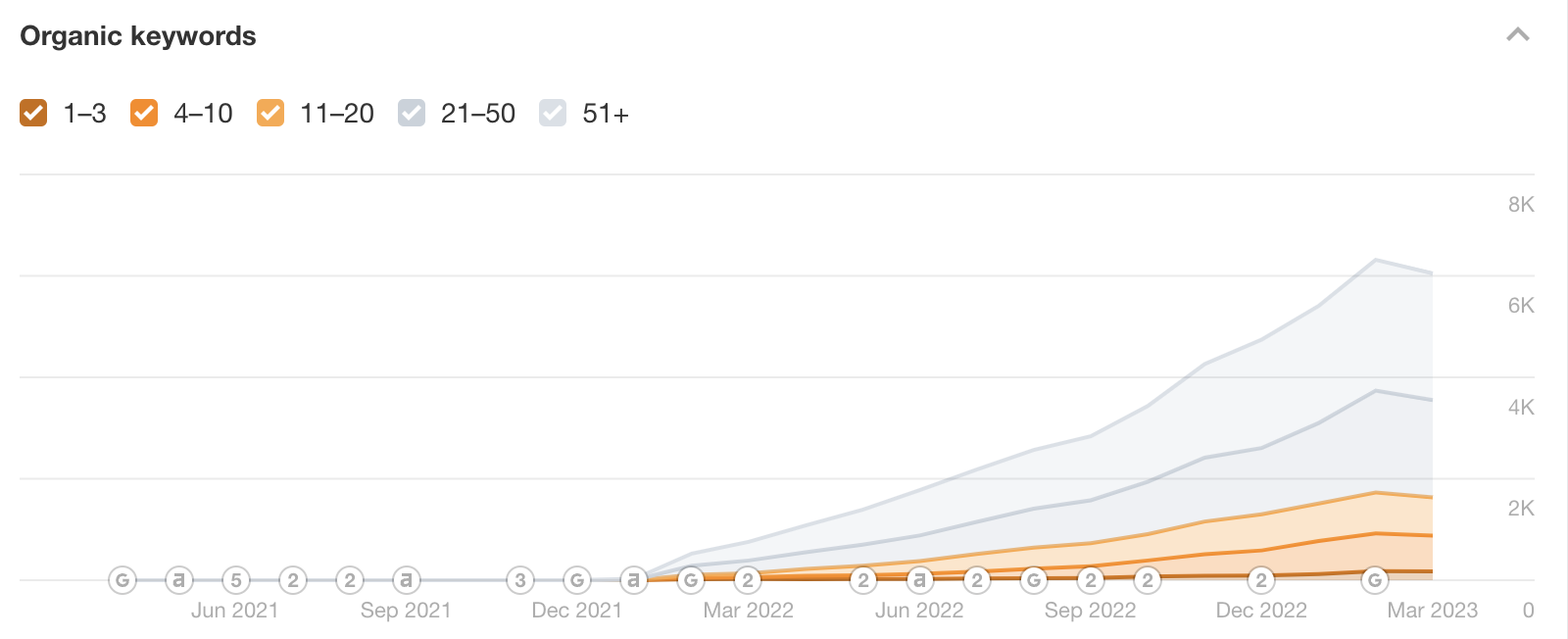 Blog conversion rate improved 13X.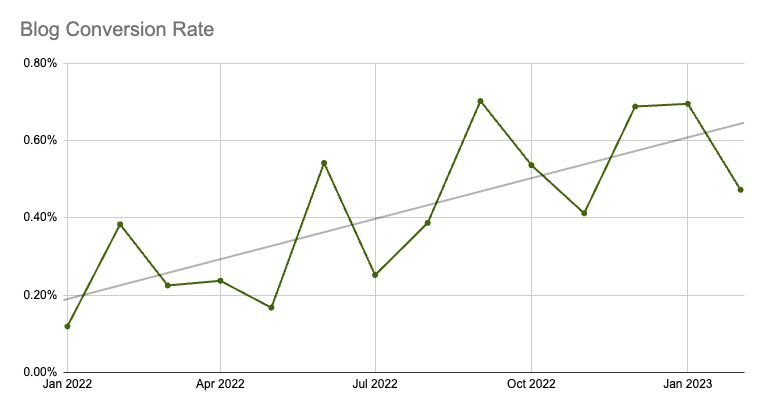 With the increase in blog conversion rate, Order.co also saw an 11X increase of monthly conversions from the blog (blog subscribers, leads, and MQLs).

Order.co continues to see organic traffic grow and generate meaningful conversions for the business.
Let's find out how we can help you turn content into a growth channel.
Let's work together
We've helped B2B software companies turn content and SEO into growth channels. Let's do the same for you.
Full-service engagements start at $10,000 a month.