Smartling Hits Highest Month Historically for Organic Traffic, a 56% increase YOY

"In spite of how nuanced and complicated the language translation industry can be, the Omniscient Digital team has developed a robust and researched process. Everyone working on our account is incredibly smart. This is an effortless relationship that delivers outstanding results."

Adrian Cohn

Former Head of Marketing
Smartling is a language translation company that simplifies the translation and localization process, allowing customers to seamlessly integrate their software directly into their current workflows so they can manage translation projects within one platform.
The company established Enterprise Translation Cloud, a data-driven approach to localization, which enables its customers to achieve higher quality translation at a lower total cost.
From entire websites, to video subtitles, to image captions, Smartling enables organizations to both manage and translate content on a global scale.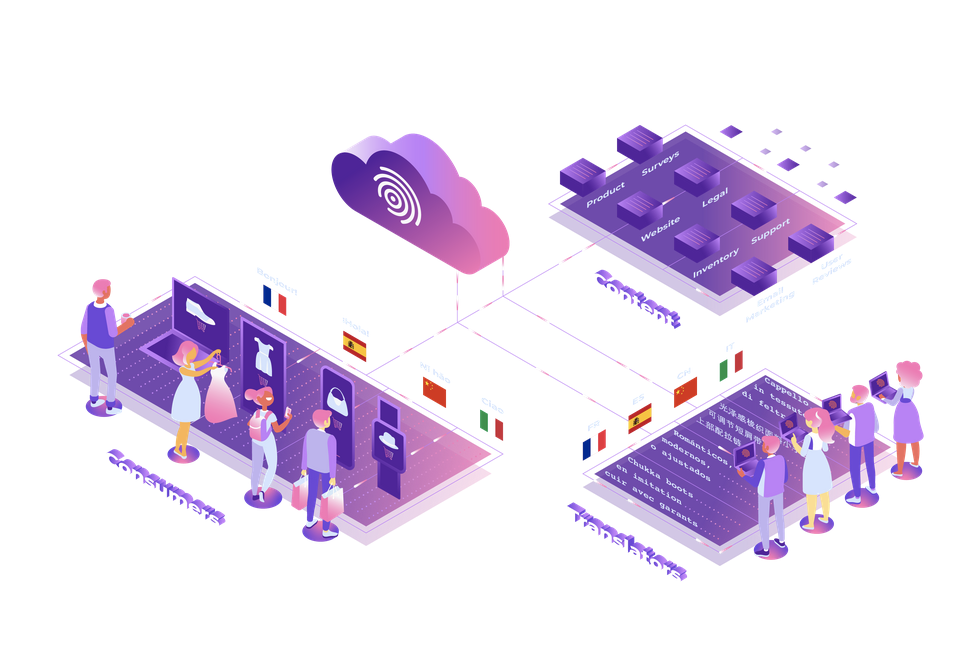 Challenge: Greater Demands for Content with Few Resources
Content is a vital part of Smartling's marketing machine. It was important to establish a more competitive content strategy to drive top-of-funnel growth.
They faced many challenges with managing the entirety of the content engine with the combined challenge of lack of resources. When their in-house writer left, the subject matter expertise also left. They didn't have the time to invest in developing a team of freelance writers.
"We had a very lean team and didn't have an in-house full-time content writer at the time. We needed that consistent support for article writing to continue to feed into the resource hub we have.

JooRi Choi

Content Marketer
It was important to bring in a team that could help diagnose what type of content to create to meet their goals of increased traffic, and then meet the demand for writing that new content.
Smartling had some content ranking on pages two and three of Google search results, but their biggest competitor was ranking on page one for "translation management system", which is where they needed to be.
They anticipated challenges because translation is a highly technical and complicated workspace. Most people don't understand it until they experience it for themselves.
"Other content agencies weren't delivering on their promises. We needed a thoughtful content roadmap, a dedicated partner to provide useful insights, and a dependable group of writers. We worked with two or three other freelance content agencies. They failed to deliver on schedule or on basic quality of work." – Adrian Cohn, Executive Sponsor & Project Owner
Solution: A Sustainable Growth Strategy and an Extension of Their Team
"In spite of how nuanced and complicated the language translation industry can be, the Omniscient Digital team has developed a robust and researched process. Everyone working on our account is incredibly smart. This is an effortless relationship that delivers outstanding results."  -Adrian Cohn, Former Head of Marketing
At the start of their partnership, the Omniscient Digital team presented a content roadmap which became the blueprint for Smartling's content plan. It was organized around their goals and initiatives, and identified potential opportunities for updating older content which included an SEO strategy. 
Omniscient Digital works off a project board in Asana which integrates seamlessly into Smartling's existing workflows, saving time and effort. Without having to flip through different documents, or apps, they delivered the work in an organized manner.
"What really impressed me was the overall organization and the streamlining of the process, which is something I haven't seen with other content-related partners. I've been impressed by the way the Omniscient team has been able to deliver the work and keep everything in an organized state." – Katie
For the writing process, Omniscient Digital keeps a log of ongoing tasks with comments and updates on projects helping Smartling's team stay in the loop of the scope of what's been accomplished and how much is left to work on. Recurring meetings allowed the opportunity for any questions. The idea behind Omniscient Digital's approach is to feel like an extension of the team, rather than an outsourced agency.
SEO is a part of digital strategy that often takes a backseat to some of the more flashy tactics in the paid realm. By prioritizing keywords and highlighting existing SEO opportunities, they were able to save Smartling's time for other priorities.
"From an SEO perspective, the knowledge and recommendations [the Omniscient team] has been able to provide has really been invaluable to me. Being able to speak to changes in keyword rankings and help me understand the backlink strategy has been super influential in our overall digital strategy.

Katie Festa

Senior Manager, Digital Marketing
Omniscient Digital helped Smartling create a sustainable growth channel through content marketing by focusing on producing new pieces that target keywords related to localization strategies that map to their translation services.
They strengthened Smartling's existing content with updates and optimizations to highlight new information and remain competitive on search engine results.
By identifying articles to optimize and updating them to fit the updated search intent of the search query, they found those content optimizations helped Smartling hit their traffic and demand goals much quicker. 
"With a lot of content partners you run into a solution where they want to start from scratch and write out new pieces, but I appreciate that the Omniscient team took the time to review our old pieces and the success of them, and was able to provide recommendations to allow those to maintain top rankings. They took an old piece from 2020 and gave it a few tweaks to pull it back into the top of the search results pages which I was impressed to see. They looked at what we had already done with our brand style and voice and were able to modernize our older pieces to get some visibility on those as well." – Katie Festa, Senior Manager, Digital Marketing
Results: New Records for Organic Traffic
increase in organic traffic
new page 1 keyword rankings
growth in traffiic from referring domains
"We get compliments on how educational and resourceful our learning center articles are. I definitely could not handle writing all of it on such a consistent schedule, so I'm able to invest my time in other projects. Having the Omniscient team allows me to spend more time on podcast production these days and our overall content strategy." -JooRi Choi, Content Marketer
October of 2021 was Smartling's strongest month historically for organic traffic. By prioritizing target keywords, the company has seen 325 new keywords in top 10 positions, a 56% increase in year-over-year organic traffic and a 37% growth in traffic from referring domains.
According to Adrian, Smartling wanted their customers to move the world with words, and have a tool at their fingertips to create impactful user experiences for everyone, no matter their language. They've been able to successfully expand their reach and education globally, which is a testament to Omniscient's SEO-first strategy, positioning Smartling as a true leader in Translation Management.
Let's work together
We've helped other B2B software businesses grow through content marketing. Wondering if we can do the same for you?
Full-service engagements start at $10,000 per month.