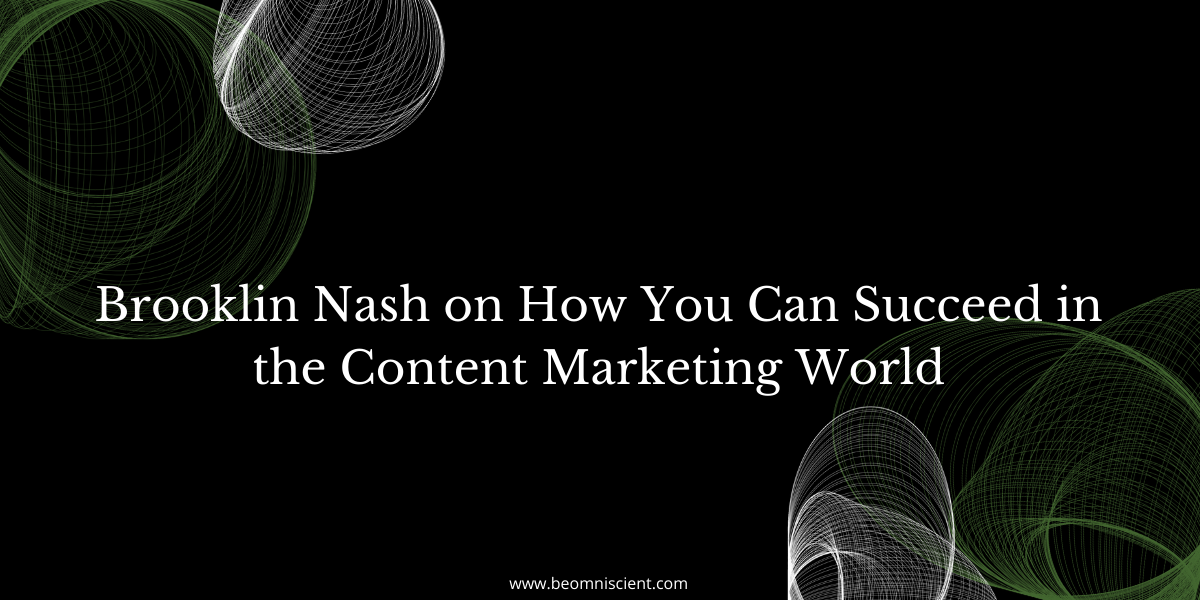 Do you call yourself a freelance writer or content marketer?
There's a fine line between the two, and the modern content marketing world is full of possibilities.
Considering Brooklin Nash fell into content marketing by accident, he's finely attuned to what makes good content tick.
The Head of Content at Sales Hacker sat down with me on The Long Game podcast. He shared great advice for how you can succeed in the content world, with tips that apply whether you're just starting out or a seasoned pro who's busy managing writers of your own.
The best content marketing feels organic
In marketing speak, "organic" often means free, as in organic search results.
That's not what we mean here. The best content marketing doesn't try too hard. It should feel natural, educational, and useful to your audience.
"The content marketing I really like and I think does it well, is where you can highlight the product or the service in the content in a very natural way. And there's so many great examples. Like HubSpot," Brooklin said.
"Even Tim's tweets, he's saying, 'oh, I found this cool insight,' and he's sharing the insight, but the screenshot is his tool. Which is so cool to me. I think it's at its best where you can find such a product-market fit with your content that you're just talking about what your audience wants to learn about."
Content marketing involves a specific goal
While the best content marketing may feel natural, it does have to be attached to a specific goal.
"At the end of the day, if you're a content marketer not tying it to traffic or revenue, then you're not really a content marketer. You're just writing stuff. It has to be attached to a goal," Brooklin said.
"It's not just writing the blog posts. It's figuring out how to redistribute and get all the reach."
It's hard for some writers to choose whether they identify with content marketers. The bottom line is that it's not important what label you give yourself. What's important is whether your writing is serving a specific purpose, with a call to action embedded somewhere in the content, even if it feels "barely there."
Find your content niche
It's been said a thousand times, and Brooklin drove it home for us again. Instead of offering broad services, work to find an area of interest that you can specialize in.
Granted, this can take time. It doesn't have to happen overnight.
"Number one is to find a niche in your content, whether that's e-commerce platforms or B2B sales tech, or whatever it is. Because early days, I was pretty much doing anything and everything. I was a social media evaluator at one point, I was writing product descriptions for like fancy Swiss wristwatches, I was editing stuff for these DTC startups," Brooklin said.
"Over time, I just gravitated towards the B2B stuff. It's not even a niche. It's just, oh, B2B versus B2C. That's a lot more interesting to me for whatever reason. And then with B2B, then I slowly drove down into data platforms and now sales tech."
Overall, you should be guided by what interests you. You want to balance the process of getting more specific with the act of choosing an area that you find interesting, so it won't get old.
Rethink work-life balance
Brooklin's ability to be interested in his work allows him to think about the traditional work-life balance struggle differently.
His goal? To ensure that his work aligns with his life so there's a sense of balance whenever possible.
"The phrase that I'm more aligned with that I've heard floating around is work-life integration. And the biggest piece of that, or one of the biggest pieces of that, is finding purpose in your work. Because then it doesn't feel like, oh, you cap out at 40 hours for your work before you get burned out, and then you can turn to the things that fuel you and fill you up," Brooklin said.
Instead, it's about identifying your purpose, and putting a framework around it so you don't get obsessive or negative, but stay balanced instead.
Tap experts for insight
The thing Brooklin loves the most? Not having to come up with content ideas from scratch.
If you've been struggling to fill a content calendar, yes, this is possible.
At Sales Hacker, most of the content Brooklin's team puts out is centered on in-house contributors and community members.
"We have one freelance writer at Sales Hacker, and we put out 12-14 pieces of content every week," Brooklin said.
That's a huge volume to publish, and they are able to accomplish it by using their employees and customers.
"Whether it's an article or a podcast interview or panelists on a webinar, we rely on the sales community. So then it just becomes a lot more about coordinating all that and pulling out the interesting parts, and editing a lot for people who aren't writers," Brooklin said.
It's a different approach, but necessary for gathering subject matter expertise.
"I really love relying on the experts who are working in sales, versus trying to spin my wheels as a content marketer and try to understand what it feels like to get an objection in a demo. Because I haven't had that experience," he said.
Learn how to delegate
Once you're higher up on the content totem pole, your job inevitably changes. Most often, it's the change from going from solo writer to managing others.
At minimum, you're often tasked with finding and hiring freelance writers, then coaching them on your preferred style.
When you're a strong writer yourself, it's hard to start delegating writing to other people. Brooklin explained that it's not just because you're the "best" writer out there, it's because delegating requires setting clear guidelines.
"I don't really think of myself as a perfectionist…but it's hard to let go of the idea that you could do it better, and then trust people to do it," he said.
"It's just a whole different skill set to be able to write like that, and be able to put the guidelines in place and the feedback in place and the communication in place and expectations in place that set people up to deliver at the level you could."
Seek out good talent
When seeking out new writers, Brooklin is consistently impressed with content marketers who have a journalism background.
He finds they are able to weave together a story in a compelling way, versus relying on recycling content that's already published online.
"We just hired somebody at Outreach who is a former journalist-turned-content marketer. And I've been able to interact with others and see their content. I just am always impressed with content marketers who come from journalism," he said.
"They just have practice with pulling the story out from the seven conversations they've had, versus Googling something and figuring out how to piece together the three articles that are in the top three spots in a different order so that it's your own article. That's crappy content marketing. Good content marketing looks a lot more like journalism."
Make time for experiments
Also key to success is a willingness to experiment.
In fact, one of Brookin's best clients came from an experimental email campaign. He targeted about 60 leads in Sales Navigator and used best practices to reach out. The result was more impressive than he'd hoped.
"I launched my own cold email campaign, which I had never done, just to try it out. It was a lot of fun. I did took all the tips that I had read and written about and tried to put them into practice and it worked," he said.
"I went on Sales Navigator, identified who had either just started in their role or who was hiring, pulled out the ones that fit, who I'd want to work with, reached out to them, and just said Hey, I saw you just started. Or I saw you're hiring. This is what I do. Let me know if I can help. And I think that the question was, 'What are your 2020 content goals?' Just making it more about the goals versus 'Hi, this is me and this is what I do.' And I landed one of our best clients."
The bottom line is that the world is full of companies that are looking for content marketing help.
Whether they had a small marketing team or a huge one, if you see them making efforts at content marketing, that means they are getting serious about trying to make progress.
All you need to do is convince the person in charge of the budget that you can help those efforts.