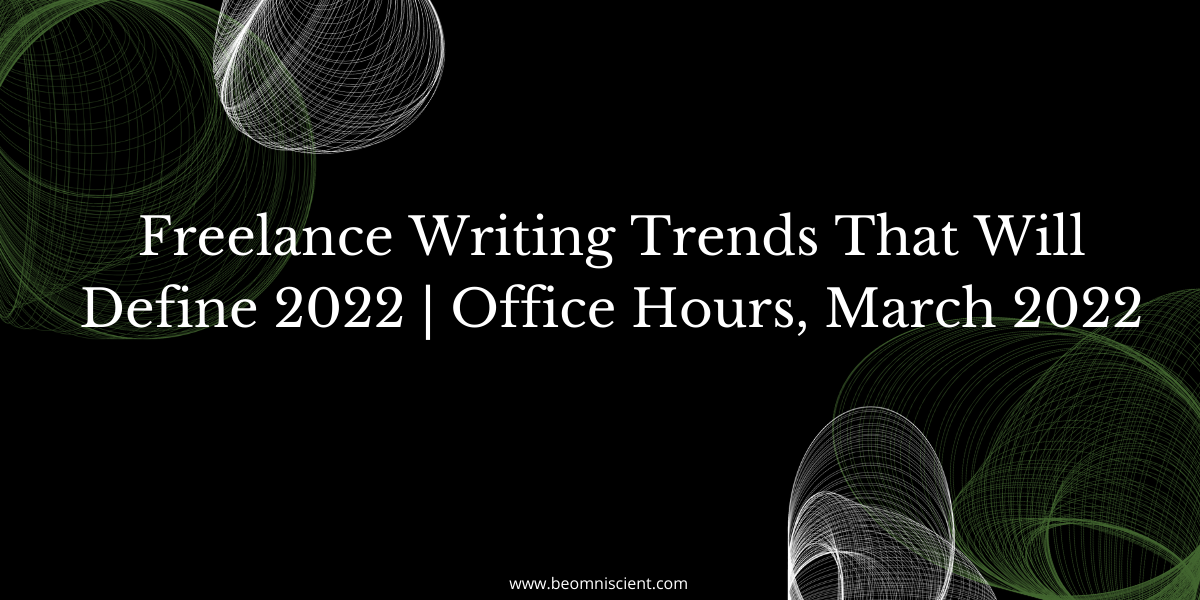 Freelance writing is becoming an increasingly dense marketplace. In the Great Resignation, more and more people are leaving their corporate jobs and starting freelance businesses. According to Superpath, 32% of full-time content marketers also freelance on the side, which means that when those people decide to move out of a 9:00 to 5:00, they'll have a lot of experience to help them stand out. In this episode of Office Hours, Michael Keenan, co-founder of Peak Freelance, a community for freelance writers, discusses how it's going to become more competitive to be a good freelance writer in 2022 and going forward. The good news is there are plenty of 2022 trends that provide new opportunities for freelance writers to level up their business and remain competitive.
Show Topics
More writers will switch to e-commerce
B2B SaaS will develop more defined niches
More writers will build personal brands
Brands will hire refresh services
Writers will sell repurposing packages
More competition will enter the market
Show Links
Watch the recording
Key Takeaways
02:10 – More writers will switch to e-commerce
Since e-commerce has grown over the past couple of years, more writers are needed to fill that niche.
"Trend number one is that more writers will shift to e-commerce. So believe it or not, when we had pulled some research in our writer survey, we found that only 12% of writers identify as e-commerce writers And that's a pretty small percentage, given the amount of the increase of e-commerce sales and adoption since the start of the pandemic. So you have a lot more e-commerce brands coming in, people looking to sell online and they need writers who understand e-commerce and the infrastructures and the logistics and the marketing tactics. Based on those numbers we pulled up, we're going to assume that we're going to see more writers shift into the e-commerce sector in 2022."
03:21 – B2B SaaS will develop more defined niches
B2B SaaS companies cover a wide variety of software types, and so do the writers who work with them. Writers will need to start making their niches clear.
"If you go through Twitter or LinkedIn, you are going to come up and you're going to see B2B SaaS and B2B SaaS is business to business software as a service. There are also more consumer-facing softwares, but the thing is a lot of people identify as B2B SaaS or SaaS writers. But what does that really mean? There are so many different types of SaaS out there for many different types of companies. And it's actually something that Tim Swallow from Ahrefs has spoken about too. His opinion is that B2B SaaS is not actually a niche. It's an umbrella that has many different niches underneath it. So in that sense, saying like, all right, if you're a SaaS writer, what type? Do you write about productivity? Do you write about MarTech? What types of B2B SaaS software do you write for?"
04:25 – Writers will create more impact content
There are some types of content that are hard to link to business impact and others that have a straight line. Writers are beginning to focus more on the content with direct impact.
"Impact content is something that normally has a direct revenue tie to the company. So we're talking like white papers, research reports, more campaign-oriented pieces versus the production writers. So you have writers who you write for blogs and maybe you are doing like three, four articles a month or six articles a month for this client. And there's not an exact ROI tied to blogging and we know this, it's very hard. Sure you have attribution like first touch and last touch, but it's very hard to say what the return of investment of a blog post actually is. So in order to make more of a business impact with your clients, where we're seeing the narrative shift throughout Twitter and on LinkedIn is people that are blog writers are starting to focus more on these like campaign-oriented assets. Again, like I said, eBooks so forth and so forth."
07:03 – Community will become more important
Freelancing can be isolating. Joining groups can give you a way to network and learn with peers.
"We have a lot of the concepts of freelance writing and freelance in general is lonely. And you don't have a network of people when you're a freelance writer sitting at your computer. So community is a good way to, one, network, but it's also a good way to practice social learning. So if you take a course inside of this group, you can discuss it with peers and jive on who's learning what. What did you catch from this? What did I catch from this? And coming together with other like-minded people. That makes you less lonely, but it also helps you improve your business skills. If you're in a community, a Slack community, with a couple hundred people, a couple thousand people, there's no shortage of people that you can lean on or ask questions to, or get answers to your questions to your answers from. And you never know, you might make a friend."
09:09 – More writers will build personal brands
It's not necessary to have a personal brand as a freelance writer, but those who are becoming influencers in their niche are reaping the benefits.
"A lot of writers are becoming micro-influencers. Tweeting out tips to help people, becoming their own persona for TikTok and Instagram and podcasting and webinars. So the business impact of this is you're sharing knowledge with freelance writers and clients. And this expertise, this personal brand that you build around yourself helps you charge more. And it helps show clients when they come to look for you online, whether it be Twitter or LinkedIn or wherever, that you are the right person for their business. So these kinds of people who are building personal brands out there are making an impact and they're able to build influence and alongside that it kind of can push you off of just working off client income. Because if you build up a big enough following, you can pick up sponsorships. If you have a newsletter from brands, maybe Ahrefs or Semrush or whoever's relevant to your audience. And you can also start building out more digital assets."
11:28 – Brands will hire refresh services
All of the content that brands are creating can't live on forever without the occasional refresh. Writers should see this as an added service.
"If you haven't heard the conversations yet out in the interwebs, brands have a lot of content. We all know brands are constantly producing new content. We're talking thousands of URLs on some of these enterprise blogs and what happens when some of that content dies? It falls off page one, goes into two, three, maybe it never even ranked in the first place. These companies are looking for people to kind of re-optimize or refresh or update the content. So there's only so much new content that someone can produce until they have to look back and say, all right, this is not what's working. How can we fix these up and make them better? So given the general conversations that have been happening over the past year, I suspect that more brands will be hiring for refresh services. So if you are a writer and you only are writing net new content, this could be a nice service package to offer alongside your net new writing services."
12:39 – Writers will sell repurposing packages
There are many types of content that can be repurposed into new pieces of content for different platforms, and brands need help with that.
"In a similar vein to content refreshing, writers will also sell in repurposing packages. Twitter threads are huge right now. How much extra could you probably charge alongside of blog posts to make it a Twitter thread for a client also? Or turning podcasts into blogs, videos into blogs. There's a lot of content that brands are creating that can either be turned into blogs or vice versa. Blogs can be turned to these other things and they need help with that distribution and that type of repurposing. So I think along with throughout this year, and again, years moving forward, we'll start to see people hiring more for repurposing or looking for writers that can also repurpose content from their blogs or from other assets into their blog."
13:44 – Writers will sell more productized services
Writers can't live off of client work alone. Creating productized services that are single packaged services can help break up client work.
"More writers will test out productized services. Because look, we get it. Client work isn't enough. And we love retainers. We love the consistent income, but sometimes you just don't feel like dealing with clients 24/7. So one way to kind of eliminate the communication and constant back and forth and create a more of a balance in your business is these productized services. And a productized service is just a one-off thing. So someone comes in, they find your landing page. They like your sales pitch. They pay for the product. You create it and send it and it's done."
16:02 – More competition will enter the market
More and more people are leaving full-time roles and starting to freelance. As that trend continues, the competition for freelance jobs will become stronger.
"If we haven't heard yet, the Great Resignation, people are leaving their corporate jobs and where are they going? They're going to freelance. Even right now in the content world, Superpath did research and they found that around 32% of in-house content people also freelance on the side, whether it be moonlighting or however they manage that. I don't know how they manage a full-time job and freelance, but good for them. But if 32% of those people are already doing freelance stuff, and then you have this Great Resignation where people are leaving their nine to five jobs and they're going out on their own, competition and the market is only going to become thicker. It's only going to become more competitive to be a freelance writer and a good freelance writer."
21:13 – Develop a niche that interests you
Writers don't need to be too specific, but they should narrow down their focus niche to the things that interest them most.
"In B2B SaaS, do you only work with SEO tools? Which, I mean, that'd be hard because I'm sure there's NDA stuff in there. Do you only work with e-commerce platforms or MarTech platforms or do you only work with this type of platform or this type of niche? I mentioned a couple of times productivity, because that's a popular one to talk about. And it depends on that niche. And then it depends on, again, like I said, what interests you and what makes you happy? I think make that point clear: these are the things that I write about. It could be mid-level, I would just kind of avoid just saying 'I only write about B2C something' or B2B SaaS. Let's get more competitive. You could say I do learning and development research reports for companies, mid-sized companies or the enterprise. So getting little tweaks to the kind of clients that you have, and then the things that interest you."