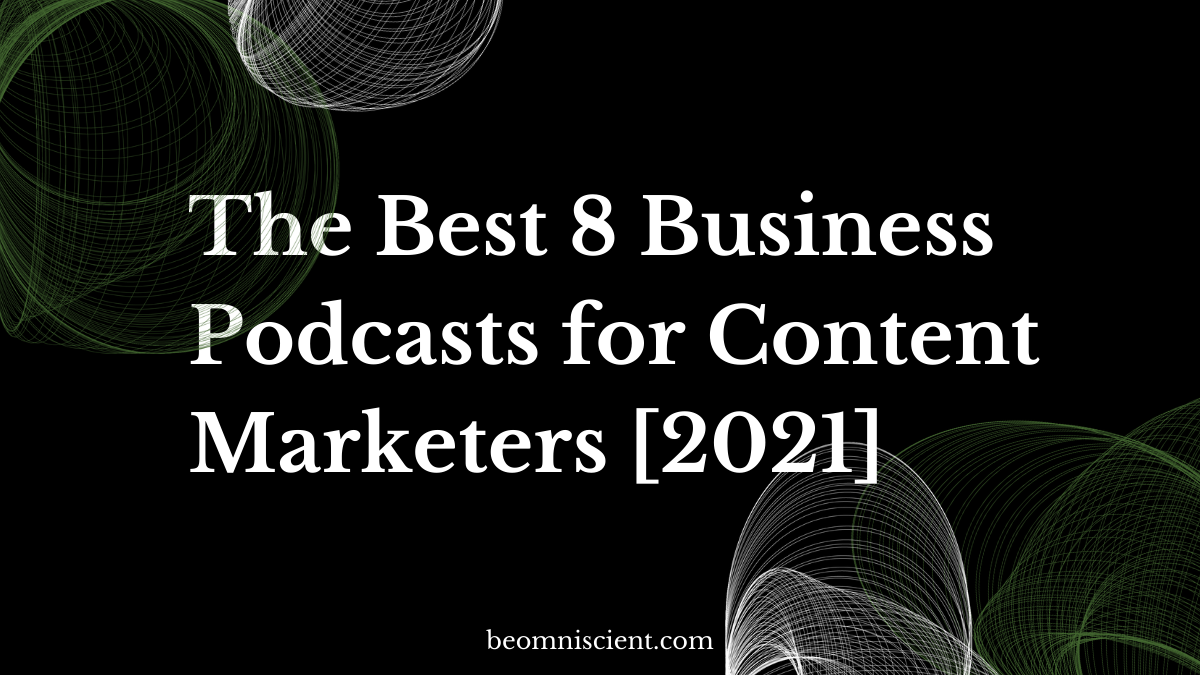 Listening. It's a skill that's vital to our success.
Podcasts help us become better listeners. We can actually listen with the intent to understand, and not the intent to reply or interrupt.
Without visuals, podcasts also allow us to use our imagination.
We have a lot to gain by listening to those at the top of their content marketing game talk about how they've mastered a skill or strategy.
We can pay undivided attention and learn something new to apply to our own business and content strategy.
Even if we don't learn a new skill, it may prompt a new idea. It's no coincidence that podcast listeners tend to be more successful and wealthy.
The 8 Best Business Podcasts
Here's a list of the top 8 business podcasts for marketers:
1. The Long Game
2. Copyblogger FM
​3. Voices of Search
4. Online Marketing Made Easy with Amy Porterfield
5. Run Like Clockwork
6. Content Strategy Insights
7. This Old Marketing
8. Marketing Companion
"Most of the successful people I've known are the ones who do more listening than talking." — Bernard Baruch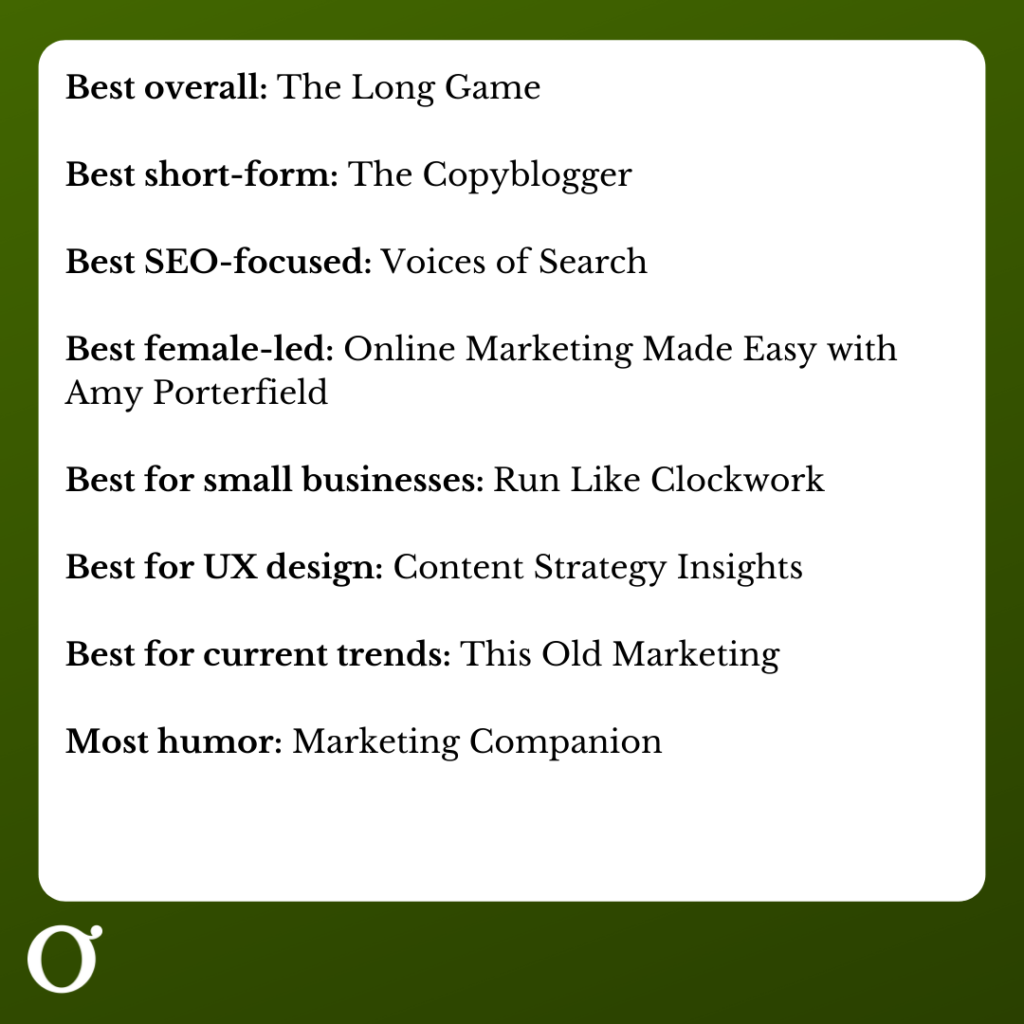 #1 The Long Game
The Long Game is hosted by Alex Birkett and David Ly Khim who co-founded Omniscient Digital to help companies ranging from early-state to scale-ups with growth strategy, SEO, and content marketing.
Alex's strengths are in growth strategy, data analysis, experimentation design, and SEO. David excels at product management, growth experimentation, A/B testing, data analysis, user research, and content strategy.
Allie Decker, Head of Content at Omniscient, is another regular host of the podcast. She has a background in freelance and staff writing and now focuses on SEO, content strategy, and content optimization.
What's great about The Long Game and why it sits at #1 for content marketing podcasts is that it's broken up into two categories.
The first category consists of longer-form interviews featuring some of the best talent in the content marketing space. From Tim Soulo at Ahrefs to Tracey Wallace at MarketerHire, you'll get pretty good insight from master marketers.
Worth listening to: Lessons in Risk, Game Theory and Winning at Marketing with Bill King, Director of Marketing at Frase, where you'll deep-dive into experimentation and SEO.
The second category of The Long Game podcast is what the hosts call Kitchen Side. One big benefit of running an agency is you get to see the "kitchen side" of many different businesses—their revenue, operations, automations, and culture.
The Omniscient team takes you behind the curtain, to the kitchen side of the business, to witness their brainstorms, discussions, and internal dialogues about the public works that ship. It's a series with an open look at "how the sausage is made" at Omniscient Digital.
Worth listening to: How to Create a Content Calendar [free template]
They even take you behind the scenes of The Long Game podcast.
How meta is that?
You'll find a million gold nuggets that you can take away and use in SEO, content marketing, content operations, or any acquisition-related work.
#2 Copyblogger FM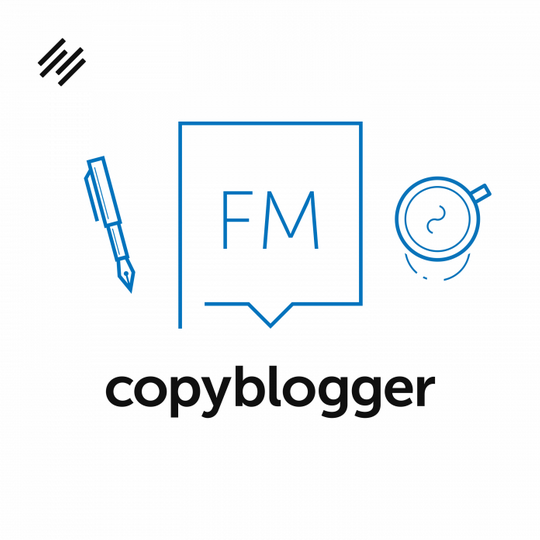 The Copyblogger FM Podcast is a weekly, short-form broadcast hosted by Darrell Vesterfelt, formerly Head of Growth at ConvertKit, and Tim Stoddart, CEO at Stodzy Inc.
Each week, rotating experts analyze content marketing, copywriting, email marketing, digital marketing, conversion optimization, and bloggers, of course.
Want to build authority? Copyblogger FM will provide you with a lot of informative banter, marketing tips, and actionable items to make note of and implement into your business right away.
Worth listening to: How to Build Remarkable Products to Grow Your Business with Ramit Sethi. In this episode, Tim and Ramit dig into marketing topics for great copywriting, product development, the myth of shrinking attention spans, and the value of long-form copy.
#3 Voices of Search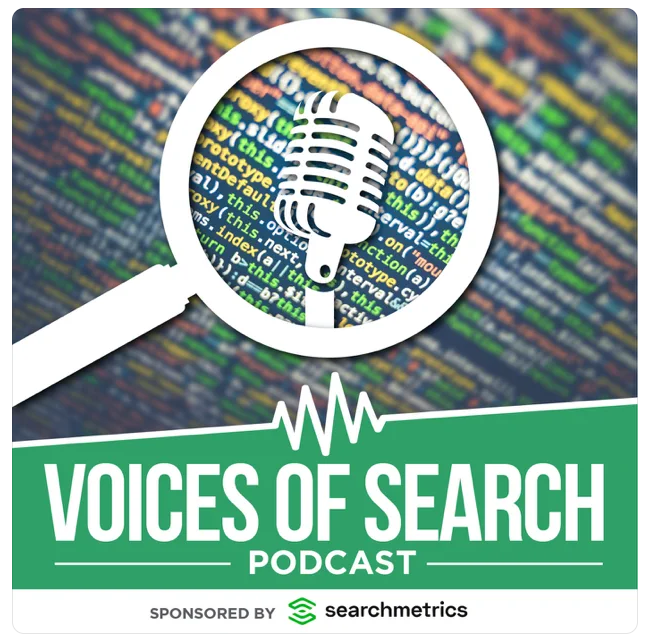 The Voices of Search podcast will help you navigate the topsy-turvy world of Search Engine Optimization (SEO) and latest trends. In this digital marketing podcast, it's host, Benjamin Shapiro, has a broad marketing background ranging from traditional media (direct mail, telemarketing) to digital advertising and organic growth marketing.
He's the founder of benjshap LLC, a brand development and marketing strategy consultantcy, that specializes in helping growth-stage companies understand how to identify the overlap between corporate identity and customer needs to build an effective marketing strategy.
SEO is ever-evolving, so if you are looking for a content marketing podcast that does a great job unpacking what is happening right now and how to apply new practices to your business, this podcast is for you.
Worth listening to: SEO Myths. In this episode, Corey Northcutt, Founder and CEO of Northcutt, talks with Benjamin about some of the SEO myths that he and his team have unearthed. Corey approaches SEO with science, experience, and integrity to reinvent how SEO happens at scale.
Corey says, "The common mistake is mistaking a tool for a system."
#4 Online Marketing Made Easy with Amy Porterfield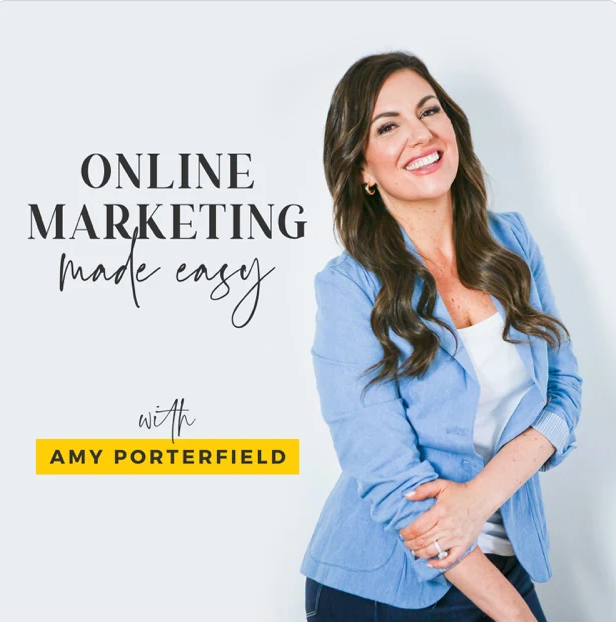 Online Marketing Made Easy is hosted by Amy Porterfield, who comes from a background helping entrepreneurs build businesses online. Today, she's CEO of a multi-million dollar company.
Her podcast consists of some of her biggest "secrets" for launching successful marketing campaigns. Listeners can hear expert advice on starting an online business, growing an email list, perpetual traffic, content creation and automation.
Some of the show's guests include Russell Brunson, Jamie Kern Lima, Rick Mulready, and Marie Forleo.
Worth listening to: How To Write Emails That Actually Get Opened. In this episode, Amy interviews Zafira Rajan, a strategic launch copywriter, and shares her top three strategies and marketing tools for creating a weekly non-negotiable ritual for writing consistent email copy.
"Audio Inspir-action." – Amy Porterfield
Amy has coined the term "audio inspir-action" in podcasting because she promises her listeners will walk away with clear steps to put into profitable action for content marketing.
#5 Run Like Clockwork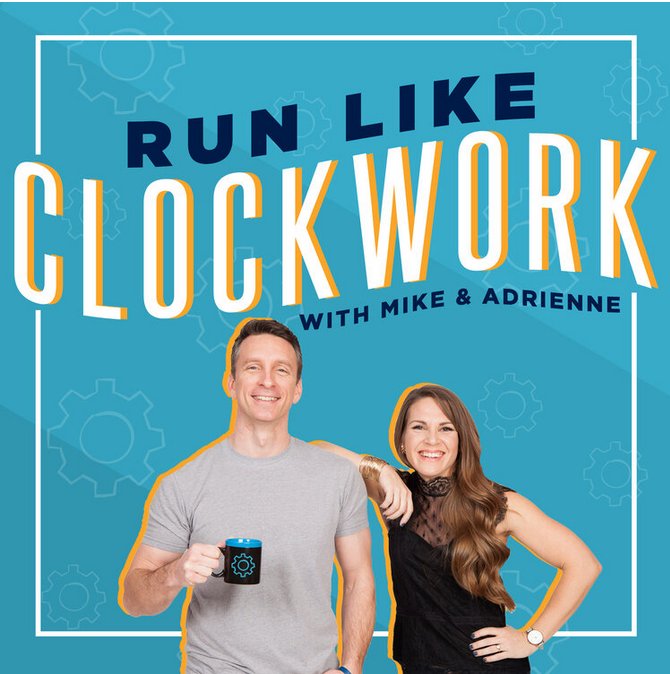 Run Like Clockwork is a podcast geared toward small businesses marketers and startups to help them grow and scale. It's hosted by best-selling author and speaker Mike Michalowicz and operational efficiency expert and co-host CEO, Adrienne Dorison.
If you are looking for a content marketing podcast focused on automation, you'll find a lot of value from these industry experts in each new podcast. It's chock full of topical operations conversations based on the book, Clockwork, to help small business owners design a business and team that automates itself.
Worth listening to: Is Growth Breaking Your Business? Adrienne talks about growing at the cost of your current customers. If you're facing challenges with scaling and delivering while maintaining quality, then you may have what they call a "delivery bottleneck". It's a discussion of sacrificing quality for quantity.
#6 Content Strategy Insights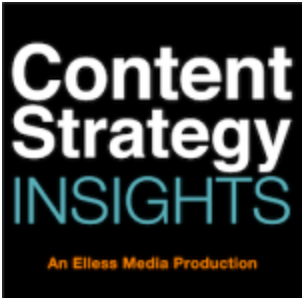 On Content Strategy Insights you'll hear marketing tactics with content strategists from a variety of disciplines: UX, technical communication, marketing, SEO, publishing, journalism, and more. The show is hosted by Larry Swanson, a UX Content Strategist, with expertise in UX design, writing, operations, and marketing.
This growth marketing podcast features how to organize and tailor content to their audience, and the impact of ever-changing technology on media. It's like marketing school, but much better.
Worth listening to: Content Operations Leadership. In this episode, Larry interviews Rachel McConnell, who leads one of the biggest content operations in the world, a team of 100 content designers and editors at BT, a large communications services company in the UK.
Rachel believes, "If content strategy is the engine, then content operations is the oil that keeps it running smoothly."
#7 This Old Marketing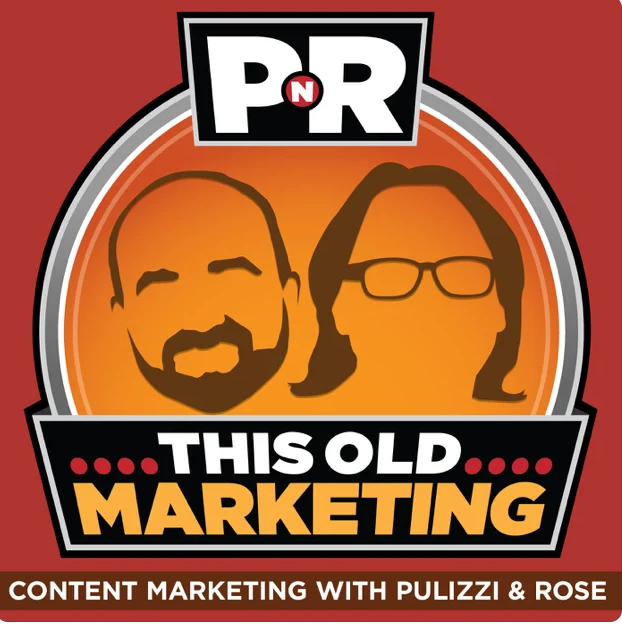 This Old Marketing podcast is hosted by Joe Pulizzi and Robert Rose. Joe is a bestselling author of Content Inc., Killing Marketing and Epic Content Marketing. Robert is the founder of The Content Advisory, an education and consulting group with the Content Marketing Institute. Every week they publish a new episode to share insights into the media and content marketing.
This podcast covers the latest content marketing trends and discuss how businesses can use content to attract and retain customers. Hear some of the best success stories in digital marketing.
Worth listening to: Content Marketing = More Marketing, Less Content. Content studios from big brands are moving from Content Marketing 1.0 to 2.0 by focusing on consistent delivery plus heavy promotion. So many companies forget about the promotion part. It has a few actionable tips.
Each podcast show features a discussion of content marketing headlines, rants from Joe and Robert on what's new, and their episodes rarely go longer than 60 minutes.
#8 Marketing Companion
Marketing Companion brands itself as "the world's most entertaining business podcast," with hosts Mark Schaefer and Brooke Sellas.
Mark is the bestselling author of nine books, including Marketing Rebellion: The Most Human Company Wins and The Content Code, which was named one of the top 5 marketing books of the year by INC Magazine.
Brooke's message is "Think Conversation, Not Campaign" and has a background in Social Media Marketing.
In this podcast, they deep dive into SEO, content marketing, and entrepreneurship, but it's far from dull and dry. The duo marketing experts merge marketing insight with laugh-out-loud comedy, and they've been going strong for over 6 years.
Worth listening to: Synthetic Content is Coming. Fake news is just the beginning. New technology will allow anyone to create Hollywood-quality effects and replicate humans with uncanny accuracy. What are the implications for society, business, and marketing?
Overall, their synergy is unmatched making it highly informative and highly entertaining.
Over to You
We hope you found value in this list of the best podcasts for content marketing. If we tune in to a full podcast episode and only take away a few gold nuggets which we can apply it to our content marketing strategies right away, then it was very much worth our time.
Have a podcast to add to the list? We'd love to hear from you.
You can listen to more episodes of The Long Game podcast here.


































































You can listen to more episodes of The Long Game podcast here.